An All-In-One streaming system from Triangle with vinyl replay ability – disguised as a simple pair of loudspeakers. John Pickford dives in.
Active loudspeakers have been the industry stan­dard in recording stu­dios for a good couple of decades. Hi-fi enthusi­asts have been slower to catch on, preferring to keep their boxes of electronics separate from their traditional passive speakers.
While studio monitors usually fea­ture onboard power amplifiers only, Triangle's AIO (All In One) Twin system takes the active approach further still, by incorporating both line-level and moving magnet (MM) phono preamplification.
But that's just the analogue side of things.The AIO Twin is also Bluetooth 5.0 aptX compatible and can stream hi-res audio up to 192kHz/24 bit. This is done via an app you have to download (App Store for iOS or Google Play for Android), then the app will allow you to play music from your chosen service, using your mobile device ('phone, iPad etc) as a remote control. I use Qobuz for hi-res streaming, usually via my Leema Stream IV and this worked faultlessly through the AIO "Twin system.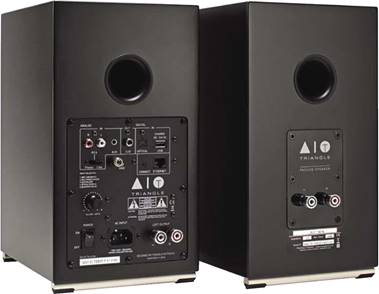 On the back panel are all the analogue and digital inputs, volume control and an output for a subwoofer.
You also get comprehensive connectivity for other analogue and digital sources, with an Auxiliary input (3.5mm mini-jack), Optical input (for TVs) and USB/charge input.There's also a RJ45 socket should you wish to connect to your router via an ethernet cable, rather than use on-board wi-fi.
All of this is located on the rear panel of the active unit along with a volume/source selection control, subwoofer output and AC inlet with its accompanying power switch.
7Review earns Amazon affiliate commissions from qualifying purchases. You can support the site directly via Paypal donations ☕. Thank you!
See also TOP 10 Subwoofers
RECOMMENDED VIDEOS FOR YOU...
I should explain that unlike active studio monitors, that have power amps inside each unit, the AIO Twin contains all of its electronics within one speaker cabinet.The output terminals then connect to the second passive speaker.just as if a separate amplifier was providing power; a bespoke 3m cable is provided for this. Forgetting all the electronic and streaming functions for a second, the loudspeakers themselves are a conventional two­way, bookshelf, bass-reflex design featuring a 130mm woofer and 25mm tweeter.
The woofer features a concave, treated paper membrane with no dust cap.This is said to increase rigidity and efficiency and allows the whole of the surface to be used to produce sound. The silk dome tweeter has been designed for smoothness, with none of the hard, ringing artefacts that often afflict metal dome types, while the shape of the front plate aims to reduce unwanted reflections.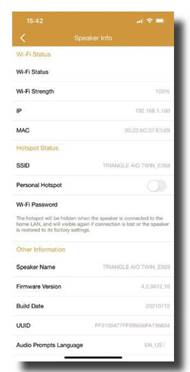 All important wi-fi information on an app screen.
At the base of each speaker is a pair of aluminium feet with rubber pads at each end to provide some isolation between the cabinet and whatever it's placed upon, however the pads slot into the feet rather insecurely and can easily work loose to be potentially lost.
The system comes with a remote control, which, along with a variety of other functions, allows for treble and bass adjustment, which I found useful. Switching between sources using the control alters the colour of the LED on the front panel of the active unit.
I encountered no problems or glitches setting-up the system for streaming playback and, following the manufac­turer's easy-to-follow instructions, was up and running inside 10 minutes. You only need to go through this process on initial set-up then you're good to go indefinitely.
With my Qobuz library accessible, I began by playing You've Got A Habit Of Leaving (96/24) from David Bowie's recently released Toy album.This album was originally recorded in 2000 and features his then touring band (with the brilliant Earl Slick on guitar) revisiting some of Bowie's earliest songs from the 60s.The track features a solid rock sound and the AIO Twin delivered it with more punch than I was expecting. There's not much in the way of deep bass on the track, yet the AIO "Twin didn't flinch at revealing both the attack and mid­bass thump of the kick drum and the underpinning bass guitar line.
The 25mm silk dome tweeter features a surround designed to minimise unwanted reflections from the front baffle.

The remote control enables adjustment of treble and bass and an EQ reset to restore Triangle's 'flat' response.
The broad midrange, where Bowie's effect-laden vocal competes for space with over-driven guitars, piano and lush backing vocals, displayed great depth of image to give a sonic presentation that was at once both forceful yet relaxed; there was no tendency to shout. I didn't miss the deep bass larger loudspeakers give, however dyed-in-the-wool bass-heads might want to consider
"gently shimmering chimes and sweeping strings added to the icy atmosphere"
Triangle's matching Tales 340 subwoofer, which connects to the active Twin via a mini-jack connector.
Another recent historic release by a legendary artist – Neil Young: Carnegie Hall 1970 (192/24) – features a solo performance in this large hall. During Cinnamon Girl, my attention was drawn to both the ambience of the hall and the leading edge of plectrum against guitar string.Treble detailing and atmospherics were more obvious than when I play the track through my Rogers LS3/5a monitors and here I made use of the treble control to ever-so-slightly tame the reverb and make ol' Neil sound a little less ghostly.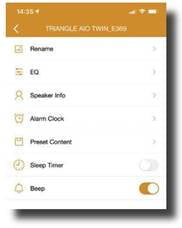 The Settings menu gives access to an array of functions.
A more contemporary studio recording – Alexandra by Laura Marling (96/24) – also benefited from a little treble cut, which helped sit the close-mic'd lead vocal more naturally into the mix, creating a more even presentation from top to bottom.
Led Zeppelin's Kashmir, from their 1975 opus Physical Graffiti (96/24) is a dense production of epic proportions and in this instance, the AIO Twin's default EQ setting helped to define the massed horns, strings and mellotrons for a more lively rendition of what can be a dirge on dull or overly warm systems. John Bonham's kick drum had enough impact and although I wouldn't have expected to hear the thunderous low-end I hear through big Tannoys, for example, texture and timing was excellent from the compact system.
Switching to vinyl via my Goldring Lenco GL75,I played John Coltrane's A Love Supreme (Impulse 1965) and was impressed with the quality of the onboard phono stage, which enabled replay with all the musicians' intense dynamics and emotion intact. Switching back to Qobuz, the Coltrane track streaming at 96/24 gained an extra degree of verve and revealed the AIO Twin's excellent, naturally delineated tonal properties.
On a wet and windy afternoon listening to Scott Walker, I just had to play It's Raining Today from Scott 3 (96/24). The generous studio reverb was highlighted by this system, while the gently shimmering chimes and sweeping strings added to the icy atmosphere; it was a delicious detailing of the recording.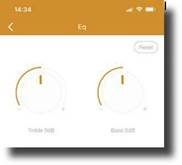 Treble and Bass controls with a useful Reset switch for quick A/B comparison.
was extremely impressed with this feature packed system from Triangle. Sound quality is superb for the price and it may well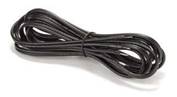 A 3m cable is provided to link the passive speaker to the main active unit.
prove a more synergistic option than finding a match made in heaven with separate amp and loudspeakers. It won't win over those who prize their multi­box amplification systems, with attendant power supplies and mains conditioners, but that's not really the target audience. For those wishing to enjoy all of their music collection, regardless of format, with excellent sound quality from an uncluttered system, the AIO Twin is an exceedingly elegant solution.
VERDICT
TRIANGLE AIO TWIN Review
Hi-res streaming and good­quality vinyl replay with superb sound at an attractive price.
PROS
lively and punchy sound useful tone control
supports all digital up to 192/24
phono input for vinyl
Add your review
|
Read reviews and comments
Best TRIANGLE AIO TWIN prices in the US ?

$

999.99
2 new from $999.99
in stock


$

1,099.99
2 new from $1,099.99
in stock

Best TRIANGLE AIO TWIN prices in the UK ?

£

746.99
2 new from £699.00
in stock


£

749.00
2 new from £749.00
in stock

MORE DEALS

See also TOP 10 Subwoofers
Specifications
| | |
| --- | --- |
| Product Name | Triangle Audio AIO Twin Wireless Bluetooth Wi-Fi Speaker (Pair, Graphite Black) |
| Bluetooth | Bluetooth 5.0 (Audio Output) |
| AC Input Power | 5V |
| Operating System Support | Windows |
| Mount Type | Floor Standing |
| Audio Input | Bluetooth |
| USB Ports | 1 x USB 2.0 |
SCV London (UK distributor) +44 (0)3301 222500 www.scvdistribution.co.uk
MEASURED PERFORMANCE
With the Treble and Bass level controls set to their default (reset) 12o'clock position on the app. frequency response of Triangle's AIO (All In One) active loudspeakers, as shown, ran reasonably evenly from 90Hz up to 5kHz, after which output from the tweeter rises by +3dB or so, enough to make the sound balance obviously bright. However, the Treble control dialled back a little to 11 o'clock cured this, so there is room to adjust output to a reasonable degree of tonal accuracy. Maximum lift on both controls was a massive +10dB and there was equivalent cut so plenty of room for adjustment is available. With a small port tuned to 60Hz giving little acoustic
power and a steep roll-off below 90Hz from the forward driver deep bass will be minimal. Turning up the bass control raised upper bass rather than low bass.
FREQUENCY RESPONSE
Green – driver output
Red – port output