WHEN GREAT FEATURES MEET GREAT PRICING
Priced identically to the D-Link DIR879, TP-Link has taken this router in a very different direction. Forget the glitz and glam of D-Link's bright orange product; the archer has worn a business suit to work. It might not stand out as much, but how does it compare to D-Link's mainstream offering?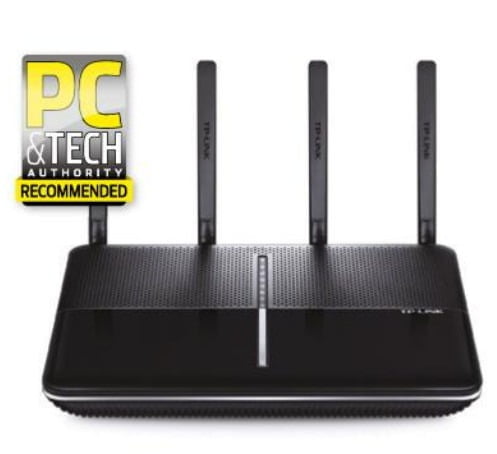 Once again we see four detachable antennae, but this time they can pivot in any direction so you can point them in the general direction of your busiest area. TP-Link claims this dual band router can deliver total combined speeds of up to 3150Mbps, a huge leap over D-Link's dual band model. How does it do so? Apparently it delivers up to 2167Mbps at 5GHz, and 1000Mbps at 2.4GHz, so there's some sneaky tech here at work that likely won't work with many non-TP-link devices. Part of the answer is Broadcom's NitroQAM (1024QAM) technology, which squeezes more info into each packet. We noticed a slight performance increase over the D-Link, but nowhere near what we'd expected.
Once again we have a device labelled as MU-MIMO, but apparently it actually works on this one ­ there's no little asterisk next to the feature on any of the marketing material that leads to a disclaimer. A Broadcom chipset does the handiwork, but we didn't have enough devices to really load the network down to any major extent, though families with children will easily do so.
As well as the usual four Gigabit ports and single WAN port, TP-Link has given this router a single USB 2.0 plus a USB 3.0 port, opening up its use for many other areas. On the other hand, we have to say the interface isn't as simple as D-Link's, with network noobs possibly a little flummoxed by the areas outside of the wizard. Still, when it comes to features, there's no competition ­ the TP-Link wins hands down. Bennett Ring
KEY SPECS
Dual 5GHz and 2.4GHz networks · Max combined throughput of 3150Mbps · dual core processor · 4 x Gigabit Ethernet · 802.11ac and back wards compatible · Broadcom NitroQAM