SKY IS ATTEMPTING to move the needle again with Sky Glass, a radical rethink of premium subscription TV. Is everything in your living room about to change… again?
The concept is simple enough. Rather than deliver the Sky channel bouquet and all its interwoven VOD content by dish and network, everything comes in via the internet straight to a Sky-centric TV, with no dish required. It's a new no-fuss way to enjoy Sky telly, says the broadcaster.

But the implications are far-reaching, and the technology complex. Sky has been developing Sky Glass for over three years. There's a lot to unpick.
Hybrid hardware
For one thing, Sky Glass is both a software platform and a TV, and the latter sets itself apart from the crowd with some stylish design ideas – it's not just another lookalike thinscreen.
Sky Glass comes in three panel sizes: 43in, 55in and 65in (otherwise known as Small, Medium and Large), and five colour finishes: Ocean Blue, Ceramic White, Racing Green, Dusky Pink and Anthracite Black. It'll be interesting to see what proves the most popular, but our money is on the black version. You can jazz things up even further with customisable speaker fascias, to better match or contrast with your home decor. Various patterns and colours are available, some quite, erm, vibrant; they pop on or off, secured in place by magnets.
There's no Sky logo to be seen on the TV's bezel. 'Sky glass looks like the rest of your home, not a piece of technology,' says the company.
7Review earns Amazon affiliate commissions from qualifying purchases. You can support the site directly via Paypal donations ☕. Thank you!
Regardless of screen size, all Sky Glass models are 4K QLED models with support for Dolby Vision HDR and the same specification. They boast a fancy aluminium chassis and a flat back, for ease of wall mounting. They also integrate a fairly serious Dolby Atmos sound system.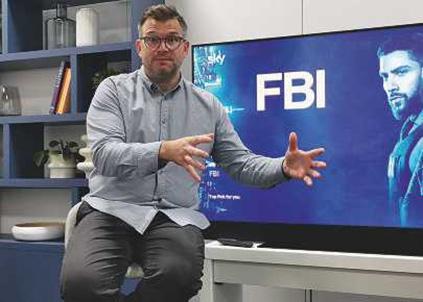 Following the Sky Glass launch, a tweet from the company claimed its partnering manufacturer was TP Vision, the maker of Philips TVs, yet the situation isn't as clear-cut as that. HCC was informed by a TP Vision representative that the Sky sets are produced 'by TPV and not TP Vision' – the former being an OEM brand and the 'ultimate parent company' of TP Vision, which itself operates as an 'independent division solely designing and manufacturing Philips TVs.' Long story short, Sky Glass isn't a debadged Philips LCD TV…
Around the back of the Sky Glass set are three HDMI inputs, one with eARC. There's no delivery of 4K/120 video playback, VRR or any other gamecentric features. This rather limits its family appeal, given that gaming is a key source of home entertainment. The screen doesn't even have a Game mode for a low input lag performance.
Interestingly, rather than sell you a Sky Glass screen outright, the company is bundling the TV into your contract payments, in exactly the same way a new mobile phone is sold. Sky also says subscribers will be able to upgrade and replace their Sky Glass at the end of their contract with a newer model (as you would a mobile phone), maybe one offering different, more up-to-date technologies, or, more likely, another colour variation.
The three screen sizes are priced at £13, £17 and £21 monthly, if you take out a 48-month contract. Opt for a 24-month contract and this rises to £26, £34 and £42 per month. These figures add up to a unit price of around £1,000 for the 65in model, which is indicative of where the TV sits within the wider flatscreen hierarchy. It's not a premium proposition.
On top of the Sky Glass contract there's your chosen Sky package to pay for, with variable tiers depending on what you want to watch, plus some extra dosh for the 'Ultra HDR and Dolby Atmos pack' and multiroom (more on which later).
You can only buy Sky Glass from Sky, and the TV will be delivered by an engineer who'll set it up and then take away all the packaging if you want.
It's the software, stupid
What sets Sky Glass apart from other TVs that have similarly bespoke smart platforms is the software execution. JVC's Amazon Fire TVs, any Android TV, or models with LG's WebOS or Samsung's Tizen, are still very much conventional Freeview TVs.
Sky Glass behaves quite differently. Switched on, you're immediately in the Sky environment.
'This is a voice-first platform,' says Sky's group chief product officer, Fraser Stirling. 'I love the fact that I can say "Hello Sky" and it wakes up the TV.
'The hardest working part of the experience is the front page. It's current, personalised, relevant and always updated. It's not just about the aggregation of digital content, we've even made HDMI easy, treating your Xbox like your favourite movie.'
The user interface looks much like Sky Q, with some obvious differences. For instance, there's no Recordings tab, because the set doesn't have any local storage. No hard drive means all catch-up and on-demand content comes via streaming players.
Instead of recording a show, you add it to a Playlist. The chosen programme is then streamed from a 'Cloud DVR' if it's on a Sky channel, or from the relevant catch-up TV player (BBC iPlayer, ITV Hub and so on). Not having a recordings library will take some getting used to (you can pause, rewind and restart live programmes, though). One apparent effect of making all this possible is a streamlined channel bouquet, even with Sky's Ultimate TV package subscription. The number of news channels, for instance, has been culled to five – no more NHK Japan. Those who value Sky's esoteric satellite proposition will feel short-changed.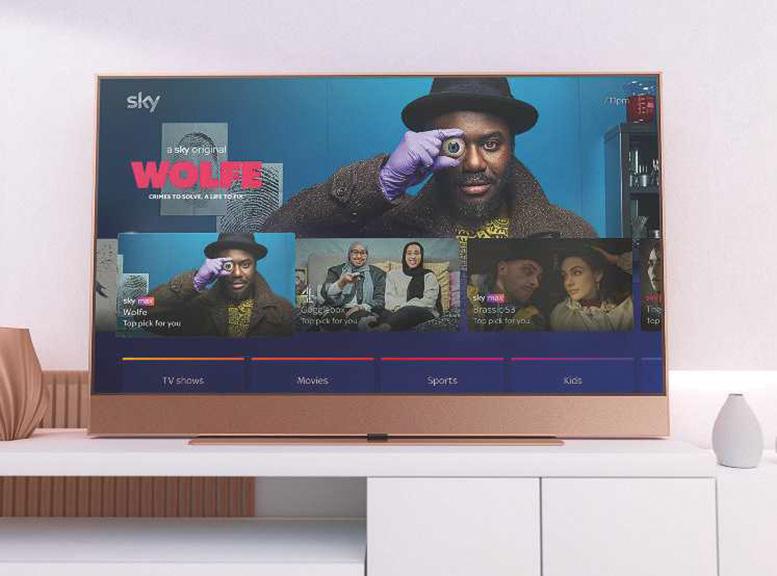 Sky Glass will work with any ISP (your broadband supplier doesn't have to be Sky) but you'll need robust connection speeds. The minimum requirement is 10Mbps, but this increases as you add UHD and multiroom. It's worth pointing out that Sky Glass supports Wi-Fi 6, so if you have a compatible Wi-Fi 6 router you'll be in a much better position to run multiple Sky Glass streams simultaneously.
And yes, you'll lose access to all Sky channels when/if your internet connection goes down. That's why the TV has a Freeview tuner, provided for back-up only, we're told.
No dish, no cables
So who is Sky Glass aimed at? Clearly, if you've always wanted to get the Sky experience but are unable or unwilling to have a dish, it's an eagerly awaited solution, and far more advanced than taking out a monthly subscription to the Now on-demand platform. You can pop Sky Glass in a media room without cluttering up your system with extra wires and boxes, or drilling holes for LNB cables.
For AV Hedz who have already invested in high-spec screens and sources, it's not really going to offer much. And if you're already a Sky Q subscriber who doesn't want to give up their box, then move along. You can't add Sky Glass to an existing Sky Q household. It's one or the other.
When it comes to performance, Sky Glass is surprising. The big win is the built-in Dolby Atmos audio system, a six-speaker configuration comprising left, centre, right channels, two upfirers and a subwoofer. The front left/right drivers fire both forward and to the side (look closely and you'll see the grilles on the edge of the chassis), which results in a very wide stereo effect, and with the Dolby Atmos units casting upwards, the end result is a substantial, immersive wall of sound. There's tangible power too (Sky quotes total amplification at 215W), so it'll load up the average living room quite nicely. You'll definitely not need to add a soundbar.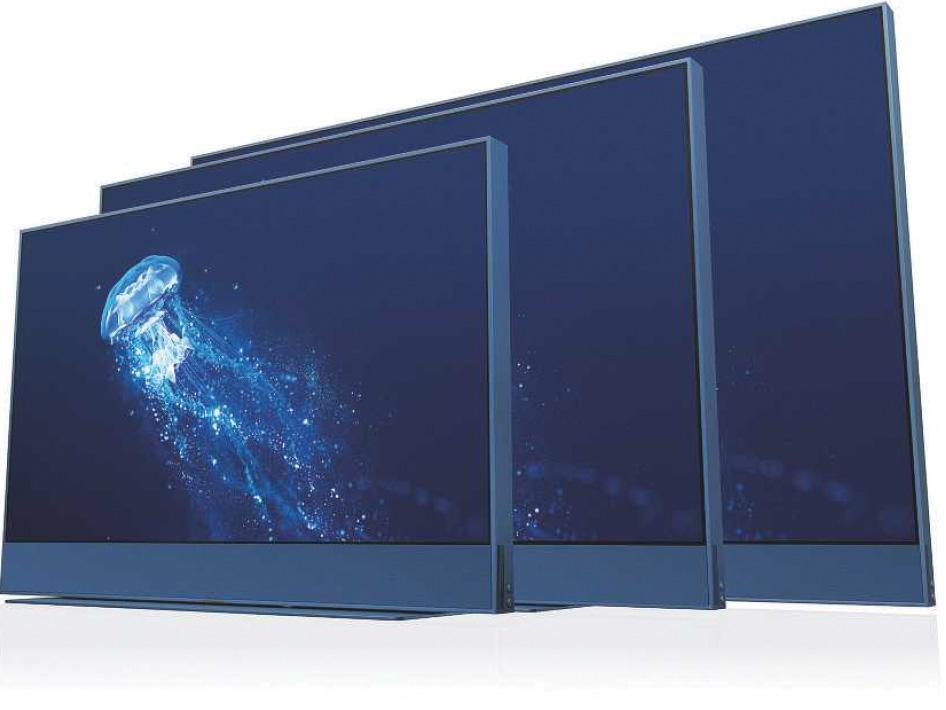 Central intelligence
Picture-wise, the Sky Glass QLED panel benefits from a full-array backlight, described as featuring 'Intelligent Zonal' local dimming, to give it tonal uniformity. Colour vibrancy is comparable with other mid-range LED-lit LCD sets, but HDR peak brightness is more akin to a budget HDR TV offering. There are the usual flatscreen image adjustments (including gamma and white balance), but the settings menu clearly expects most viewers to stick to the Sky Glass preset modes. Auto is the default, which claims to 'intelligently' optimise settings but presents films 'as the director intended.' There's no user-selectable motion smoothing tool available.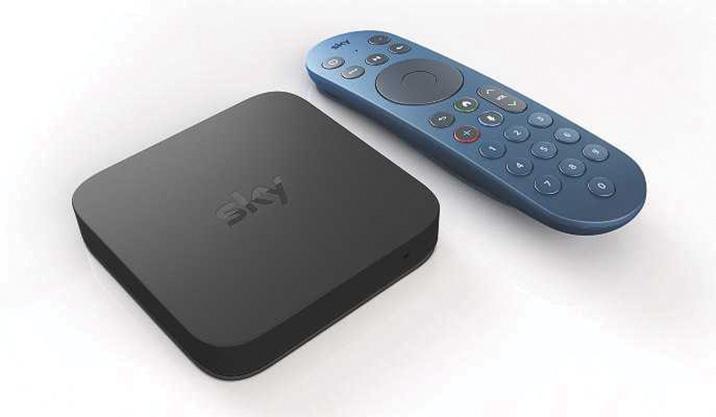 For multiroom, you'll need another new invention: the Sky Stream puck. Unlike the Mini box of the Sky Q platform, you'll receive 4K from this, and unlike the Mini it doesn't need to link to another device to work. Clearly there's more to the puck than meets the eye.
The device is a completely self-contained Sky streaming receiver, with the same UI and feature set as Sky Glass, and you can connect it to any TV. But you can't get this separately. It's only available as a £10 a month increment on a Sky Glass package.
This is exactly the gizmo that Sky Q users have been crying out for, allowing 4K HDR multiroom, and it's not inconceivable that Sky will end up selling Sky Stream as a separate option at some point in the future. It would definitely be in line with parent company Comcast's global IPTV vision – Sky Glass is built on the backbone of Comcast's Xfinity streaming platform. But a lot obviously depends on how successful the Sky Glass rollout is.
In the meantime, if you like the sound of an IP-delivered Sky, but would rather hang onto your existing flatscreen, the trick would be to flip the Sky Glass concept on its head. Rather than relegate the Stream puck to multiroom duties, use it as your primary entertainment source, connecting it to your high-spec, large screen OLED or LED, projector, AV receiver, whatever.
Then subscribe to the smallest, cheapest Sky Glass panel available, which can be assigned second-room duties…
Hello Sky
This TV with far-field mic tech wants to get chatty
Sky Glass has been designed from the ground up to be a voice-first platform. Search and content recommendations can be accessed via speech commands. A simple, spoken 'Hello Sky' will turn on the TV, without need of the remote. The set has far-field microphones built in, although there is one in the zapper too.
What's more, barking 'Hello Sky, Sky Max' will turn on the TV and select that requested channel, without the need to faff around with the remote or navigate menus. If you name one of the HDMI inputs 'Blu-ray', you can theoretically voice control straight to that HDMI input.
Even more fun, the set's onboard facial recognition tech is designed to let you switch the TV on just by sitting down in front of it. We're promised the feature, although it's not available on the first models shipped – so look out for the firmware update. It could usher in a new era of non-tactile TV control.