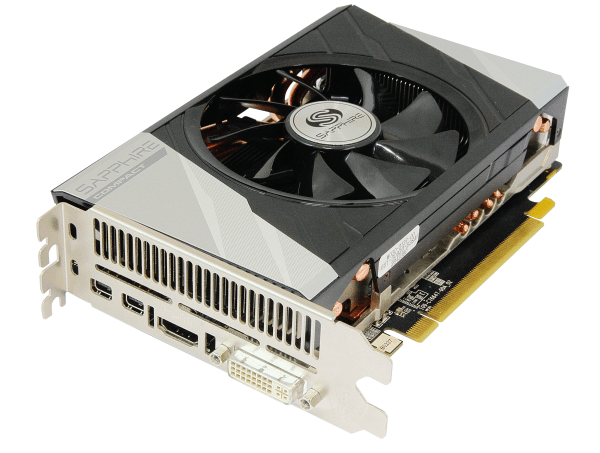 As its name suggests, the Sapphire Radeon R9 380 ITX Compact OC has a small PCB, with an overall package that's designed to fit into a compact mini-ITX chassis where space is at a premium. It measures just 171mm long, making it just 1mm longer than a mini-ITX board. Its height of 107mm means it's quite short too. With no room for a substantial cooler, the default overclock only raises the clock frequencies by a small amount, with a 980MHz core and 5.6GHz (effective) for the memory, mere increases of 1 per cent and 1.8 per cent respectively.
However, it's good to see at least a small overclock has been applied – it's hard to imagine squeezing much more from a card with such diminutive dimensions. Not surprisingly, only a 2GB version is offered, with no 4GB version available. Meanwhile, there are four video outputs, including dual-link DVI-I and HDMI, which join a pair of mini-DisplayPort outputs. MiniDisplayPort isn't ideal, but we assume this compromise provides some extra space for rear heat exhaustion. Thankfully, there's a DisplayPort adaptor included in the box, along with a DVI to VGA adaptor and an adaptor to convert two 6-pin PCI-E plugs into one 8-pin plug. Then there's the cooler itself, which is a traditional active type with a single fan. There's no backplate, but you do get a dual BIOS for both legacy and UEFI motherboards. The default overclock on the Sapphire Radeon R9 380 ITX Compact OC is more modest than the other R9 380 cards on test, so its out-of-the-box performance is generally lower. The Fallout 4 1080p minimum of 29fps is a full 5fps lower than the 4GB Sapphire R9 380 Nitro's result, but the full-sized Asus Strix card isn't any faster in this test either. In all the other tests, the differences between the four cards aren't as noticeable either – we're talking about slim margins. We also managed to squeeze a good manual overclock from the Sapphire Radeon R9 380 ITX Compact OC, raising its core clock by 120MHz to 1090MHz, and its memory clock to 6.6GHz, without adding any voltage. These settings improved the Fallout 4 results slightly, with an increase in minimum frame rate to 31fps at 1080p. One advantage of the card's small size, though, is its lower power requirements. At its out-of-the-box clock frequency, the power consumption of our test PC at load was the lowest on test, at just 284W, which jumps to 307w when the card is overclocked. The latter is still a very reasonable figure, kept down by the lack of extra voltage. It runs fairly cool at idle too, with a GPU delta T of just 12°C, but this temperature hits 54°C under load. On the plus side, the noise levels are lower than  expected given the single fan, and we recorded a fan speed of 1,517rpm. It isn't the quietest card on test, but it's not loud either. The Sapphire Radeon R9 380 ITX Compact OC 2GB might not be exceptionally fast, or offer the near-silent operation and low temperatures of its full-sized competitors, but that's hardly surprising when you consider its size, and that's this card's main selling point. If you're building a full-sized ATX PC, then you'll be better off with the Asus Radeon R9 380 Strix 2GB, but if space is at a premium, this compact card still manages to offer solid performance, surprisingly quiet operation and decent value for money.
VERDICTNot the fastest, quietest or coolest card on test, but if space is at a premium, this compact card is still surprisingly capable.