Michael Topham reviews a pocketable hard drive
NO LONGER than a credit card and no thicker than a matchbox, Samsung's Portable SSD T3 is an incredibly compact and lightweight portable solid-state drive. Unlike portable hard disk drives (HDDs), which are cheaper and made up of moving parts that can be prone to damage or failure, SSDs do not contain any moving parts and are renowned for their excellent reliability and quiet operation.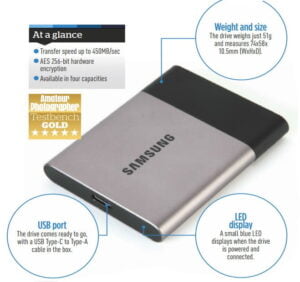 The T3 has a resilient metal body that's half finished in aluminium and half in a soft-touch, matt-black plastic. Unlike some portable drives, though, it's not waterproof and doesn't feature rubberised protection at the sides or edges, so you'll want to be careful not to drop it. In the middle of one end is a USB 3.1 Type-C socket, and for those who want to achieve the fastest write speeds possible it should be connected to a USB 3.0 or USB 3.1 port. It's also backwards compatible with USB 2.0. Just don't expect to get as close to its claimed 450MB write speed as you would via USB 3.0. There's built-in hardware encryption for both Windows and Mac users to keep files secure, and as well as the 500GB sample reviewed here.
Verdict
I rely a lot on portable hard drives for backing up and working on the go, and would go as far as saying that this is one of the finest portable SSDs I've used. Its slim profile lets you slip it anywhere in your bag and it weighs next to nothing. It doesn't disappoint with regard to performance, either, with 8GB worth of data taking 55 seconds to write to the drive from a Lexar Professional 633x 32GB SDHC card. Solid-state drives are notorious for being expensive, but what you're paying for is excellent reliability, performance and silent operation. If your budget can stretch to this SSD ahead of a hard disk drive equivalent, it's definitely worth spending the extra.
ALSO CONSIDER
Integral USB 3.0 Portable SSD External
This portable SSD slips into a pocket easily and provides read/write speeds of up to 220MB/sec and 200MB/sec respectively. It might not offer the fastest transfer speeds, but it's a perfectly good option.
LaCie Rugged Thunderbolt (SSD)
This SSD has a 2m-drop resistance and IP 54-level protection against dust and water. It weighs 280g and has a built-in Thunderbolt cable for super-fast transfers. It's not cheap, but it's about as robust as portable SSDs get.
7Review earns Amazon affiliate commissions from qualifying purchases. You can support the site directly via Paypal donations ☕. Thank you!
Lexar Portable SSD
This SSD can be used standalone or as part of the Lexar Professional Workflow system. It's not as light (241 g) or as slim as the other portable SSD options that are listed here, but it does represent excellent value.