RYZEN MOTHERBOARDS UNWRAPPED
We take a look at the very best Ryzen has to offer. By Zak Storey
So, here we are: the dreaded annual motherboard super test. A new architecture and a new platform, filled with uncertainties, early BIOS versions, and all sorts of bugs, errors, and crashes to contend with. An absolute swamp of auto-asphyxiated hell for any hardware reviewer. Indeed, many across the industry have dreaded this day, because it means the suspension of sanity for at least two weeks.
Why do we put ourselves through this? We do it for you, our readers, and, of course, because we re fired by the rampant curiosity that drives each and every human being. It's rather like asking, "What is the meaning of life?" or "What did 1998's McDonald's Szechuan sauce actually taste like?" We simply have to know which motherboard is best, and— more importantly—which board is right for you.
With Ryzen, AMD has positioned itself in a particularly odd place within the marketplace. By default, the processors themselves compete quite happily with the bulk of Intel's Broadwell-E, high-end desktop platform on performance, at both single and multicore performance, decimating chips that cost almost $$$ more than the lowest-end seven series chip. However, the chipset is more akin to that of a mainstream Z170 Skylake motherboard, harboring nowhere near the number of direct PCIe 3.0 lanes.
SATA, or M.2 compatibility that its pricier competitor offers. Take it out of the ecosystem entirely, and it even pales in comparison to that plucky blue, over-priced, under-runner from yesteryear.
What does that mean, exactly? To be frank, not a lot. Although Ryzen's chipset does look somewhat weaker than its Intel counterparts, you have to take into account what people are actually making use of. For the vast majority, a single M.2 PCIe SSD, a full bank of SATA, and two GPUs running in x8/x8—that's all you're probably ever going to need. Especially when you take into consideration the fact that Nvidia isn't even supporting more than two-way SLI anymore.
THE AM4 PLATFORM
AMD's latest motherboards picked apart for your reading pleasure
THE CHIPSETS
Ryzen has a total of five chipsets, each aimed at a different audience. There's the top-end X370 chipset, featuring high-end support for storage. NVMe devices, and overclocking by default. The B350 is a slightly slimmed down variant of X370, with SLI/Xfire disabled by default, but still coming overclocked. Then there's the more budget-oriented A320, with even less USB support, and overclocking disabled. Finally, there are two unreleased chipsets we haven't seen yet. designed to deal with small form factor devices: X300 and A300.
Although we haven't seen any X300 or A300 motherboards, their position is actually the most interesting question. Reason being, we've already seen Biostar produce an X370 ITX motherboard— arguably one of the smallest mainstream form factors currently available to the computing ecosphere. So. we simply can't tell at this point how these X300 and A300 chipsets will fit into the climate. However, judging by the limited USB support, and almost non-existent SATA Express support, it could hint at an even smaller motherboard form factor coming down the pipeline, specifically for console-like devices. A potential possibility for the PS5 or Xbox Two? Only time will tell.
AVAILABILITY
At the moment, availability isn't stellar for the fledgling motherboards, with many AIB partners claiming that they weren't given enough time or warning about the readiness of Ryzen processors. Most expected 1,000 chips in the first batch, with 10,000 the following month. In fact. AMO launched with 10,000 chips, followed by over a million in the second batch.
A FULL BREAKDOWN OF AMD AND INTEL'S CHIPSETS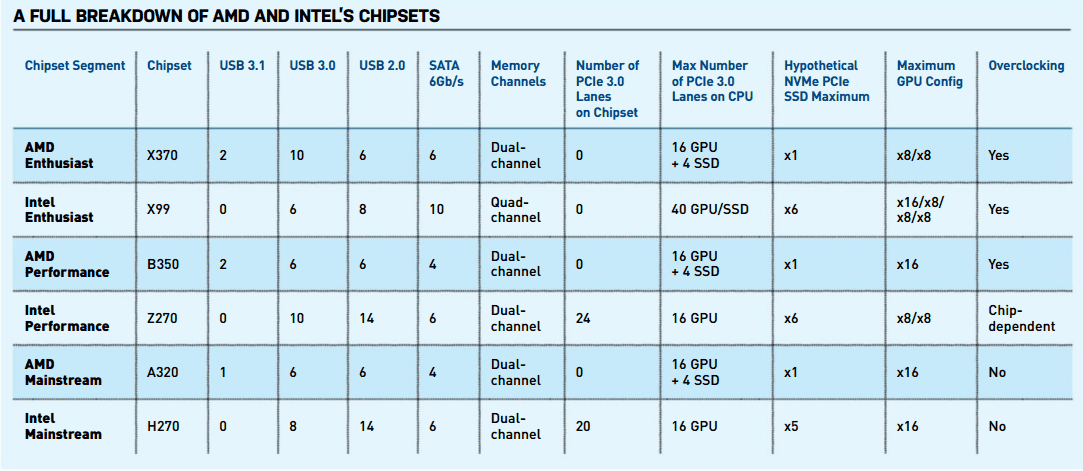 THE X399 RUMOR MILL
Even though AMD has only just dropped Ryzen into our laps, the rumor mill is still churning away, suggesting that the redheaded company is planning to launch an HEDT variant of both its processors and chipsets later this year, around about the time Computex occurs in Taiwan. The theory is that these are going to be cut-back variants of AMD's latest Naples server architecture. Coming in 16, 12, and 10-core variants, the processors should absolutely demolish video rendering and more CPU-intensive computational tasks.
If the chips are anything like their Naples counterparts, you can expect AMD to take advantage of that server-based infrastructure, forsaking the chipset, and instead opting for anywhere between i8 and 66 PCIe 3.0 lanes directly on chip. We're still not absolutely sure whether this is going to be an LGA socket, like Naples, or operate on Ryzen's more commonplace AM6 PGA socket solution…. But, why would we even need this new HEDT variant of Ryzen? Especially when the cores already compete so well with their ridiculously more expensive Intel competition? Well, in short, X399 would act as a bridge between the nonsensical server prowess of AMD's Naples SoC platform and Ryzen's X370 gaming/rendering aspirations. For those not interested in smashing out the frame rates, but rather rendering at a professional level, X399 should provide the key. In contrast to the Ryzen 7 1800X, these chips should offer quad-channel memory, better PCIe support, and far lower clocks, leading to increased power efficiencies in the process.
For the time being, this is still all speculation, but consider our interest piqued if this does come to fruition. And to be quite frank, a 16-core Ryzen chip coming in at the same price as an Intel Core i7-6900K should demolish the competition when it comes to those highly demanding applications.

THE GOOD, THE BAD, AND THE ODD
Analyzing exactly what's going on with AMD's AM4 chipsets
THE GOOD
From the get-go. it would seem that AMD is already on the back foot when it comes to chipset connectivity. Lacking PCIe 3.0 lanes on the chipset, and with limited SATA and USB support (regardless of its USB 3.1 additions), it doesn't look particularly fabulous for team red.
But then you have to ask. when has anyone ever used the full complement of motherboard connectivity? When you break it down, those looking to take advantage of 10 or more SATA hard drives, multiple M.2 PCIe SSDs. and so on are already looking at the higher-end platforms in the form of the X99 series and server-grade solutions. For the vast majority of consumers and anyone on a budget, a single M.2 PCIe SSD and four SATA 6Gb/s ports are more than enough for the lifetime of any system, even including any potential future upgrades and expansions. It's why we quite often recommend the ITX form factor over ATX. purely because you simply don't need that level of excess.
The true beauty of the AM4 platform stems once more from the processor itself. Although it's not the first time we've seen a full complement of I/O directly on the chip, as opposed to the chipset, it's the first time we've seen it available at such a low price point, with each and every Ryzen 7, 5 and 3 series featuring 20 PCIe 3.0 lanes. Sixteen of those are dedicated to graphics, similar to Intel's current design, and an additional four are isolated purely for NVMe or SATA devices, reducing latency between the device and the chip.
THE BAD
That said, even including the dedicated PCIe lanes on the chip. AMD is still lacking when it comes to general connectivity. With X99 retaining its heady title, purely through sheer force of will, and its vast arsenal of PCIe lanes and USB/SATA support, it's still a major selling point for any 3D professional or artist. It's likely that over the next year or two. we ll see PCIe M.2 SSDs plummet in price, making a 500GB M.2 relatively close to good value for money. Running two PCIe SSDs in a single system represents an upgrade path that just isn't available with the current generation of X370 motherboards, unless, of course. X399 drops sometime soon, or until we see the next generation of Ryzen chips: Ryzen 2.
In its own way. this lack of I/O support for the chipset is particularly interesting, because AMD has explicitly stated that it intends to keep that "upgrade the chip not the mobo" motto, retaining the AM4 socket for the entire lifetime of the architecture, until either DDR5 or PCIe 4.0 launches. This would suggest that, as connectivity standards have dramatically increased over the last few years, with no sign of stopping, it's likely that with each new generation of AMD Zen core, we ll see an update of all the associated chipsets, with either more I/O baked into the chipsets, or even more leveraged on to the processors.
That said, if you're after the best of the best, you're still stuck with Intel's X99 platform, unless AMD's X399 chipset platform becomes a reality.
THE ODD
The AM4 socket and Ryzen represent the pinnacle of what AMD has managed to achieve with Zen. But there are two huge anomalies when it comes to the general platform: LGA and PGA. LGA stands for Land Grid Array—in short, the pins are located in the motherboard's socket, not the processor. With PGA. Pin Grid Array, it's the other way round.
Generally speaking, Intel has always been a solid advocate of the LGA solution. The biggest advantage of this comes down to the fact that its quite difficult to damage the processor, or for it to be trashed through shipping. With an LGA solution, the AIB partners, such as Asus, EVGA, MSI. and others, will likely RMA more motherboards, as the sockets get damaged in transit or through user error. In AMD's case with PGA. the scenario is reversed. With the chip holding the pins, it's highly unlikely that you'll damage the motherboard, but more likely that the chip can be damaged, leading to more processors being sent back to AMD. and savings provided directly to the partners.
The thing is. these standards aren't owned by either company. And. in fact, with Ryzen. AMD is using both PGA and LGA for its processors—PGA for the 7 series and below, and LGA for its Naples SoC (System on Chip) server parts. There has been no official statement about why this is. but it's a curious change nonetheless, something that may allude to a paradigm shift in AMD's future processor lineup, way after Ryzen s heyday.
HOW WE TESTED
We knew this supertest was going to be a turbulent one. because of how brand new architectures tend to operate, so we cast our net wide from the start, but that didn't prevent a few headaches along the way.
Taking a cross section from MSI, Asus, and Gigabyte, we originally chose nine motherboards, both X370 and B350, before whittling the list down to five. Four boards didn't make it through—three due to testing failures, and one simply didn't arrive in time.
Notable mentions: the Asus Prime X37Q-Pro and the MSI B350 Tomahawk. We spoke briefly earlier about how each section of Asus's massive structure is broken down into individual teams, with each part working autonomously— unfortunately, not all parts are equal. ROG vastly outshines the Pro team when it comes to BIOS stability—in fact, we bricked two Prime X370-Pros. One during the initial Ryzen launch via a BIOS update, and the replacement died following a similar event (although it made it past the update, failing to boot Windows). With the Tomahawk, we didn't even make it to BIOS, unfortunately, regardless of what configuration we used. That's not to say these motherboards are a no-go area, just that if you're thinking of buying cheap, yet still want to push the boundaries when it comes to running above stock 2,133MT/s or processor overclocks, it might be worth holding off for a month or two longer.
For the time being, it seems Ryzen's top-end chipset has had most of the bugs ironed out, at least for the more premium lines associated with each brand. However, the budget-oriented options may need a little extra time.
Our testing setup consisted of an AMD Ryzen 7 1800X, 16GB (2x 8GB) of Corsair Vengeance LPX DDR4 capable of clocking up to 3,000MT/s (provided by AMD), an Nvidia GeForce GTX 1080, a Samsung 850 Evo 250GB OS drive, with a clean install of Windows 10, plus an ADATA SX8000 256GB PCIe SSD to test out the M.2 ports, and you can see how each board performed below.
BENCHMARKS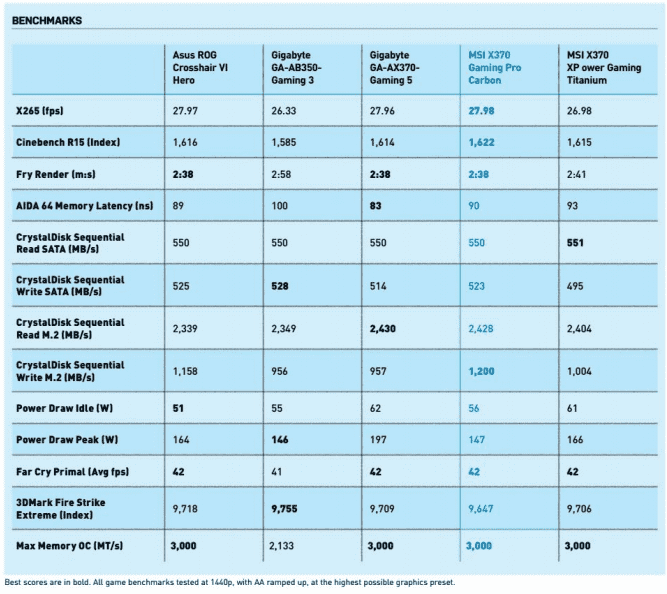 [table id=5 responsive=scroll /]
AND THE WINNER IS MSI X370 Gaming Pro Carbon
What a roller coaster this has been. At the start, we knew it wasn't going to be easy— and we were right. Three motherboards, one chip, and this reviewer's soul have been claimed by the beast of bedlam that is Ryzen's monstrous new AM4 platform.
On paper, Ryzen and its new chipsets are sound. Logical even. After all. the vast majority of I/O included on modern mobos goes untouched by mainstream users. And despite Ryzen's seemingly high-end. professional heritage, its price point puts it in the realm of the average joe. The rumored X399 platform, hopefully coming soon, should be a re-envisioned HEDT variant of Ryzen. with a far more expansive chipset (hopefully mostly on the processor), but for now, this is what we have to play with.
AM4 is still in its infancy, and so are the chips. For the vets out there, who remember the early days of Hyper-Threading, and even Nehalem's launch, the teething problems will come as no surprise. So. don't let this put you off investing in the Ryzen platform, because the bugs are being ironed out at a phenomenal rate. It seems every new BIOS update improves performance and stability at a rate of knots.
So. on to the motherboards. Two of the boards in this issue's supertest particularly impressed us: Asus's Crosshair VI Hero and MSI's X370 Gaming Pro Carbon. The Hero was the first board we got hands-on with during our Ryzen testing, and it's not difficult to understand why AMD chose to ship this one out to us. Its ease of use. support for high-end memory from the get-go. and in-depth UEFI BIOS made it a breeze for most reviewers not wanting to dig more than skin deep into AMD's latest platform.
However, it's the Gaming Pro Carbon that really stole the show. Coming in the Crosshair VI Hero, and packing that vital core performance, its stability, memory support, and overall feature set are more than enough for anyone looking to sate their eight-core desires. That carbon finish? Well, it's certainly different. Let's call it that. OK. MSI, truthfully: We don't like this finish. Keep it black, have a brushed aluminum styling on it, clean it up. keep the lines straight and the MSI logo sharp, and you'd be on to a classic. But the checkered carbon look? Not for us.
But back to the biggest positive of them all: the price. There's $ difference between the Crosshair VI and this beauty. With that saving, you could upgrade from a six-core Ryzen 5 1600X to an eight-core Ryzen 7 1700. Whack that clock speed up to 4GHz, and you'd easily be rolling above the 1800X, and within spitting distance of Intel's Core i7-6950X.
Ultimately. AMD's AM4 platform, for the time being at least, is still a touch messy. Go with boards you know you can trust, search around to find the best deals, and don't get scalped. And if you're really keen to become an early adopter, make sure you stick to the premium lines from mobo manufacturers, otherwise you're likely to get burned.
Its stability, memory support, and overall feature set are more than enough for anyone looking to sate their eight-core desires.