Danish-based Dantax Radio reinvents a classic: a rework of the Raidho D2.1, now fitted with tantalising drivers. Read our Raidho TD2.2 Review.
Review: Andrew Everard & Paul Miller
Lab: Keith Howard
Two-and-a-half-way floorstanding loudspeaker
Made by: Raidho Acoustics (Dantax Radio A/S), Denmark Supplied by: Decent Audio, Stockton-on-Tees
Telephone: 05602 054669
Web: www.raidho.dk; www.decentaudio.co.uk
Dejavu, all over again? Very recently we were playing 'spot the difference' with the Scansonic MB5 B floorstanders [HFN Jun '20], a superficially lookalike but substantially revised version of the old MB5 and one of the latest from Dantax Radio's growing GamuT/Raidho/Scansonic family. This month the focus is back on Raidho itself, with the arrival of a new version of the D2.1 speaker [HFN May '18] where, as with the M5/M5 B, there's quite a bit of visual similarity between old and new.
7Review earns Amazon affiliate commissions from qualifying purchases. You can support the site directly via Paypal donations ☕. Thank you!
See also TOP 10 Subwoofers
The TD2.2 we have here, selling for a pair depending on finish, is the smallest of four floorstanding designs in Raidho's TD (Tantalum Diamond) range. Standard finishes are piano black or walnut burl veneer, but emphasising the craftsman-built ethos of the range, you can also have 'any colour to order'. Below this sits the TD1.2 standmount, while the lineup stretches out through the TD3.2 and TD3.8, before peaking with the TD4.2, standing an imposing 1.55m tall.
CHOICES, CHOICES…
As you step up through the range, the size increases and so does the driver complement: the TD2.2 is the first to use separate midbass and bass drivers, and by the time you get to the top of the line, you're treated to four bass units and two midrange, straddling the ribbon tweeter that's a constant in so many of the Dantax brand's designs [see boxout, p37].
Oh, and if your head is spinning with all those numbers, it's perhaps worth noting that the TD2.2 is only a fiver more than the model it replaces, despite the arrival of all-new drivers.
Ah yes, the drivers: the D-Series was already using Raidho's 'Diamond' technology, in which around 1.5 carat of industrial diamond material is applied to each alloy/ceramic driver cone to increase stiffness. As Raidho put it when launching the D-Series, 'Applying the diamond structures has moved the membrane resonance frequency up where we cannot measure. Does it matter? Oh yes, it does! Is it costly? Don't ask…'
TANTALISING METAL
For these latest TD models, while the base alloy cone material is retained, the ceramic and diamond laminate is supplemented with a layer of tantalum, a rare, dense and inert metal. This new addition to what is now a five-layer composite provides a better matrix onto which the diamond layer is deposited, the company claiming this delivers 'high internal damping and excellent acoustical properties'.
The use of tantalum may allow the cone to accept more diamond, but the process for making the drivers, in-house of course, is sufficiently demanding that you're unlikely to see it trickling down to its Scansonic models any time soon. And yes, it does account for at least some of the cost of the speakers – we're a long way from off-the-shelf drivers here.
Two 6.5in/165mm drivers are used in the TD2.2's 2.5-way design, both handling the bass and the other midrange above 400Hz before crossing over to the familiar corporate quasi-ribbon tweeter at 2.4kHz. The midbass and bass drivers are mounted into hefty aluminium modular baffle sections for reinforcement and also ease of replacement. Naturally, there's a deal of Raidho technology in the basket,
RIGHT: Supported on an alloy base with four stabilising outriggers, the curved cabinet/ alloy baffle houses a sealed isodynamic/ribbon tweeter, a 115mm 'Tantalum Diamond' (TD) mid driver and 115mm TD bass driver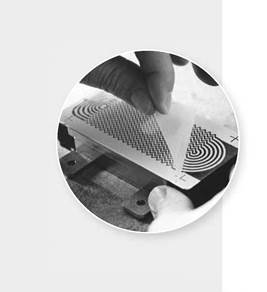 REALISTIC RIBBONS
The vast majority of loudspeakers are equipped with a dome tweeter of 25mm diameter or thereabouts for reproducing treble frequencies. The dome profile offers good directivity and, particularly when fashioned from the lightest, stiffest materials, enjoys low distortion with breakup resonances pushed out to ultrasonic frequencies. Old- school ribbon drivers, where the diaphragm was also the electrical conductor, have fallen out of favour because they are typically very fragile and require a matching transformer to isolate the amplifier
from its vanishing low electrical impedance. Few amplifiers relish driving a near-shorted load…
A more realistic alternative to pure foil ribbons are 'pseudo-ribbon' drivers like Raidho's tweeter. This is an isodynamic driver with a thin polymer diaphragm carrying a flat, zig-zag shaped 'voice coil' etched from a conductive coating on one surface [see inset pic]. Raidho claims to have reduced the membrane's mass to just 20mg while enhancing the unit's waveguide, the rear panel and magnets that form the encompassing field. There's no suggestion of tantalum being employed in this latest generation of Raidho's tweeter but sensitivity is improved by a claimed 3dB and distortion reduced by a massive 35dB [see Lab Report, p39].
suspension and motor system, including titanium voice coils and underhung high- power (1.1 tesla) magnets.
The substantial black-anodised baffle is also angled to optimise the speaker's 'impulse alignment', while the curvaceous cabinet tapers down towards the rear, in what has now become an almost commonplace 'lute' or 'hull' style, reinforced here by a thick alloy spine that hosts three bass reflex ports.
Also fully integrated into the speaker's exoskeleton is a solid alloy base with outrigger feet already attached, which is handy when one considers
the logistics of upending a 45kg speaker to fit them. The feet themselves are of an extremely neat design – ceramic balls provide internal decoupling, and there's none of that fiddling about with a spanner as you simply turn the uppermost disc on each foot to level the speaker.
A RELAXED RIBBON
Raidho is no less particular about the placement of its floorstanders than sister brand Scansonic, writes Editor PM, although it recommends the TD series speakers are located further away from side walls, and with a greater degree of toe-out, than you might anticipate. I duly capitulated, although I also discovered the TD2.2s were mercifully tolerant of being parked fairly close to the rear wall.
'Gorillaz takes these Raidhos as far as they will comfortably go'
Auditioned with appropriately costly and very capable Constellation Inspiration monos [HFN Oct '19], these pre-run-in TD2.2s very rapidly came on song to deliver a robust but exquisitely composed sound. The pseudo-ribbon tweeter, in particular, which in the past had a tendency to sing out with a 'look at me' pizzaz was now seamlessly integrated with the new 'stiffer' bass and midbass units. Whether Raidho's recent updates have resulted in a slightly sweeter, smoother-sounding ribbon or faster cones with a better sense of subjective snap, the end result is a more joined-up performance where a firm and extended bass meets an insightful midrange and deliciously creamy, airy treble.
Spin up Gerry Rafferty's evergreen 'Night Owl' [Sleepwalking; EMI Gold 0724357608923] to hear this unification in action as his voice and guitar fill out the mid and presence, the harmonies segueing perfectly into Raphael Ravenscroft's Lyricon solo some few minutes into the track. As the sound of this early, breath-controlled synthesiser fills the room, the pin-point patter of percussion proves the perfect counterpoint – a blend of sweet and citrous that's entirely complementary.
And bass? Neither the cabinet volume nor drivers are especially capacious but the TD2.2 still digs impressively deep while very rarely biting off more than it can chew.

LEFT: Crossing over at 400Hz, the lower 'Tantalum Diamond' bass driver works out of three vents in the rear spine of the speaker. Despite its three-way crossover, the TD2.2 does not support bi-/tri-wiring
The signature drum programming that powers Gorillaz' 'Dracula' [G Sides; Parlophone, 44.1kHz/24-bit] takes these Raidhos as far as they will comfortably go, while the opening of 'Faust' moves them just a little bit further still – no overt
bloom or boom here but there is some loss of rhythmic composure. Time to back off the volume control.
The TD2.2s seem otherwise quite at home penetrating and untangling the densest of mixes. Their ability to convey energy without chaos was ideally suited to a session listening to Jimmy Page's latter-day remastering of Led Zeppelin's Presence, the band's seventh album also produced by Page back in 1975-76 [Warner Music 0081227955724; 96kHz/ 24-bit]. The album, free of keyboards, still sounds raw but the multiple, over-dubbed guitars have a greater clarity in this 96kHz rendering – a quality not lost on the TD2.2s.
LABOUR OF LOVE
Once again, the speakers delivered a very complete and continuous picture of the musical event as their blend of moving-coil and 'ribbon' drivers joined in a partnership as convincing as the performers on stage (and basement studio).
It seems very clear from their sophisticated and informative sound that the TD2.2s are, indeed, the product of much development and, I suspect, even more listening tests. It would be interesting to learn what partnering equipment was used during this period, though I remember they sounded especially fine at our UK Hi-Fi Show Live 2019 with amplification from both Esoteric and Audio Analogue.
VERDICT
Raidho TD2.2 Review
Raidho takes its name from Norse mythology and the 'journey of life', and in the right system these TD2.2 floorstanders have every chance of completing your path to the ultimate hi-fi experience. There are caveats, however, not least in the costly toll taken by its enhanced in-house engineering, exotic driver materials, Nordost internal wiring and extruded alloy cabinet parts. An extended personal audition is a must.
Add your review
Best Raidho TD2.2 prices ?
MORE DEALS

See also TOP 10 Subwoofers
LAB REPORT
RAIDHO TD2.2
Raidho claims 88dB sensitivity for the TD2.2 but our results come in a little lower. While a simple mean of the FFT data gets quite close at 87.3dB, the pink noise and 'music' figures of 85.6dB and 85.4dB indicate that an 85.5dB specification might be nearer the mark, though this is around 2dB better than achieved by the D2.1. A nominal impedance of 6ohm isn't quite justified either, given that this suggests a minimum modulus of 4.8ohm whereas we measured a minimum of 4.4ohm. Impedance phase angles are moderately high, and although the EPDR falls to a minimum of 2.1ohm at 94Hz, this suggests that the TD2.2 is slightly easier to drive than typical modern speakers of its form factor.
Forward frequency responses [see Graph 1, below] were measured at 1m on the tweeter axis and show a hint of a 'BBC dip' centred on 2.5kHz, followed by a mildly shelved-up treble. Because of the latter, and a dip of unknown origin at 375Hz, response errors are on the high side at ±5.2dB and ±4.5dB, respectively. Pair matching over the same 200Hz-20kHz frequency range is fair at ±1.0dB and improves to a fine ±0.6dB below 16kHz. Diffraction-corrected nearfield bass measurement showed the LF output to decline gently below 100Hz before steepening to the expected fourth-order roll-off below 35Hz, with a creditable 37Hz extension (-6dB re. 200Hz). As we have seen before with isodynamic tweeters, THD at 10kHz was a little high at 1.1% although past experience has also shown that these can give variable distortion results when measured nearfield. The treble resonances visible in the CSD waterfall [see Graph 2, below], which would usually be ascribed to breakup modes in the bass-mid driver, are lower than seen in the D2.1. KH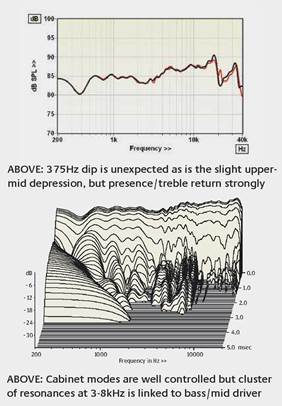 SPECIFICATIONS