PSB M4U 8 wireless noise cancelling headphones
by Chris Martens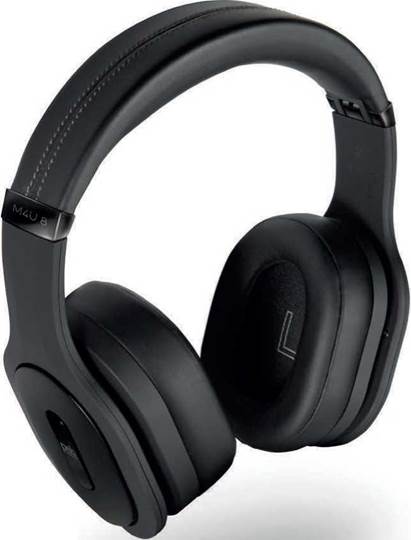 In 2012 the famous loudspeaker designer Paul Barton, founder of PSB Speakers, launched his first ever headphone, called the PSB M4U 2. The M4U 2 was versatile with a capital 'V', so that it offered three operating modes: a very good sounding passive mode, an even better sounding active mode, and an effective, musically sensitive noise cancelling mode. No matter what one needed or wanted a headphone to do, the M4U 2 seemed ready to fit the bill with no questions asked.
When I reviewed the M4U 2 headphone for Playback magazine I called it a "headphone for all seasons" and observed that it was "one of the most cleverly conceived, well executed."
Understandably, the M4U 2 sold like free Guinness on St. Patrick's day and went on to become a great commercial success. Even so, time waits neither for man nor for classic personal audio products so that in 2018 PSB decided it was time to launch a successor to the M4U 2, the wireless Bluetooth-enabled, noise-cancelling M4U 8.
7Review earns Amazon affiliate commissions from qualifying purchases. You can support the site directly via Paypal donations ☕. Thank you!
At first glance, the temptation is to look at the M4U 8 and think, "Oh, it's basically a Bluetooth-enabled version of the original M4U 2."
In a sense that synopsis is partly right, but if you look deeper you'll discover there's more to the story than at first meets the eye. To understand what I mean by this, it helps to survey carefully the differences between the models.
The original M4U 2 was a high quality passive/active/ active+noise-cancelling headphone driven by a switch selectable, onboard, battery-powered amplifier and that featured an effective, switch selectable, and music-minded analogue noise cancellation circuit. We felt—as did many listeners—that the M4U 2 sounded best with its active mode engaged, but with noise cancellation switched off. This was because the M4U 2's noise cancellation circuit, though quite good, involved some audible tradeoffs between noise reduction effectiveness and overall musical transparency.
The M4U 2 also offered voicing that introduced what Barton then termed "in-room feel" (and now calls RoomFeel™, used as a marketing descriptor); that is, headphone voicing that

mimicked the sound of a comparatively neutral loudspeaker as heard in a listening space offering an average amount of 'room gain'. In many respects, this voicing strategy was and still is the secret to the success of Barton's headphones; when you put PSB headphones on they immediately sound much the way you wish your loudspeakers could. In sum, the M4U 2 was a good passive headphone, an even better active headphone, and a very good noise canceller that, while perhaps not the last word in noise reduction, did relatively little harm to the music at hand.
On paper the M4U 8 initially seems similar to the M4U 2; it is roughly the same size, weight, and price; it uses similarly sized dynamic drivers and a similar though not identical frame design; and it provides similar operating modes (a passive
The M4U 8 sounds markedly more open, transparent, focused, and expressive than the original.
mode, an active mode with RoomFeel™, and an active noise cancelling mode with RoomFeel™). The most obvious difference involves the M4U 8's addition of Qualcomm- based aptX HD Bluetooth connectivity functions, which PSB characterises as "the high fidelity version of Bluetooth".
In addition to wireless modes of operation, the M4U 8 also provides two wired modes of operation via a 3.5mm wired connection, or via "USB from the computer, which recharges the batteries for wireless operation." The M4U 8 comes with built-in rechargeable batteries, whereas the M4U 2 used conventional user-replaceable alkaline batteries.
As you look closer, though, other significant differences begin to appear—many of them having to do with recent advancements in digital signal processing. When used in active mode, for example, the M4U 8 applies DSP to implement the most transparent sounding and highest resolution version of RoomFeel™ voicing to date. The upshot is that, when powered up, the M4U 8 sounds markedly more open, transparent, focused, and expressive than the original M4U 2 did.
In turn, the M4U 8's noise-cancellation functions come courtesy of a powerful new noise-cancellation device sourced from the Austrian firm AMS—a device that enables the headphone to maintain very nearly the same wide-open and transparent sound, even when its noise cancellation circuit is switched on (something that could not have been said of the original M4U 2). In fact, you could even build a case to say that the M4U 8 actually sounds best with noise cancellation enabled, since you will enjoy the same basic sound quality as when active mode alone is engaged, but with a markedly lower noise floor.
The noise cancellation system uses four microphones, whereas most competitors use only two. There is also a pushbutton selectable 'Transparency Mode' that allows users temporarily to reduce playback levels by 30dB so as to listen in to sounds from the outside world. Mics and control switches also allow users to answer calls from connected phones or to adjust basic playback functions on connected portable devices—all via Bluetooth.
Ergonomics were always a strong suite of the M4U 2 and the same is true of the M4U 8, although the new model looks more finely finished thanks to matt black soft feel ear
Once powered up, however, the M4U 8 becomes a sonic treat thanks to its fundamentally neutral yet also lively and highly articulate sound.
 cup yokes, so called 'gyro-suspended' ear cup finished in satin black, and a pleather-covered headband and ear pads. Overall, the M4U 8's offers a more tasteful, upscale look and feel vis-a-vis the gloss black plastic parts found on the original M4U 2. Both ear cups provide 3.5mm signal cable jacks, meaning users can make wired connections from whichever side is most convenient. The right hand ear cup also provides a mini-USB connection port (for charging and digital audio), and four easy-to-identify controls: a track forward/backward/ play/pause/call-answer switch, a three position off/on/on with ANC switch, a volume up/down/'Transparent Mode' switch, and a Bluetooth pairing switch.
Used in passive mode, the M4U 8 sounds good but not great, in that its mids, upper mids, and highs sound somewhat recessed and softly focused. Once powered up, however, the M4U 8 becomes a sonic treat thanks to its fundamentally neutral yet also lively and highly articulate sound, which offers what many will regard as a just-right amount of bass lift (enough to give the headphone low-end authority, articulacy, and gravitas, but not so much as to sound boomy or overbearing). The more nuanced the recordings you choose the better the M4U 8 will sound. A track that nicely illustrates this point is the Persuasion's a cappella rendition of U2's 'Angel of Harlem' from The Persuasions Sing U2 [Chesky, 24/96]. The M4U 8's do a highly effective job of delineating the individual voices that comprise the vocal quartet, while showing how the group members modulate vocal textures, timbres, and especially dynamics—often in perfect unison—to create their distinctively soulful take on U2's classic song. The bass voice in particular sounds rich and resonant with an ideal amount of depth and weight, so that it serves as an anchor for the other quartet members' higher pitched voices. This is where RoomFeel™ voicing shows its merits.
Another track that shows the overall balance and expressiveness of the M4U 8 is Lou Reed's classic 'Walk on the Wide Side' from Transformer [RCA, 24/96]. The song opens with an unforgettable loping acoustic bass line, a gently strummed guitar, and Reed's captivating and inimitable storyteller's voice, and the M4U 8 gives each of these elements its due—each in perfect balanced proportion to the others.
Are there caveats? I can think of two, though they are very minor in the grand scheme of things. First, I would like to see the M4U 8 have slightly larger openings in its ear pads. Granted, the pad openings are subtly bevelled to allow more room for your ears on their inner sides, but even so I found my ears sometimes felt a bit cramped during multi-hour listening sessions. Second, purists might argue that the M4U 8, though expressive enough in its own right, is not quite as revealing or resolving as today's best mid-priced planar magnetic designs. While this is true, it is important to remember that the versatile M4U 8 successfully addresses far more varied real-world listening applications than any passive, open-back planar magnetic headphone of which we are aware.
PSB's M4U 8 is a brilliant mid-priced headphone that fulfills many different roles and meets a wide range of requirements in a hugely successful way. For people looking to begin their exploration of high performance headphones without breaking the bank, the M4U 8 is not only a great place to start, but also a fine sonic destination in its own right. That's a claim few 'noise cancellers' can make.
TECHNICAL SPECIFICATIONS
Type: Closed-back dynamic headphone with active amplification, active noise cancelling, and Bluetooth connectivity
Wireless pairing: Bluetooth aptX HD (2.4GHz), NFC Driver complement: One 40mm dynamic driver Frequency response: 20Hz-20kHz, +/-1.5dB Impedance: 32 ohms (passive mode)
Accessories: Hard-shell travel case, dual 3.5mm adapter, 3.5mm cable, micro USB cable, ear pads Battery life between charges: 15 hours Weight: 322 grams (12.8 oz)
PSB M4U 8 Wireless Active Noise Cancelling Headphones
as of November 22, 2023 3:58 am
Features
| | |
| --- | --- |
| Part Number | M4U 8 |
| Model | M4U 8 |
| Color | black |