Panasonic's soundbar measures just 45cm wide
The SC-HTB258 takes the idea of the compact soundbar to another level. But can this small 2.1 system still make a big impact? Mark Craven investigates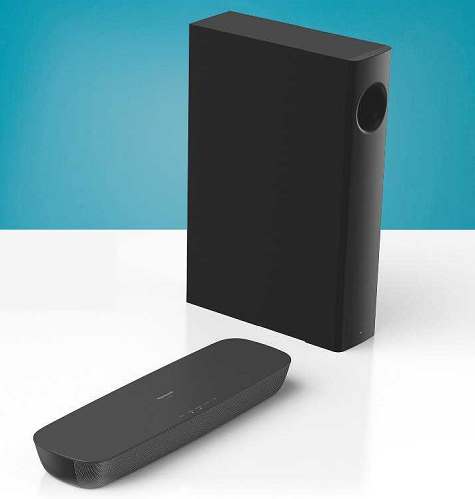 HAVING ALMOST HAD to knock down an interior wall to accommodate LG's gigantic SK10Y soundbar, Panasonic's SC-HTB258 is a welcome change of pace.
A compact 2.1 soundbar system (perhaps the smallest I've ever auditioned) selling for £150, it won't appeal to anyone with an eye on LG's Atmos flagship. But then it doesn't try to. This is all about saving space and being easy to live with. Even the subwoofer element has been crafted with simple integration in mind. A 5.5in driver design, it connects wirelessly, as all seem to do these days, and can be stood vertically (as pictured) or laid
Compact 2.1 HDMI soundbar system
7Review earns Amazon affiliate commissions from qualifying purchases. You can support the site directly via Paypal donations ☕. Thank you!
See also TOP 10 Soundbars & Soundbases
POSITION: Not one of Panasonic's AllPlay models, but above the SC-HTB208 and SC-HTBT200
PEERS: JBL Bar Studio; Acoustic Energy Aego Sound3ar
horizontally, perhaps within a TV/AV unit.
Four rubbery feet can be attached to the relevant supporting side.
The actual soundbar measures 45cm wide, a shade over 5 cm high, and is light enough to wield in one hand. Yet it's pretty, seems well put together, and uses its depth (it's more of a slab than a 'bar) to integrate a port for its pair of full-range drivers.
Physical connections are HDMI ARC, optical digital audio and USB for service/ firmware. There's also Bluetooth streaming.
Out for Justice
Two things are most noticeable about the SC-HTB258 from the off – its bass performance is impressive, but the 'bar struggles to break free from its own compact dimensions.
In Justice League (Sky Cinema), the low-frequency thuds and thwacks as the team take on Steppenwolf have genuine meat to them. Nothing earth-shattering, and prone to onenote boominess, but more than enough to bring that all-important sense of spectacle. At the same time, the bar's full-range drivers keep the chaos of hordes of parademons well delineated, albeit with a slightly soft approach to treble details.
A strong lower mid-range not only helps to tie Panasonic's two-piece system together, creating a cohesive and surprisingly balanced performance from a budget offering, but works well with voices, particularly Ben Affleck's faux Batman growl.
However, the SC-HTB258 doesn't project particularly well. Its small scale design is complemented by a soundfield that's quite narrow, leaving you with the impression of audio that's always tethered closely to the partnered screen. Stereo effects are conveyed, but don't spread wide.
Control via the credit card remote is hit and miss, too. There appear to be countless volume steps, so finding the right level is a bit of a faff, and the use of a single key to cycle through Music, Movie or Standard sound modes (with LEDs to denote the current one) leaves you wondering why you don't just get three physical buttons.
My advice is to find the mode you like and stick with it (Movie offers the most visceral performance). Then, if you're running an HDMI connection to an HDMI CEC compatible display, you can leave that dinky remote in a drawer and use your TV's own zapper instead.
An obvious partner for a 50in or below flat screen, the SC-HTB258 is a confident 2.1 performer. JBL's Bar Studio sells for a smidgeon less and offers a wider, more enticing soundfield, but isn't quite so easy to wire up, fire up and forget
SPECIFICATIONS
DRIVERS: 2 x 4in x 1.5in full-range drivers AMPLIFICATION (CLAIMED): 120W CONNECTIONS: 1 x HDMI output; optical digital audio input; USB (service)
DOLBY ATMOS/DTS:X: No/No SEPARATE SUB: Yes, 5.5in REMOTE CONTROL: Yes DIMENSIONS: 450(w) x 51(h) x 135(d)mm WEIGHT: 1.6kg
FEATURES: Bluetooth; bass reflex cabinet design; Movie, Music and Standard sound presets; vertical or horizontal subwoofer installation; dimmable LED display; HDMI CEC control; ARC (Audio Return Channel)
VERDICT
PANASONIC SC-HTB258 Review
Ease of use, compact dimensions and a tangible boost over most flat screen audio systems are the lure here.
Add your review
Best PANASONIC SC-HTB258 prices ?
MORE DEALS

See also TOP 10 Soundbars & Soundbases