More and more laptops now come with SSDs rather than traditional hard drives, giving faster reading and writing speeds but less capacity. It's also simple to add an SSD to a desktop PC, either as a 2.Sin SATA drive or as a bare module to plug into the increasingly common M.2 interface. If you want extra space but don't fancy opening anything up with a screwdriver, an external SSD is the answer, now that USB 3.0 provides enough transfer speed to take advantage of the performance available from budget SSDs.
A great option if you want extra space but don't want to open up your PC.
This USB 3.0 SSD comes in a slightly bulkier case than the unit from Adata we tested a couple of months ago, and that's because it's compatible with Lexar's Professional Workflow system. Buy an HR1 four-bay USB 3.0 hub and you can slot in up to four portable units for flexible high-speed, high-capacity storage. It's nowhere near the fastest option around – USB 3.1 and now Thunderbolt 3 support much higher speeds, delivered in turn by more expensive SSDs – but it's relatively affordable.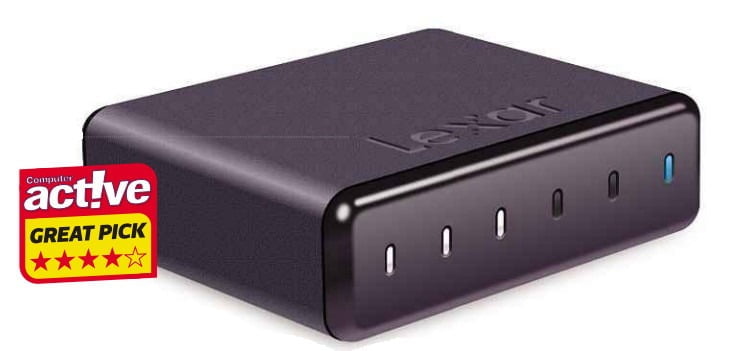 If you only need a single drive, the Portable SSD 512GB (also available in half the capacity, isn't reliant on the HR1 but comes with a USB 3.0 cable that you plug straight into your PC. We found it randomly disconnected and reconnected itself every now and again without warning, but this didn't cause any problems. Otherwise, it worked as we'd expect it to.
In our tests, write speeds peaked a bit higher than the quoted 245MB/S, but dropped to as little as 16MB/s with small files, w'hile reading peaked at 366MB/S but fell to a disappointing 13MB/s in more challenging tasks. These aren't bad results for the price, though not quite as good as those achieved by the Adata SV620.
You could get more capacity or performance for your money by buying a standard 2.5in SSD and an external enclosure, but as a ready-made solution this is good value.
SPECIFICATIONS
512GB 2.5in SSD with enclosure • USB 3.0 • 23x74x60mm (HxWxD) -240g -Two-year warranty
7Review earns Amazon affiliate commissions from qualifying purchases. You can support the site directly via Paypal donations ☕. Thank you!