The handsome, compact Sound Bar 550 is compatible with HEOS speakers and a wireless subwoofer for optional 5.1 playback, but Mark Craven discovers it cuts the mustard on its own. Read our DENON HOME SOUND BAR 550 Review.
THE SOUNDBAR MARKET is saturated, but amongst the myriad models it's possible to see trends, as brands coalesce around specific price points and feature sets. A disadvantage for Denon's Home Sound Bar 550 (beyond the somewhat clumsy name) is that its basic specification – a compact 'bar with no subwoofer, Atmos/DTS:X decoding with no upfirers – is mirrored by models around the £ price point.
The audio specialist's Home Sound Bar 550, a high-performance soundbar with multiroom and voice control talents – not to mention the ability to become part of a wireless 5.1 system.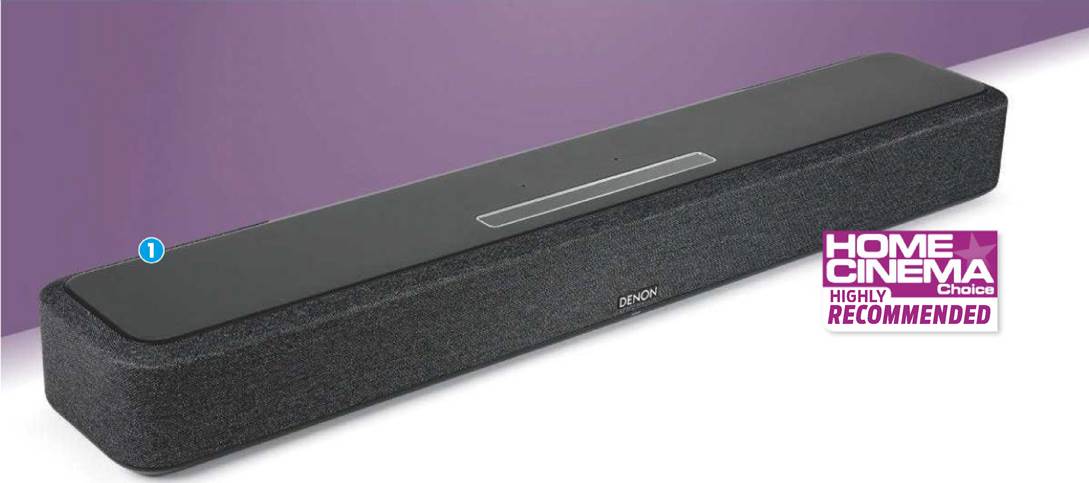 av info
Product
: Stereo soundbar with HEOS multiroom, Alexa and Dolby Atmos
Position:
The only soundbar in the Home range, priced below two DHT models
Peers:
Sonos Arc
;
JBL Bar 5.0 Multibeam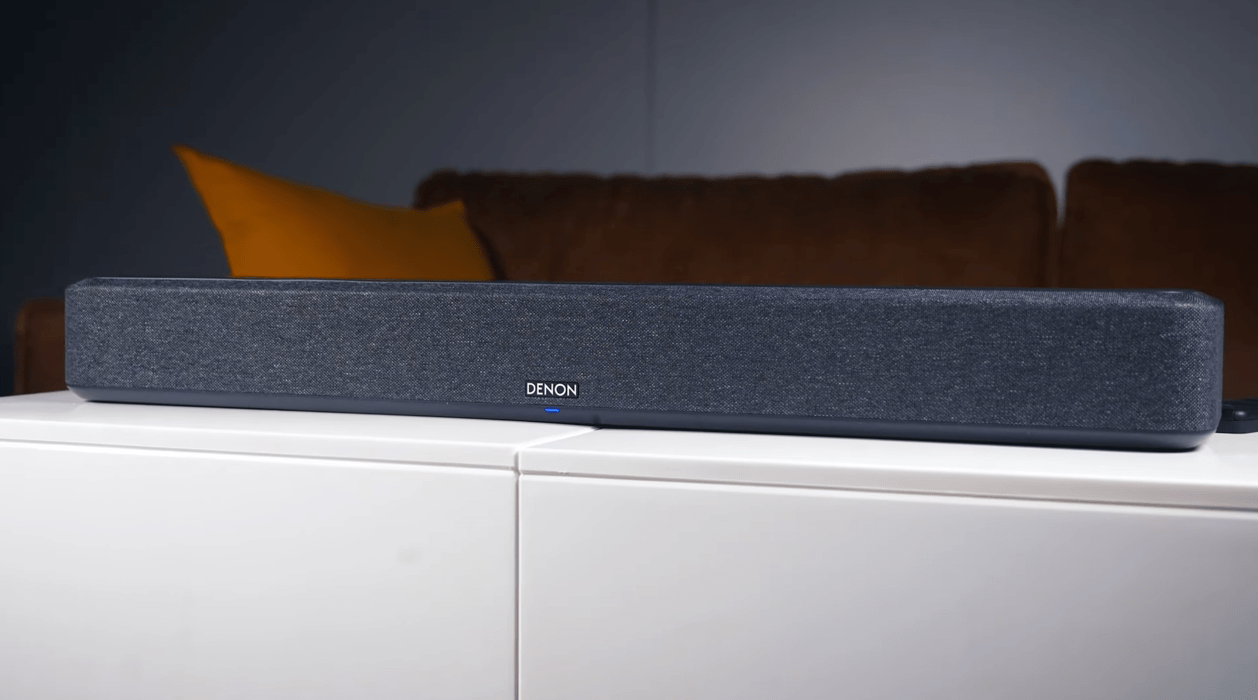 Box-tickers may therefore not give it a second glance, choosing instead to eye soundbars from the likes of JBL and Yamaha. But I think they'd be missing out. Firstly because the Sound Bar 550 has some handy additional features, and secondly because it sounds pretty damn fantastic.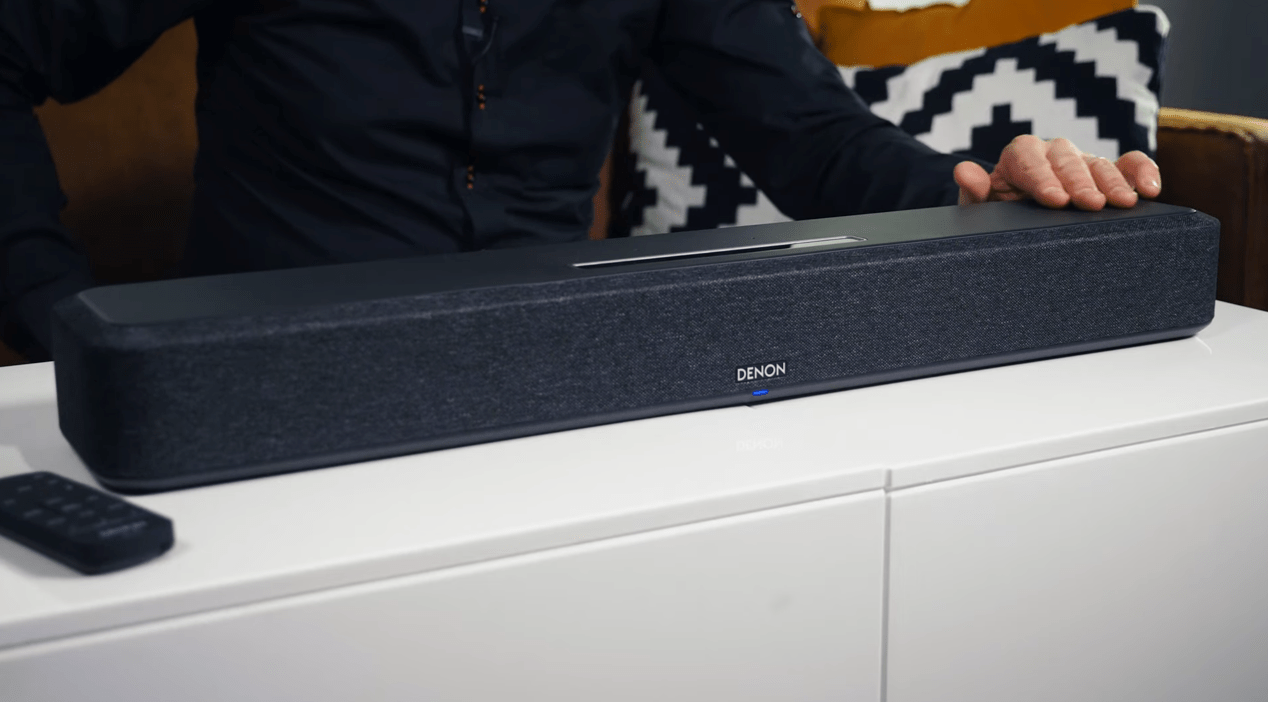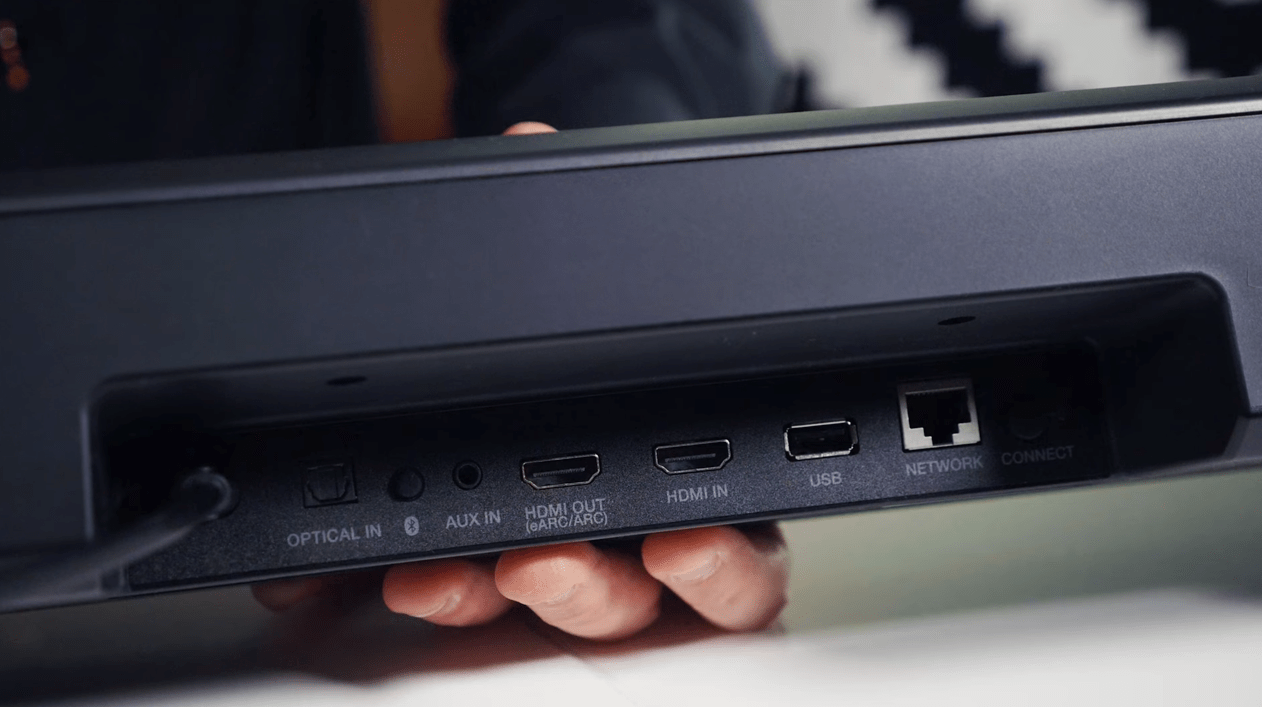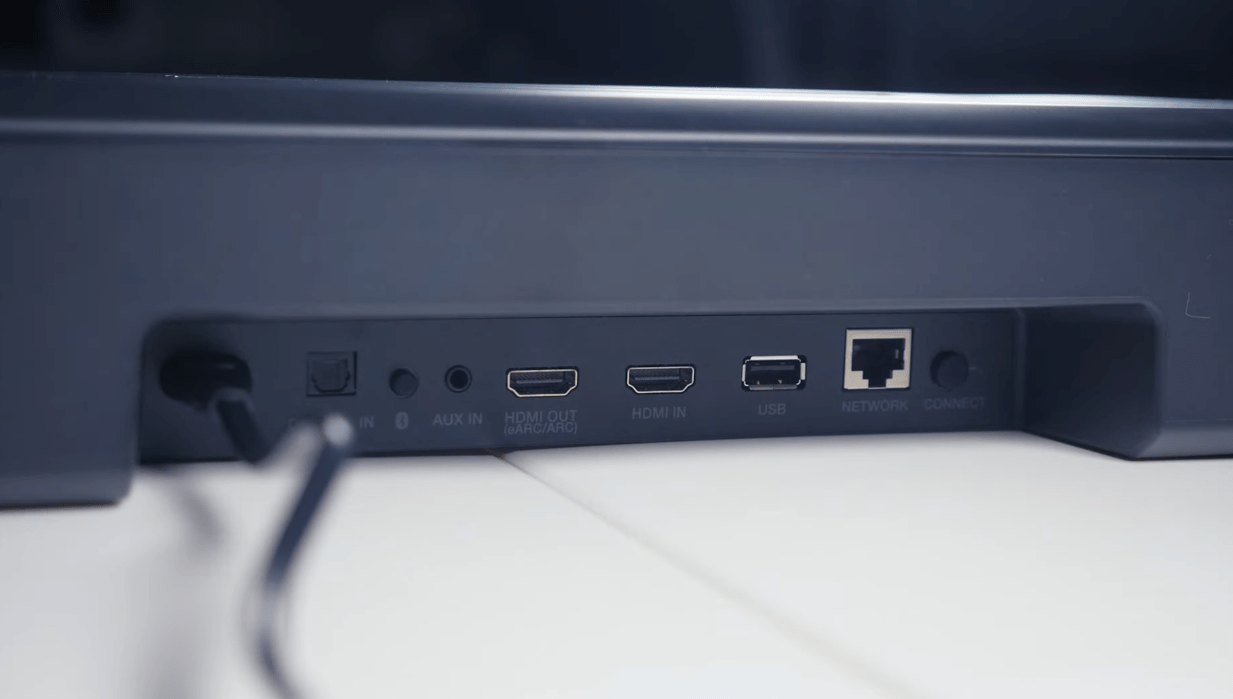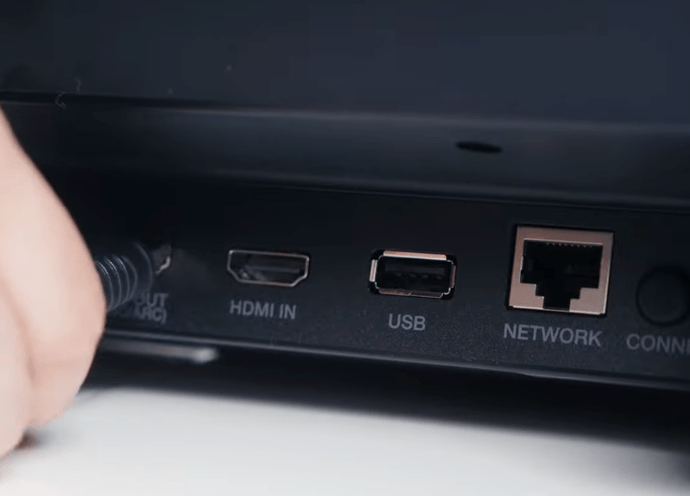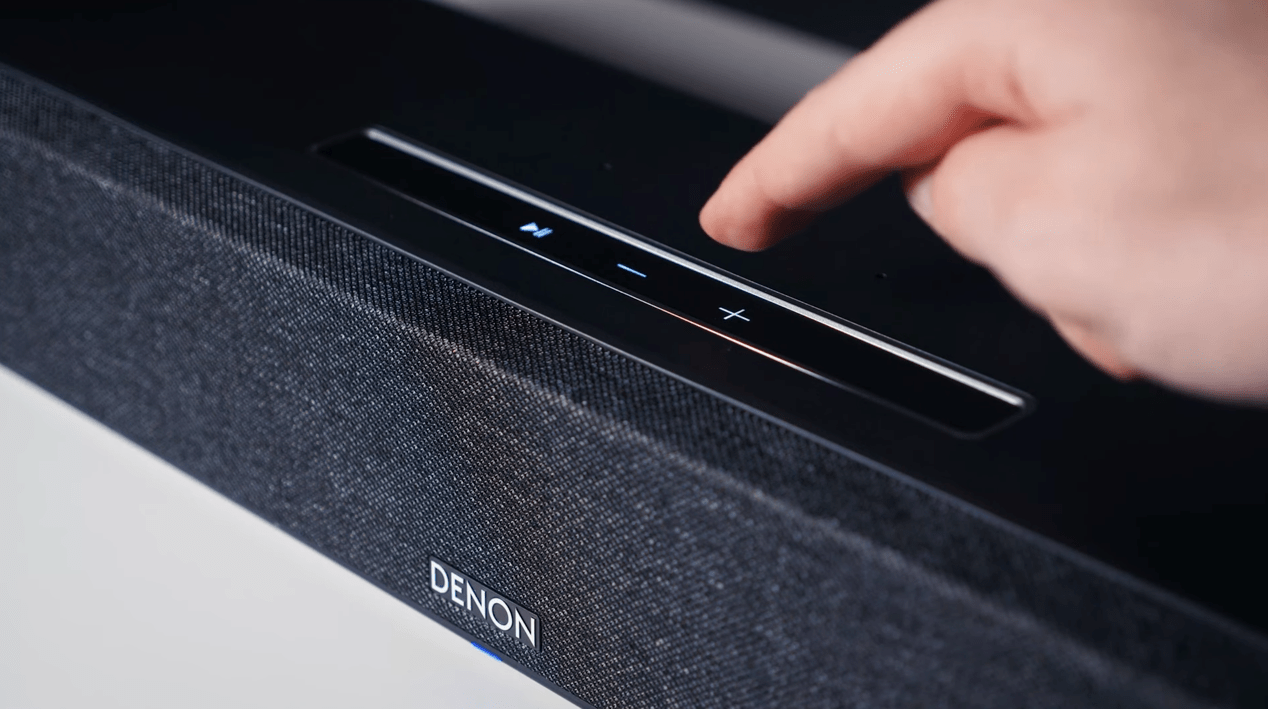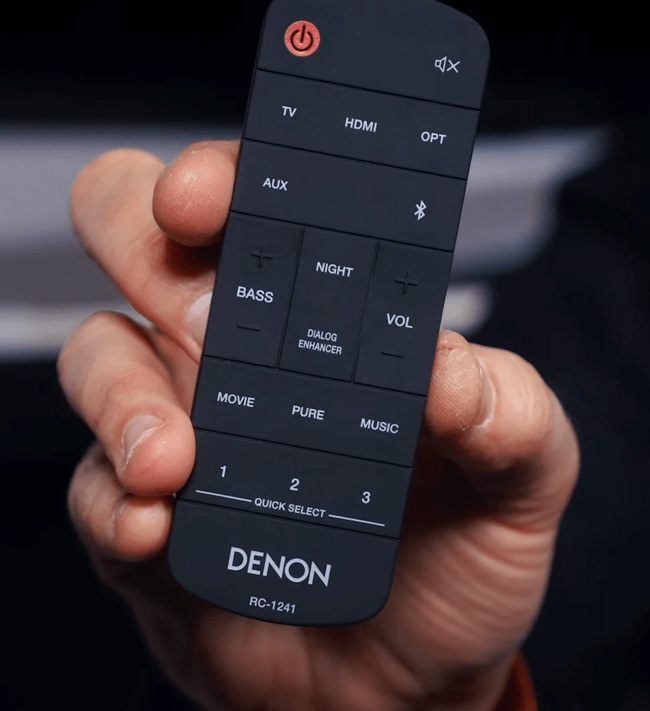 So what are those features? One is built-in Alexa functionality, meaning you can ask the soundbar to tell you jokes, read you the news and play specific music tracks. More importantly, the Sound Bar 550 is a member of the HEOS fraternity.
This proprietary streaming music system, established by Denon in 2014 and now also found on Marantz hardware, enables multiroom audio via HEOS speakers, soundbars and AV receivers. It also comes with a well-engineered app that integrates third-party sources (Spotify, Amazon Music, Deezer, Tidal) and your own files stored on your phone or home network, while doubling as a touchscreen controller for the Sound Bar 550.
7Review earns Amazon affiliate commissions from qualifying purchases. You can support the site directly via Paypal donations ☕. Thank you!
See also TOP 10 Soundbars & Soundbases
You don't have to take advantage of the bar's HEOS skills if you don't want to, of course: it comes supplied with a dinky IR remote handset that's clearly labelled but has slightly clicky buttons.
HEOS setup isn't quite as slick as that of Google Chromecast-enabled soundbars, because at one point you do actually have to heave yourself off your sofa to tap the connect button on the soundbar's rear. Other than that, it only took a few minutes to get going.
The Sound Bar 550's connections are just about standard, although purely based on price you might think the lack of a second HDMI input (there's just one input and one eARC output) is a bit stingy. Optical and 3.5mm audio are fallbacks.
With an eARC connection to your TV, day-to-day operation is laughably easy – all you'll ever need to do is turn your TV on and use its own remote for volume control. It's also a doddle with an HDMI source into the soundbar, or streamed music.
The zapper offers buttons for three preset modes (Movies, Music, Pure), plus bass and treble adjustment. These provide 10-step control, and I found them useful to dial in the sound a little to my preference, particularly as my unit was set to maximum treble out of the box, which seems an odd default setting).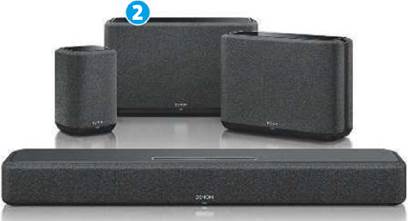 I began my audition with music, because I found myself within the HEOS app, and the soundbar's performance quickly earned my attention. Arrows in Words From The Sky, pounding groove metal from Machine Head (Tidal, 16-bit/44.1kHz), is the sort of energetic track that can trip up soundbars. Yet this Denon has a blast with it. Notable is the tightness, impact and believability it brings to the kick drum and tom-tom hits, perhaps a benefit of its single-box design. With other models that rely on an outboard subwoofer to handle bass, there's often the feeling that timing and poise have been traded for depth, and bass transients become woolly. That's not the case here.
At the other end of the frequency band, the clanking chains in Zeal and Ardor's Devil Is Fine (Tidal, 16-bit/44.1kHz) sounded delightfully crisp and sharp, and it's this that elevates the Sound Bar 550 above more affordable rivals. Across movies, TV and music, I got the sense I was hearing an extra layer of the mix. This 'bar delivers high-frequency details with panache.
There's a limit to the width of its soundstage – it aims at you, rather than around you – but within the L/R spread there's a nice sense of movement. The flying jets and leaping rabbits (seriously) during the opening credits of The Flight Attendant (Sky One) appear to race towards me. And in Fast and Furious 7 (4K BD), when Dom and gang car-parachute into a chase with a bus, the manic onscreen action is mimicked by the soundbar. It sounds nimble and precise with effects and dialogue, yet blessed with brilliantly integrated bass. The performance isn't room­filling, but still dynamic and full-range.
Because the Sound Bar 550 offers nothing beyond a coloured status LED, you'll need to be on the ball to be sure what sound preset you're listening in, or what the incoming sound format is. The HEOS app will tell you, and is essential for digging a little deeper into the soundbar's presets. For example, under the Movie umbrella, there are both Dolby Atmos and Dolby Atmos (Movie) options for

Atmos-encoded content – the latter offering playback 'performed using Dolby technology exclusively.' Note that in this setting neither the soundbar's Dialogue Enhancer or Night Mode features can be selected. There are then also DTS:X and Virtual:X options, plus both Direct and Pure. It's somewhat confusing.
Does this forward-facing array create a believable overhead effect? No. But what it does do is sound appreciably involving, particularly considering its compact design.
Even better, however, is the Sound Bar 550's general demeanour and voicing. Over the course of a couple of weeks with it, I never once felt its sound was unbalanced. It disgorges dialogue and vocals with ease, and showcases great energy and punch without veering into fatiguing territory.
Thanks to its sleek, compact enclosure and HDMI eARC connectivity, this soundbar is easy to install in any environment, where it can then get on with the business of making your movies, TV, games and music sound detailed, dynamic and thrillingly addictive.
Behind the Home Sound Bar 550's mesh grille resides a stereo driver array comprising separate tweeter and mid-range units, plus a pair of passive radiators for greater bass extension. A quartet of amplifiers delivers the grunt, while advanced signal processing (including Dolby Atmos and DTS:X decoding) fine-tunes its output. Our review verdict? 'The performance of this Denon is a cut above the norm thanks to excellent bass integration and crisp highs…. It disgorges dialogue and vocals with ease, and showcases great energy and punch.'
'HEOS lets the Home Sound Bar 550 become part of a wider, whole-house multiroom audio system'
In addition to its sonic talents, the Home Sound Bar 550 has plenty of feature tricks. One is built-in Amazon Alexa integration, allowing the soundbar to be voice-controlled and function as a standalone Alexa smart speaker.
Then there's HEOS, the multiroom audio streaming platform of Denon and its sister brand Marantz. Use the excellent HEOS app to stream music directly to the Home Sound Bar 550, from a range of services including Spotify, Tidal, Deezer and Tune-In, plus content stored on your own home network. All your favourite music is now available at your fingertips.
HEOS also lets the Home Sound Bar 550 become part of a wider, whole-house multiroom system, partnering with other Denon Home speakers, including the Home 150, Home 250 and flagship Home 350. Furthermore, any Denon Home speaker can be assigned to surround sound duty when linked to the Sound Bar Home 550. Add Denon's wireless DSW-1H subwoofer and you have a cinematic 5.1 setup without the fuss of trailing speaker cables.
The price point is perhaps high if you were to never use it with other HEOS hardware, and a full 5.1 HEOS setup is expensive. But that doesn't detract from what's on offer. Highly recommended
EISA SMART SOUNDBAR 2021-2022
One part Dolby Atmos/DTS:X soundbar, one part fully-fledged HEOS multiroom speaker, Denon's Home Sound Bar 550 brings both a rewarding audio performance to movie and music playback, and the possibility of expansion to a home cinema-style multichannel system with optional wireless surrounds and subwoofer. Operation via its remote control is simple and intuitive, but the HEOS app experience is even slicker – and it's here that users can stream music from subscription services, Internet radio or their own network. Amazon Alexa functionality, via in-built microphones, removes the need to even lift a finger. Rounding off this smart package are proximity-sensing touch controls, HDMI switching with Dolby Vision passthrough, and a superior design and build.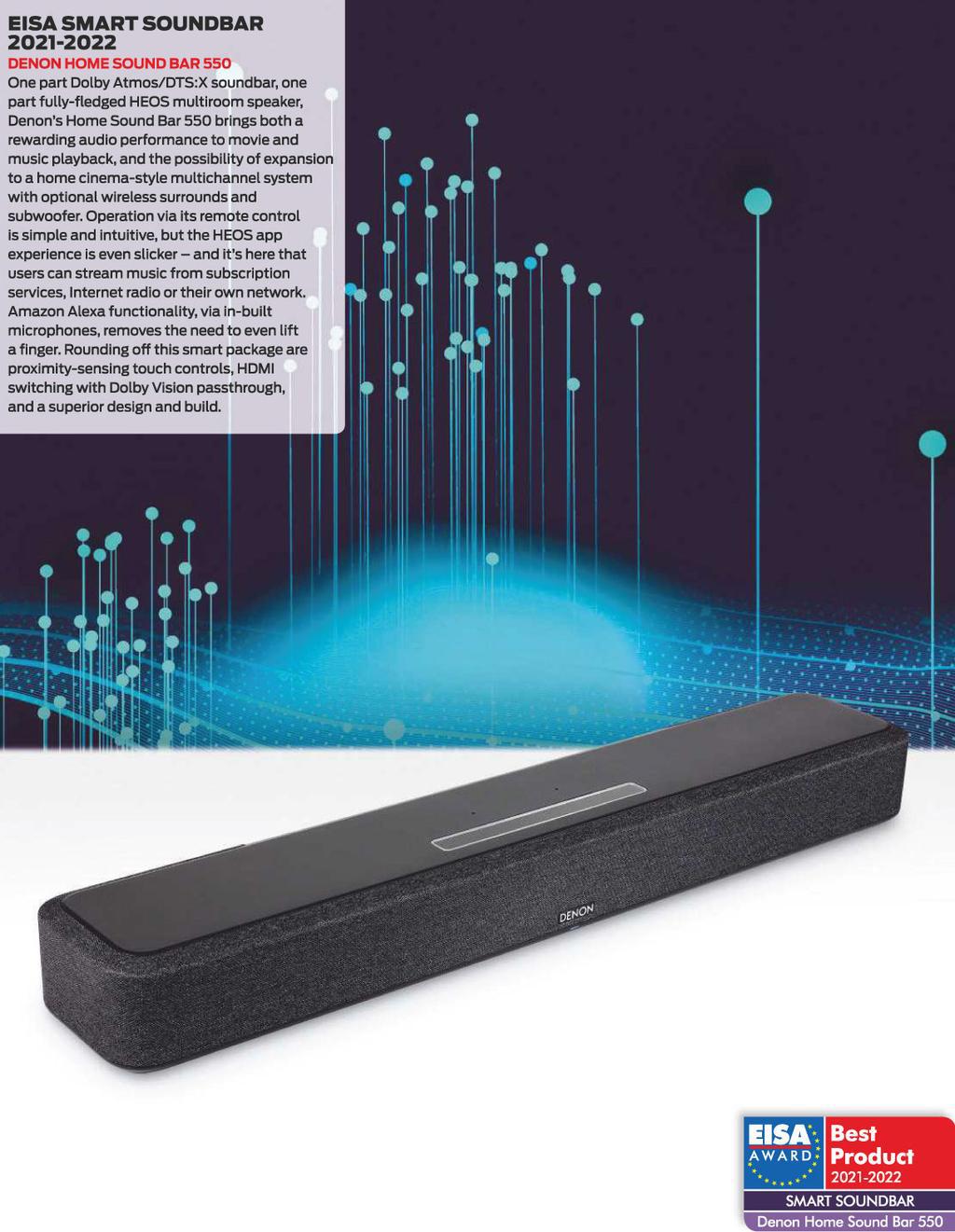 Crowned EISA Smart Soundbar 2021-2022 at this year's EISA Awards, and granted 'Highly Recommended status' in our review.
Recommended
DENON HOME SOUND BAR 550 Review
Pricey for a stereo 'bar, but the performance of this Denon is a cut above the norm thanks to excellent bass integration and crisp highs. HEOS brings extra treats, too.
Add your review
Best DENON HOME SOUND BAR 550 prices in the US ?

$

395.00

$649.00
7 used from $273.17
20 new from $418.98
in stock


$

828.70

$1,248.00
1 new from $828.70
in stock


$

1,295.78

$1,497.00
1 new from $1,295.78
in stock

Best DENON HOME SOUND BAR 550 prices in the UK ?

£

399.00

£599.00
6 new from £389.95
in stock


£

819.27
1 new from £819.27
in stock

MORE DEALS

See also TOP 10 Soundbars & Soundbases
Specifications
| | |
| --- | --- |
| Product Name | Denon Home Sound Bar 550 with Dolby Atmos and HEOS Built-in |
| Design | Bar |
| Amplification | Self-powered |
| Separate Subwoofer | Optional |
| Wireless Surrounds | Optional |
| Number Of Channels | 4.0 |
| Dolby Digital | Yes |
| Dolby Atmos | Yes |
| Dialogue Enhancement | Yes |
| Auto Volume | No |
| Night Mode | Yes |
| Virtual Surround | Virtual Surround |
| Auto Calibration | No |
| Optical Digital Inputs | 1 |
| HDMI ARC Input | Yes |
| HDMI eARC Input | Yes |
| USB Type-A Input | Yes |
| Subwoofer Output | Wireless |
| Tweeter | 0.75" Dome (2) |
| Midrange | 2.1875" Cone (4) |
| Woofer | 2"x3.5" Passive Radiators |
| Enclosure | Passive Radiator |
| HDMI Inputs | 1 |
| HDMI Outputs | 1 |
| HDMI Version | 2.0b |
| HDMI Video Pass-through Resolution | 4K |
| HDR Video Compatible | Yes |
| Includes Remote | Yes |
| Voice Control | Alexa built-in, Google Assistant optional |
| Control by App | Apple iOS, Android |
| HDMI CEC | Yes |
| Remote IR Passthrough | No |
| Learns TV Remote | Pre-programmed |
| Bluetooth Connectivity | Built-in 4.1 |
| Bluetooth Audio Playback | Yes |
| Bluetooth Transmitter Mode | No |
| Online Music Sources | via Heos |
| Apple AirPlay | AirPlay 2 |
| Chromecast built-in | No |
| Amazon Music | Amazon Music HD |
| Apple Music | No |
| Pandora | Yes |
| Spotify | Yes |
| TIDAL | Yes |
| YouTube Music | No |
| Files on Your Network | Yes |
| Built-in Wi-Fi Version | 802.11ac |
| Bands | 2.4, 5.0 GHz |
| Wall-mountable | Yes |
| Mounting Bracket Included | No |
| Sound Bar Size (inches) | 2-15/16H x 25-5/8W x 4-11/16D |
| Sound Bar Weight | 7.3 lbs |
| Subwoofer Size (inches) | No Subwoofer |
| | |
| --- | --- |
| DRIVE UNITS | 2 x 0.75in tweeters; 4 x 2.25in full-range drivers; 3 x 2in x 4in passive radiators |
| ONBOARD POWER (CLAIMED) | Four-channel amplifier, power not specified |
| CONNECTIONS | 1 x HDMI input; 1 x HDMI output with eARC; digital optical audio input; 3.5mm analogue input; USB; Ethernet |
| DOLBY ATMOS/DTS:X | Yes/Yes |
| SEPARATE SUB | No – but can be partnered with optional wireless model |
| REMOTE CONTROL | Yes |
| DIMENSIONS | 650(w) x 75(h) x 120(d)mm |
| WEIGHT | 3.5kg |
| FEATURES | HEOS multiroom streaming platform built-in (with app); Alexa built-in; compatible with Denon Home 150, 250 and 350 (or any HEOS speaker), plus DSW-1H subwoofer, for 5.1 surround; dual-band Wi-Fi; Bluetooth; wall-mountable; 4K HDR/Dolby Vision passthrough; Movie, Music, Pure presets |
| WEBSITE | www.denon.com |
THE FLIGHT ATTENDANT: With its split-screens, flashbacks and surreal dream sequences, this eight-part US black comedy/thriller (available via Sky One/on-demand) might appear to be all style, no substance. Yet it's an addictive watch thanks to a noir-ish plot and excellent performances.
HD and 5.1 only though…