Improve your view, with a curve
DETAILS
• Manufacturer: BenQ
• Requirements: HDMI, DisplayPort, mini DisplayPort source
Although curved monitors have only been with us for a relatively short while, they're beginning to gain ground on the desktop gaming scene – especially among fans of racing games. We've had a few through our doors in recent months, and each has impressed us. The BenQ XR3501 is a cut above your normal desktop monitor, though; it's huge 35″ curved display is, of course, the dominant feature but the specifications for it are just as impressive.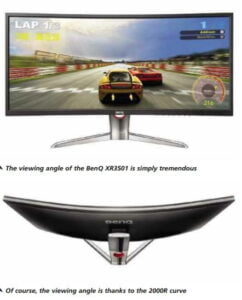 This 2560 x 1080 resolution, 144HZ refresh rate 8-bit AMVA panel offers a field of vision -thanks to its 2000R curve -equal to that of an IMAX theatre screen. This totally immersive view is kept clear and responsive thanks to 21:9 aspect ratio, 178° viewing angles and 4ms response time.
On top of that there's the collection of eye care features we've come to expect from BenQ. These provide low blue light levels, a Black eQualiser mode to improve darker scenes in-game without saturating and over-exposing the surrounding areas, a 20-level colour vibrance setting for a higher level of colour production and performance, and the BenQ Senseye feature that can automatically adjust the display depending on the light levels.
7Review earns Amazon affiliate commissions from qualifying purchases. You can support the site directly via Paypal donations ☕. Thank you!
The design of the XR3501 is exceptionally good. The surrounding bezel isn't too thick, and is made from a matte-black plastic so as to eliminate the reflection and smudging that can occur with a glossy finish. The stand too is sturdy, offering basic tilt to alter the viewing angles for the user. Thankfully the screen itself is mounted quite high on the stand so there's a good clearance and an acceptable, ergonomic, general eye-level setup already in place, somewhat negating the downside of there being no adjustment options.
Connectivity consists of a pair of HDMI ports, DisplayPort, mini DisplayPort, Line-in, Line-out and a headphone port. Built-in to the XR3501 is the AMD Freesync technology, which pairs any AMD GPU nicely with the monitor to eliminate any screen tearing or signs of lag. You'll need an appropriate AMD GPU, of course, but the effect it has on gaming is well documented elsewhere and surprisingly good.
The monitor is weighty, though, and a little awkward to manhandle into position due to its sheer size. It weighs in at around 11,5Kg, so if you've got a dodgy back you may want to employ another pair of hands to help getting it into place!
The resolution purist will no doubt be balking at the idea of such a large and curved panel only hitting 1080p; why not 3440 x 1440? However the saving grace on the XR3501 is the refresh rate, which makes for a far better visual experience compared to a higher resolution.
As you can probably imagine the screen quality is quite superb, but the curve does take a little getting used to. Once you get the measure of it, though, you'll enjoy the immersive experience.
Gaming is wonderful with the extra field of vision, and most games cater for the 2560 x 1080 resolution. However, other tasks such as using a word processor or browsing do create great borders of empty space, which look a little strange at first.
In terms of price, the BenQ XR3501, which is far from cheap. Mind you, this is a premium product, and not your usual run-of-the-mill monitor. If you're willing to splash out on a top of the range screen, then this is certainly one to take into consideration, mm David Hayward
Doesn't tick all the boxes, but is still quite incredible