Denon Home Theater Receivers
DENON HOME THEATRE RECEIVERS
AV RECEIVER RANGE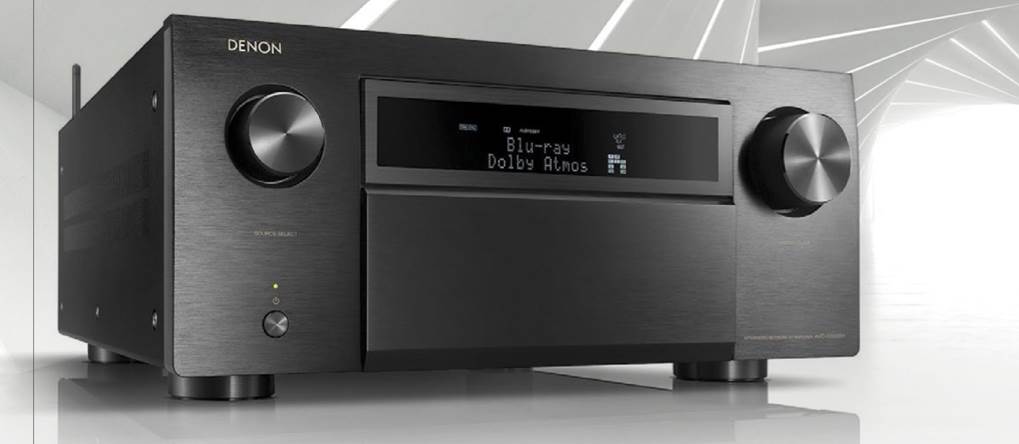 Rather than a single review, here's an overview of the entire range of home cinema receivers and amplifiers from Denon, seeing how the channel count, power and facilities vary with price level.
We keep finding ourselves attending press events in which the mega electronics makers reveal their latest products. Normally they are showing off their latest TVs and soundbars. These days the TVs are pretty uniformly first-class, but we feel distinctly uncomfortable as they tout the virtues of their soundbars. To be fair, many of these soundbars don't sound too horrible these days, but neither do they produce effective surround sound, real high fidelity stereo or deep, extended bass.
If you want those things (and since you're reading Best Buys Audio & AV we think there's a good chance that you do), the starting point is a home theatre receiver. Which brings us to Denon.
For more than 20 years we've been impressed with Denon's AV receivers. We've been using them and writing about them right back to the early days of the DVD. And as they have improved relentlessly over that time, their prices have actually fallen. Consider, back in 1999 the 105W-per-channel Denon AVR-3300. Now, two decades later, the kind of equivalent 105W-per-channel AVR-X3500H. If you want more ways to amplify your home experience, check out archute.com.
And that's counting in today's inflated dollar. That old AVR-3300 cost very nearly $ in 2019 money. Plus, you get much more of a receiver now than you did then. The AVR-X3500H (pictured top right) has seven amplifier channels rather than five. It supports all the Dolby and DTS formats that have been released since then, including Dolby Atmos and DTS:X. The AVR-X3500H has eight HDMI inputs. The old one had none! Both have a phono input, although there was a period there in which few receivers sported that feature.
It even calibrates itself automatically. We nearly forgot about that, but back in those days installing an AV receiver meant having a tape measure and SPL meter to hand.
And the AVR-X3500H is only in the middle of Denon's range of six networked AV receivers. Let's start by looking at some of the commonalities between them all.
NETWORKING & HEOS
You can identify these receivers easily enough by the 'H' suffix on the model numbers. 'H' is, in this case, for 'HEOS'. That's the multiroom audio system that started as a standalone arrangement (see pl4), but now includes quite a few Denon products. All six of these AVRs can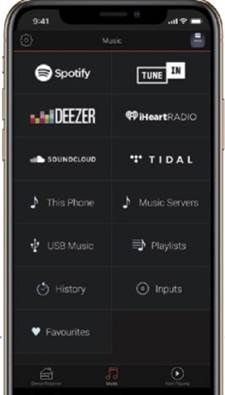 be treated as HEOS speakers, or as part of a group of them. And HEOS has a special feature not available in most multiroom systems. You can feed content from any source plugged into a HEOS device to any other speaker or group of speakers.
If you have a turntable plugged into a Denon AVR-X3500H receiver — any of them, actually — you can also have its sound emerging from the HEOS speaker in your bedroom.
That requires network connectivity, of course. All of them have both Ethernet and Wi-Fi. They all support streaming services such as Spotify Connect, Tidal and Deezer, as well as TuneIn internet radio stations, all of which can be accessed using the HEOS app (below).
You can even open up the built-in web page of each of these receivers on a browser on any computer or device connected to the same network, and make adjustments from there.
And when it comes to streaming local music content, all six of them are fully equipped. High resolution audio —
FLAC, WAV and Apple Lossless up to 192kHz sampling, regular and double-speed DSD — is handled, as are lossy formats like MP3, WMA and AAC. Apple homes can use AirPlay 2, which also supports multiroom operation. AirPlay 2 is wireless, of course. But all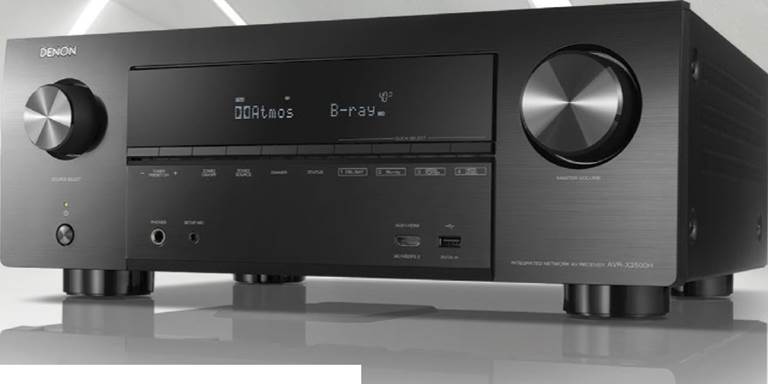 LEFT: Top-of-the-line audio-visual receiver from Denon, the AVC-X8500H, its height significantly ahove the mid-range AVR-X3500H (eight) partly for its wider range of inputs externally, but also for the beefier power supplies and additional amplification channels within.
the receivers also support Bluetooth, so just about any modern smart device or computer can send music to the receiver.
And these receivers can all be controlled — somewhat — by voice, if you use either Google Assistant or Amazon Alexa. Our sense is that this is still mostly first-generation stuff, but we still reckon it's so very cool. These systems are being improved as time goes on. We had a quick run through both systems on a Denon AVR-X3500H as we were writing this to see where they were up to. Alexa is a bit more advanced in its handling — including the ability to switch the receiver on and off and change inputs — than Google Assistant. But Denon is promising more capabilities for the latter in coming months. Apparently Alexa is easier to code than Google Assistant.
AUDIO
Again there are some commonalities but also some significant differences between these receivers when it comes to audio. One similarity is that all of them support all the main home theatre audio standards currently available, including DTS:X and Dolby Atmos. They also support the most up-to-date surround processing options: Dolby Surround and DTS Neural:X.
But the AVR-X4500H and up also add Auro 3D for those wanting to experiment with a quite different surround system. And while the X1500H, X2500H and X3500H are limited to seven surround channels, the AVR-X4500H can process eleven. So the three lower-cost units can deliver 7.1 surround, or 5.1-channel surround with two overhead speakers. The X4500H can go all the way to 7.2 surround plus four overhead speakers. Essentially that's as good as it gets with mainstream surround receivers.
From the X3500H and up there are multichannel analogue outputs so you can do such things as add audiophile power amplifiers to selected channels.
All but the X1500H include a 'Pure Direct' playback mode that switches off all sound processing, for those times when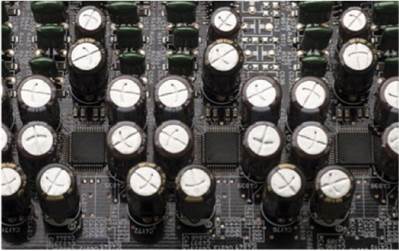 SOLID CIRCUITS: Denon has a deep heritage of 'firsts' in audio technology; it was Japan's first audio electronics manufacturer, founded in 1910.
you want the greatest purity in playback. For the rest of the time you can enjoy speakers which have been EQ'd (and otherwise calibrated for level, distance and size) by the highly regarded Audyssey

ABOVE: The gradual rise in abilities is most obvious to the rear, comparing the $1149 AVR-X1500H on the left with the range-topping AVC-X8500W on the right.

Around the midpoint of this six-strong range of Denon receivers, the pictured AVR-X3500H delivers seven channels of 105W each, Dolby Atmos, Alexa voice control, and full HEOS streaming.
MultEQ XT system, or MultEQ XT32 on the X3500H and up.
One of the things we like about the Audyssey system is that it EQs the subwoofer in addition to the main speakers. Not all of them do that.
But when it comes to sound, the major difference across the model range is in the number of channels and power output. All of them have at least seven amplifier channels, and a pair of these can be assigned to driving a second zone if you wish. (The AVR-X2500H and up also have line outputs for a second zone, or more.) The X4500H pushes that up to nine channels. To use a full 7.2.4 speaker system an addition pair of external power amplifiers is required. But they aren't needed for the X6500H, which has 11 amps built in, nor for the X8500H, which has 13. All the models can also do things like bi-amp the front speakers or run separate A and B front speakers.
Note, all the power output ratings in our listing at the end are for two channels driven.
But also note, in the real world, the limitation is usually closer to the higher dynamic ratings.
Not comfortable with network audio? The USB socket on the front can accept music on storage media. They can be the same formats as supported within the receivers' network capabilities. You can navigate through its contents using just the remote or on screen display. Or if you are networked, you can just use the HEOS app to manage the music queue (and mix and match with network content).
Meanwhile for other music sources, all models have regular line inputs and digital audio inputs, in addition to HDMI inputs and the phono input.
VIDEO AND SET-UP
It is now 2019, so of course all the receivers can handle modern video. And modern video means High Dynamic Range (HDR), 10 (or more)-bit colour, Dolby Vision, Hybrid Log Gamma images and UltraHD resolution. Plus the HDCP 2.2 copy protection required by UltraHD Blu-ray.
But from the X2500H and up the receiver can also upscale HDMI video and perform other video processing functions. Given the weakness of some displays in handling Australian 50Hz video signals, that could be a boon if the receiver does it well. Here's what we had to say about the Denon AVR-X3500H on this front in our recent review for Sound+Image magazine (you can read this in full at avhub.com.au/X3500H): "The automatic progressive-scan conversion was excellent. There was only the briefest of slips into accidental video-mode deinterlacing with the hardest 1080i/50 test clip, and none at all with 576i/50 tests."
In other words, the X2500H and up can actually improve video quality compared to some displays, which is especially useful when one is using a PVR (many of which aren't especially good on progressive-scan conversion).
CONCLUSION
This is the time of year when we hear the first inklings of next year's range, but until then Denon offers this superb range of home theatre receivers, allowing enthusiasts to balance their budget with their feature and performance needs. We've been living with the Denon AVR-X3500H receiver for several months, and we remain impressed.
2019 Denon AV receiver line-up
Denon AVR-X1500H
Quoted power: 7 x 80W (8 ohms, 20Hz-20kHz, 0.08% THD) HDMI in/out: 6/1
Denon AVR-X2500H
Quoted power: 7 x 95W
(8 ohms, 20Hz-20kHz, 0.08% THD) HDMI in/out: 8/2
Denon AVR-X3500H
Quoted power: 7 x 105W (8 ohms, 20Hz-20kHz, 0.08% THD) HDMI in/out: 8/3
Denon AVR-X4500H
Quoted power: 9 x 125W (8 ohms, 20Hz-20kHz, 0.08% THD), HDMI in/out: 8/3
Denon AVC-X6500H
Quoted power: 11 x 140W (8 ohms, 20Hz-20kHz, 0.08% THD) HDMI in/out: 8/3
Denon AVC-X8500H
Quoted power: 13 x 150W (8 ohms, 20Hz-20kHz, 0.05% THD) HDMI in/out: 8/3
Contact: QualiFi Pty Ltd Telephone: 1800 24 24 26 Web: www.au.denon.com/au