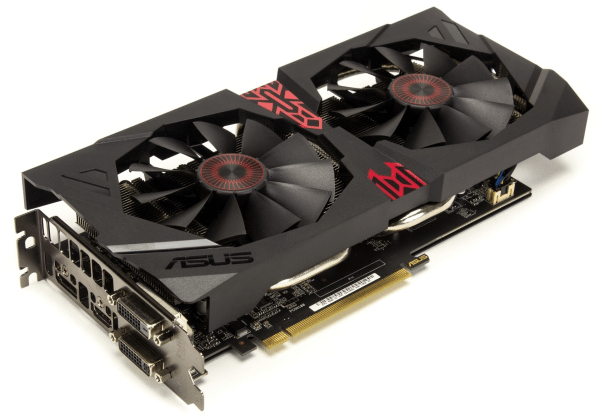 Asus' Radeon R9 380 Strix 2GB is both the longest and tallest AMD card on test, with its 272 x 138mm dimensions throwing out any notion of squeezing it into a small case. The upside of this size, though, is that you get enough space for good heat dissipation, along with a quiet, efficient and semi-passive cooler.
Asus hasn't gone wild with its out-of-the-box overclock either. In fact, it isn't much faster than the smallest R9 380 card on test. The GPU core sits at 990MHz, just 20MHz over the stock speeds, which is the equivalent of a 2 per cent boost. Meanwhile, its memory frequency is the same as the reference R9 380 spec, 5.5GHz (effective).
But the overclock isn't the focus of this card, which the external packaging makes clear with its claim of '0dB gaming' for extremely low noise output. On its website, Asus explains that this feature results in complete silence from the card during light gaming, and 20 per cent less noise during more intense scenes. Its default Low fan speed profile spins the fan at just 904rpm.
Aside from the cooler, the R9 380 Strix package has a modest feature set. There's a backplate, but no dual BIOS feature and no adaptors or extra accessories, while the video outputs simply include dual-link DVI-I and DVI-D, HDMI and DisplayPort. The only remaining notable addition is an LED power indicator over the 8-pin PCI-E connector, which indicates when a solid connection has been made.
With a minimal overclock, performance is only a slim improvement over the reference R9 380, and the Asus Radeon R9 380 Strix 2GB is the slowest card on test. The difference isn't really noticeable in The Witcher III, but in Fallout 4, the Sapphire R9 380 Nitro 4GB adds 5fps to the Strix's minimum frame rate.
We then decided to see if we could squeeze any more performance out of the card, and managed to raise the GPU frequency by 130MHz to 1120MHz, and took the memory up to 6.3GHz (effective).
However, unlike the other cards on test, the Strix required a voltage injection of 50mV to achieve these clock speeds. At these settings, the Fallout 4 minimum frame rate went from 29fps to 32fps at 1080p, which is a solid improvement, even if it still can't quite catch the Sapphire.
Load power consumption in our test PC was 291W with the Strix at stock speed and 331W when it was overclocked, which is about right for a card of this spec, and nothing extraordinary. Temperatures were good though. When idle, the Asus Radeon R9 380 Strix's GPU hit a delta T of 14°C, but under load it was the coolest R9 380 card on test, hitting just 43°C, a result that's 11°C (around 25 per cent) cooler than either of Sapphire's cards.
What's more, despite these temperatures, the cooler was also the quietest on test – you can hardly hear it in use.
Although the Asus Radeon R9 380 Strix doesn't come with loads of accessories, and isn't much faster than a stock card, we must stress that the performance difference between the 2GB cards on test is very slim. If speed is your priority, the extra memory on the Sapphire R9 380 Nitro Backplate 4GB gives it an edge in Fallout 4 at 1080p, but the Asus Radeon R9 380 Strix's superb cooler means it strikes the perfect balance between fan noise, temperatures and performance, and at a reasonable price too.
VERDICTThe quietest and coolest R9 380 card on test, while still remaining fast. A great graphics card for the money.