EC Peasy – Smooth sailing for Zowie and the EC2-A which shows gamer you don't need a thousand buttons to have a great mouse
As you blaze across the battlefield with your left hand on the mighty keyboard, your right hand resides on the sacred mouse. The two most important weapons you have in your arsenal, isn't it normal to want the best to give you the advantage? The importance of a good mouse isn't measured by its DPI or how many bazillion buttons you can fit on it. It's about finding one that comfortable fits your hand and lets you play your games at in your best condition.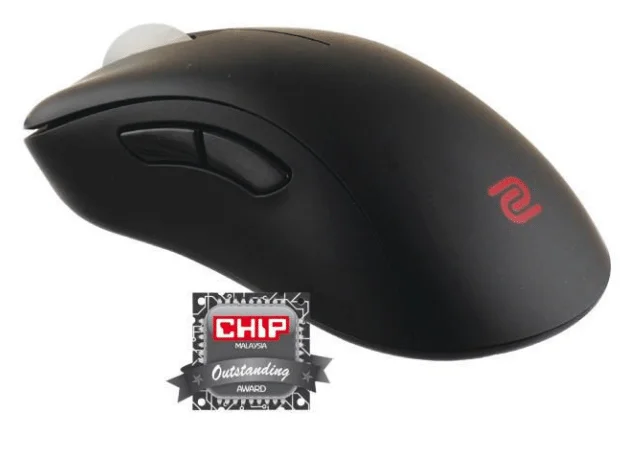 The Zowie EC2-A is a comfortable mouse indeed, a shape that claw users can enjoy and palm users with smaller hands would love. Sticking to their motto of being simple yet effective, the EC2-A definitely hits the spot when it comes to being bare bones yet performs well. The mouse glides smoothly across different surfaces, but cloth surfaces are our favorite for this mouse. It only weighs 93g which is noticeable when you glide across your mouse pad with ease.
The EC2-A uses a flexible soft rubber cable that rarely got in the way of our gaming. It was only a short time ago that braided cables were a rising trend, adding durability and aesthetics but at the cost of a stiffer and less supple cable. Zowie's implementation of a rubber cable is great, it doesn't cause any drag when rubbing against a surface.
The sensor used is an Avago 3310 sensor and is capable of multiple levels of DPI (400/800/1600/3200). Switching of DPI can be done by hitting a switch on the underside of the mouse, which we found to be a bit of a hassle especially during play. Some of us like to switch between DPI's when sniping, so we are pretty sure it's not convenient for us to turn the mouse around every time we snipe.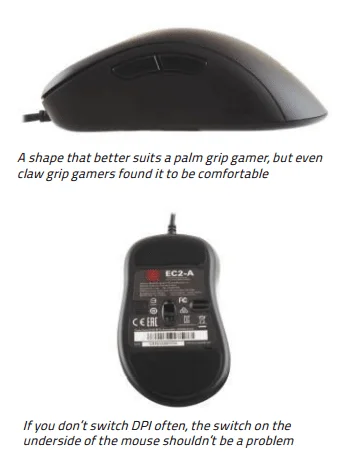 One of the best things about the EC2-A is definitely its buttons, the buttons are tactile and light which would delight high APM players. Not much force is needed to actuate the switch, but it's also not light enough that you would accidentally cause a misclick.
7Review earns Amazon affiliate commissions from qualifying purchases. You can support the site directly via Paypal donations ☕. Thank you!
+ Smooth glide
+ Comfortable grip
+ Light and tactile buttons
– DPI switch inconvenient
Verdict
The Zowie EC2-A is a great barebones mouse, but the inconveniently placed DPI button could sometimes mean a deal breaker. But ignoring that, the mouse glides like ice has great buttons, and we would have chosen to give a higher rating if it was slightly more competitive in pricing.
DPI: 400-3,200
Polling Rate: 125/500/1000Hz
Programmable Buttons: 5
Dimensions: 64 x 120 x 40mm
Weight: 93g