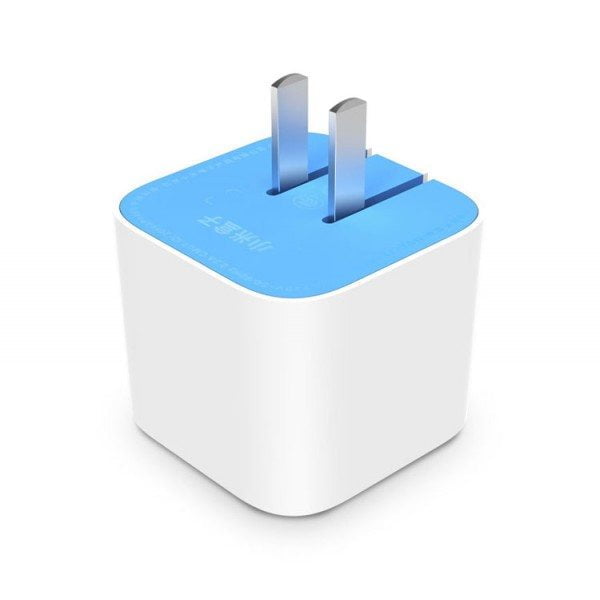 If it were to compare the Xiaomi Mi Box Mini FHD with some of its direct competitors (reference to the MINIX NEO X8-H Plus TV Box and the Tronsmart MXIII Plus), you will find a huge difference in size and style. If the more traditional devices feature a big antenna and a medium sized box, the Xiaomi Mi Box Mini FHD removed all the bulky elements and produced a cute looking cube that has the possibility to transform your regular TV monitor into a Smart TV.
The fact that this device doesn't require any special place is a huge advantage when compared with other similar products. The built-in power supply fools people into confusing it for a simple charger plug and it can easily hidden behind the TV.
It seems almost unbelievable that such a small device packs the necessary power to offer users a great visual experience! It also features very low power consumption and the fact that it uses a Bluetooth channel to connect with the remote control it removes the need for line of sight.
The price for this cute little device is very affordable as you can have it. You will also find that prices differ from store to store and you can actually get it at half price on some.
The package is small and contains the cube (Mi Box Mini FHD), an HDMI cable, the remote control and the user manual. The box is designed to be simple and elegant, offering a fantastic unpacking experience that only a well designed product would.
This can also be a fantastic gift as it doesn't take too much space and it looks fantastic.
7Review earns Amazon affiliate commissions from qualifying purchases. You can support the site directly via Paypal donations ☕. Thank you!
The Xiaomi Mi Box Mini FHD makes you think about Apple and their beautiful products that promote a slick design impressing through simplicity and ingenuity. Actually, the remote features a circular controller that takes us back to the iPod.
The Bluetooth remote is slim and comes in two colors: black or white. The feel is amazing as it offers a good grip and the design is elegant, going perfectly with fancy salons and white furniture. There are a few available buttons like movement control (the circular button), power button, volume control, home & back button, and settings button.
It is difficult to believe that such a small device packs a Cortex-A9 Quad Core CPU capable to run at 2GHz of speed and a 4+2 graphical processing unit (GPU). It also has 1GB DDR3 of RAM memory and 4GB of storage space.
In terms of connectivity, this small cube promotes built-in 802.11 2.4Ghz/5Ghz dual band WiFi and Bluetooth 4.0 channels that allow users to connect various devices like speakers, keyboard, mouse, and others. The great GPU allows for FHD resolution at 1920 x 1080 pixels for a better video experience. Also, the Mi Box Mini FHD promotes dynamic memory allocation allowing users to visualize high-quality videos without lag and smooth gaming. To enhance the overall user experience, this small device also packs a Dolby Digital & DTS sound system.
The device runs MIUI TV based on Android 4.4.2 which is a bit old for a time when Android 6 is prepared to be released. One disadvantage is the fact that the interface can't be connected to Google Store in order to download your favorite apps. It does have a place where users can download apps called Mi Market but the database can't be compared with Google's.
Also, the system is connected with GITV (Galaxy Internet TV) a large movie database that manages to offer over 140 000 hours of HD video content. There is no Netflix or Spotify.
The device supports streaming from another device like phone and tablet thus offering the possibility to view movies or play games on a bigger screen.
Cute & compact designPowerful configurationLow power consumptionBluetooth controllerGreat looking boxIt runs a combined version of Android and MIUI TVNo Netflix or other popular streaming appsNo access to Google PlayProprietary movie database
The Xiaomi Mi Box Mini FHD is a cute and powerful device that can be purchased at a very good price. Still, the fact that it runs a combination of proprietary system and Android and the limitation to their marketplace and TV database could be a huge disadvantage. All-in-all the device implements a premium design but the producers should work a bit more at the software capabilities.
Cortex-A9 Quad-Core 2Ghz,1GB DDR3 RAM 4GB eMMC ROM With a strong quad core CPU, 4+2 core GPU, and original dynamic memory allocation optimization technology, video, gaming has become extremely smooth Support FHD resolution,1920 x 1080