On the evidence of this UST PJ, John Archer feels newcomer Xgimi is ready to take on the AV big boys. Read our XGIMI Aura Review.
Xgimi is the latest in a growing line of relatively new Chinese brands on a mission to shake up the home entertainment market – and if its new Aura ultra-short-throw projector is anything to go by, it'll soon find plenty of fans. Priced £, this beamer feels like serious value for money.
4K HDR ultra-shortthrow projector
POSITION: Xgimi's only UST model, and its most expensive home entertainment PJ
PEERS: Hisense 100L9GTUK; Samsung The Premiere SP-LSP9T
That price is eye-catchingly little for what, as we'll see, is a very well specified home entertainment machine, yet the Aura also looks unexpectedly premium. Somewhat reminiscent of BenQ's V7000i model in size and shape, although curvier, it flaunts a striking mix of brushed metal top edge and black felt-covered speaker section. This faces out of the projector's rear, which in the UST case means directly out towards your seating position.
Images are projected through a slit in the top of the chassis, and can stretch to 150in (from a throw distance of 17.3in), although Xgimi suggests a max size of 120in is preferable for image quality. As usual with UST projectors, the Aura doesn't carry any zoom, so its picture size is entirely dependent on how close to your wall/screen you place it.
7Review earns Amazon affiliate commissions from qualifying purchases. You can support the site directly via Paypal donations ☕. Thank you!
RECOMMENDED VIDEOS FOR YOU...
See also TOP 15 projectors
If your installation leaves the image with angled sides, an eight-point keystone correction system is provided to help you straighten things out. There are more comprehensive keystone tools out there, but actually I found the Xgimi easier to set up than many rivals.
Laser phosphor
Under the lid are laser DLP optics, using the 'ALPD 3.0 laser phosphor system' from Chinese corp Appotronics. Xgimi claims this can cover off 80% of the DCI-P3 colour gamut standard, and hit a peak brightness of 2,400 Lumens.
Rear-facing connections include three HDMI inputs – when most projectors only manage two – as well as a trio of USBs. The HDMIs tackle 4K and HDR10, but as their bandwidth is limited to 18Gbps there are no 4K/120Hz or variable refresh rate gaming facilities. A missed trick? Possibly.
The Aura carries built-in Wi-Fi to feed an Android TV smart system, a key feature in Xgimi's bid to position the projector as a realistic alternative to a super-size TV. This Android interface does not, however, currently support the BBC iPlayer, All4 or Freeview Play apps. Also, the Netflix app, while present, doesn't work properly. Xgimi says it's in discussions with Netflix, but there's no potential fix date yet.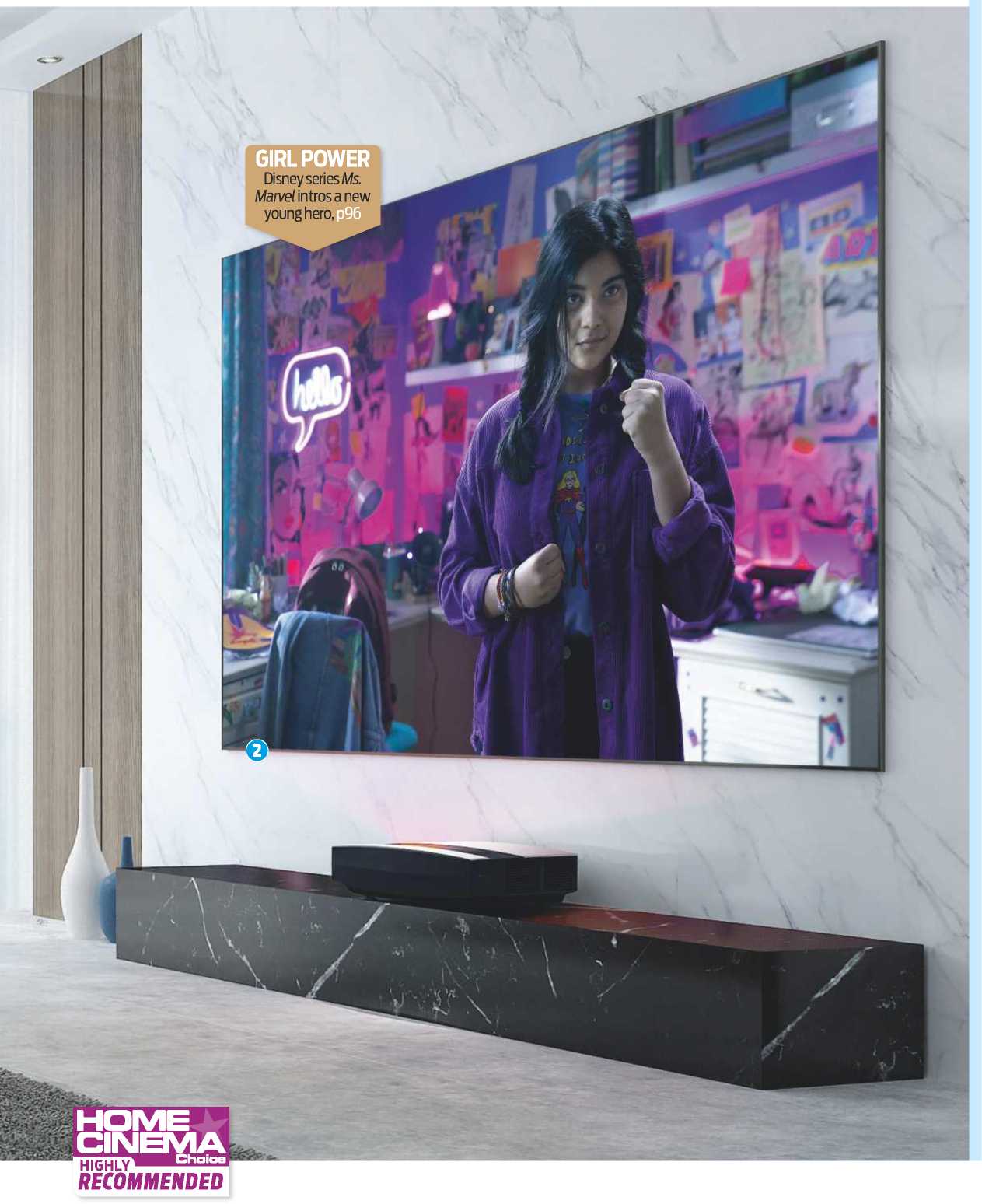 1. The Aura's two-tone chassis features a smart, gently curved top panel
2. Keep images to 120in max for optimum picture performance, says Xgimi
Blaze of glory
While inevitably not without its compromises and limitations, for the most part the Xgimi Aura is a startlingly effective performer.
It really is bright. Even using my usual neutral-gain projection screen (many buyers may just aim it at a white wall, of course), the Aura crafts visuals in a blaze of HDR glory, hitting brightness heights in both peak light areas and across the screen that make the company's 2,400 Lumens output claim look conservative.
The ultra-short-throw 'beam' distance also helps it efficiently combat ambient light. Sure, there's still some compromise with viewing in daylight conditions compared with a true TV experience, particularly in dark areas of the image. But the Aura fares better in this regard than I'd usually expect from a projector setup.
The model's high brightness gives its pictures a delicious punch in a dark room setting, and help it produce a more convincing sense of high dynamic range support than most projectors in this price range manage (HDR being, after all, designed predominantly for TVs).
Disney series Ms. Marvel intros a new young hero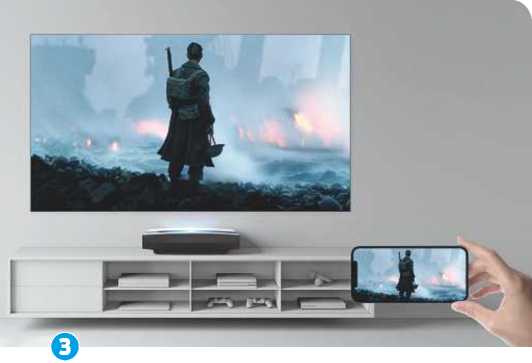 3. Integrated Chromecast enables screen mirroring on an epic scale…
Maybe the best thing about the Aura's luminance skill is how relatively little it damages the projector's black levels. The truck/prisoner transport chase through the blackened streets of Gotham in The Dark Knight Rises (4K Blu-ray) really convinces. There's little sign of a grey wash hanging over dark areas, good amounts of visible shadow detail, reasonably natural dark colours, and a sense of depth that's almost as defined as it is during the film's bright scenes. In short, there's not much of a distracting drop in image quality as the picture transitions from bright to dark.
These credible black levels are mildly beneficial in bright room settings, but come into their own with the lights down for movie night. Indeed, the Aura is one of the most adaptable ultra-bright projectors I've experienced, despite its far from stratospheric price tag.
'The Aura crafts visuals in a blaze of HDR glory, and gives pictures a delicious punch in a dark room setting'
And it's worth adding that its pictures aren't saddled with hot spots (excessively bright areas), the like of which very bright UST projectors can sometimes display.
Sharp shooter
Like any remotely affordable DLP projector on the planet, Xgimi's Aura doesn't have a native 4K pixel count (which would involve fitting 3,840 x 2,160 tiny mirrors on the back of its 'digital mirror device'). It therefore offers a pseudo 4K image by flashing its mirrors multiple times per frame to create the impression of a 4K resolution.
This technique was once viewed with scepticism but is now an established part of the AV landscape, and even on the huge scale the Aura is asked to project, its sharp pictures look at the very least 4K adjacent. This is something easy to appreciate in the way it clearly shows the differences in The Dark Knight Rises' 4K transfer, as it switches between ultra-clean and detailed 16:9 'IMAX' scenes and the less crisp, slightly grainier 2.35:1 sequences.
The least commendable aspect of the PJ's performance is a slightly washed out and 'off' colour palette. This is mostly noticeable with the colour temperature set to Warm, which tends to inject more yellow rather than red, and doesn't help with low-lit skin tones.
In fact, aside from perhaps the Football preset, such colour limitations make the Xgimi's Custom picture mode the only really usable one, with reds increased and greens decreased in its colour temperature menu. Unhelpfully, the Aura doesn't let you tweak the non-Custom presets in any substantial way.
It handles motion quite awkwardly, too. Judder is unusually excessive without the motion processing system in play, yet the system proves rather basic, with even its minimum power setting generating noticeable artefacts around the edges of fast-moving objects. But I wouldn't say these motion issues are a deal breaker.
A more minor niggle is that it's impossible to get a perfect balance of contrast and brightness. Using the default 50 brightness setting with HDR can cause black crush in dark areas. This can be fixed by increasing it, but you can only nudge it up one or two levels before blacks start to look elevated and bright areas start to bleach.
It's back to positive territory with the Aura's audio, though. A 4 x 15W speaker system has been cooked up with audio brand Harman Kardon, and it sounds strikingly warm, rounded, detailed and dynamic. Dialogue handling is also naturalistic, while impact effects emerge with a decent sense of attack. The only problem, ironically, is a lack of projection. Voices sound quite detached from the images sitting above the projector, and the rest of the mix doesn't spread far from the Aura's bodywork, meaning your monster visuals aren't accompanied by suitably sized sonics. It's superior to many other built-in projector sound systems, however, and an optical audio output supports external hardware.
Brace for impact
While Xgimi and other manufacturers have a job on their hands to propel the idea of UST projectors as TVs into the mainstream, the Aura's combination of a decent price, elegant style and sharp, impactful performance are a healthy step in the right direction
Verdict
Recommended
XGIMI Aura Review
Surprisingly good sharpness, brightness, and contrast - and impressive Harman Kardon-aided sound quality - make Xgimi's Aura an ultra-short-throw bargain.
Add your review
Best XGIMI Aura prices in the US ?
Best XGIMI Aura prices in the UK ?

£

2,199.00
1 new from £2,199.00
in stock

MORE DEALS

See also TOP 15 projectors
SPECIFICATIONS
3D: Yes. Active shutter 4K: Yes. 3,840 x 2,160 (via DLP double flashing) HDR: Yes. HDR10 CONNECTIONS: 3 x HDMI inputs; 3 x USB; headphone jack; optical audio output BRIGHTNESS (CLAIMED): 2,400 Lumens CONTRAST (CLAIMED): N/A ZOOM: N/A DIMENSIONS: 606(w) x 139.5(h) x 401(d)mm WEIGHT: 11kg
FEATURES: Ultra-short-throw projector; single-chip DLP with single laser and colour wheel optics; built-in Harman Kardon-designed speaker system; 20,000-hour claimed laser life; Movie, Game, Office, Football and Custom picture presets; 100in image from 9.7in throw distance; Android TV smart system  
TESTED WITH  
THE DARK KNIGHT RISES: Time hasn't eroded the dark power of the middle part of Christopher Nolan's acclaimed Batman trilogy. Heath Ledger's Joker is a performance for the ages, and the script and beautifully crafted action scenes make this a highlight even by Nolan's lofty standards. Bag it on the 4K BD trilogy boxset.