Windows 10 Laptops Review
DO YOU CRAVE A NEW LAPTOP NOW THAT WINDOWS 10 IS OUT? WE PUT A SELECTION OF CONVENTIONAL LAPTOPS AND HYBRIDS TO THE TEST, WITH MODELS STARTING FROM ONLY $500
Buyer's guide
THE LAPTOP MARKET HAS BECOME INCREDIBLY COMPETITIVE, WITH PRICES FOR DECENT MACHINES FALLING TO ALL-TIME LOWS. HERE'S WHAT YOU SHOULD BE LOOKING FOR
Windows 10 is a second chance – it's a second chance for consumers saddled with Windows 8 to upgrade to an operating system that properly understands the difference between laptops and tablets, and yet serves both equally well. Furthermore, it's a second opportunity for the laptop manufacturers to prove that their impressive 360-degree hinges, touchscreens and tablet docking systems aren't pointless novelties.
Eight laptops that show off Windows 10's versatility are on test here. Our lineup includes the most novel, yet budget-friendly, one-size-fits-all hybrids, as well as more conventional laptops for traditionalists who want a device for work as much as mindless consumption.
The number of manufacturers has dwindled, leaving a small field of extremely powerful brands with a huge roster of laptops to sell. This process has made the market staggeringly competitive, with prices for competent laptops dropping to all-time lows. We're almost at a point where there are no "bad" laptops.
Almost. You can still bag a turkey, especially if you misjudge what you need from your laptop. The processor will have the biggest impact on what you can get done. More cores don't necessarily equate to better performance – for example, a quad-core Intel Atom processor is no match for a dual-core Intel Core i5.
The Intel Core i7 is the best processor for snappy performance
"Look out for dual-core Celerons and quad-core Atoms if you want the best battery life, but be prepared to sacrifice performance"
If you're looking for snappy performance, an Intel Core i7 or Core i5 processor is the way to go, but with great power comes compromise. These chips are comparatively power-hungry and generate plenty of heat, so aren't always the best choice if you're often on the move without mains electricity. Look for dual-core Celerons and quad-core Atoms if you want the best battery life, but be prepared to sacrifice speed.
The most powerful laptops on test here also come with dedicated graphics chips. Most GPUs now save as much power as possible, but their presence when watching HD videos and playing games will, again, increase power consumption.
Don't scrimp on the display, either. It's impossible to buy a laptop with a screen resolution lower than 1,366 x 768 these days, and this resolution actually works very well on smaller laptops, keeping the text legible without having to resort to awkward magnification. Larger laptops generally boast Full HD (1,920 x 1,080) panels, which are big enough to put windows side by side for multitasking. Full HD doesn't necessarily mean great image quality, though. Many HD panels sacrifice colour accuracy and vibrancy to cut costs.
The most powerful laptops here come with dedicated graphics chips
HOW WE TEST
PC & tech Authority's quantitative benchmarks complement our hands-on testing. We test performance using a set of multimedia benchmarks, producing an overall score for photo processing, video rendering and multitasking. For reference, a desktop PC with an Intel Core ¡5-4670K with 8GB of RAM scores 100 in each test. We analyse screen performance with an X-Rite ilDisplay Pro calibrator, measuring colour accuracy, brightness and contrast.
We standardise battery testing with a looping video test – using flight mode to eliminate external influences.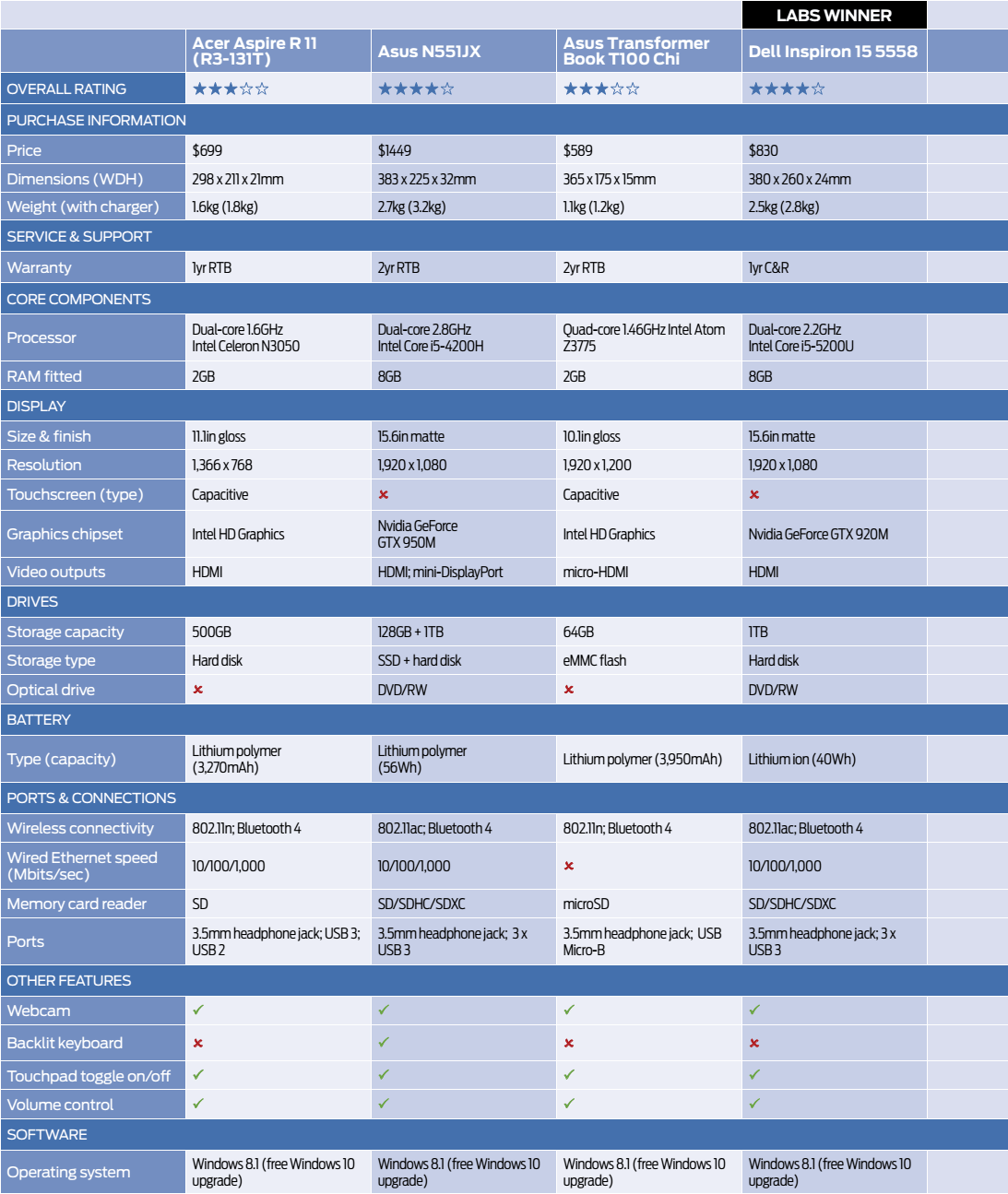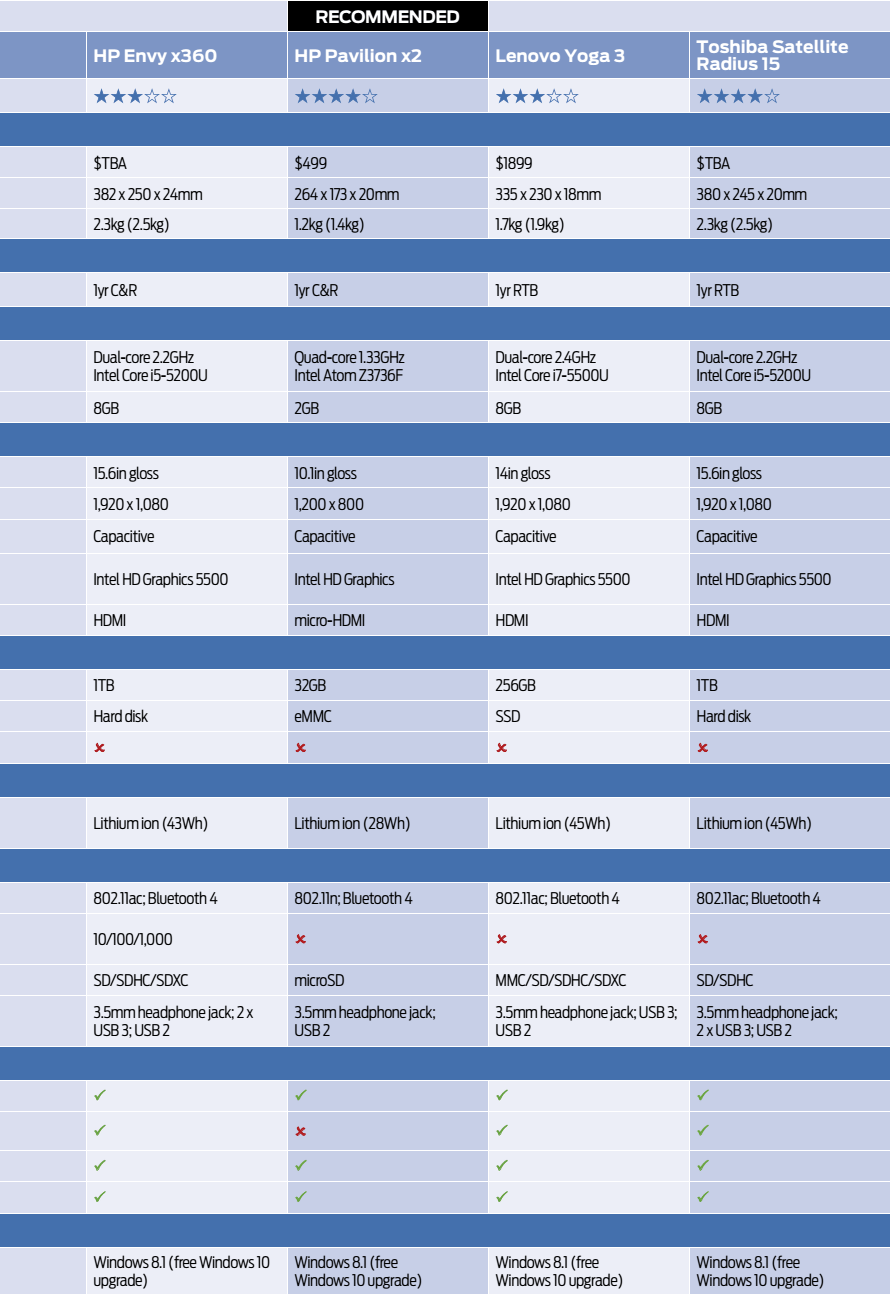 List of laptops review:
Dell Inspiron 15 5558
Asus N551JX
HP Pavilion x2 Review
HP Envy x360 Review
Toshiba Satellite Radius 15 Review