Another big phone for smaller budgets
When we reviewed Vodafone's Smart Prime 7, we thought it was a great phone, but not as good as the older and pricier Smart Ultra 6. Now the Smart Ultra 6 has been superseded by the Smart Ultra 7, with improved specifications. The catch is that while the Smart Ultra 6 has been discounted, the new model – still at the budget end of the market, but significantly more expensive than the Prime. So is it better?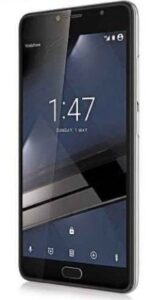 Looks the part, but battery life and screen quality let it down
On paper, the Smart Ultra 7 looks excellent for the money, as we've come to expect from Vodafone. As in the previous version, you get a big 5.5in display, with Full HD (1920xl080-pixel) resolution, and a 13-megapixel camera. What's new is a powerful eight-core processor and a complete hardware redesign. The front glass now has slightly curved edges – purely a cosmetic feature that follows the latest iPhones rather than Samsung's Edge concept – but It looks very classy.
The back isn't as sleek, though, coming in a choice of silver or black textured plastic that you have to remove to insert a SIM or microSD card. Despite this, you still can't swap over the battery, which is a shame because it lasted us less than ten hours of video playing. That's about the worst we've seen recently, and compares badly to our new favorite budget phone, the Motorola Moto G4.
SPECIFICATIONS
5.5in 1920×1080-pixel screen • 16CB flash storage • 13-megapixel rear camera • 5-megapixel front camera • 802.11ac Wi-Fi • Bluetooth 4.1 • 3C/4C • MicroSD card slot • Android 6.0.1 • 152x78x8.7mm (HxWxD) • 150g • One-year warranty
7Review earns Amazon affiliate commissions from qualifying purchases. You can support the site directly via Paypal donations ☕. Thank you!
Still, the Smart Ultra 7 is cheaper than the Moto G4, and in our speed tests it almost kept up with it, running Vxlafone's fairly unreconstructed version of Android 6.0.1 Marshmallow quite smoothly, while coping fine with 3D games. More demanding apps will show up its relative lack of muscle, but that's to be expected.
The screen, however, very noticeably lacked brightness, contrast and color accuracy compared with the Moto G4. Colors looked even after we adjusted the Picture Mode settings, and the screen wasn't clearly visible In bright sunlight. Nor did the camera impress us, smudging detail and blowing out highlights (making them look white). Indoors, even with bright lights turned on we got fuzzy pictures with bad white balance.
The Smart Ultra 7 isn't bad value if you buy It on Pay as you Go, but it doesn't compete with the Moto G4.
VERDICT:
Last year, this would have been a great – albeit compromised -budget phone. But In today's market it's not quite good enough
ALTERNATIVE:
Motorola Moto G4
Better In every respect – notably screen, camera and battery – this is well worth the extra (for unlocked version)