4/5
VERDICT
The Smart N8 offers good value for money, but its processor holds it back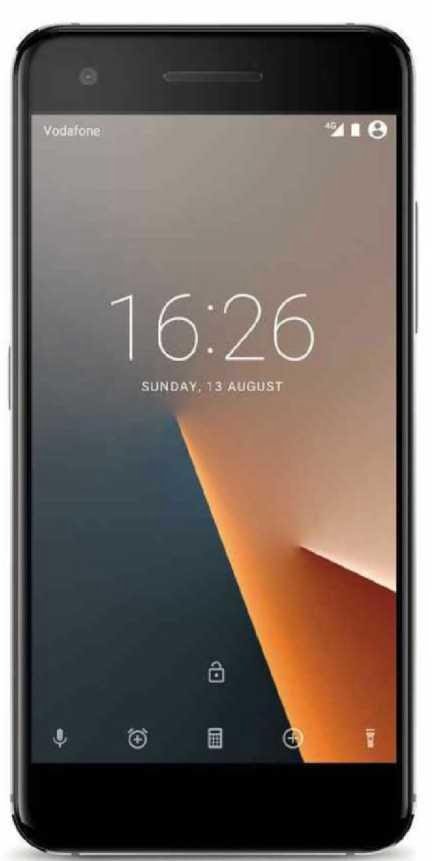 THE VODAFONE SMART N8 is the Smart Prime 7 successor we've been waiting for. Once again, it costs well under, but it comes with an improved camera, fingerprint reader and Android 7.0 out of the box.
Despite being cheap, however, the Smart N8 is rather nicely made, from its textured rear cover to its beautifully crafted edges. However, at 8.6mm thick and weighing 151g, it is both chunkier and heavier than the Smart Prime 7.
At the front, there's a 5-megapixel camera, an unusual front-facing flash, and a single forward-firing speaker, which sounds surprisingly good. You'll find a textured power button and volume rocker on the right, a 3.5mm headphone jack at the top and a microUSB port on the bottom.
7Review earns Amazon affiliate commissions from qualifying purchases. You can support the site directly via Paypal donations ☕. Thank you!
TAPPY DAYS
Turn the phone over and you'll find its headline feature: the circular fingerprint reader. This is a fantastic inclusion for a sub-£100 smartphone (we don't know of any other phone this cheap that has one), and it adds a quick, secure way of unlocking your phone.
Pop off the removable rear plastic cover and you'll see a single SIM card slot and a microSD card expansion slot that will accept cards up to 32GB in capacity – great for expanding its 16GB internal storage. Sadly, the battery has shrunk from 2,540mAh on the Smart Prime 7 to 2,400mAh here, and it's non-removable as well.
The Smart N8's 5in HD (720×1,280) IPS display is relatively bright at 374cd/m2, but it isn't in the top echelon of phone screens, and you might have trouble viewing it in bright sunlight. It's quite dull, too, with colours lacking vibrancy, saturation and accuracy. Despite its 1,560:1 contrast ratio, the screen suffers from a blue tinge, which is particularly noticeable when you're browsing websites with a white background.
More seriously, the lack of oleophobic coating means that the screen is both highly prone to picking up fingerprints and unpleasantly grippy to the touch, making swipe gestures difficult to carry out.
On the positive side, Android 7.0 Nougat is largely left alone, without any overlay skins or annoying launchers. That's something of a rarity for an operator-brand smartphone. You will find a few pre-installed apps, including Facebook, Instagram and Vodafone's own apps, but these can be uninstalled.
The Smart N8 is powered by a 1.3GHz quad-core MediaTek MT6737 processor with 1.5GB of RAM. This looks better on paper than Alcatel's rival entry-level smartphones, the Pixi 4 and the Pop 4, and Vodafone's effort did beat both in the Geekbench 4 benchmark, scoring 1,542 in the multicore test and 537 in the single-core test.
Unfortunately, in everyday use they feel similarly sluggish; the Smart N8 randomly hangs and can't deal with heavy multitasking. This isn't out of the ordinary for a budget handset, but we'd hoped for a slightly better experience than with the cheaper Alcatels. We also experienced boot loops and random reboots after only a day of usage, which was worrying given the phone was brand new.
ROUGH WITH THE SMOOTH
The Mali-T720MP2 graphics chip isn't anything to get excited about, either.
Running the strenuous GFXBench Manhattan 3 benchmark, the Smart N8 was unable to produce anything like a smooth frame rate, ending up with 2fps in the offscreen test. You'll have to stick with very basic games – no effects-heavy 3D titles.
Battery life is poor as well. In our video playback test, the N8 lasted a mere 8h 44m, and that means the phone will struggle to last a full day on a single charge. By comparison, the Alcatel Pop 4 achieved 9h 32m in the same test, while the Vodafone Smart Prime 7 achieved a much more impressive 12h 55m.
One of the big upgrades for the Smart N8 is the rear camera, which has received a resolution boost from eight to 13 megapixels. Performance, especially in HDR mode, is impressive for a sub-£100 smartphone.
We found colour reproduction in our test shots to be largely accurate, and photographs were bursting with detail.
The selection of camera modes on offer is even more impressive. Alongside the regular camera and video modes, there are 360° panorama, time-lapse and 'micro-video' modes. Micro-video mode allows you to create a short video, which can be easily and quickly shared on social media. There's also a manual camera mode that provides aperture, shutter, ISO, white balance and focus controls. For a budget phone, it's a real treat.
Low-light performance is drastically improved over the Smart Prime 7. With HDR
mode enabled, stills taken on the Smart N8 display less image noise, more detail and better colour reproduction. However, you'll want to ensure that you've got a rock-steady hand when shooting in HDR, as the slightest movement can cause blurring.
FLASH IN THE PAN
Vodafone hasn't altered its front-facing camera but has added flash, which is another great inclusion. With a 5-megapixel sensor, though, don't expect a great deal of detail.
The enhancements go a long way towards eclipsing the Smart N8's foibles. If it's higher-end features and a decent camera you want, this phone is a steal; no other handset offers everything the Smart N8 brings to the table for this sort of money. However, its poor battery life and sluggish performance do let it down somewhat.
Christopher Minasians
SPECIFICATIONS
PROCESSOR Quad-core 1.3GHz Cortex-A53 • SCREEN SIZE 5in • SCREEN RESOLUTION 1,280×720 • REAR CAMERA 13 megapixels • STORAGE 16GB • WIRELESS DATA 4G • DIMENSIONS 145x72x8.6mm • WEIGHT 151g • OPERATING SYSTEM Android 7.0 • WARRANTY Two years RTB
RUNNA LCD Screen and Digitizer Full Assembly with Frame for Vodafone Smart N8 VFD610 (Black) Durable (Color : White)
out of stock
as of November 28, 2023 8:51 pm
Features
Replacement LCD Screen + Touch Screen Digitizer Assembly with frame for Vodafone Smart N8 VFD610.
Replace the old, broken, cracked, damaged one
Make your device look more refreshing than ever. Completely fit and work
Each item has been checked and in good condition before shipping
Professional installation is highly recommended. We will not be responsible once the screen is installed