Vimberg is the sister brand to TIDAL of TIDAL Audio GmbH, a German high-end manufacturer which has been making top end electronics and loudspeakers since the late 1990s. Just how 'top' is 'top end'? Three words sum that up: "TIDAL for Bugatti". It could be very easy to make the more attainably priced Vimberg a diffusion brand, offering little of what TIDAL delivers beyond a name, but as the only stand-mount loudspeaker in either company's range, the Vimberg Amea proves otherwise; it isn't an opening gambit in a very high-end game. It's much. Much more. Read our Vimberg Amea Review.
Alan Sircom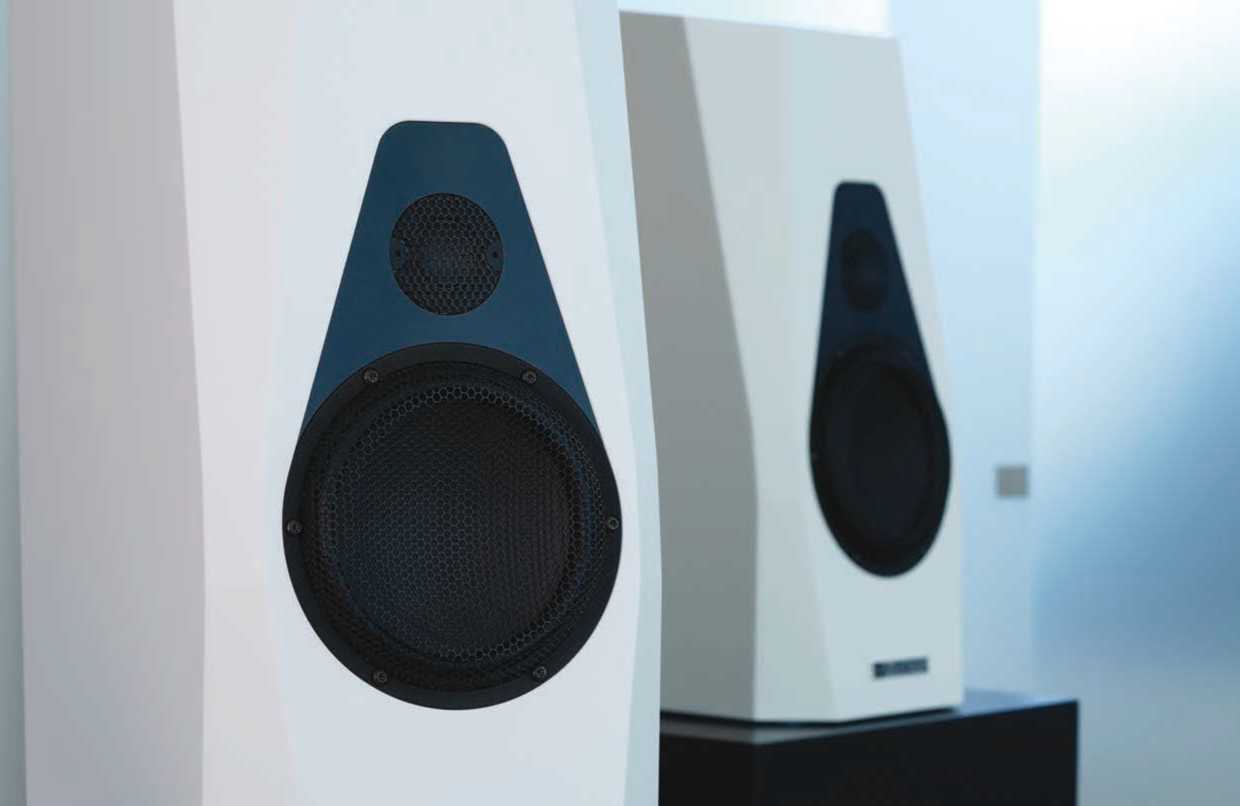 The Amea is an elegant design, back-swept and angled to not simply look good but to reduce internal standing waves inside that aluminium reinforced HDF cabinet. It's a two-way design, but with a rear-firing passive woofer, using a 220mm Accuton woofer with a diaphragm made from aluminium. Accuton also provide the main mid-bass unit itself; a 173mm ceramic unit, and this sits on the same thick aluminium baffle plate as the 30mm ceramic tweeter (or the 30mm 'pure diamond' tweeter in the higher-spec Amea D). Like all Accuton drivers, the metal mesh grills are a permanent fixture, and they are designed to accommodate this protection, sonically.
The best of both worlds
There is an inevitable balance of trade-offs in a loudspeaker of this size. How the designer resolves that balance of trade-offs is vitally important in making a loudspeaker sound good. One could argue this applies universally, but in making extremely high performance stand-mount
The Amea doesn't try to emulate a big loudspeaker, nor does it try the 'small loudspeaker made big' trick.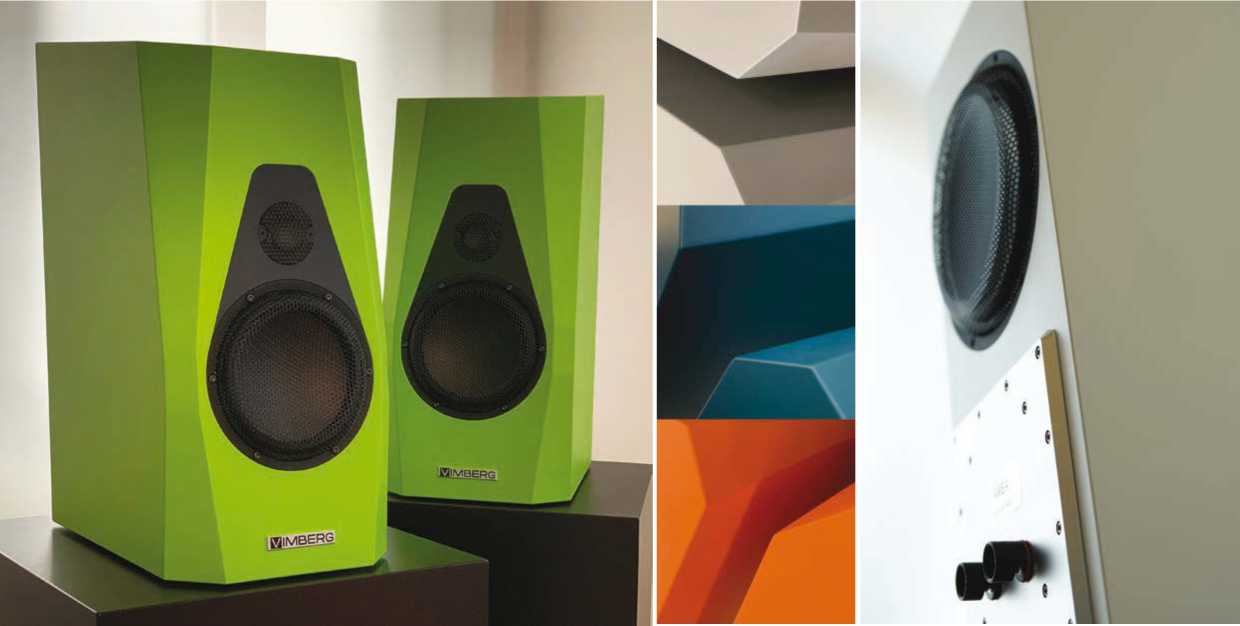 » loudspeakers, getting this balance right is absolutely crucial. For example, a port is the usual way to get around the limitations of cabinet volume inherent to stand-mount loudspeakers. But ports come at a sonic cost. Using a rearfiring passive woofer delivers an altogether more sonically correct sound, but increases cost and the structural demands of that cabinet. Using HDF for that cabinet is a good choice to meet those demands, but can sound over-damped if used alone. Using aluminium is also a good choice, but can be a potential source of resonance due to hysteresis effect. Combining the two could bring out the worst in both materials, but in the case of the Amea, it brings out the best.
British Bias Conclusion
It's time to bust a myth long held in some circles of audio; that British loudspeaker makers still 'own' the stand-mount loudspeaker. In fairness, like most myths, it is built around a kernel of truth. Back in the 1960s, the development of small monitor loudspeakers by the British Broadcasting Corporation did set a very high standard for stand-mounts, and many of those big names in loudspeaker designs that continued that trend were both British and often featured designers who 'made their bones' in the BBC. Those days are long passed, but the myth still holds. In fact, in some circles that myth only serves to hold back loudspeaker development, as some seem trapped in a post-BBC design brief. Loudspeakers like the Vimberg Amea show just how much more can be had from a good stand-mount loudspeaker.
7Review earns Amazon affiliate commissions from qualifying purchases. You can support the site directly via Paypal donations ☕. Thank you!
See also TOP 10 Subwoofers
To do or not to do
It's perhaps odd to begin to talk about the sound quality of a loudspeaker by first defining what it doesn't do. In the case of the Vimberg Amea, however, such a definition is important. The Amea doesn't try to emulate a big loudspeaker, nor does it try the 'small loudspeaker made big' trick. Instead, it makes a correctly-scaled sound for a loudspeaker of its size. What's surprising in listening to the Amea is just how many loudspeakers of a similar proposition and size fail to reach this goal.
What the Amea does so well is to create a sense of poise in everything it touches; from its musical presentation to its stereo staging and easy, effortless sense of rhythm. This does rely on an exceptional set of up-stream electronics and a first-class installation. It also doesn't suffer fools » gladly and mediocre recordings or poor quality transfers are easy to spot; the Amea doesn't make these recordings unpalatable; just register up their limitations. However, with good equipment (it's more about quality than quantity, and a good 50W amp with a 'stiff' power supply will sound better than something more powerful but less controlled), you have a sound that is stunningly good.
The 'stunningly good' part is down to transient speed and accuracy. Even something as simple as a strummed acoustic guitar highlights this speed and accuracy perfectly, the attack of pick (or fingers) hitting the strings, the resonance of the sound box and the decay of those first notes while others come along all combine to give the listener an uncanny sense of hearing a live musician in a live space, and this is aided by an excellent dynamic range. Yes, played against the real instrument, you can hear the difference, but we won't hear Nic Jones playing his guitar after that fateful accident in 1982 that left him unable to play, so 'Canadee-I-O' from Penguin Eggs [Topic] remains an impossible bit of drop-tuning finger-picking and the intervening 43 years since its recording just melt away when played through the Amea.
The Vimberg Amea also scales well. Moving from the deft touch of Nic Jones' folk playing and singing to large orchestral pieces such as Rachmaninov's Symphonic Dances [Zinman, Baltimore SO, Telarc] and the sound simply grows in size and stature. Swap that for Mahler's Eighth [Solti, Chicago SO, Decca] and the sound grows to match. Drop back to smoky jazz clubs of the 1950s, or raw New York studios of the 1970s and once again the Amea 'right-sizes' the sound. Note, this is not simply image size we're discussing here, but the whole sense of believability the loudspeakers can deliver.
A loudspeaker at this level (and featuring the drive units it does) is detailed by default. The Vimberg Amea is no exception; there is so much information on tap. And, while some of that information is about the status of the system and the quality of the recording, it's always on the right side of sounding harsh or aggressive. This is a rare find and an equally rare balance; so many loudspeakers are either too soft and laid-back sounding to deliver any useful information about the inner detail of the music, or are so powerfully fixated on information delivery that listening to the most insipid dinner jazz is an edge-of-the-seat experience. The Amea manages to give you all the energy and detail you can pull from a recording without making that experience tiring or 'edgy'.
Perhaps best of all, the Vimberg Amea does all this on any type of music you play through the loudspeakers… I know, I tried. OK, I didn't play any Noh or throat-singing (or, for that matter, the sound of a washing machine as part of a modern Musique Concrete performance – see pages 104-108 of this issue), but everything from opera to grime and all points in between.
Few things phased the loudspeakers. The nature of the drivers arguably prevent playing at amplifier melt-down levels, but the speaker is comfy everything from a whisper to a near-roar. But realistically… that's about it!
The little big question
The Amea asks – and answers – a question about the limits of high-performance stand-mount loudspeakers: Can a high-end stand-mount cut it? "Absolutely!" says the Amea. Although the most affordable loudspeaker from both Vimberg and TIDAL, the Amea is still a significant investment by stand-mount standards, especially if one goes for the diamond tweeter, piano gloss finish, stands and optional copper or brass faceplate. Most gravitate toward a larger floorstander design at this price point, but the Amea offers a viable alternative. This is especially important in metropolitan homes where tower loudspeakers are too large for consideration.
'Close your eyes and the speakers disappear' is so often heard more in the breach than the observance. Often, it's taken to mean 'these speakers sound bigger than you would expect', but that's not the case here. The Vimberg Amea really does disappear; you aren't hearing a small or a large loudspeaker. It's a design that loves a bit of Mozart, Mahler, Miles Davis and Metallica equally. While not ear-splittingly loud, it can be a bit of an animal yet can also deliver remarkable refinement when you move over to something more cerebral. To most, having a loudspeaker this capable is just an illusory fantasy, but it's all in a day's work for Vimberg's awesome Amea.
Technical specifications
Type Two-way full-range stand-mount loudspeaker
Cabinet Vimberg MRD-cabinet with decoupled aluminium high-midrange mounting plate
Drivers 1 x 30 mm Accuton Cell ceramic tweeter, 1 x 173 mm Accuton ceramic midrange woofer, 1 x 220 mm Accuton passive radiator. Optional 30mm Accuton Cell diamond tweeter (Amea D), also upgradeable anytime later
Wiring and connections Mogami speaker cable wiring inside, Argento pure silver binding posts
Efficiency at 2.83V/1m/1KHz 86dB
Nominal impedance 5 ohm (lowest point 5.2 ohm at 100Hz)
Finishes Summit White, Jet Black, Slate Grey, Sonoma Orange, Amethyst and other colours on request. Vimberg real piano lacquer summit white or jet black
Dimensions (WxHxD) 51 x 62 x 71cm
Weight 20kg per loudspeakers
Price From £ per pair
Manufacturer Vimberg www.vimberg.de
UK distributor Kog Audio
© www.kogaudio.com +44(0)24 7722 0650