ViewSonic PX747-4K Projector Review
Controls are big and easy to engage
Another 4K Entry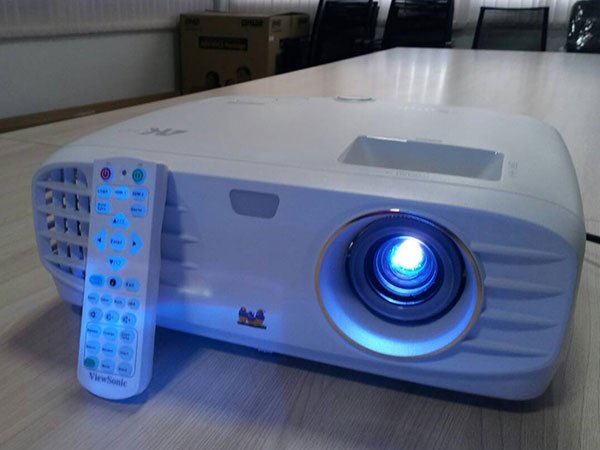 Having fiddled with a couple of projectors over the last few months and then trying out the gaming monitor from ViewSonic, it is only sensible that a projector from the monitor brand makes its way over. Indeed, what else could it be but a 4K projection system – one that boasts proper 4K output with an all-new high-spec visual processor. That is what ViewSonic is offering with the ViewSonic PX747-4K 4K Projector. Of course, it's more than just the all-new visual projection Digital Light Processing (DLP) chip. Other progressive features include the latest XPR technology. HDR processing, and a mix of proprietary functions from ViewSonic that ensure its immersive output is always maxed-out and consistent. Let's see how this ViewSonic entry lives up to this claim.
Simple and Easy
Setting up the ViewSonic PX747-4K is. surprisingly, easier than expected. Once out of the box, it is very much about placing it on a suitable location, tweaking the legs to get that perfect height, and plugging the power and HDMI cables in. Turning it on takes less than a minute and selecting the right input can be done in seconds. There is the need to adjust the zoom and sharpness of the lens but even that takes a moment. Interestingly, this being a DLP, the warm up time is faster than most projectors – it's almost instantaneous. Even syncing up the notebook to the projector is pretty fast and requires no resolution calibration. Even the colour, brightness, and saturation levels do not need any tweaking.
7Review earns Amazon affiliate commissions from qualifying purchases. You can support the site directly via Paypal donations ☕. Thank you!
See also TOP 15 projectors
Calibration Free
To be frank, there is some minor tweaks and fiddling to be done but that's more of a personal thing. Out of the box, the ViewSonic PX747-4K doesn't require any changes to the settings. It's that good from the get-go. Even the keystone isn't necessary, so long as the projector is pointing straight and not standing at an angle. For those that can't take the high brightness, an aspect that DLPs are known for, proceed to reduce the levels within the configuration panel or via the remote control. Of course, professional tip, adjust the contrast as well to make sure the colours don't look too saturated. Personally, keep within the 30 to 40 control range to get that right mix of hues and vividness.
Decent speaker roaring inside
Proper mix of ports
Warm and Rich
In terms of visual performance, this ViewSonic projector is not a push-over. Thanks to its advanced features – Super Resolution, SuperColor and custom visual processing – movies, TV shows, and all HDR content look very punchy on the ViewSonic PX747-4K. It's nice to see colours popping out nicely and gaining all the vivid clarity that one expects to see on a 4K TV. Of course, this being a projector, the blacks are deeper, the primary tones are more vibrant, and the shadows are done just right. Even gaming looks awesome as games from the Sony PlayStation 4 and select Steam games on the PC spent some time with the projector. Of course, the very best in visual performance is the HDR content that Netflix puts out.
Deep Audio
Like most portable projectors, the ViewSonic PX747-4K projector sports a single 10W speaker. Sitting inside the chassis, it's easy to make the presumption that it will not be as awesome as a stereo sound system. Watching action flicks. Netflix drama, live singing on Korean and China variety, music video streams, and playing games, one can immediately tell what this speaker favours. Games sound decent, but it doesn't produce that deep immersion most will be expecting. As for the rest, there is enough bass roaring inside the air chambers within the projector to create an impactful viewing experience. It's pretty loud too for a 10W sound system; best part: it does well with pin-drop silent scenes as well as quiet and hush scenes too.
Suitable for Homes
All in all. the ViewSonic PX747-4K projector is one of those that home-owners and home-cinema fans should consider. It covers all the right elements – compact, easy to manage, simple to setup, and can operate right out of the box. It's suitable for a quick football match viewing in 4K, hours of movie streaming for that one binge event, and for a quick round of Netflix if there is time for it. It's also good for the office, especially if a meeting requires a 120″ projection or there is a video conference call. After all, the speaker is built-in so there is no need to setup speakers for that video chat. If anything, this is one entry from ViewSonic that surprises with loads of positives.
VERDICT:
"It's a decent 4K projector that does well with movies and HDR TV shows." – Led Wayline
8.2
Specfications
PROJECTION SYSTEM: 0.47″ 4K UHD DC TYPE: DC3
BRIGHTNESS: 3500 ANSI Lumens
CONTRAST RATIO WITH SUPERECO MODE: 12000:1
Display colour: 1.07 Billion Colours
LIGHT SOURCE LIFE (NOR/SUPERECO) 4000/15000
LAMP WATT: 240W THROW DISTANCE: 0.97m-11.69m OPTICAL ZOOM: 1.2x
I/O: 1x 15-Pin D-Sub In, 1x 3.5mm Audio-In, 2x HDMI (HDMI 2.0/HDCP 2.2 and HDMI 1.4). 1x Audio-Out, 1x USB Type-A (Power)