ViewSonic's M2 adds designer lustre to portable 1080p projection. Steve May also approves of both its performance and price. Read our VIEWSONIC M2 review.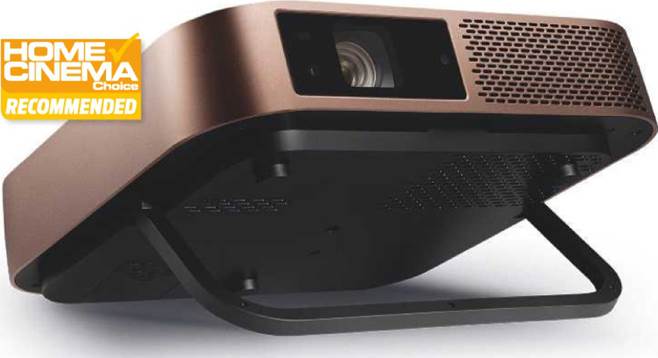 THE VIEWSONIC M2 is a compact 1080p projector with a multiplicity of talents. I tried hard to be unimpressed, but ultimately failed. A short-throw model built around an LED light source, it's the very definition of living room friendly. It requires next to no warm up, runs cool and should be maintenance free. Lamp life is quoted at 30,000 hours – that's a lot of boxset binging.
It also looks cooler than a penguin at a gelato bar (Viewsonic is no stranger to inventive design, as we saw with its X10-4K model – see HCC #300). The M2 looks chic with its metallic bronze wrap and offset lens. An adjustable stand helps cast the image up from a low position; this stand is nice and stiff, so you can easily control the angle.
You might imagine such a setup would lead to significant picture distortion, but the projector's auto keystone correction is surprisingly adept, compensating for even quite tortuous angles. When it comes to throw distance, you'll be able to cast an 80in picture from just over 2m (there's no optical zoom).
Connections comprise a single HDMI v2.0, microSD card and USB readers, a 3.5mm audio output and Bluetooth pairing button. One reason why the M2 is
AV INFO
PRODUCT: Short-throw 1080p LED projector
7Review earns Amazon affiliate commissions from qualifying purchases. You can support the site directly via Paypal donations ☕. Thank you!
See also TOP 15 projectors
POSITION: The best-specified of Viewsonic's portable M Series models
Optoma EH200ST; LG PH450UG
so slim is because power comes via an outboard brick.
Not that you're tied to the mains. The M2 will also work if juiced from a powerbank over USB (be sure to check the specification of your powerbank, as it apparently needs to support the Power Delivery protocol output, which sounds very serious). This is useful if you're on the road, or simply want to project in the garden.
The projector is Wi-Fi enabled, via a USB dongle supplied in the box. The stick pops into a dedicated compartment on the underside of the projector. Do it once and you can then forget about it.
The M2 is built on an Android-based smart platform, Aptoide, but don't expect the perks of regular Android. The Home menu app centre had just three offers out of the box – Google Home and Amazon Alexa integration, and Viewsonic's own VR remote – but doubtless more will turn up. On this Homepage you also have file management access from connected media, and screen mirroring for smartphones.
Tick tock Mr Wick
While a 1080p projector, the M2 will accept a 2160p signal (including HDR) from a UHD Blu-ray or streaming stick, downscaled to fit.
Colour fidelity (Viewsonic's Cinema SuperColor+ tech claims to deliver 125 per cent of REC.709) is a strong suit. The stylised opening credit sequence to John Wick: Chapter 3 – Parabellum (Blu-ray), with its heavily oversaturated primaries, immediately impresses.
The following NYC skyline at night confirms the inevitable achilles heel of black level delivery, but it would be unreasonable to expect deep blacks, or nuanced shadow detail, from this class of beamer.
Yet gift the projector some brightly lit content and the M2 shines. In Hitman: Agent 47 (Blu-ray), when Rupert Friend's Red Pearl Audi RS7 is harpooned mid street-chase, the richness of the car's finish, and the blistering detail in the smoking tyres, looks spectacular.
Despite its diminutive dimensions, this portable PJ plays loud. The onboard sound system has been sourced from Harman/ Kardon, and is perfectly suitable for pop-up screenings and game sessions.
Operating noise is moderately high and fairly consistent, between 24dB and 26dB. Realistically it's likely to be drowned out by general hubbub if you're using the M2 for sports or gaming gatherings, and you can escape its hum altogether by using the projector with Bluetooth headphones.
All-purpose PJ
Usually, it's the megabuck 4K projectors that monopolise our attention, but with the M2 Viewsonic has shown that a radical rethink can rekindle interest in lower-cost HD models too. This is a fine – and smart-looking – all-purpose short-throw offering with multiple attractions, compact enough to either live on shelving, out of the way, or simply be pulled from storage when needed. Recommended
HCC VERDICT
Best VIEWSONIC M2 prices in the US ?

$

726.25
10 new from $699.99
in stock


$

1,673.00
1 new from $1,673.00
in stock

Best VIEWSONIC M2 prices in the UK ?

£

599.00
5 used from £385.72
17 new from £599.00
in stock


£

794.09
2 new from £794.09
in stock

MORE DEALS

See also TOP 15 projectors
SPECIFICATIONS
3D: Yes. DLP 3D (glasses not supplied) 4K: No. 1,920 x 1,080 resolution CONNECTIONS: 1 x HDMI input; 3.5mm audio output; 1 x USB Type-C input; 1 x USB Type-A input; microSD card slot BRIGHTNESS (CLAIMED): 1,200 Lumens CONTRAST (CLAIMED): 3,000,000:1 ZOOM: No DIMENSIONS: 224(w) x 224(d) x 51(h)mm WEIGHT: 1.32kg
FEATURES: LED light source (rated up to 30,000 hours); 2 x 3W built-in Harman/ Kardon audio system; claimed fan noise of 24dB (Eco mode); 1.23:1 throw ratio; 80in image from 2.18m; 10GB available onboard storage; Bluetooth audio output; Wi-Fi; auto focus/keystone; Aptoide app store
The PJ packs an onboard Harman/Kardon sound system