Windows 10 on a shoestring
You may have never heard of Venturer, but this Hong Kong company isn't new to the field of low-end laptops, and the BravoWin 10K is just the latest in a long line. Created with an eye to schools, it's unashamedly built to be a bargain. But when the price is this low for a Windows 10 convertible, ready to be used as either a laptop or a tablet, it has to be worth a look.
Sadly – and probably inevitably – a look is all it takes to see comers have been cut. Everything is flimsy, from the bendy plastic case to the creaky detachable hinge. Venturer says it's drop tested the machine to prove its durability, but we've rarely used anything that felt less sturdy.
It's cheap but we've rarely used anything that felt less sturdy
The 10.1in screen is cramped for Windows 10, and the 1280×800-pixel resolution is as low as it gets, although at least the compact size makes this less obvious. Colour reproduction is poor, but brightness and contrast are fine, while overall the screen is quite usable. It's just as well that it's a touchscreen, because the touchpad was frustratingly unresponsive. The keyboard itself is too small to type on comfortably.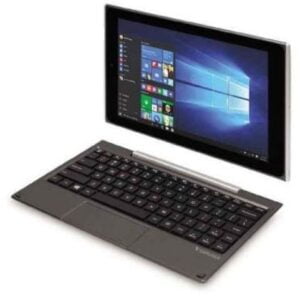 As a tablet, the BravoWin 10K works fairly well, but Windows 10 is not as good for tablet-based tasks as Android and iOS. The Intel Atom Z3735F processor Is faster than the Celeron N3050 found in some budget laptop-tablet hybrids, but still only suitable for doing one simple thing at a time. Forget 3D games, although we got Minecraft to run on its lowest settings. Disappointingly for such a portable device, the battery only lasted four hours of video playback in our tests.
The only Windows 10 laptop we can recommend at this price is HP's Stream 11, which is more robust, but doesn't have a touchscreen. Asus's Transformer Book Flip TP200SA is a more convincing touchscreen convertible, although it does have an even slower processor than the smaller BravoWin 10K and it costs £50 more.
Venturer also has an 11.6in model, the Elite Win, which matches both the size and the price of the TP200SA -and is much faster. But this isn't enough to make up for its poor build quality. The clincher for us is that the TP200SA's battery lasted us over nine hours.
SPECIFICATIONS
1.3GHz Intel Atom Z373SF processor • 2GB memory • 32GB SSD • 10.1in 1280×800-pixel screen • 2x 2-megapixel camera • 802.11n Wi-Fi • Bluetooth 4 • USB 3.0 port• MicroSD slot • Mini HDMI • Windows 10 • 23x266x174mm (HxWxD) • 1.08kg • One-year warranty
VERDICT:
The BravoWin is undeniably the cheapest Windows 10 convertible we've seen, but its not the best bargain
ALTERNATIVE:
Asus Transformer Book Flip TP200SA
Better construction and twice the battery life make this larger convertible worth the extra money