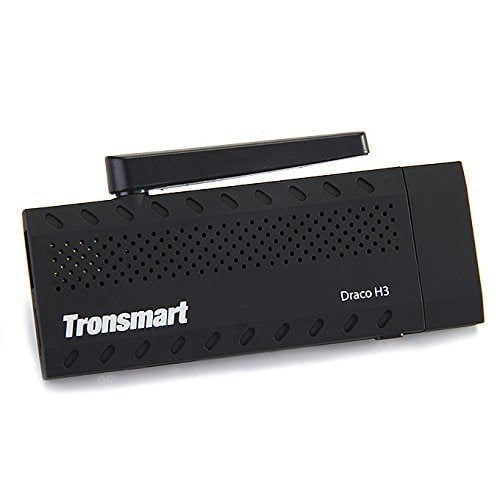 If you're looking for a TV Dongle that will make anyone's budget and still offer a great experience, the Tronsmart Draco H3 is the right choice. The first thing a user will remark on this device is the fact that it is small; if you would put them side by side, you will see that the Draco H3 from Tronsmart is actually shorter and slimmer than one of its main competitors, the Meegopad T02. Besides that, it is two times cheaper than the Meegopad T02 as you can buy the Draco H3 !
The only things (design related) that make this device different from its competition (we can include the Intel Compute Stick) is the side mini antenna and the fact that it has a removable cap to protect the HDMI port. Otherwise the shape, color and size are almost the same.
The package is actually a small, compact box that contains all the items a user needs to start enjoying their new Mini PC on a stick. Thus, the box contains the Draco H3 stick, 1 power adapter that has a USB port, 1 USB power cable (for the charger) and one HDMI extension cord for when you don't have enough space around the HMDI port to plug the stick in directly. You will also find a user manual, but since no one actually reads those, we left it at the bottom of the list.
The design is quite rugged and makes you think about military or survival equipment because of the straight, angled lines and dents on the surface. Also, the surface is not an ordinary plastic, but a high quality rubber-like material that makes you think about more expensive products.
The stick can be used both as a Mini PC or a TV Box, but in both cases it will require some peripherals. These must be acquired by the user and connected using one of the several ports it offers. After the device is connected with a mouse and a keyboard, and plugged into a TV monitor, then users can actually start to enjoy a great Android experience.
The exterior is indeed small and this has an effect over performance, but the stick is quite well equipped for its size. The engine is represented by an ARM Quad Core A7 that can run at 1.5 GHz of speed and is supported by an Allwinner H3 chipset. The high video performance is supported by an Octo Core Mali-400 GPU, fact that allows this tiny device to run 4k videos.
7Review earns Amazon affiliate commissions from qualifying purchases. You can support the site directly via Paypal donations ☕. Thank you!
To support high performance, the device is equipped with 1GB DDR3 RAM memory and offers 8GB eMMC of internal memory plus a slot for a MicroSD card. Continuing with the type of ports it supports, you will find one HDMI port, 1 USB 2.0 and 1 USB OTG.
In terms of connectivity, the Tronsmart Draco H3 dongle supports Bluetooth 4.0, WiFi 802.11 b/g/n and OTA functions.
The Tronsmart Draco H3 runs Android 4.4 (KitKat), which is a bit old for our taste, considering that the Meegopad T02 runs Windows 10. Just like with most of Mini PCs this size, the device will be powered on automatically the moment it is plugged in a TV monitor (you can use a simple monitor with HDMI port too). This happens because these devices are designed to stay on all the time, this is why there is no On/Off button.
The first boot will take a bit longer than usual, but we have to consider this device's size. Also, the interface works at 720p, but you shouldn't worry about this, the video output does indeed support 4k. The Android platform is mostly clean with just a few pre-installed apps like Netflix, Kodi, and others similar.
The gaming experience is quite good, but for small to medium sized games. High-end games will run, but only if set to low performance.
Great priceSupports 4k at 60fpsRuns Android KitKat with just a few pre-installed appsIt takes a bit to bootDoesn't run high-end games at full specifications
The Tronsmart Draco H3 is a powerful and interesting device that offers a great video experience at 4k running 60fps. It may be a bit slower than a regular laptop, but once it is loaded the Android OS moves pretty smooth. Overall, the device offers the features of a Mini PC at an incredibly affordable price.
The smallest and most exquisite 4K @60mbps media player with OTA upgrade, H.265 decoding function in the world. As an added benefit, GeekBuying will open product SDK for developers to proceed on Linux secondary development.