While John Archer is glad to see the return of Toshiba to the UK TV marketplace, this affordable 49in 4K set doesn't exactly set his pulse racing
THE FIRST TOSHIBA-BRANDED TV for three years immediately sets out the brand's new (Vestel-owned) stall with its price. This gets you a 49in native 4K TV with built-in smart hub features that include Netflix, YouTube (both in 4K) and even the Freeview Play portal.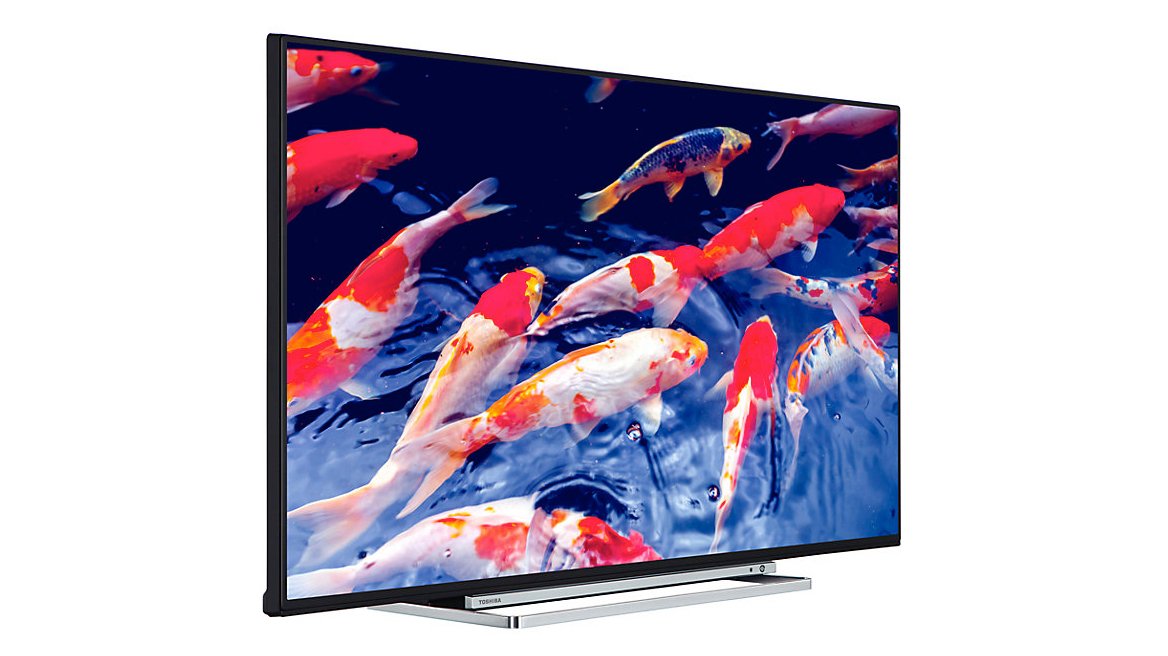 Before you rush off to the shops, though, there are a couple of things you should probably know. First, very unusually for a 4K TV in 2017, the 49U6763DB doesn't support high dynamic range. Second, it's not very good.
Looking at the lack of HDR first, you might be surprised to hear that I don't necessarily consider this a bad thing on a budget TV. HDR can suffer if it isn't given solid basic picture strengths to
AV INFO
PRODUCT: Affordable 49in 4K TV (not HDR)
7Review earns Amazon affiliate commissions from qualifying purchases. You can support the site directly via Paypal donations ☕. Thank you!
Position: The entry-level 4K model in Toshiba's new range
PEERS: Samsung UE49MU6200; Hisense H50N6800
work with, so I'm perfectly on board with a  TV accepting its limitations and leaving HDR at the door.
Unfortunately, though, the 49U6763DB's limitations affect SDR performance too. By far the biggest issue is a lack of contrast. There's precious little punch with bright content, and it's sub-par when it comes to black levels.
Dark scenes such as a night-time shoot-out in the Baby Driver 4K Blu-ray appear behind a distracting wash of grey that mutes colours and crushes out shadow detail. It doesn't help, either, that Baby Driver's darkest shots reveal clouding at the image's edges.
Toshiba provides a few contrast-based settings options, including a multi-level dynamic contrast mode, various picture presets, and, of course, a basic brightness adjustment. So entrenched are the black level limitations, though, that no tweaks really make much difference.
The lack of contrast also weakens the TV's 4K claims. Contrast management plays a
specifications
3D: No 4K: Yes. 3,840 x 2,160 HDR: No TUNER: Yes. Freeview HD CONNECTIONS: 4 x HDMI inputs; 3 x USB; Scart; Ethernet; D-Sub PC; component video; optical digital audio output; headphone output SOUND: 2 x 10W BRIGHTNESS (CLAIMED): N/A CONTRAST RATIO (CLAIMED): N/A DIMENSIONS (OFF STAND): 1,099(w) x 650(h) x 100(d) mm WEIGHT (OFF STAND): 14.3kg
FEATURES: Wi-Fi; USB/networked media playback; dynamic contrast system; noise reduction; Miracast; Freeview Play; VOD
significant role in perceived detail and sharpness, so the lack of it here makes it harder to really appreciate 4K's advantages.
Also damaging to the screen's perception of sharpness is the occasional appearance of colour striping, due, presumably, to the screen not having the processing chops to resolve subtle colour blends smoothly.
On the other hand
There are areas where the 49U6763DB's pictures are decent. Baby Driver's car chases, for instance, reveal better motion handling than you get with most budget TVs. There's neither the motion blur nor judder you might have expected. Also, skin tones generally look surprisingly convincing given the often 'flat' look of other colours.
When upscaling HD sources to its 4K resolution, the Toshiba doesn't make them look much subjectively sharper, but at least it doesn't exaggerate grain or source noise.
The set's unusually chunky, plasticky (though not actually unattractive) bodywork also delivers a slightly better sound performance than some budget sets. Dynamic range and raw power are both limited enough to result in a slightly muffled tone during Baby Driver's frequent thumping songs. However, trebles don't sound harsh, and the speakers and chassis never succumb to phutting or rattling.
Hopes that Vestel might revive the beloved Toshiba in an instant blaze of glory haven't come to pass with this model; hopefully step-up sets (the U77 and forthcoming OLEDs) will perform better.
Yes, the 49U6763DB is affordable. But if you're going to invest in 4K around this size, it might be worth saving up a bit longer for more quality
HCC VERDICT Toshiba 49U6763DB
TOSHIBA 49U6763DB Review
While we appreciate the 49U6763DB's aggressively priced attempt to make 4K more mainstream, it doesn't win us over.
Add your review