TOSHIBA 43UL2063DB Review – Less dosh, Tosh
OUR VERDICT
While it can't completely hide its entry-level nature, the 43UL2063DB's pictures and sound are a cut above the budget ...
SCORES
8/10
TODAY'S BEST DEALS
Last Amazon price update was: October 25, 2021 10:40 am
This low-price, easy-to-accommodate 4K LCD TV pushes John Archer's buttons with its healthy black level, natural colour palette and tidy smart hub. Read our TOSHIBA 43UL2063DB Review.

John Archer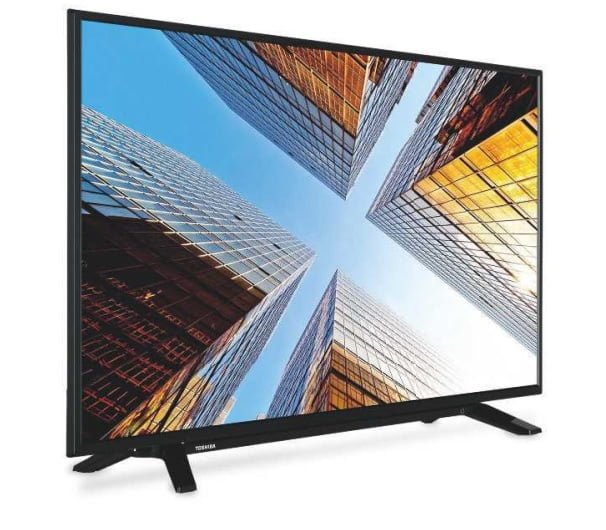 AV INFO
PRODUCT
: Affordable 43in 4K LCD TV with built-in smart features and Dolby Vision support
POSITION
: Around the middle of Toshiba's current lineup
PEERS
: Samsung QE43Q60T;
Hisense R50B7120
TOSHIBA'S 43UL2063DB BOASTS a 43in 4K panel, support for not just HDR but Dolby Vision, and solid smart features (including Alexa and Google Assistant voice control) – yet it costs just £. This is an eye-catching combination in itself, but it becomes even more arresting when you add in a refreshingly capable performance.
The TV doesn't wear its charm on its sleeve, though. Its bodywork is pretty much all plastic, and it's chunky around the back in classic budget TV style. Yet connectivity is better than expected, with three HDMI inputs and two USB ports, plus even a VGA socket for people with PCs too old-school for HDMI.
The 43UL2063DB doesn't join some other Toshiba TVs in using the Android TV OS. From an interface perspective I don't mind this, because the proprietary Ul here is actually tidier and easier to follow. But you do pay a price in app terms – while the 43UL2063DB carries Netflix, Prime Video,
YouTube, Rakuten and Freeview Play, there's no sign of Apple TV, Disney+ or Now TV.
This budget screen's picture quality is a pleasant surprise, especially when it comes to contrast. Inevitably for a low-tier TV, brightness is limited; around 330 nits in Natural mode, and 300 nits in Cinema mode (on a white HDR window covering 10 per cent of the screen). However, the set gets more impact from this brightness than most, thanks to a black level that goes deep and avoids low-contrast greyness better than some TVs costing twice as much.
This allows the moon approach sequence in First Man (4K BD) to be conveyed with a genuine sense of an HDR-enhanced light range.
Provided you avoid Toshiba's rather odd-looking Cinema picture preset, these good black levels don't come at the expense of too much lost shadow detail, either. And they contribute to a decently rich, natural palette, capable of injecting impressive vibrancy into splashes of primary colour. At the same time, tones avoid oversaturation and skin tones have enough blend subtlety in them to stop people looking like mannequins (particularly with bright Dolby Vision scenes).
The 43UL2063DB's 4K images aren't forensically detailed, but they're crisp enough to sell the format's advantages. What's more, unlike many budget sets, the picture doesn't descend into a blurry mess when there's motion to contend with. Toshiba even provides a 'Tru Flow' motion processor, but you don't really need it. In fact, it arguably makes the picture look worse overall. Just leave it off.
Upscaling of HD sources is respectable, if not as rich in added detail as the efforts you'd expect to see from a good mid-range model. It's an okay gaming display, too, offering a speedy 17.2ms of input lag in its Game mode.
Audio Affair will give you £20 off all orders over £250 when you use the code 7RW20.
02.
Crash bang, no wallop
Regarding audio, First Man's dramatic and intense opening 'crash' sequence enjoys more volume, dialogue clarity and mid-range headroom than expected, and while bass is pretty limited, that at least means there's no sense of the soundstage becoming swamped and murky.
I did experience a bug a couple of times where the sound would glitch momentarily, and then run out of sync with a Blu-ray's image unless the film was paused and restarted. Also in the negative column, dark Dolby Vision scenes exhibited some strangely 'basic' colour rendering.
No TV as affordable as the 43UL2063DB, however, will be all plain sailing. The best you can hope for is that a budget set knows how to manage and mitigate is limitations – and in that respect this Toshiba is a solid effort.
TOSHIBA 43UL2063DB Review
While it can't completely hide its entry-level nature, the 43UL2063DB's pictures and sound are a cut above the budget TV norm.
Add your review
---
TODAY'S BEST DEALS

£

299.00

£349.00
2 new from £299.00
in stock

Last Amazon price update was: October 25, 2021 10:40 am
×
Product prices and availability are accurate as of the date/time indicated and are subject to change. Any price and availability information displayed on Amazon.com (Amazon.in, Amazon.co.uk, Amazon.de, etc) at the time of purchase will apply to the purchase of this product.
MORE
4K: Yes. 3,840 x 2,160 HDR: Yes. HDR10; Dolby Vision; HLG TUNER: Yes. Freeview HD CONNECTIONS: 3 x HDMI inputs (with up to 4K 60Hz support); 2 x USBs; RF input; VGA input; optical digital audio output SOUND (CLAIMED): 2 x 10W BRIGHTNESS (CLAIMED): N/A CONTRAST (CLAIMED): N/A DIMENSIONS (WITH FEET): 973(w) x 620(h) x 234(d)mm WEIGHT (OFF STAND): 7.5kg
Built-in Wi-Fi; USB multimedia playback; Tru Flow motion processor; proprietary smart interface; Alexa voice recognition support via external listening devices; Google Assistant voice support built in; Bluetooth