5GHZ AND 700FPS? YES PLEASE!
With Intel's 7th generation CPUs and accompanying Z270 motherboard chipsets making their way onto the market, this new offering from Tl Computers is becoming the new standard for gaming PCs.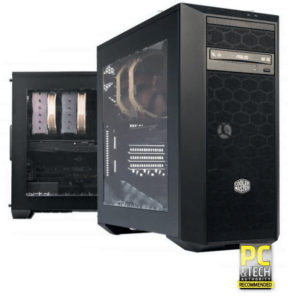 Before we talk about the innards let's briefly look at the outside. The chassis has a nice large side window for looking in at the glowing RGB-lit graphics card. Interestingly three quarters of the front facia acts as a dust filter and is easily removed with one hand without needing to tilt the chassis at all. Behind this filter is a single 120mm intake fan. Up top there's a giant 170mm2 vented area with screw holes for fans, although none are fitted due to the bulk of the HSF. Out the back there's a 120mm exhaust fan, and down the bottom there's a removable PSU dust filter.
Heading inside, the system is based around Intel's new Z270 platform which for the first time gets a trick previously reserved for the X99 platform, dual M.2 slots! Only one is occupied here leaving room for expansion.
The included M.2 SSD is one of the heroes of this build, Samsung's latest TLC based 256GB 960 EVO, which unlike the Pro models is cheap enough to get you onto the luxurious NVMe bandwagon with thousands of MB/s transfer rates rather than just hundreds.
And does it show! Booting is near instant with programs and games loading at ludicrous speeds too.
The other hero in this system is the CPU, Intel's i7 7700K, which effectively is just the 6700K with a 200-300MHz speed boost providing 4.2GHz base and 4.5GHz turbo clocks at stock. But this wasn't enough for the folks at Tl Computers and each one of these PCs they build gets a custom overclock to suit what each individual 7700K can handle (as each CPU's capabilities can vary). In our case, it came clocked at 4.9GHz (for two core loads) or 4.8GHz (for four core loads) using a little under 1.3 volts which is respectable indeed.
7Review earns Amazon affiliate commissions from qualifying purchases. You can support the site directly via Paypal donations ☕. Thank you!
During the entire time we had this system the overclock was solid and the system remained very cool and quiet. The only issue detected was with a tool we use for stress testing called y-cruncher which is very sensitive and can easily show CPU overclock instabilities, which it did in this case. Dropping the overclock 100MHz or upping the core voltage easily fixed this rather minor issue though.
Speaking of upping voltages, to see just how far the CPU had been pushed from the shop we ramped up the voltage and started increasing the multiplier even further. It turns out the CPU was basically maxed out already as we could only squeeze a further 200-300MHZ extra before becoming extremely unstable at 5.2GHz. So, given the extra juice required to get there the overclock from the shop was good, but 5GHz would've been nice to see and easily achievable.
Sticking with the overclocking theme, the GTX1070 graphics card comes with a 180MHz overclock from the factory. Using Asus's overclocking utility and setting everything to maximum (+20% power, +91MHz core and +480MHZ memory speeds) the card handled it like a champ and thanks to Nvidia's Boost 3.0 technology pushed the clocks higher still to a surprising 2126MHz (266MHz above factory clocks) while remaining extremely quiet thanks to its custom triple fan cooler design which never exceeded 70°C, boosting our fps in general by a further 5%.
The graphics card also has a zero RPM ability, which stops its fans when idling, further reducing noise. The only problem with the card we found was some coil whine when pumping out more than 300fps (up to 700fps even) in the 3DMark Cloud Gate benchmark, but it was still quiet enough that that regular audio from games would easily drown it out.
As we're talking about benchmarks let's talk about how this machine performs. We tested it in the pre-overclocked state it was given to us in, as well as with the CPU at 5.1GHz and the GPU at the maximum supported. Running PCMark 8's Home conventional benchmark it scored 4825 points and 4850 with our custom overclock. In 3DMark Cloud Gate (DX11) it scored 37068 points and 38448 with our custom OC. In 3DMark Time Spy (DX12) it achieved 6169 points and 6473 with our custom OC. Some solid scores indicating this system would handle any 1440p gaming with ease.
For a pre-overclocked system to be this quiet, is astounding, and is testament to a well thought out build that delivers on all fronts.
Mark Williams
KEY SPECS
Intel i7 7700K @ 4.8GHz • Asus Strix 8G Geforce GTX1070 ■ Asus Strix Z270H Gaming • Noctua D15 Cooler -16GB 2400MHz DDR4 Kingston RAM ■ 250GB Samsung 960 EVO SSD • 2TB Seagate 7200rpm HDD • Cooler Master MasterBox5 Case • 750W Cooler Master Modular PSU • 22 x DVDRW Burner