TCL 55EP668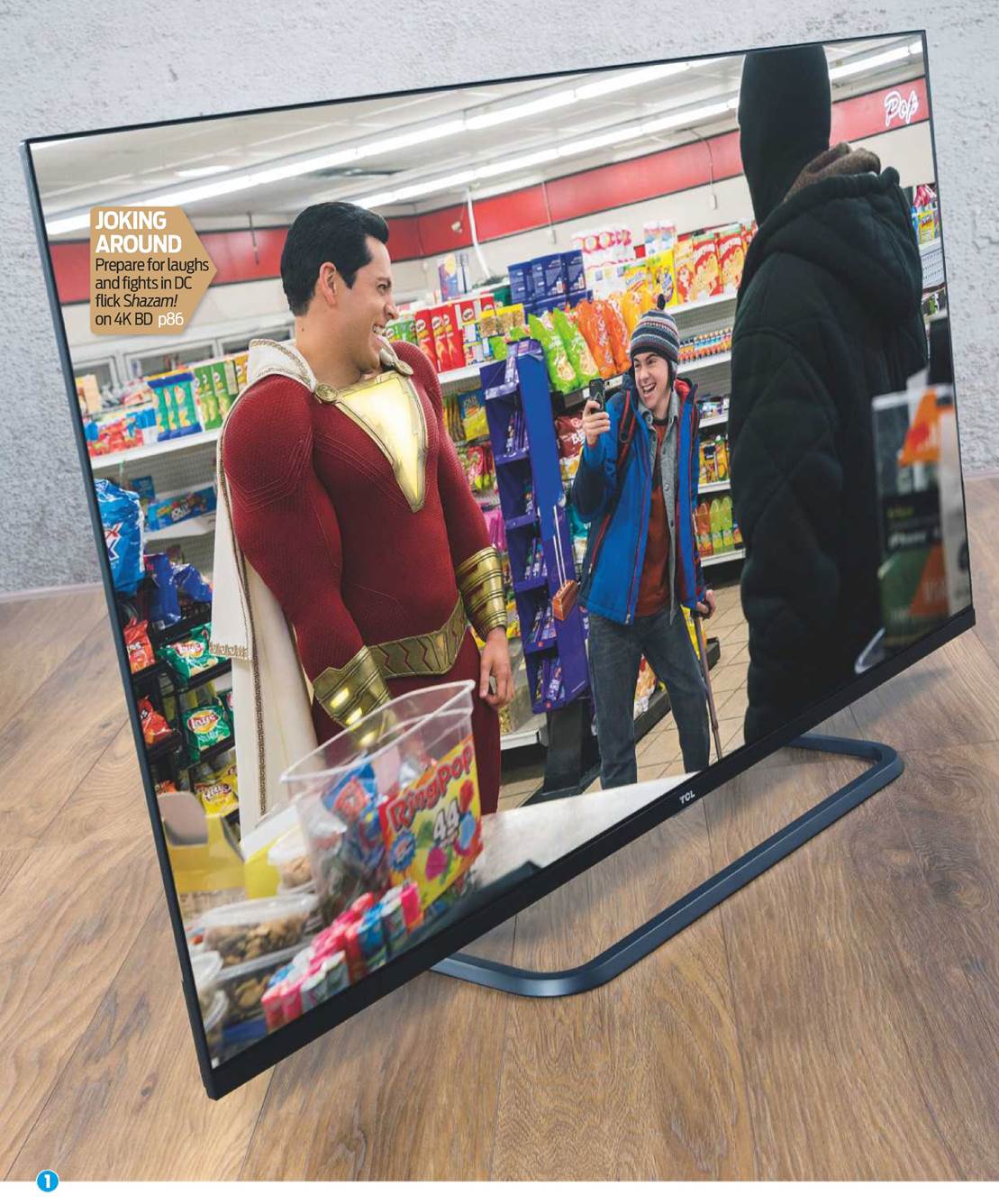 TCL aims low with 4K HDR
Does this budget 55in 4K LCD have the picture chops to float Mark Craven's boat?
55in 4K HDR TV with Freeview Play
POSITION: Currently TCL's most advanced UK model
PEERS: Toshiba 50VL5A63DB; Hisense H50AE6100UK
Last issue we reported from the IFA Global Press Conference, and the continued drive by Chinese TV brands to spread their wings around the globe. TCL is one such company. In 2018 it debuted in the UK with its entry-level DC series. And this year, while we wait for its more enticing MiniLED and OLED technologies to arrive, it's once again targeting budget buyers with the 55EP668.
7Review earns Amazon affiliate commissions from qualifying purchases. You can support the site directly via Paypal donations ☕. Thank you!
See also TOP Televisions
and The best OLED TV deals 2022: get an awesome OLED at the lowest price
This 55-incher continues in the same vein as the 55DC748 [see HCC #289]. It's a fairly nice-looking telly. Gone from last year's model is the cylindrical JBL-branded soundbar that was that TV's standout design feature; for 2019, TCL has adopted a less is more approach. The 55EP668 features a jet-black thin bezel, wider along the bottom edge to accommodate the speaker array. Slightly letting down the black vibe is the open stand, which is a lighter shade.
Two remotes are included, a long thin wand and a smaller one that cuts buttonry down to the bare essentials. Both are well designed and the TV's menus are fairly fast, by virtue of there not actually being that much customisation available.
For example, as before, there's no frame interpolation tool, leaving you at the mercy of the panel's native talents. This can be problematic on occasion. You may not have the option of super-smoothness, but the top of the submarine scrap between Aquaman and Orm (Chapter 13, Aquaman, Ultra HD Blu-ray) maintains clarity as the characters chuck tridents at each other and salt water sprays around. Yet trickier shots, such as the zoom in to the Sicilian village across the sea that opens Chapter 9, sees the fine detail of the cliff edges and buildings breaking up. Be prepared for some distractions.
It doesn't make the set ideal for sports fans either; the zipping white ball during the cricket World Cup (Sky UHD) posed it some problems.
Other features that point to the TV's budget nature include its suite of connections, where you'll only find three HDMI inputs (one ARC-enabled) rather than four.
All support 4K HDR, although pay attention to an option in the TV's menus that allows you to switch 'HDMI 2.0' between On, Off or Auto – I had to select On, rather than the Auto default, for the TV to recognise a 4K signal.
Although I expect this flaw to be addressed via firmware in due course.
Video-on-demand comes via Freeview Play for catchup TV, and Netflix, Amazon and YouTube apps within TCL's Smart TV hub (accessed via Wi-Fi or Ethernet). Somewhat frustratingly, across the Channel TCL sells a step-up version of this TV with the slicker (albeit more intrusive in the way it dominates the whole screen) Android 9 OS.
Even more curious is this set's lack of Dolby Vision and HDR10+ support, something also found on the European 55EP680 iteration. But such talents do bump up, which is an entirely different price point. HDR support here is HDR10 and HLG.
At the 55EP668's core is TCL's IPQ (Intelligent Picture Quality) 2.0 processing engine, which covers a range of image parameters including local contrast, 3D LUT colour mapping and HDR processing.
Steady as she goes
The TV's strongest picture quality attribute is its solid delivery of 4K HDR10 content, albeit without the major brightness zing offered by more intense LED designs that reach far in excess of the 400-nit peaks here.
That said, the combination of the set's global (as opposed to local dimming) engine brings a stability to its illumination that avoids the distracting leaps in brightness and backlight pooling found on other models, and engenders a decent performance with dark content.
Blacks don't approach the Stygian levels of OLED or multi-zone dimmed LED rivals, but are respectable.
The raid on the Umbrella HQ (Chapter 2, Resident Evil: Afterlife, Ultra HD Blu-ray) benefits from the balanced approach. As Alice (Milla Jovovich) appears behind the amassed goons, she's dressed entirely in black and hidden in the shadows; she steps forward, and light catches on >
2. The TV bundles two remote controls

1. TCL claims peak brightness of 400 nits for this HDR screen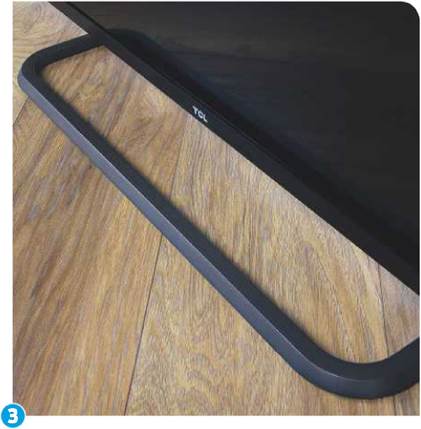 her silhouette and the metallic handles of her twin swords. Her features become visible as she preps for action. It all feels true to the cinematography, with nothing overstressed nor any telltale backlight flicker.
Lighting details in this scene, from the troops' torches to the emergency buttons and wall-lights, have a tangible intensity beyond the film's SDR counterpart.
Nudge this, tweak that
While there are calibration tools including gamma, white balance and black level adjustment, many end users will stick to the basics. A Dynamic Contrast option and
'Unfussy backlighting provides the basis for solid visuals, and gets you a 55in TV with a stylish design'
software-delivered Micro Dimming tool yield subtle differences. The former, which brings a little more punch without going overboard, is probably worth leaving on.
Something else to juggle with is TCL's Sharpness tool, found within the 'Clarity' sub-menu in the picture adjustment settings. In both the Standard and Dynamic image presets, this is set to 50 (on a scale of 0-100), while on Movie its default is zero. You might find giving it a nudge (to between 20 and 40, say) delivers a more impactful 4K image.
Of the presets, Movie is the obvious choice for lights- down viewing, showcasing a filmic colour temperature and the most dialled-in black levels.
The TV's limited native brightness and lack of precise illumination has a knock on effect around the TV's colour handling. While this wide colour panel means such fare offers the expected expanded palette and richer hues, such as Aquaman's golden armour or Orm's purple tunic in Aquaman, the 55EP668 doesn't possess the colour volume to do total justice to the movie's near psychedelic underwater locales. As the amassed armies trade green and blue laser fire during the climactic battle (Chapter 13), and fireballs fly through the air, the scene just doesn't have the in-yer-face impact it was designed to in the grading suite.
Colours on occasion lack finesse. Some of the various orange tones during Blade Runner 2049's Las Vegas scenes (Ultra HD Blu-ray) appear unsubtly painted compared to more adept displays. But I'd still argue the performance is commendable considering this TV's size and price tag.
For SDR content, TCL provides an upconversion to HDR mode (Smart HDR), but I can never imagine myself wanting to watch this. With The Magnificent Seven (2016 remake, Ultra HD Blu-ray), it took Antoine Fuqua's already quite saturated colour palette and ramped it up, turning background foliage almost luminescent green, and introducing a blueish tint to whites. It's a high price to pay for the boosted visual impact.
Sound performance is a bit disappointing, not helped by downfiring speakers. There's a lack of dynamics here that dampens down explosive movie moments. When the Magnificent Seven make their magnificent defence of the Rose Creek town, gunshots, explosions and whinnying equines miss a level of attack and separation.
Unleash the high-end!
This well-priced 55-incher has its limitations. The most obvious is its mediocre brightness, which doesn't extract the most benefits from 4K HDR content. Meanwhile, its sonic performance warrants the addition of an external sound system.
Yet for an affordable largescreen TV for Blu-ray/4K Blu-ray watching, the 55EP668 still has much going for it. The unfussy backlighting approach provides the basis for solid visuals, and your gets you a 55in TV with a stylish design. For TCL to really make waves in the UK market, however, surely it's time to unleash its higher-end models?
VERDICT
TCL 55EP668 Review
WE SAY: The Dolby Vision is surprising even at this price, but when it comes to wide-colour 4K images this neat-looking 55in TCL benefits from stable illumination.
Add your review
Best TCL 55EP668 prices ?
MORE DEALS

See also TOP Televisions
and The best OLED TV deals 2022: get an awesome OLED at the lowest price
SPECIFICATIONS
3D: No 4K: Yes. 3,840 x 2,160 HDR: Yes. HDR10; HLG TUNER: Yes. Freeview Play; satellite CONNECTIONS: 3 x HDMI; Ethernet; 2 x USB; digital optical audio output; headphone output SOUND (CLAIMED): 2 x 10W BRIGHTNESS (CLAIMED): 400 nits CONTRAST (CLAIMED): Mega' dynamic DIMENSIONS (OFF STAND): 1,229(w) x 715(h) x 76(d)mm WEIGHT (OFF STAND): 13kg
FEATURES: Onboard Wi-Fi; Bluetooth; VOD via Freeview Play, Netflix (4K), YouTube (4K) and more; Dynamic Contrast; Micro Dimming; wide colour gamut; Amazon Alexa support; Smart HDR mode; Movie, Standard, Dynamic, Sports, Game picture presets; USB/DLNA multimedia playback; HDMI ARC via HDMI 3
PARTNER WITH
LG SL4Y: LG's entry-level system still manages to add a 6in external subwoofer to its stereo soundbar, and offers the brand's ASC real-time equalization to get the best from sources. Can be used with LG's SPK8 wireless rears.
2. The open stand is sturdy and won't dominate your AV furniture