Can TCL beat its big-brand rivals with this affordable 55-incher? Mark Craven reports. Read our TCL 55DC748 Review.
AV INFO
PRODUCT: Affordable 55in 4K HDR LED TV
POSITION: Below TCL's QLED X6 range, above the C7 models
PEERS: Samsung 55NU7100; Sony KD-55XF7596; Hisense 55U7A
TCL, the Chinese panel maker/TV manufacturer (and owner of the Blackberry phone brand), continues to dip its toes into the UK telly market in the shape of the 55DC748, a 55in edge-lit LED model that claims to bring a high-end level of performance (aided by an integrated JBL soundbar) to the mid-range market. So is this a 4K HDR flat screen that bargain-hunters should have an eye on?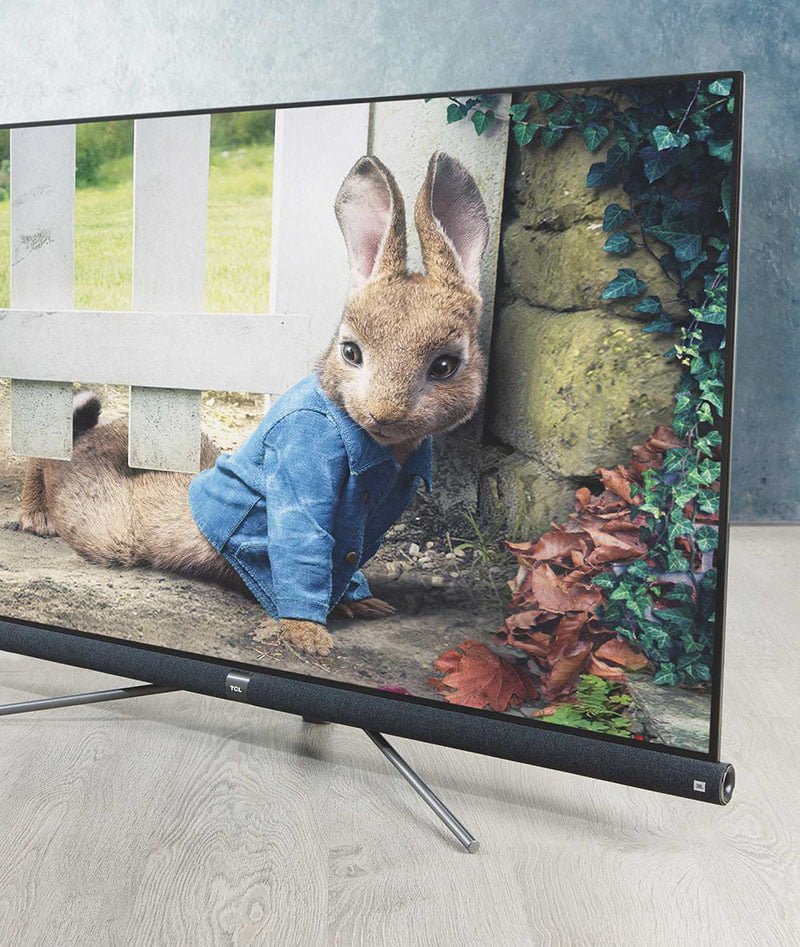 You may also like:
7Review earns Amazon affiliate commissions from qualifying purchases. You can support the site directly via Paypal donations ☕. Thank you!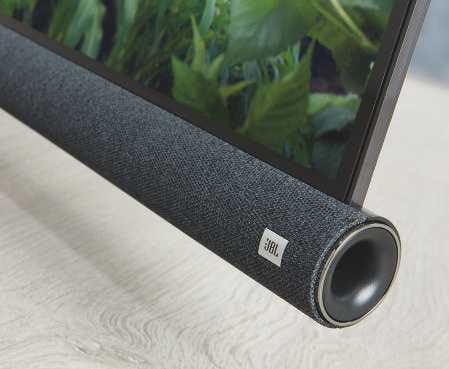 The primary handset offers large, sensibly placed keys
To light its panel, the 55DC748 uses edge LEDs and whole-frame dimming

Well, possibly. The 55DC748 has some obvious strengths – not least its asking price – but isn't without picture performance niggles, too.
Perhaps the most striking is an absence of any motion compensation/smoothing, which is almost expected on a mid-range set. Dig around the menus and you'll find no tool available to combat judder or a loss of detail with fast-motion. Handily, the TCL's native motion performance isn't disastrous, but for sports watching in particular many will feel they are missing out.
TCL 55DC748 Review: The edge of darkness
Anyway, on to what the 55DC748 does offer.
In addition to its edge LED illumination, it features a 10-bit VA-type panel, and claims a wide colour delivery (94 per cent of the DCI-P3 colour space) and 500-nit brightness. It's HDR10 and HLG HDR compatible (but not Dolby Vision or HDR10+), and packs calibration options including colour management, gamma and white balance.
Aesthetically, the TV is dominated by the cylindrical sound bar (designed by audio marque JBL) that runs across its bottom edge. The rest of the set is more nondescript. It's mainly nicely slim but with a widening rear end that feels rather plasticky. Getting it onto its large, angled silver feet is a chore, and I've felt TVs that are somewhat sturdier when assembled.
There are three (not four) HDMI inputs, plus USB 2.0 and 3.0 ports. These are all side- mounted, making a flat-to-wall installation possible. For network functions, the TV offers Wifi and Ethernet, plus Bluetooth transmission to compatible headphones.
As my review sample was supplied by TCL's European office, it ran the Android 7.0 UI. However, TCL says the 55DC748 will actually feature a Linux-based smart system in the UK, enabling it to feature Freeview Play integration for UK catch-up apps – something not feasible with Android TVs at present. For this review I therefore can't comment on the set's smart features, and it's easy to think UK buyers are getting a bit of a rough deal.
Still, the TV is easy to use, with the slender main remote well-designed and TCL's menus responsive and easy to get your head around. The first thing you'll want to do with the 55DC748 after wiring up your sources is to head into these menus and switch off the Button Sound feature – otherwise the TV will beep at you every time you click on your zapper, and quickly drive you mad.
TCL 55DC748 Review: No sunglasses needed
A lack of sizzling brightness means the set's performance with 4K HDR Blu-rays always feels a little underpowered in comparison to pricier rivals, but TCL's efficient tone-mapping means this shortfall in luminance doesn't readily equate to distracting clipping/blowouts.
And, considering the price tag, its ability to deliver the more lifelike dynamic range of next-gen sources is actually rather good.
The planetary fly-past in Interstellar (UHD Blu-ray, Chapter 8) sees the lone ship Endurance glide across the screen as a bright, distant dot. Not quite amidst a sea of black, though, as the 55DC748's edge LED system can make its presence felt on dark sequences. There's no local dimming here; whole-frame dimming is instead employed to adjust the picture to suit on screen content. The result can be a grey misting over image areas that really should be a velvety black, but is much better than the obvious bars/pools of light that can be set local dimming LED implementations.
This misting effect becomes far less apparent when the TV is viewed in a room with ambient light. And, in such circumstances, choosing the HDR Natural mode over the go-to HDR Movie will give the TCL more of a chance of retaining its impact. (Dynamic actually has a darker overall feel than Natural. Go figure).
Back to Interstellar. As Anne Hathaway and Matthew McConaughey circle the wormhole in Endurance, the interiors of the ship, and details such as reflections on their space-suits, are well-defined. There's plenty of UHD clarity, and those seeking a boost can always adjust sharpness, being wary of ringing artefacts, of course.
With Blade Runner 4K, this TV delivers a picture that begs you to sit back in your cinema chair and lap it up
Viewing Blue Planet II (UHD Blu-ray) finds the TV's wide colour delivery making an impact, although the aforementioned brightness limitation means there's a lack of sheer colour volume. The prominent blues, greens and turquoises in Episode 5 (Coasts) are varied, but missing real punch. The image remains natural-looking though; there's plenty to soak in as the camera pans over rocky cliffs, or sea lions frolic in sun-dappled waters.
SDR content opens up menu options with HDR, including dynamic contrast. And, as with its 4K HDR performance, the TCL does most things well. For instance, as Will Smith chases the alien in Men in Black (Blu-ray, Chapter 2), there's a healthy contrast range, strong colour performance and an impressive ability to retain shadow detail. The picture has a sense of depth, and the TCL efficiently remaps the 1080p source to its 4K panel.
The same sequence viewed via the HDR Blu-ray has subtle, beneficial boosts to picture areas such as car headlights and Will Smith's blinging jewellery, and a richer colour performance, particularly noticeable in the yellow newspaper truck and Smith's orange tracksuit.
And it's with 4K HDR that this TV looks its best.
Sony Pictures' triumphant 4K platter for Ridley Scott's Blade Runner delivers a picture that begs you to sit back in your cinema chair and lap it up. The opening pan over the future Los Angeles has balls of flame erupting powerfully into the night sky, and the neon-drenched cityscapes are at times beautiful. When Deckard pops out for some noodles, the luminous umbrella handles of the cityfolk appear electrically charged against a backdrop that oozes pixel refinement.
TCL 55DC748 Review: Adequate audio
So where does the 55DC748 fall flat? Firstly, its audio. Despite that prominent two-way stereo soundbar, the TCL's sound performance is merely adequate. Everything sounds a bit muffled and small scale, meaning action movie moments don't have the dynamic hit and high- frequency clarity of a decent soundbar. The menu offers virtual surround and bass tweaks, plus presets.
You're advised to have a fiddle, and partner with an external sound system if possible.
I also experienced a lip-sync issue when the TV was connected directly to an Oppo UDP-203 Blu-ray player, something I've not come across before. It was solved not through the deck's AV Sync menu, but switching to LPCM rather than bitstream output, suggesting the issue lay with the TV's own decoding.
At times I spotted localised areas of noise over dark image parts, and found the effects of TCL's contrast enhancements – Mixed Dimming, Micro Dimming, Dynamic Contrast – to be minimal. Most obviously, though, it's the 55DC748's occasionally visible backlight, less- than-class leading luminance, and missing frame interpolation that limits this set's appeal. That said, what we have here is an impressive mid-range TV, and one that gives a better performance than you might expect.
It's solid and steady, rather than spectacular
TCL 55DC748 Review: VERDICT
There's a healthy stability to this TV's 4K HDR images, and the price is good. Still some niggles, though, and the decision to eschew Android functionality in the UK is odd.
TCL 55DC748 Review
There's a healthy stability to this TV's 4K HDR images, and the price is good. Still some niggles, though, and the decision to eschew Android functionality in the UK is odd.
Add your review
TCL 55DC748 Review: SPECIFICATIONS
3D: No 4K: Yes. 3,840 x 2,160 HDR: Yes. HDR10; HLG TUNER: Yes. Freeview HD; satellite CONNECTIONS: 3 x HDMI inputs; 2 x USB ports; AV input; Ethernet; digital optical audio output; headphone SOUND (CLAIMED): N/A (stereo integrated soundbar) BRIGHTNESS (CLAIMED): 500 nits CONTRAST RATIO (CLAIMED): N/A DIMENSIONS (ON STAND): 1,233(w) x 790(h) x 240(d)mm WEIGHT (ON STAND): 18kg
FEATURES: Built-in Wi-Fi; built in Bluetooth; USB/DLNA media playback; Linux-based smart system (unavailable on review sample); whole-frame edge LED dimming; VA-type panel; wide colour; Dynamic Contrast; Dynamic Background; colour management, white balance and gamma adjustments
TCL 55DC748 Review: PARTNER WITH
AMAZON FIRE 4K:
For you can add Amazon's content- rich and 4K HDR compatible streaming platform to the TCL TV via this compact HDMI dongle. The user interface isn't the slickest around, but the value on offer here is hard to argue with.
The JBL soundbar features tweeter and mid-bass drivers for both channels