David Vivian discovers if an unassuming, slim and starkly functional two-way speaker can deliver the Spendor sound in full. Read our Spendor a7 Review.
DETAILS
PRODUCT Spendor A7
ORIGIN UK
TYPE 2-way floorstanding loudspeaker
WEIGHT
18kg
DIMENSIONS
7Review earns Amazon affiliate commissions from qualifying purchases. You can support the site directly via Paypal donations ☕. Thank you!
See also TOP 10 Subwoofers
(WxHxD)
180 x 934 x 305mm
FEATURES
• 1x 22mm polyamide dome tweeter
• 1x 180mm polymer cone mid/bass driver
• Quoted sensitivity 88dB/1W/1m (8ohm)
DISTRIBUTOR Spendor Audio Systems Ltd.
Of any Brit-fi speaker maker's reputation precedes it, Spendor's is probably a nose ahead of the rest. The company was founded in the late sixties by the titular Spencer and Dorothy Hughes and its first speaker, the now legendary BC1, more-or-less set the bar for every mid-sized monitor that followed. Indeed, the company says the influence of that seminal design can still be heard across its current three-tier lineup, which continues to be designed, engineered and built in
Impressive bass weight and extension with terrific agility and tunefulness
Great Britain. Spendor is rightly proud that it makes its own drive units, but unique in having its own cabinet-making plant in the UK.
With its four-strong entry-level A-Line family, the aim is to bring Spendor know-how, craft and experience to a wider audience – albeit one that understands the deal and that 'price led' isn't part of the plan. Take the range-topping A7 on review here. From a distance, it looks too simple and plain for a speaker. No sexed-up drivers, no curvy cabinet panels. Zero bling.
If you measure value in terms of material real estate, the A7 simply isn't going to float your boat, but fans of neat and petite should appreciate its modest height and footprint and take comfort from Spendor's assertion that it sounds anything but small. Making life more convenient still, the fourth-generation Spendor linear flow port, at the base on the rear, is said to work even quite close to a boundary.
If the stark 'nude' aesthetic of the exposed driver units doesn't quite click with your decor, there are magnetic speaker grilles, but they're listed as an optional extra. The cabinets are beautifully built and immaculately hand finished in black ash, dark walnut or, as here, natural oak real wood veneers.
The 180mm mid/bass driver is a new Spendor design with a polymer cone and revised surround and suspension materials said to deliver exemplary thermal and mechanical stability. High power handling and good low-level linearity were also on the job sheet. It's paired with Spendor's 22mm 'wide surround' tweeter, which strives to combine the extended frequency response of a small diaphragm with the low- frequency characteristics of a larger diaphragm, the intended upshot being stable, low distortion response over a very wide frequency range. Wide dispersion is also claimed, broadening the listening 'sweet spot'. The crossover network has been afforded the same level of refinement.
It features precision-wound, high- linearity tapped inductors which are said to avoid the distortion caused by attenuating resistors and allow very fine tuning of both frequency and phase response, necessary to achieve a coherent, balanced sound.
The gathering weight of opinion challenging the convention that speakers should have high density cabinet panels and mass damping to minimise 'cabinet talk' finds a powerful advocate in Spendor, which joins with Russell K and Fyne Audio among others in arguing that with this type of build, spurious energy is stored and released slowly, sitting on timing and rhythmic snap. There are numerous cures that eschew internal wadding and unnecessary mass. Spendor's is called Dynamic Damping and uses small, low-mass constrained polymer dampers in the cabinet that "convert the spurious energy in the cabinet into inaudible heat".
More than just a distinctive feature of Spendor's A-Line and D-Line ranges, the base of the speaker has four machined steel stabiliser inserts set directly into the cabinet. The reason, states Spendor, is that any micro movement or flexing of the plinth and feet blurs fine detail and destroys ambient cues and the sturdy metal perimeter prevents that, especially if used with the chunky supplied adjustable spikes (see Q&A).
Sound quality
As Spendor claims that the A7 doesn't require a large space to deliver its best game, most of the auditioning is conducted in my smaller listening room, hooked up with my resident ►
The exposed driver units can be covered with an optional grille
1 22mm polyamide dome tweeter
2 180mm EP77 polymer cone mid/bass driver
3 Fourth-generation linear flow port
4 Adjustable threaded floor spikes
Cambridge Audio CXC CD transport (HFC 401), Chord Electronics Hugo 2 DAC (HFC 428) and Rega Elex-R integrated amp (HFC 420). As ever, the speakers sit on Townshend Audio Seismic Podiums (HFC 426).
The first CD up for inspection is the one that's closest to hand, but I'm rather glad it's Michael Jackson's Scream compilation because Thriller neatly generates a broad first impression. Maybe just a hint of BBC reserve and polite neutrality? Nowhere to be heard. On the contrary, the A7 sounds much bigger and bouncier than you'd ever guess from looking at it, with well-projected presentation combining truly impressive bass weight and extension with terrific agility and tunefulness. This is not to be confused with the kind of artfully revved up presentational style that blows you away for 30 seconds then gradually becomes harder to take seriously. No, with an appropriate dose of volume from the Elex-R, it's what a natural sense of life, pace and musical verve sounds like and keeps you wanting more.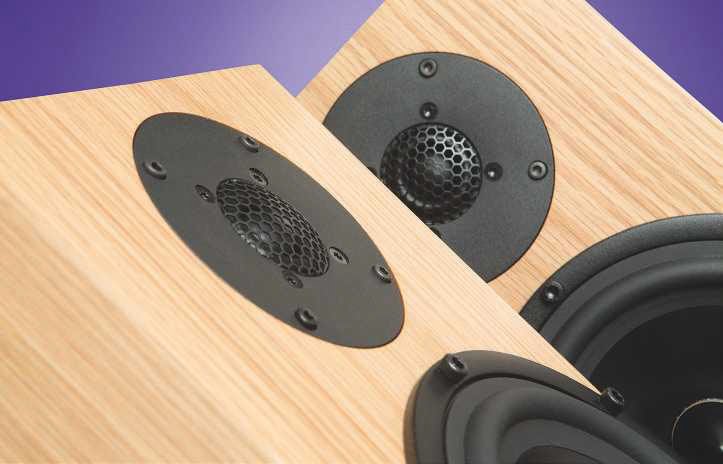 Dextrous jazz fusion guitarist Larry Coryell went through a phase of fridge-chilled funk in the mid-nineties and, thus flavoured, his version of the St. Louis Blues from I'll Be Over You challenges a speaker's ability to
capture contrast with a striking and very sudden change of mood. The track begins in true gritty acoustic blues fashion – spare, steely guitar phrases; Don Harrison's gruff, slightly echoey vocal; simple mic placements for authentic atmosphere. It all sounds raw, tactile and dripping with attitude through the Spendor. But 37 seconds in it's as if a group of renegades from Funk Central crash through the roof and hijack the track with extreme 'dig this' prejudice. Coryell's faithful Gibson Super 400 electric guitar is joined by Chuck Loeb on rhythm, Mark Sherman on keyboards and Zach Danziger on drums and bluesy angst is replaced with a rich, smooth, densely layered groove in a heartbeat. The A7 just isn't fazed by the jokey suddenness of the stylistic shift, but seems to be in on the conceit, delivering a sonic wink in the form of an opening bass note sweep with visceral presence and extension that all but dives through the floor. The whole thing hinges on delivering just the right amount of dynamic emphasis and the A7 absolutely nails it.
It does so time and again. But the svelte Spendor also has a special talent for the small stuff – not just its command of musical nuance and laser-locked precision with timing, but its ability to resolve subtle ambient cues right down to the noise floor. It all makes for an addictively transparent, engaging, rhythmically sussed and endlessly enjoyable loudspeaker.
Conclusion
Anyone who thinks Spendor is a bit old-school stuffy needs to hear the A7 urgently. Leave your preconceptions at the door. It sounds modern in the best possible way: fast, clear and open with fine dynamic expression, great bass and an unerring instinct for the musical pulse
OUR VERDICT
Spendor a7 Review
Comfortably one of the most talented floorstanders we've reviewed at this price point
PROS
Transparency
Terrific musicality
Bass
Compact size
Build and finish
CONS
Grilles are an optional extra
Add your review
|
Read reviews and comments
Best Spendor A7 prices ?
MORE DEALS

See also TOP 10 Subwoofers
HOW IT COMPARES
The A7 has a fight on its hands in any dealer showroom where rivals from the likes of PMC, ProAc and Monitor Audio are larger and more eye catching, not least because some have more drivers. The DALI Rubicon 6 (HFC 399) towers over the A7 and boasts no fewer than four drivers, two of which are tweeters – one dome and one ribbon. Against the A7 it sounds more expansive, warmer, even bassier and perhaps a little lush and laid back. It's a generous, naturally textured sound that's easy to live with, but the Spendor sounds faster and more energetic with a rare musical alacrity that never fails to engage.
Q&A Philip Swift
MD, Spendor Audio Systems Ltd.
DV: What is the secret to the A7's great sound?
PS:Look behind the A7's simple exterior and you'll find a wealth of Spendor engineering innovation focussed on achieving a natural engaging sound. Examples include our EP77 polymer cone mid/bass driver, which is exceptionally free from break up and resonance, our unique crossover topology with three-port inductors, which allows us to create a loudspeaker with a very linear phase response as well as a flat frequency response and our dynamic damping, which eliminates spurious vibration in the cabinet structure.
What are the advantages of the design of the rear reflex port?
The large rectangular port is smoothly integrated into the bottom structure of the cabinet. It eliminates many of the limitations of a conventional tubular reflex port. Air flow velocity is much lower so there is less distortion and higher headroom, group delay is substantially reduced and the low frequency response is more extended and even. Because the loudspeaker behaves very predictably when it is placed close to a wall or in a small room, it gives the A7 an unrivalled ability to deliver deep articulate bass, with a natural engaging sense of musical timing, in almost any listening room.
What contribution does the built-in, spiked metal plinth make to the overall performance?
The base of each plinth has four machined steel stabiliser inserts. Our threaded floor spikes can be quickly and easily fitted and adjusted by hand to compensate for any unevenness in your floor. Simple finger tightening of the spike lock nut against the steel plate secures the spikes so they won't vibrate loose. The stabilisers are secured directly into the main structure of the cabinet so that micro-movement or flexing of the plinth and feet – which blur fine detail and destroy ambience – is eliminated, the improvement in sound definition compared with a conventional spike/ foot arrangement is significant.