AN INCREMENTAL UPDATE PACKS A SHARP SNAPPER.
BARELY SIX MONTHS ago, in TechLife54, we reviewed the Xperia X Performance, itself a mild update on the Xperia Z5. The exterior felt like a step backwards, though the internals had been given a decent boost to make everything zip along with a bit more pace.
The XZ takes an even smaller step, making the X Performance look like a visit to the moon in terms of progression.
For a start, the silicon guts of the XZ and X Performance are near enough to be identical.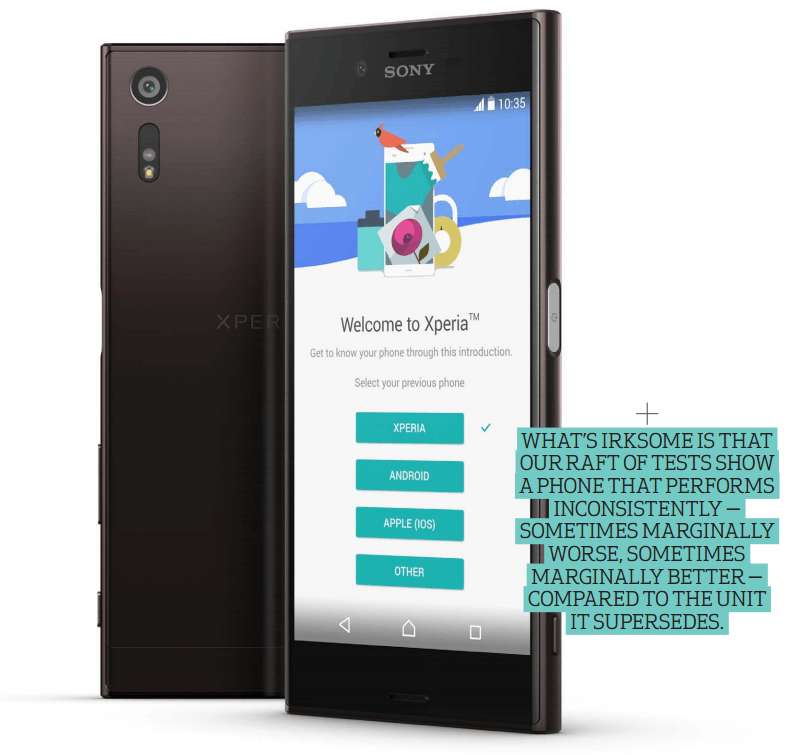 Same processor, same GPU, though the battery's been beefed up to 2,900mAh from 2,700mAh (the Z5 has a 2,900mAh unit).
Internal storage is a to-be-expected 32GB (a microSD card can add an additional 256GB), and 3GB RAM. On the exterior, though, this iteration lies somewhere between the Z5 and the X Performance. The 1080p screen is a delight, and the effect of the overly grey bezel has been dialled back, though in the hand and under a blind test, you'd be hard pressed to tell the difference between the XZ and its predecessor. It's a touch softer all over, while still retaining a slab-like feel and the body.
IP65/68 waterproofing remains.
7Review earns Amazon affiliate commissions from qualifying purchases. You can support the site directly via Paypal donations ☕. Thank you!
Sony continues to nail the fingerprint sensor — it's by far and away the best amongst its peers. Fast, accurate, and (for right-handed users) falls right under the thumb. Great stuff.
(Again, avoid importing this from overseas, as some markets don't feature the tech thanks to paperwork issues.) And, finally, Sony's using a Type-C connector.
Couple that with the clever adaptive battery-charging tech that promises to improve the battery's lifespan, making the unit last as long in two years' time as it does from day one, and you have a unit you'd be happy to keep over the course of a standard contract.
What's irksome is that our raft of tests show a phone that performs inconsistently — sometimes marginally worse, sometimes marginally better — compared to the unit it supersedes. Both Geekbench and PC Mark scores dip down, though GFX 3.1 framerate tests are up. Not that you'd notice it in day-to-day usage, but dammit, the numbers matter! Making the pill less bitter to swallow is a fast-firing camera. Sony's dedicated camera button brings the camera to life by holding it down, and from sleep, it's on and ready to go in just over two seconds. Laser auto-focusing also embarrasses plenty of other phones, and the XZ is a gun at quickly shifting its focus between objects in the foreground and background. Though the Google Pixel produces crisper, more distinct results in low-light, results in sunlight are strong and clear with great contrast and vibrant colors.
Video results draw similar praise, and image stabilization is impressive.
In the end, it's the phone Sony should've released instead of the X Performance, which is probably why it's come out now. The XZ lags behind current hardware in raw specs, but still manages to hold its own. Although we like it and recommend it, this has to be the last iteration in this range, and the next X phone needs to be far more of a revolution than an evolution.
[PAUL TAYLOR]
CRITICAL SPECS
Android 6.0.1; 5.1-inch IPS display @ 1080p; Qualcomm Snapdragon 820 CPU; 32GB memory (can be expanded with microSD by 256GB); 3GB RAM; ,900mAh battery; 23MP and 13MP cameras; 146mm x 72mm x 8.1mm; 161g
Sony Xperia XZ (F8331) - 32GB - 23MP - Single Sim Factory Unlocked Smartphone (Mineral Black)
as of September 18, 2023 11:02 am
Features
| | |
| --- | --- |
| Part Number | part_B01MAYS18D |
| Model | F8331 |
| Color | Mineral Black |
Sony Xperia XZ Premium 4 G 64 GB Chrome – Smartphone (4 GB, 64 GB, 19 MP, Android, 7.1, Chrome)
as of September 18, 2023 11:02 am