This new entry-level 4K projector is still a Hollywood superstar, reckons John Archer
Following rave reviews in HCC for its VW590ES, VW790ES and VW890ES native 4K projectors, Sony will be hoping for a clean sweep with the final model from the range, the VPL-VW290ES. At £, this is comfortably the cheapest of its current 4K quartet, raising questions of whether it can still have what it takes to deliver the benefits of Sony's ground-breaking Dynamic HDR Enhancer technology.
The VW290ES (right) looks almost identical to the 590ES (middle), while the laser-powered 790ES (left) has a more angular, larger chassis
Dynamic HDR Enhancer is an image processing system that's able to optimise the contrast of any given HDR shot by, essentially, making the dark bits look darker while the bright bits look lighter. This sounds simple enough until you realise that unlike TVs, a projector doesn't have any sort of local dimming system to work with; just a single lamp, an iris and a lot of cleverness – cleverness that's still powered, despite the VW290ES's relative affordability, by Sony's top-flight XI For Projector processing system.
Design-wise the signs are promising that this beamer won't fall too short of its more expensive brethren. It's exactly the same size and weight as the excellent step-up VW590ES [HCC #318], and its 'squashed Darth Vader helmet1 shape is the same too. It also carries the fully motorised lens adjustment for focus, zoom and horizontal/ vertical lens shifting.
A duller look to the metallic strips around the lens cowling is the only outward sign that it's a more affordable model. That and the fact this projector can be bought in white as well as black, unlike its noir-only siblings.
Connectivity comprises two v2.0 HDMIs (there's no 4K at 120Hz/Variable Refresh Rate support here – something Sony will surely add in its next generation), a USB port (for power only), a 12V trigger, an RS-232C control port, an IR port, and a service-use LAN.
7Review earns Amazon affiliate commissions from qualifying purchases. You can support the site directly via Paypal donations ☕. Thank you!
See also TOP 15 projectors
There are significant differences internally, though. First, its maximum luminance is only 1,500 Lumens, which is 300 shy of the VW590ES. Second, while the pricier model has a quoted contrast ratio of 350,000:1, Sony doesn't actually give a contrast figure for the VW290ES, a sure sign that it's considerably lower. How much of an impact these downgrades make will be the main focus of my testing.

The projector supports HLG and HDR10, but joins the vast majority of the market in not supporting Dolby Vision or HDR10+. It does, though, deliver 3D in the Full HD active format if you add your own compatible glasses.
The XI For Projector engine provides Sony's Motionflow processing for taking the edge off judder, and there's Reality Creation for sharpening both upscaled HD and native 4K playback. Both these tools appear to work every bit as well on the VW290ES as they de on the VW590ES. Motionflow on its True Cinema setting reduces judder without introducing serious artefacts, even during the frenetic action scenes of Braveheart (4K Blu-ray), while Reality Creation adds a strong extra sense of texture, detail and even depth to the film's spectacular scenery.
The news goes from good to great once you turn on Sony's Dynamic HDR Enhancer. It's not quite as impactful here as it is on the VW590ES or, especially, the laser-based VW790ES [HCC #316], but is better than I'd imagined would be possible with only 1,500 Lumens to play with.
The extremes of HDR light an show during the opening scenes of The Invisible Man (2020,4K Blu-ray) are conveyed superbly. The extremely dark shots of Cecilia lying in bed enjoy black levels that are easily the best Sony has managed on an entry-level 4K projector, while holding astonishing amounts of shadow detail.
3D
Yes. Active shutter
4K
Yes. 4,096 x 2,160
HDD
Yes. HDR10; HLG
CONNECTIONS
2 x HDMI inputs (v2.0)
Ethernet for service use
USB (power only)
12V trigger port
3.5mm IR port
RS-232C
BRIGHTNESS (CLAIMED)
1,500 Lumens
CONTRAST (CLAIMED)
N/A
ZOOM
2.05x
DIMENSIONS
496(w) x 205(h) x 464(d)mm
WEIGHT
14kg
FEATURES
SXRD projector technology
XI For Projector processor
26dB claimed fan noise (Eco mode)
6,000-hour claimed lamp life (low lamp mode)
horizontal and vertical motorised lens shift
motorised zoom
motorised focus
1.38-2.83:1 throw ratio
Motionflow
Reality Creation
Dynamic HDR Enhancer
high-pressure 225W lamp
built-in 3D emitter
WEBSITE
www.sony.co.uk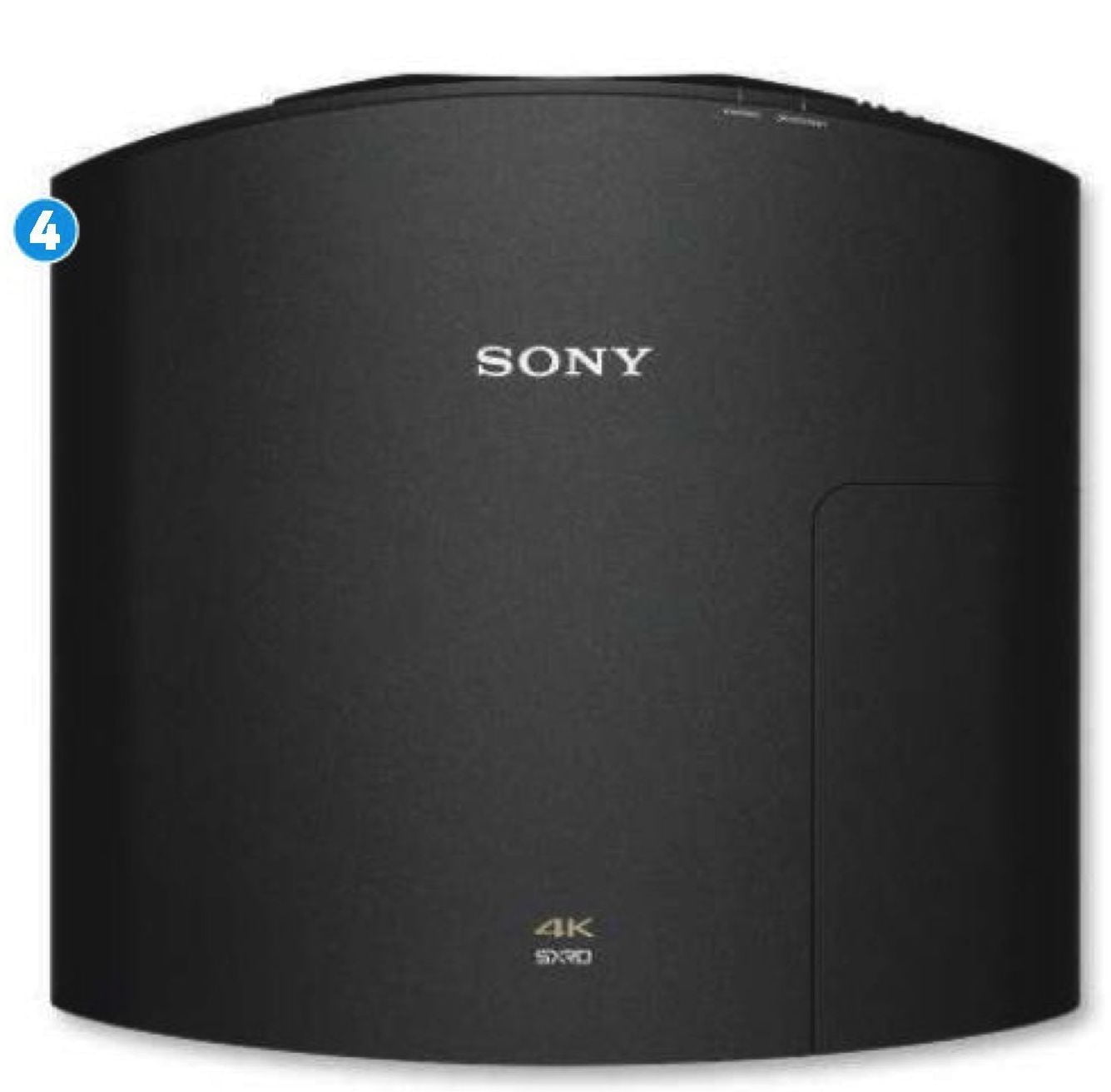 Yet when a shot contains bright elements, such as the screens in Adrian's home lab, or the headlights of Cecilia's sister's car as it approaches from the distance, the highlights are reproduced with more intensity than you'd think possible from a 1,500 Lumens projector, without compromising the likeable black level performance. It really is hard to comprehend how this is being achieved without any local dimming.
The contrast range and HDR 'feel' is down versus the VW590ES, but Dynamic HDR Enhancer still works well enough to produce a more satisfying HDR experience, at least when it comes to the brighter end of the spectrum,
'The VW290ES's black levels are easily the best Sony has managed on an entry-level 4K projector'
than any other projector in its class. JVC's 4K D-ILA models (where the entry-level DLA-N5 costs £ more) still reign supreme when it comes to black levels yet don't deliver quite so much all-round HDR impact.
This Sony's colour range is expansive enough to keep up with the demands of the Dynamic HDR Enhancer. The processing can thus expand the colour palette in line with brightness, so that colours don't start to look washed out. But avoid the Dynamic HDR Enhancer's highest setting, as this starts to cause clipping and some tonal imbalances.
As you'd hope of a native 4K projector, the VW290ES's pictures are exceptionally sharp. Whether it's the beautifully managed film stock grain of the excellent Raiders Of The Lost Ark 4K Blu-ray, or the pin-sharp detail of the cockpit instruments in the ill-fated/lucky (depending on your point of view) plane in Sully, the VW290ES presents every last available detail with confidence and clarity.
This is especially true if you use the Reality Creation feature, which for my money has become the most effective detail enhancement system in the projection arena.
The benefits of Sony's XI For Projector processor can be witnessed in the skill with which this model upscales HD content. Common issues, such as colour banding/ shifting, exaggerated source noise, excessively 'hard' object edges, unnatural grain management and laggy motion, are absent, leaving in their place a natural, neutral image in which it's easy to become completely immersed.
Problems are hard to find considering this PJ's entry-level status. You can hear its cooling fans when you're watching HDR material, but the noise is smooth and actually quieter than that of many 'desktop' HDR projector rivals.
The strongest Dynamic HDR Enhancer setting is a bit unruly, as noted before. And purists might argue using this processing means pictures aren't being rendered with absolute devotion to the way they were mastered. My view on this, as I've said before, is that consumer HDR material is never mastered to suit any home projector, so a sensible approach is for manufacturers to do the best they can.
In short, the only issues I've found with the VW290ES aren't, given its price, really issues at all. All that's left to say is that this Sony is the finest all-round sub-£ projector you can currently buy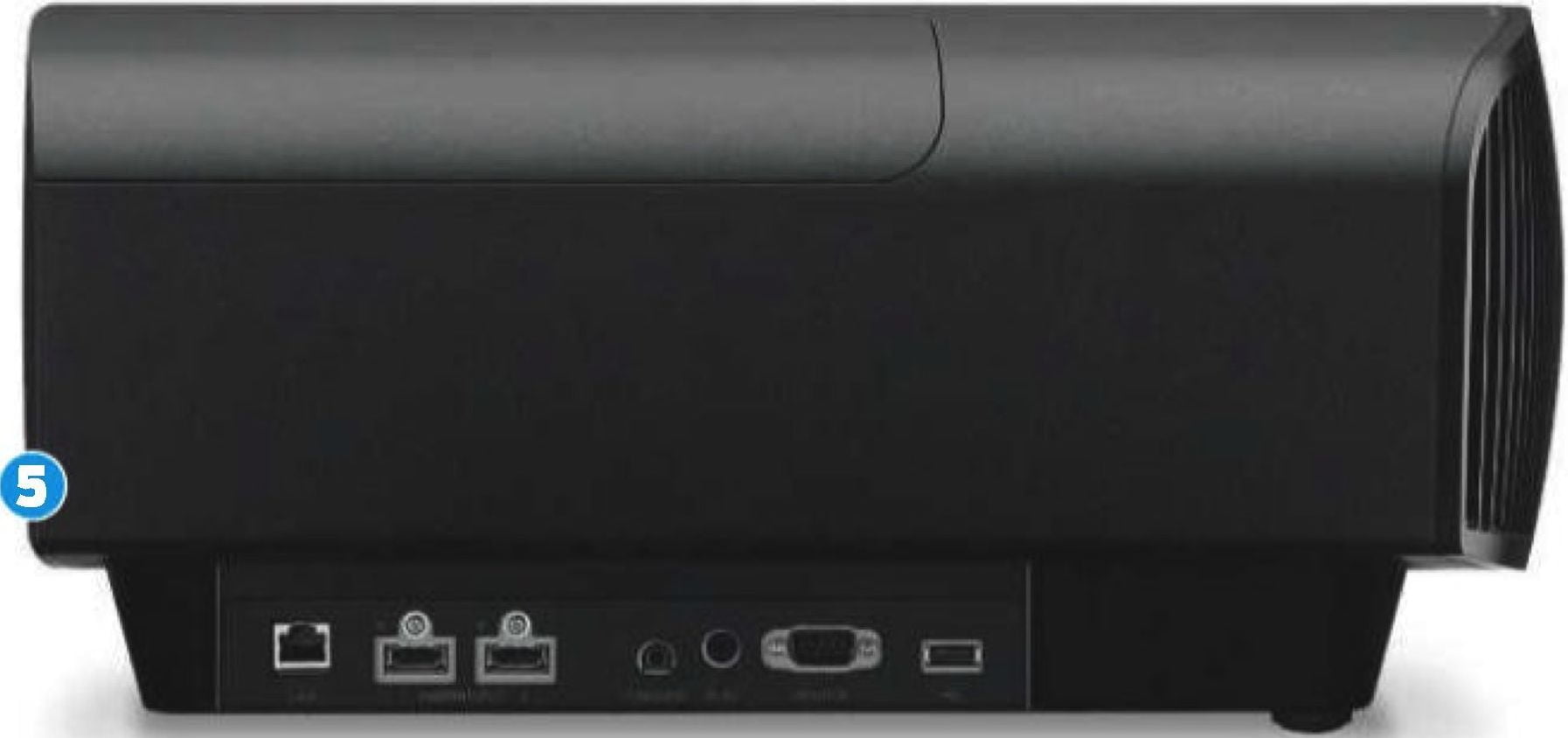 Best buy
SONY VPL-VW290ES Review
This first step on Sony's 4K projector ladder is a cinephile's dream. The VW290ES offers sharp, colour-rich native 4K HDR images that benefit from superior processing.
Add your review
Sony VPL-VW290ES/W - 4K, 1800ansi, X1 Processor Home Cinema Projector - White
as of September 18, 2023 7:42 am
Features
| | |
| --- | --- |
| Part Number | VPL-VW290/W |
| Model | VPL-VW290/W |
| Size | 1 Count (Pack of 1) |