Sony has kicked off its latest 4K projector lineup in style, reckons John Archer. Read our SONY VPL-VW270ES Review.
After having the 4K projector space pretty much to itself for a few years, times have got tougher for Sony's projection division. We're now seeing models certified for 4K playback (using DLP's rapid mirror-switching technology) selling for as little as a £, and JVC will soon be launching its first native 4K projectors, having first aimed for the very high-end with its laser-based DLA-Z1.
av info
PRODUCT: Native 4K and HDR projector using Sony SXRD technology
POSITION: The entry-level model in Sony's new 4K projector range
PEERS: Optoma UHD65; JVC DLA-X5900
Sony's impressive new VPL-VW270ES – it's entry-level 4K PJ, albeit priced – suggests that the brand isn't feeling fazed by all the extra competition, and is sticking with its UHD projection game plan.
There's no compromise in build quality and design.
7Review earns Amazon affiliate commissions from qualifying purchases. You can support the site directly via Paypal donations ☕. Thank you!
See also TOP 15 projectors
The VPL-VW270ES still enjoys a robust, metallic finish, and is actually a touch bigger – specifically, taller – than previous Sony mid-range and entry-level PJs. It also still features a promisingly large lens recessed into the centre of its front fascia, and looks pleasantly domesticated thanks to its rounded and arced top edge.
The connections tucked under the projector's right side are an improvement on those found on any previous entry-level Sony 4K projector. This is because the two HDMI inputs now support full-bandwidth, 18Gbps 4K HDR images at 60fps – which is handy now that broadcast HDR is becoming a thing. Other connections of note include a 12V trigger and an RS-232C control port.
Chip off the SXRD block
The projection engine is built around three of Sony's native 4K (actually 4,096 x 2,160) SXRD projector chips, and there's support for HDR10 and HLG HDR as well as standard dynamic range. A 225W lamp apparently delivers 1,500 Lumens maximum light output, but Sony doesn't provide any contrast ratio specifics. Setup is relatively easy; the PJ's zoom, optical image shifting and focus systems are all motorised and accessed by the large, spacious, logical and backlit remote control. The zoom extends to a whopping 2.06x, making the projector nicely flexible.
As expected, the VPL-VW270ES introduces more than just improved HDMI connectivity compared to the previous VPL-VW260ES. A new HDR Reference mode, for instance, tries to deliver accurate saturations of colours right up to the 1,000 nits of peak brightness used by many HDR sources, rather than 'rolling off' below 1,000 nits, as happens in the unit's other HDR modes. Also new here is a 4K version of Sony's Motionflow processing for reducing judder; an Input Lag reduction mode for gamers that reduces the time the PJ takes to render pictures to 30ms; and anamorphic lens compatibility for 4K signals.
Onscreen menus are straightforward, although getting the best from HDR sources will mean revisiting some of the menus more often than you might want. In particular, I'd recommend setting HDR Contrast to 77 for 1,000-nit sources, and nearer 90 for 4,000-nit encodes. And that's assuming you know what brightness level an HDR source has been mastered to, of course.
Sony's core picture technology might not have changed much, but this beamer is a significant step forward from the VW260ES. When it comes to dark scenes, it handles the gorgeous blackness of space in the new 2001: A Space Odyssey 4K Blu-ray with more authority and black level depth than its predecessor, and does so without having compromised its brightness at all. On the contrary, since its peak light levels seem around the same as those of the VW260ES, while black levels are deeper, its imagery feels consistently more contrast-rich. The dynamics of 2001.'s beautifully remastered space sequences are presented with panache.
This model doesn't feature a dynamic iris; for that you'll need to find £ or so more for the step-up VPL-VW570ES. Yet this relative simplicity from a contrast perspective does mean that pictures appear completely stable (free of light jumps and flickers) even during 2001.2 s most extreme light-to-dark cuts.
It also responds better than expected to the 2001… 4K Blu-ray's expanded colour palette. No projector – especially a non-laser model – can get close to the full colour range
1. Sony's familiar remote handset provides slick control over focus and zoom
2. Front-facing vents cool the VW270ES's 225W lamp
3. A black chassis option is also available
contained within HDR sources. But through its clever brightness and contrast adjustments with HDR, and Sony's Triluminos colour system, it does give what appears to be a gentle but engaging HDR push.
And, crucially, this slight colour expansion is handled superbly by Sony's processing; tones still look impeccably natural across the board, from Dave's subdued skin tones to HAL's sinister red eye and the famous, psychedelic inter-dimensional 'tunnel'.
Wow factor
The VW270ES's native 4K detailing is breathtaking. While many of the budget 4K DLP projectors achieve resolutions that look comfortably in excess of HD, the extra crispness, texturing and purity of these images was undeniable enough to cause numerous involuntary 'wows' during my audition period.
There's an almost visceral impact to this Sony's 4K performance, an effect helped by clarity remaining impressively intact when there's motion in the frame.
Stick with the True Cinema motion mode, and everything from the statesmanlike rotations of the space ships in 2001… to the handheld camera work of The Bourne Supremacy (Ultra HD Blu-ray) always look natural, detailed and believable.
It's also a treat to bathe in the glory of all the VW270ES's pixels with no distractions from video artefacts such as noise, stressy edging or, in the case of DLP projectors, the rainbow effect (flitting stripes of red, blue and green).
In fact, by the time you've added together the PJ's extreme clarity, improved contrast, impressive motion and freedom from any sort of noise, you've got an awesomely direct viewing experience.
So what are its limitations? Well, while it handles SDR content pretty much immaculately with only 1,500 nits to play with, contrast-rich HDR scenes can lack pop versus brighter projectors and, more obviously, good HDR TVs.
Extreme clarity, improved contrast and impressive motion result in an awesome viewing experience
I also found myself often tweaking the HDR Contrast setting to try and limit the occasions, during HDR playback, when relatively dark foreground objects began to look like empty black shells. And even then I still experienced this HDR 'silhouetting' issue from time to time.
Black levels can sometimes look a bit grey during HDR playback, too – but seldom to a degree that becomes truly distracting. And, actually, the VPL-VW270ES performs surprisingly well in this regard considering it lacks a dynamic iris.

The PJ's brightness limitations lead to some clipping of detail and toning in peak light areas of HDR pictures (such as 2001…'s most intense shots of sunlight, or visor reflections). This is the downside to using high HDR Contrast settings, as raising the brightness 'floor' of HDR pictures inevitably causes more clipping in the brightest areas. This problem is exacerbated by the HDR Reference setting (which is probably why Sony doesn't use this mode by default).
A final negative point is that while the VPL-VW270ES runs impressively quietly (barely more than a murmur) during SDR playback provided the lamp is set to its Low option, with the lamp pushed into High mode for HDR the fans have to work much harder, and are therefore noisier. The projector has a get out of jail card here, though, in that its fan noise is smooth, deep and consistent, making it pretty easy to tune out. A seating position away from the unit is still advised though.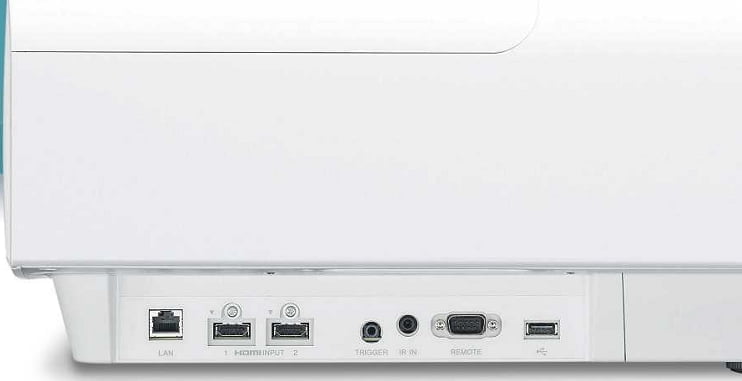 Most importantly, this projector's good points hold comfortable sway over its niggles. Sony has built upon the fine work of its previous 4K range, refining performance to deliver a real 'destination' product for resolution-hungry home cinema fans. And with JVC's new entry-level DLA-N5 model set to retail, the VPL-VW270ES has a price point all of its own. Highly recommended
VERDICT
Recommended
SONY VPL-VW270ES Review
Although it will face stiff competition from new JVC models, the more affordable VPL-VW270ES is good enough to more than hold its own.
Add your review
Best SONY VPL-VW270ES prices in the US ?

$

152.99
2 new from $152.99
in stock

Best SONY VPL-VW270ES prices in the UK ?

£

119.42
1 new from £119.42
in stock


£

129.99
1 new from £129.99
in stock

MORE DEALS

See also TOP 15 projectors
SPECIFICATIONS
3D: Yes. Active (although glasses are an optional extra) 4K: Yes. 4,096 x 2160 resolution HDR: Yes. HDR10; HLG CONNECTIONS: 2 x HDMI inputs; RS-232C; USB service port; 12V trigger; IR input; Ethernet BRIGHTNESS (CLAIMED): 1,500 Lumens CONTRAST (CLAIMED): N/A ZOOM: 2.06x DIMENSIONS: 496(w) x 205(h) x 464(d)mm WEIGHT: 14kg
FEATURES: SXRD projector; 6,000-hour claimed lamp-life in Low lamp mode; 4K anamorphic lens support; Motionflow motion processing; optical image shifting (vertical +85%/-80%; horizontal +/-31%); Reality Creation processing; HDR Reference mode; HDR contrast adjustment; 1.38-2.83:1 throw ratio
PARTNER WITH
SONY TDG-BT500A:
The PJ is 3D-compatible, but doesn't come supplied with 3D glasses, so stereoscopic fans will need to find £ for a pair of Sony's (Lithium battery- powered, rated 100 hours) active shutter spex.
4. The HDMI inputs now support 18Gbps 4K/60fps passthrough