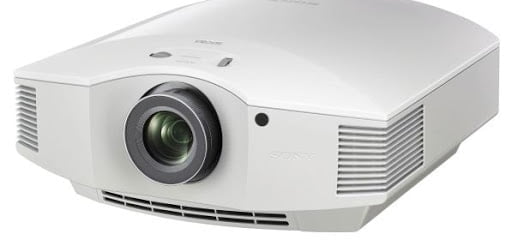 The last time i had my hands on a Sony product, it was a 4K projector priced at ten grand. That model, the VPL-VW350ES, had many positive attributes, along with one weakness: somewhat lackluster contrast compared with that of projectors that provide a dynamic iris control.
Video geeks know that picture contrast can have a dramatic effect on image quality. Sure, the detail boost that 4K provides is nice, but in the grand scheme of things, contrast ends up being an even more important factor. That's why I was stoked at the prospect of reviewing Sony's new 1080p VPL-HW65ES, a projector that includes a dynamic iris to optimize contrast.
Other features that the new model brings to the table include Advanced Reality Creation, a technology developed for the company's 4K projector line; it has been repurposed here for 1080p images. There's also 240-hertz panel drive, which Sony says helps to minimize crosstalk in 3D images. Speaking of 3D, this projector has an integrated RF 3D Sync Transmitter to control Sony's optional rechargeable glasses, as well as a Dynamic Lamp Control to boost 3D brightness. Fan noise is spec'd at 22 decibels, meaning it should be barely audible when the projector's lamp control is set to Low mode (something that was indeed the case during my testing).
The VPL-HW65ES shares the same curvy, black look of other Sony ES projectors. Its video inputs are limited to a pair of HDMI connectors, and there's a USB port plus RJ45 and RS232-C jacks for integrating the projector with home control systems.
Sony's remote control has a fully backlit keypad and large, wellspaced buttons that provide direct access to picture presets and sharpness, brightness, and contrast adjustments, along with gamma correction, contrast enhancement, and Reality Creation settings. As far as projector remotes go, this one does its job well.
Setup
I placed the VPL-HW65ES on a high shelf at the back of my theater room, the center of the lens aligned with the top edge of a 90-inch-diagonal, 1.1-gain Stewart Filmscreen Cima Neve projection screen. Throw distance was 12.5 feet. The projector's lens has a 1.6x zoom. Manual focus, zoom, and horizontal (±25 percent) and vertical (±71 percent) lens shift controls are provided.
Picture presets on the VPLHW65ES include a pair of Cinema Film modes, along with Bright Cinema and Bright TV—modes intended for lit-room viewing. Most of my pre-calibration viewing was done in Cinema Film 1 mode. Out of the box with only minimal adjustment, the Sony's image quality was for the most part very good. It had a slightly too-warm (reddish) color cast, and greens in particular looked a bit oversaturated. But on the whole, I found little to complain about. Although most of my viewing was done with the lights dimmed, I was also impressed at how bright and punchy the picture looked in Bright Cinema mode when I turned the lights on, even without a special ambient-light-rejecting screen.
I made my initial picture calibration adjustments in the projector's User mode, with Gamma Correction set to 2.4 and Color Space to BT.709. Sony provides only low and high RGB sliders in the Custom Color Temperature menu, but getting the projector's grayscale to track near perfectly using those adjustments proved to be no problem. The color management system settings in the Custom Color Space menu consist of sliders for each primary color that let you set a balance between Cyan-Red and Magenta-Green. Again, dialing in these adjustments during calibration was a quick and easy process; I was able to eventually achieve a virtually spot-on color gamut with significantly more accurate greens.
Experimenting with the projector's Cinema Black Pro settings is key to getting good picture contrast in whatever environment you choose to set it up in. There are numerous settings you can fuss with, but I found that I got the best balance of picture brightness and shadow/highlight detail in my light-controlled room with the Advanced Iris setting's Dynamic Control set to Limited and Brightness set to 50. With the Advanced Iris set to Full, highlights tended to be too bright. With that setting enabled, there were times when I actually found myself squinting during well-lit daylight scenes in movies, or scenes with plenty of white in the background.
Other settings I found useful included Low Contrast Enhancement and High Lamp Control. Low, the other Lamp Control option, reduces the projector's light output by nearly half. While you might be tempted to select Low to hit the 6,000-hour lamp life that Sony specs for the projector in that mode, the reduction in fan noise is only minimal, whereas the significantly brighter image you'll get from High makes it well worth the trouble.
Some additional adjustments that helped to improve the VPLHW65ES's picture included Low Smooth Gradation, plus a shot of Advanced Reality Creation. (Pushing the Reality Creation settings too high can give the picture a too-crisp and unreal appearance.) The projector's Motionflow feature worked best when set to True Cinema, which allows for accurate display of 24p film-based content. Smooth High and Smooth Low Motionflow settings both ended up adding a degree of soap-opera effect without necessarily showing an improvement with motion-resolution test patterns. Impulse, another Motionflow setting that employs black frame insertion, did serve to improve motion resolution, however.
Performance
With all of the VPL-HW65ES's picture settings dialed in, I settled down to watch a few movies. When I cued up Kenneth Branagh's recent Disney Cinderella reboot on Blu-ray, both the skintones and the green grass and foliage came across as completely natural in opening exterior shots where Ella and her parents play blissfully in the yard. Brightness is definitely one of the projector's assets: The picture's bright, punchy quality made the colors of flowers and patterns on the dresses worn by Ella and her mother really pop.
The VPL-HW65ES managed dark images equally well. In a scene where Ella—relegated to servant status after her father has died—shines the shoes of her stepmother and sisters by candlelight, shadows in the dim space had excellent depth and looked well defined. With the projector's Advanced Iris Dynamic Control set to Limited, I saw no iris pumping effects; transitions between dark and light scenes came off smoothly.
The Sony also did an impressive job with streaming video sources. I watched Jessica Jones, a Netflix original series based on the Marvel Comics character, and dark environments like the bar that Jessica hangs out in and her stark, gloomy office (the norm for a hard-drinking, ass-kicking P.
I.) offered the same punchy look as dark scenes from the Disney Blu-ray. Here, the projector's Advanced Reality Creation adjustments helped a good deal to improve image quality. Boosting the Resolution setting added some sharpness without making objects look too hard-edged, while boosting Noise Filtering helped give the picture an overall more solid and clean look without reducing detail.
The projector's substantial light output served it well for 3D viewing. When I watched Hugo, one of my standard 3D reference discs, the picture had satisfying brightness and good contrast. While I did notice crosstalk in a few scenes, the overall impressive 3D performance regularly delivered a sense of looking deep into the picture frame.
Encouraged by my experience with Hugo, I moved on to watching "The Day of the Doctor" the 50th-anniversary episode of Doctor Who on Blu-ray 3D. (This BBC special was actually shot in 3D, as opposed to being converted to that format in post-production like a number of Hollywood movies.) In one scene in a museum where the Eleventh Doctor (Matt Smith) is shown a painting of the fall of Arcadia, the layered world depicted in the painting extended well into 3D space; it was possibly one of the best examples of the 3D medium I've yet seen. And in another scene where the Tenth Doctor (David Tennant) plunges through a time portal on horseback into England circa 1562, the rural landscape he rides into displayed an excellent sense of layering.
Conclusion
It used to be you had to pay big bucks for a projector capable of beaming bright enough images that you didn't feel the need to watch in a completely dark room. But those days are gone. A projector like Sony's VPL-HW65ES can deliver ample enough light output that it can be used in a mixed-use room where viewers might prefer to only dim their lights only slightly, or even watch during daytime hours. The projector's brightness reserves also make it a fine choice for 3D viewing, where the addition of active shutter glasses typically has the effect of making pictures look overly muted and dark. Add to that Sony's image enhancing Advanced Reality Creation processing, and it may not even occur to you that the projector you're using isn't 4K-capable.
VERDICTThanks to its dynamic iris, Sony's 1080p projector beams bright images with great contrast and delivers performance so good that you may not care it's not 4K.
SPECSDimensions (WxHxD, Inches): 16.2 x 7 x 18.3Weight (Pounds): 203D Glasses: Optional, Video Inputs: HDMI 1.4 (2)Other: LAN (1), USB (1), RS-232C (1), IR in (1), trigger (1).