Sony masters 8K TV
The brand's debut 8K display – the Master Series ZG9 – is the best reason yet to make an early jump into 4,320p, says Steve May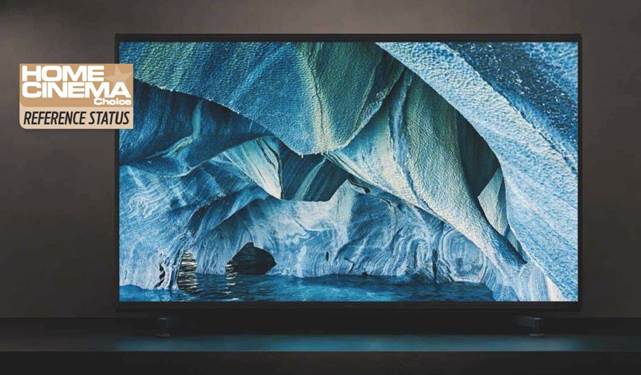 85in 8K LED LCD TV
Premium Master Series TV, with a 98in model also available
Samsung QE82Q950R; LG OLED88Z9
SONY HAS BECOME the second TV major to debut an 8K screen, with Its Master Series ZG9. This 8K debutante comes in suitably monster 98in and 85in screen sizes. With the former retailing for £, the average ZG9 is clearly not going to appeal to the man in the street, unless of course that man happens to live on Rodeo Drive. We opted to audition the budget option.
Bitdefender | Awards Campaign LP | .com
With coupon code: 7RW20, Audio Affair will give you £20 off all orders over £250. Sales items and some brands including Audio Pro, Pro-Ject, Kanto Audio and Audioengine are excluded from the discount code .
7Review earns Amazon affiliate commissions from qualifying purchases. You can support the site directly via Paypal donations ☕. Thank you!
Given there's not a lot of choice in the 8K flatscreen market, the ZG9 squares up directly against Samsung's Q950R series, and proves a formidable competitor.
Physically the TV is imposing. The set accommodates a revised iteration of Sony's FALD (Full Array Local Dimming) Backlight Master Drive; cleverly calibrated LED lights that promise brighter, more precise HDR. The FALD panel sits atop a slightly larger frame, which sports four forward-facing speakers split above and below the screen. Sony dubs this sound system Acoustic Multi-Audio. The ZG9 can also double as a centre speaker in a multichannel sound system.
There are two heavy-duty stand options, both substantial in order to cope with the set's 71.7kg bulk.
For the tabletop feet you'll need wide, substantial AV furniture; the other uses a floor-standing tripod leg design.
The TV has four HDMI inputs, but only one (HDMI 4)
Is able to support 8K/60p sources (and Is awaiting HDMI 2.1 certification), while HDMI 3 supports eARC. They're supported by three USBs, a mini AV input, optical digital audio output, plus Ethernet and Wi-Fi.
The screen comes with the latest Oreo Android TV OS, and offers all the front-line streaming apps, including YouTube, Netflix and Amazon Prime Video. Google Assistant is also built-in, with a red LED light to the right of the Sony logo to Indicate that Google Is awaiting your command. There's also support for Apple Airplay 2 and HomeKit smart home applications.
One refinement to the Sony Ul this year Is a quick settings bar that pops up from the bottom of the screen. This can be edited to reflect what shortcuts you wish to see, from sound/picture settings to network status. Useful.
Pulse-pounding picture quality
If I were to suggest Image quality on this premium flatscreen was anything less than astonishing you'd probably be disappointed. But I'm not, so you won't.
The ZG9 provides a mesmerising viewing experience, with images that are blisteringly sharp and vibrant.
Much of the credit can be attributed to the latest edition of Sony's X1 Ultimate image processing engine, first introduced on the brand's 4K models. Here, everything appears to have had a tune-up. Object-based super resolution, HDR remastering, dual-database processing and Dynamic Contrast Enhancer have been given a wider expressionistic canvas.
Re-rendered 8K footage (provided by Sony) from Gran Turismo looked sensational, while travel footage captured around Vienna exhibited almost three-dimensional depth. An 8K sequence shot at the Rio Carnival wowed with a glorious parade of yellow and glittering gold. This doesn't look like any TV picture you'll have seen before. The minuscule detail in the image is seductive; you'll want to sit closer to view clearer.
All of which begs the thorny question: how far should you sit from an 85in 8K screen? To really appreciate its clarity, 1.5-2x screen height is a good metric. But even on this Jumbotron, many will argue that you're simply sitting too close. Park your sofa three metres away and you're certainly not able to appreciate the really subtle detail.
But perhaps that doesn't matter? What you have here is a panel that's astonishingly immersive.
Sony describes the Image density offered by 8K as 'realness', and there's some accuracy to that. The sense of texture created by the increased PPI (pixels per inch) makes for a rather different experience than 4K models.
With high-quality sources, the Vivid preset, with its oversaturated primary colours and high brightness, is a real eye-catcher. Most, of course, will opt for the Standard and Cinema options, which dial this vibrancy back – but not to a point that translates to a significant lack of pop. The Custom mode is actually Sony's old Cinema mode, which is considerably less impactful.
HDR support covers HDR10, broadcast HLG and Dolby Vision. There's no compatibility with HDR10+.
Not that this screen needs to aggressively tone map.
It's one of the brightest, most dynamic LED LCD TVs I've ever encountered. I measured peak brightness upwards of 3,000 nits, using a 10 per cent HDR window on the Standard Image preset. The result Is superb specular highlight detail.
Peaks are (very) bright, and the LED modules on the Backlight Master Drive are Independently controlled to give maximum contrast. According to Sony's engineers, the 8K X-tended Dynamic Range PRO processing allied to the TV's multizone FALD backlight uses saved energy to intelligently boost the brightness in the areas where needed (which sounds a bit like the Kinetic Energy Recovery System used in F1 cars. Okay, this analogy may be off the pace but the end result certainly puts Sony in HDR pole position). Black level performance Is class-leading.
At home with 1080p
4K content Is expertly, naturalistically upscaled. There's no sense of over-processing or artifice. 8K upscaling is not really about making 4K look better, it's more about not making It look worse. And this set gets the balance right.
Actually, where the ZG9's image chops really impress is taking an HD picture and remapping it to 8K. With original 1080p content there really does seem to be more nuance and depth in the image.
Motion handling remains a strong suit of Sony. On the ZG9, Motionflow settings are limited to Auto and Custom, which offers adjustable smoothness and clearness. I'd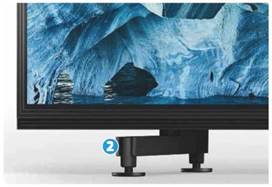 normally advise turning Motionflow off for movies, but If you do, judder becomes quite apparent on a screen this large. The Custom setting is a good compromise, with Smoothness on '2' and Clearness at T. Interpolation effects aren't too intrusive.
As for that Acoustic Multi-Audio sound system, it's impressive. The forward-facing speakers are difficult to spot, and the rear-mounted woofers similarly discreet, but the soundstage is wide, large and in your face. There's a decent mid-range and a fair amount of slam, great for space battles and action scenes. And, yes, the set does offer Dolby Atmos decoding and passthrough.
Super-Large, super Impressive
While there's no compelling reason to upgrade to 8K Just yet, the ZG9 could be an arm-twister for the well-heeled. Image clarity and fine detail is stunning, and Sony's multi-driver speaker assemblage Is effective. In short, It's the best super-large LED TV I've experienced. There's probably already a waiting list in Beverly Hills
VERDICT
Sony KD-85ZG9 Review
This uncompromising 8K giant offers best-in-class HDR, with superb fine detail and colour vibrancy, coupled to a dynamic sound system. You don't need one, but you'll want it.
Add your review
Best Sony KD-85ZG9 prices ?
MORE DEALS

www.sony.co.uk
1. The ZG9's full array LED backlight exceeds 3,000-nlt brightness peaks
2. To take the TV's 71kg weight, Sony provides sturdy feet
SPECIFICATIONS
3D: No ACTIVE 4K: Yes. 7,680 x 4,320 (8K) resolution HDD: Yes. HDR10; Dolby Vision; HLG TUNER: Yes. Twin HD satellite; Freeview HD CONNECTIONS: 4 x HDMI inputs; 3 x USB; mini AV input; optical digital audio output; Ethernet SOUND (CLAIMED): 80W BRIGHTNESS (CLAIMS): N/A CONTRAST RATIO (CLAIMED): N/A DIMENSIONS (Off STAND): 1,910(w) x 1,140 (h) x 120 (d) mm WEIGHT (OFF STAND): 71.7kg
FEATURES: Built-in Wi-Fi; Bluetooth; Google Assistant built-in; FALD backlight; X1 Ultimate image processor; 8K X-Reality PRO; 8K X-tended Dynamic Range PRO; X-Motion Clarity; Android Oreo OS; 8K/60p on HDMI 4
PARTNER WITH
DELUX DECO PARAMOUNT:
Park yourself in front of Sony's monster display on a luxurious home cinema seat. The electric recline, Italian leather Paramount range begins with single chairs for £, and steps up to five-/six-seater designs.