Sony's latest 8K flatscreen might not be as '8K' as it should be, but John Archer still reckons it delivers the best LCD picture quality of the year. Read our SONY KD-75ZH8 Review.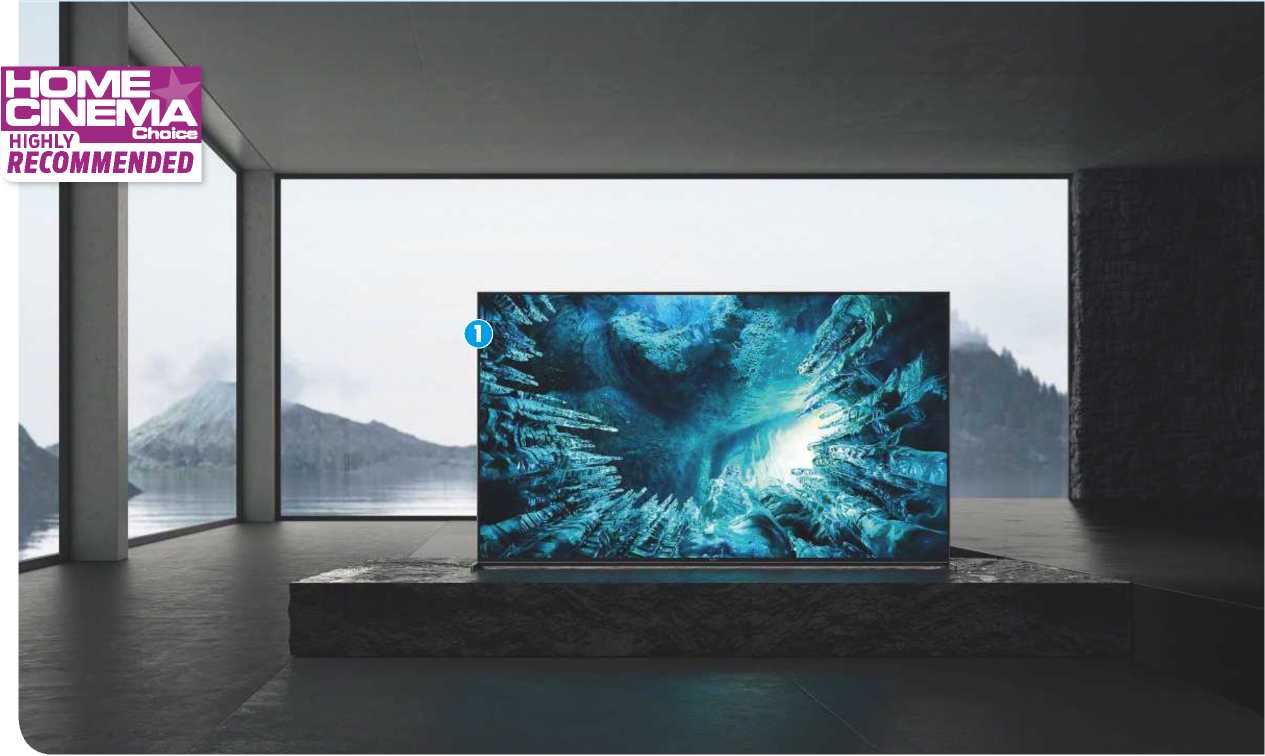 75in 8K LED TV with Android TV smarts
Above any Sony 4K TV, but far below the still continuing ZG9 8K model
PEERS: Samsung QE65Q800T; LG 75SM9900
THE KD-75ZH8 ISN'T Sony's first 8K TV rodeo. That would be its 2019 ZG9 series [see HCC #301], which found the Japanese giant going high-end crazy with 85in and 100in screen sizes and eye-watering five-figure price tags. For a follow-up, we have the 75ZH8, a vastly more affordable and manageable (75in) option for anyone wanting to get ahead with 8K.
Beyond its core 8K resolution, this bigscreen packs some notable features. Chief among these is its use of a full array LED panel with 320 zones of local dimming.
7Review earns Amazon affiliate commissions from qualifying purchases. You can support the site directly via Paypal donations ☕. Thank you!
See also TOP Televisions
and The best OLED TV deals 2022: get an awesome OLED at the lowest price
It's impressively bright too, measuring as much as 2,500 nits on a 10 per cent white HDR window. Both these picture quality elements should translate to a premium HDR viewing experience.
The set's wide colour gamut delivery is bolstered by Sony's Triluminos colour engine, and the image is powered by an 8K-optimised version of the brand's top-tier X1 Ultimate processor. This silicon hasn't actually been revamped for 2020, but I guess the adage 'if it ain't broke, don't fix it' applies.
A wider viewing angle than conventional LCD TVs is also on the menu, via Sony's X-Wide Viewing Angle technology, which it describes as an 'original optical design to control light from the backlight.' Motion handling benefits from X-Motion Clarity, a feature that aims to create the sort of natural motion associated with black frame insertion technology, but without the usual brightness loss.
Heavy metal
The 75ZH8 is, to be honest, rather chunky and very heavy (around 48kg). But its girth provides space for both its full array local dimming (FALD) backlight and an audio system that combines forward-firing drivers fitted just below the screen with two tweeters mounted behind the TV's top left and right corners.
And when viewed front on, the screen frame is actually quite slim, a metallic sliver that ties in with the set's feet when they're fixed under each corner. I also appreciated the option to fix the feet closer together for narrower pieces of furniture.
Smart features are provided by the Android TV platform, which is app-rich but does miss out on Apple TV. Terrestrial catch-up is provided by the YouView system.
Connectivity initially looks strong, with the usual offering of four HDMI inputs and three USB ports. Yet only one of the HDMIs can handle 8K at 60Hz (and 4K at 120Hz), and there's no support even on the 8K HDMI input for the VRR or ALLM switching features that gamers might want.
Not that you'd buy the 75ZH8 solely as a partner for your PlayStation. But when it comes to movie media, this Sony adheres to the brand's format ethos, meaning Dolby Vision sources are welcome but HDR10+ ones aren't.
Furthermore, 8K video doesn't play from the 75ZH8's USB ports or streaming apps – and even 8K playback over HDMI (achieved in this instance via a custom 8K PC server supplied by Sony) doesn't look quite… all there. More on this later.
Keep calm and carry on
The strange shortage of 8K playback options on this 8K flatscreen is quickly forgiven as it calmly goes about producing a superior picture, in many regards the best I've seen from an LCD TV this year.
As mentioned earlier, the 75ZH8 is something of a light-cannon. It's the way this brightness is employed that really counts, however. It's fantastically consistent, so while the ultra-bright white offices of Men In Black: International (4K Blu-ray) blaze off the screen, this intensity is maintained pretty much indefinitely (with minimal dimming over time) and no variation bar a tiny hint of reduced brightness in the corners.
Just as impressively, the 75ZH8 keeps light highlights within dark shots, such as the street and window lights in MIB: International's night-time shootout sequence, looking phenomenally bright. Many rival FALD TVs heavily dim bright objects in such high-contrast images, but there's no sense of that here.
Sony pursues the same 'brightness first' policy with its XH9505 flagship 4K TV [see HCC #312].
Yet that model only has 60 zones of local dimming, meaning the push for consistent brightness can cause significant backlight blooming. With the 75ZH8, while blooming can still happen, its 320 dimming zones ensure the problem is much less aggressive.
The refusal to dim dark scenes severely also helps retain near immaculate stability and subtle shadow detailing.
Colour work is gorgeous, aided by the ZH8's inherent brightness. In MIB:
International, everything from the rich hues of the Moroccan market scenes, to the stark tones of MIB HQ and the subtle gradations of the desert sequences, looks pixel perfect: vibrant, effortlessly natural and so full of finesse and nuance that pictures often seem three-dimensional.
4K and HD playback isn't quite as ultra-sharp as it looks on Samsung and LG's latest 8K models. The Sony's upscaled pictures do, however, still appear improved over standard 4K TV images, with more texture, depth, and 'real world' density; proof if it were needed that impressive picture quality is about more than just sharpness.
It's the same story with native 8K images. These don't achieve the pixel detail found on Samsung's Q950TS [see HCC #311], but the 75ZH8's all-round quality and refinement means they're still staggeringly beautiful.
Sony's continuing mastery of TV motion adds to the directness and purity of this screen's pictures, which hold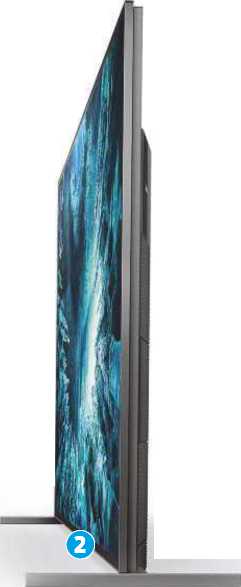 up supremely well during MIB: International's action scenes. Delve into the various motion settings and you'll find tools to remove excessive judder without making film look like a soap opera, or plagued by distracting digital side effects.
While the 75ZH8 is arguably born to play HDR content more than any other TV on the market, it also handles SDR with aplomb, regardless of whether you choose a preset (such as Custom) that sticks to SDR's 'native' values, or one of the presets that automatically upconverts the incoming signal to HDR.
Sound unbound
A TV such as this warrants a dedicated external sound system, but even without one its audio performance is noteworthy. Sony's front-/side-firing driver array places sound effects in the 'correct' place onscreen with uncanny precision; during MIB: International's final battle, I could trace the wormhole circling around the screen, while other effects zipped around clearly, left to right and up and down. Low frequencies are robust and well integrated, voices sound authentic and contextualised, and the TV manages to extend its soundstage beyond the edges of the screen without losing coherency.
Add a 21.1ms input lag in Game mode – a strong result for an 8K TV – to the 75ZH8's audio and visual talents and you have a premium screen worthy of its lofty status.
The fly in the ointment is its limited 8K credentials; it might be nice if Sony offered a significantly cheaper 4K iteration, based around the same FALD system.
Since it doesn't though, if you want the best LCD/most spectacular HDR picture 2020 has to offer, I guess you'll just have to pay for it
Verdict
1. The ZH8's Full Array Local Dimming [FALD] engine employs 320 zones
2. The TV's feet can be placed nearer the centre for use on narrower AV furniture
SPECIFICATIONS
4K: Yes. Actually 8K – 7,680 x 4,120 HDR:Yes. HDR10; HLG; Dolby Vision TUNER: Yes. Freeview HD; satellite HD CONNECTIONS: 4 x HDMI inputs; 3 x USB; optical digital audio output; headphone jack; Ethernet port; composite video SOUND (CLAIMED): 60W (4 x 12.5W plus 2 x 5W) BRIGHTNESS (CLAIMED): N/A CONTRAST RATIO (CLAIMED): N/A DIMENSIONS (OFFSTAND): 1,680(w) x 977(h) x 84(d)mm WEIGHT (OFF STAND): 47.9kg
FEATURES: Built-in Wi-Fi and Bluetooth; USB multimedia playback; X1 Ultimate processing engine; Android TV OS; X-Motion Clarity; Triluminos colour; X-Wide Viewing Angle; FALD engine; 320-zone local dimming; dual position feet
PARTNER WITH
SONY HT-ST5000: Sony's most advanced soundbar system, this claims 7.1.2 playback (Dolby Atmos and DTS:X) via a combination of front-firing and upward-firing drivers, and custom DSP. It debuted in 2018.