Sony KD-65A1 OLED TV
SONY'S DEBUT OLED 4K TV ISN'T JUST ABOUT PRETTY HDR PICTURES, IT REVOLUTIONISES TV AUDIO TOO. INTRODUCING ACOUSTIC SURFACE TECHNOLOGY…
BORING BEZEL BEGONE
The A1's OLED panel is presented with a wafer- thin bezel that almost vanishes. The design is all about the picture
SUPERIOR MOTION HANDLING
For the best motion clarity set MotionFlow processing to Custom, with Smoothness on 3 and Clearnes set Low
WHAT'S ON NOW?
7Review earns Amazon affiliate commissions from qualifying purchases. You can support the site directly via Paypal donations ☕. Thank you!
Sony's Discover Bar presents handy thumbnails for On Demand TV and movies, Netflix and YouTube, plus your own networked video content
Sony first dabbled with OLED TV in the noughties. Then its XEL-1 11-inch desktop screen was a cute curiosity.
Today the brand's first 4K HDR OLED is altogether more impressive – a joyously brilliant flatscreen with an innovative audio system. Available in two screen sizes (55- and 65-inch), we got to play with the latter. And cried like tots when they took it away…
MINIMALIST DESIGN
The A1 is emblematic of Sony's new-found engineering flair.
From industrial design to picture processing, it sets a lofty bar (and we like a lofty bar).
The screen embraces a fashionably minimalist design, where less is very definitely more. The Sony Bravia branding is down-played to almost non-existence. There's no conventional pedestal. Instead, the
screen leans back on an angled support, braced for stability. As the set casually rests on a micro-thin bezel, you'd never guess it weighs the best part of 30kg.
One consequence of this languid pose is that the TV has a six-degree recline, which may require a visit to Ikea. You absolutely have to sit it on trendy low AV furniture for the best possible viewing angle.
Of course, the A1 can always be wall-mounted if you don't want to place it on a surface. A counter balance detaches from the bottom of the lean-back stand, allowing it to lock neatly onto the back of the panel. This allows it to be wall-hung with a standard Vesa mount.
On the rear of the A1 are a pair of sonic actuators, which vibrate the glass, creating stereo sound.
The technology isn't new, but this is the first time we've seen it used on a TV. Sony dubs the wheeze Acoustic Surface technology.
FEATURES
The A1 is well-connected. There are four HDMIs, all HDCP 2.2 compliant. Good news if you want to load up on 4K content sources. There's a trio of USBs, one of which supports timeshifting onto USB drives up to 2TB. There's also an optical digital audio output, Bluetooth and Ethernet. Wi-Fi is dual band.
Sony continues to keep the faith with the Android smart platform, here with Chromecast built-in. Streaming apps include Netflix and Amazon Video, all 4K-able.
OLED is setting the pace in the picture stakes this year, with Sony a clear front runner. Simply put, the
SPECIFICATIONS
PRICE ,700 for 65-inch screen size URL sony.co.uk DIMENSIONS 145.1×83.2×33.9cm FEATURES 2160p OLED HDR panel, Android smart platform, 4x HDMI v2.0, HDR10/HLG/Dolby Vision support, Bluetooth,
Acoustic Surface Technology
ABOVE The panel might look somewhat minimalist, but lurking beneath is a picture that will blow you away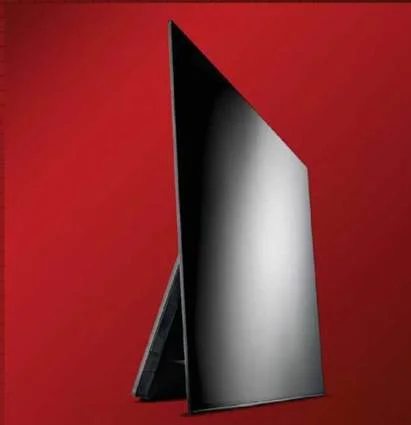 A1 looks gorgeous. The classic pure black offered by OLED is complemented by vibrant colours (this is Triluminos' wide-colour gamut display) and HDR peak luminance zing. The set isn't 3D- enabled, but there's so much depth to its images you might think it is.
CLEAR WINNER
Clarity is immense. A 4K Reality Pro picture processor maximizes image detail, while Sony's 4K HDR X1 Extreme engine uses object-based remastering to elevate any old content to create an HDR effect. This naturalistically boosts spectral highlights, yet maintains detail.
Picture presets include Vivid, Standard, Custom, Cinema pro, Cinema Home, SportsGame and assorted photo options. We noted some frequency boosting on the Standard preset, but this isn't evident on the Cinema Pro or Cinema Home presets.
YouTube 4K looks better here than we've ever seen it before, freed from compression artefacts and banding. The latest iteration of Sony Super bit-mapping technology takes an 8-bit or 10-bit original signal and upconverts it to a 14-bit equivalent gradation.
UHD preview footage from God of War (for PS4 Pro) proves a visual feast. Dragons have realistically textured scales, nostrils dribble with convincing gloop and magical battleaxes sparkle with energy.
This is eye candy of the highest order. The set handles skin tones with utter believability.
While the average picture level is nice and bright, there's still headroom for realistic HDR highlights. The A1 supports everyday HDR10, plus broadcast HLG HDR and Dolby Vision (firmware update not withstanding).
We measured a peak brightness of 776 cd/m2 (aka nits) on a ten per cent white window. With a smaller five per cent window, this rose to 799 cd/m2. These are excellent figures for an OLED display. The set has no problem tone mapping HDR content mastered at 1000 cd/m2.
Contrast is superb. Even difficult 4K UHD Blu-ray films, like the preternaturally gloomy Resident Evil: The Final Chapter, reveals dramatic shadow detail.
And what of that Acoustic Surface audio technology? Well, it's jaw-droppingly effective. The A1's stereo presentation is crisp and precise. Those actuators handle high
and mid-range audio with smooth efficiency, leaving bass to the 8cm sub hidden away in the lean-back stand. The crossover between the two is seamless. And with a total audio output of 50W, there's no shortfall in welly.
This is hands-down the best TV audio implementation we've heard in years. With no need for a soundbar, the only sensible upgrade would be a full-blown home cinema system that will leave you feeling like you own the best TV in town.
Verdict
ABOVE The A1's audio is a punchy 2x20w plus 10W going to the onboard subwoofer
T3 RATES Sublime design is coupled with a sensational AV performance. HDR picture processing is top notch.
T3 SLATES The remote control is a rubbery affair that doesn't do this premium princess justice.
T3 SAYS Sony has knocked it out of the park. With stellar design, excellent picture performance and audio, this is the TV to beat in 2017. The set's innovative sound system is the icing on the cake.
5/5