The A1 OLED biends performance power with cutting-edge design. John Archer can't get enough of it. Read our SONY KD-55A1 Review.
Sony isn't completely new to the OLED TV game; its first model came out way back in 2008. That particular set failed to make much of an impact on the home cinema market, though, due to its screen only being 11in. The company has now returned to the OLED TV fray – and this time it's out to make a very big home cinema splash indeed.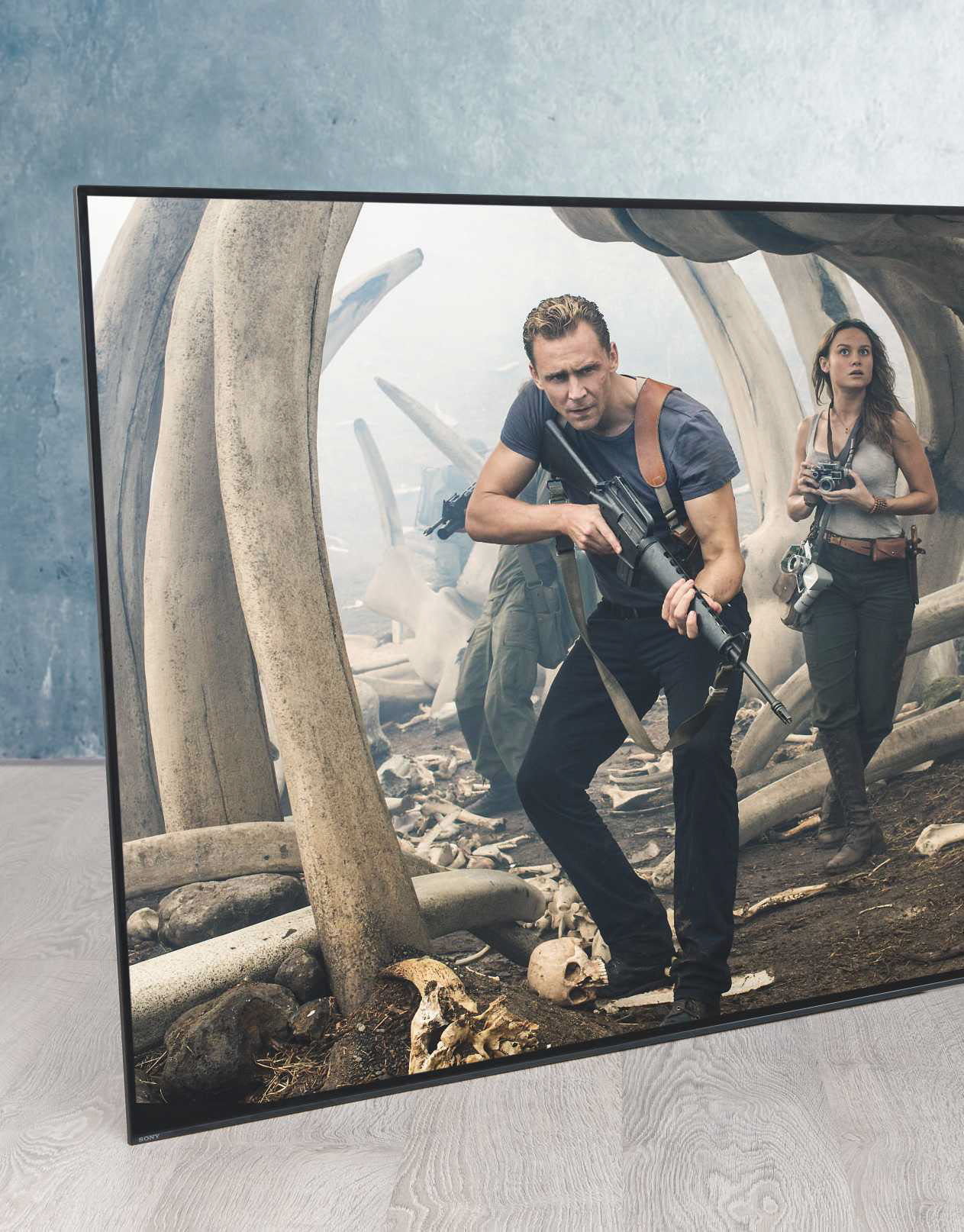 You may like also:
PRODUCT: A 55in 4K OLED TV with HDR support
POSITION: On a kind of flagship par with Sony's ZD9 LCD models
PEERS: LG OLED55E7; Loewe Bild 7-55; Samsung QE65Q9F
7Review earns Amazon affiliate commissions from qualifying purchases. You can support the site directly via Paypal donations ☕. Thank you!
For starters, Sony's new A1 OLED range is big. I'm auditioning the 55in model here, but there are also 65in and 77in flavours for people with enough space and spare cash to handle them.
And the A1 is also almost impossibly beautiful. From the front its gleaming single-layer fascia, ultra-slim black frame and complete absence of any visible stand support make it look like you're just watching pictures emerging out of nowhere.
To make this 'picture only' design possible, Sony supports the screen at a slight lean-back angle on a pull-out prop leg. This design approach stops the A1 from achieving the ultra-thin look associated with many OLED displays, but I for one don't find that an issue. It's how a TV looks from the front rather than the side that's important.
The rear prop isn't just there for support. It also carries an 8cm bass driver (described by Sony as a subwoofer) to provide low-end back up for the acoustic surface speaker technology built into the 55A1's screen.
This sound solution is interesting: in a world first, Sony's OLED preserves its screen-only design by using flatpanel exciter technology to make its actual panel function as a speaker. What's more, Sony has somehow managed to get the single plane of the A1's screen to deliver a stereo effect.
There's no way this sort of science-fiction madness could possibly work, right? Wrong. The 55A1 actually sounds rather excellent, filling your room for most of the time with a rich, well rounded and warm sound that works equally well for music and movies.
The TV only becomes less than an absolute pleasure to listen to when pushed to extremes by the most bombastic parts of a movie soundtrack. The mix for Dredd >
1. The A1 OLED sports a feet-free, slim- frame design
2. Perhaps not the premium-style remote you're expecting…
(Ultra HD Blu-ray), for instance, gets so heavy on bass and volume at times that it caused a few crackles and drop outs. I also found the soundtrack basslines bottoming out a touch earlier than they would with the very best-sounding TVs.
Vibrating the screen to craft audio also doesn't have any negative effect on imagery through vibration or wobble. As party tricks go, it's a good one.
Perhaps because of the unique audio burden placed on the 55A1, it doesn't carry the onscreen filter it would need to deliver passive 3D from its LG-sourced OLED panel. Of course, even LG has dropped 3D playback from its lineup this year.
SONY KD-55A1 Review: Extreme silicon
Tucked inside the 55A1's unique chassis is an up-to-the- minute TV brain. Sony's X1 Extreme processor (also found on the brand's ZD9 and XE93/94 models) is reckoned to deliver as much as 40 per cent more processing power than its predecessor, and it applies that power across both the TV's Android-based smart system and its picture quality engine.
Android thus runs slicker than it does on less powerful TVs – although it's still a bit buggy, and can at times feel clunky and inflexible.
The YouView platform is added to deliver the UK's main catchup TV apps, alongside versions of Netflix and Amazon that support 4K and HDR streams.
With regards to picture processing, the X1 Extreme has a few high-profile attractions up its sleeve. One of its biggest additions over the 'normal' X1 chip is a dual database system for upscaling HD content to the screen's native 4K resolution. One half of this database compares
Black levels – the aspect of image quality that OLED likes to shout about – are absolutely imperious
incoming video against a library of picture 'test cases' to identify and reduce noise, while the other calculates how best to add the millions of extra pixels needed to turn a 2K picture into a 4K one.
Another facet of the X1 Extreme chipset is that it's supposedly powerful enough to add Dolby Vision HDR support via a firmware update due later this year. This will join the 55A1's HDR 10 and Hybrid Log Gamma HDR compatibility. Personally, I think this is great news given how wowed I've been elsewhere in this issue by Dolby Vision's impact on Ultra HD Blu-ray picture quality. But I appreciate the notion of another HDR format doesn't exactly enthrall everyone – and A1 buyers could easily gorge on regular HDR 10 content and be bowled over. This TV is seriously impressive.
With the 'great picture, shame about the film' thrills of Billy Lynn's Long Halftime Walk on 4K Blu-ray, the Sony's pictures look absolutely beautiful. Black levels – the aspect of image quality that OLED likes to shout about – are imperious. The night sky behind the climactic American Football half-time show, for instance, appears immaculately rich, deep and natural. There's no hint of greyness or clouding problems, thanks to OLED's self­illuminating technology. Black bars present in CinemaScope/2.0:1 content just blend effortlessly with the TV's slim black bezel.
The pixel-level light control offered by OLED also ensures subtle shifts in shade are maintained and dark area details are retained, where they might easily go walkies with an LCD TV.
Actually, black levels and greyscale detailing in dark areas are superb even by OLED standards. Sony's processing deals well with the potential issue OLED screens can have with delivering 'just above black' light levels. This contributes to a consistent and refined picture that looks equally natural and detailed across every part of the TV's light and colour spectrum.
SONY KD-55A1 Review: Triluminos trickery
Colour is another area where the 55A1 excels. OLED's freedom from external backlight light pollution is advantageous here, and the TV also sports an OLED- optimised version of Sony's Triluminos colour processing system. And as with incarnations of Triluminos found on its LCD lineup, this works well at enhancing the sense of dynamism and range in the colour palette, all delivered with a remarkable amount of subtlety and finesse.
This colour prowess is spectacularly visible during the various sequences in Billy Lynn… set in American Football stadia, where the gaudiness of some of the lights and fireworks is countered by subtle skin tones and refined control of the hues of the soldiers' uniforms, medals and ribbons. It's very much a premium performance.
A 'Super Bitmap' system, tucked away in the 55A1's processing arsenal, almost completely removes the colour striping issues experienced with some HDR sequences that I've witnessed on a number of rival HDR sets.
4K content naturally makes for fine viewing, yet the experience of sharpness is aided by Sony's skilful way with motion processing, and the OLED technology at hand.
For instance, thanks to its high frame rate (the movie plays at 60fps), the Billy Lynn 4K Blu-ray offers one of the most consistently detailed, sharp 4K images seen to date, even during camera pans. On the 55A1, the impact is heightened. The set's colour and light finesse joins with superior motion handling so that not so much as a pixel of detail feels lost between disc and screen. In fact, the level of detail is so intense with some sequences, such as one featuring members of a crowd talking directly into the camera, that they almost feel uncomfortably intimate.
HDR images in general have a lovely intensity and purity, buoyed by the TV's contrast – Sony's OLED panel has no trouble juggling peak whites and deep colours with no cross-contamination. However, the picture is slightly duller than that of other OLED TVs I've seen this year; actually quite a bit duller if you select one of the two Cinema picture presets rather than the Standard one. This means it doesn't deliver quite as much punch and dynamism with HDR content as the latest and marginally brighter LG OLED challengers, particularly if you have a fairly bright room to contend with. Before you take this as reason to buy an LG model, though, the 55A1 comes across as more accomplished with regards to noise, sharpness and motion handling. The image feels slicker.
Away from HDR, standard dynamic range Blu-rays appear detailed, colour-rich and inviting. You can, if you want, select a picture preset that applies a gentle but effective HDR 'upscale' to SDR visuals (essentially any of them bar the True Cinema and Expert ones).
An input lag measurement of around 40ms, occasionally slipping as high as 51ms, is hardly disastrous, but certainly higher than competitive videogame players would like to see.
SONY KD-55A1 Review: The right stuff
For many home cinema fans, neither the 55A1's less than stellar input lag and somewhat curtailed brightness are likely to come close to deal breakers. There's simply so much more that Sony's bigscreen OLED debutante gets so gloriously, beautifully right. It's a TV that's crying out for a movie marathon and a jumbo box of popcorn.
Perhaps the design might actually put you off. In the flesh, the TV is a catwalk queen, with the ruggedly-built rear stand/speaker unit ensuring a sturdy installation.
But the lack of feet means it's not suited to use with a soundbar anywhere in front of it, and the lean-back design suggests a low-slung AV stand is the way to go, which could have a knock-on effect on where a dedicated centre speaker is placed – although an impressive viewing angle means it's not a calamity if you have to install it higher up. Wall-mounting, with the stand folding flat against the 55A1's rear, will certainly make integration with the rest of your setup easier. Bear all this in mind if you're thinking of breaking out the credit card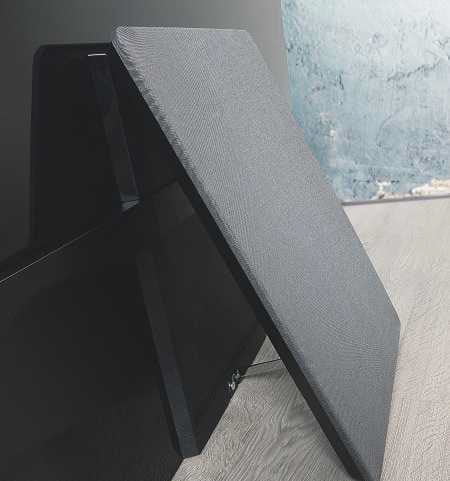 SONY KD-55A1 Review: VERDICT 5/5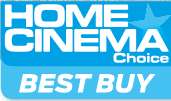 Recommended
SONY KD-55A1 Review
Sony's debut bigscreen OLED is one of the most innovative, beautiful and outstanding TVs we've ever tested. But does its form factor suit your AV lifestyle?
Add your review
SONY KD-55A1 Review: SPECIFICATIONS
3D: No 4K: Yes. 3,840 x 2,160 HDR: Yes. HDR 10; Hybrid Log-Gamma; Dolby Vision (via a future firmware update) TUNER: Yes. Freeview HD CONNECTIONS: 4 x HDMI inputs; 3 x USB; RF input; headphone jack; optical audio output; Ethernet port SOUND (CLAIMED): 50W total across Acoustic Surface technology and built-in subwoofer BRIGHTNESS (CLAIMED): N/A CONTRAST RATIO (CLAIMED): N/A DIMENSIONS (OFF STAND): 1,228(w) x 711(h) x 86(d)mm WEIGHT (OFF STAND): 25kg
FEATURES: Built-in Wi-Fi; USB/DLNA multimedia playback; Android TV with HDR/4K Netflix and Amazon; YouView catchup platform; X1 Extreme processing; dual-database upscaling engine; Super Bit mapping colour management; 'stand- free' design; Triluminos colour
SONY KD-55A1 Review: PARTNER WITH
SONY UBP-X800:
The top-rated disc-spinner in Sony's stable, the UBP-X800 adds SACD and DVD-Audio playback to its headline 4K Blu-ray compatibility. A great option for both movies and music; great build quality, too.
3. HDR 10 and HLG support will be joined by Dolby Vision
4. The back section of Sony's hefty A-frame stand wears a speaker-style grille