Vincent Teoh treats his peepers to the visual delights of Sony's monster 100in 4K HDR TV. Read our SONY KD-100ZD9 Review.
AV INFO
PRODUCT: 100in full-array backlit 4K LED TV
POSITION: Sony's biggest and most premium screen
PEERS: Samsung QE88Q9F; 4K HDR projector/ screen combi
No AV enthusiast has ever gone to heaven regretting they bought too big a telly, and TVs don't come much bigger and better than Sony's 100in ZD9. The Bravia ZD9 series was launched in the second half of 2016, and while we've reviewed the 65in model, it's not until now that we've had the chance to put this 100in beast through its paces. It's out of reach for your average punter, but then again, the same can be said about Ferraris. And everyone wants a Ferrari.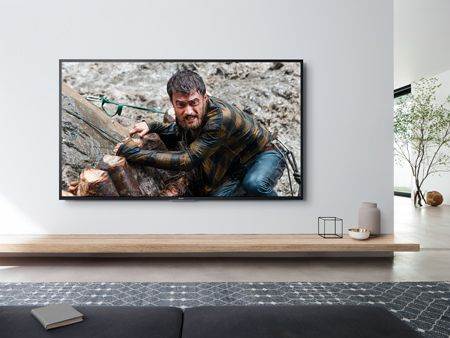 You may like also:
7Review earns Amazon affiliate commissions from qualifying purchases. You can support the site directly via Paypal donations ☕. Thank you!
The Sony KD-100ZD9 features a native 4K resolution of 3,840 x 2,160; full-array local dimming direct-lit LED backlight technology; the company's X1 Extreme video processor; HDR support for the open-standard HDR10, broadcast HLG (Hybrid Log-Gamma) and soon, via a firmware update, Dolby Vision formats; and the Android Nougat (7.0) smart TV platform.
Besides being super-sized and super-heavy (obviously), the design of the panel itself is no different from its smaller siblings, with a black bezel, champagne-gold side trim and grid-patterned rear. The screen is held up at both ends by a floor stand, but you can also choose to place the 100in ZD9 on a table-top stand (included in the box) or wall-mount it via an optional bracket. Just make sure you have a strong enough AV rack or wall to carry at least 118kg of heft.
Unlike the smaller 65in and 75in models which are mass-produced, 100in ZD9s are hand-built in Japan by the same group of select engineers, so you can expect first-rate build quality. Ironic, then, that the supplied remote control is still the same 2016 version with minimally raised faux-buttons, and is not the easiest to use in the dark.
SONY KD-100ZD9 Review: The full monty
Sony's ZD9 range is equipped with full-array local dimming (FALD), which is generally acknowledged as the backlighting method that delivers the best picture quality with LED LCD screens. With FALD, the screen is segmented into different zones, each of which can be illuminated or switched off independently of one another, contributing to a significantly higher contrast performance.
With FALD systems, the number of zones and the dimming algorithm both matter to the final outcome in terms of lighting precision and appearance of side effects such as blooming or luminance fluctuations.
And I'm pleased to report that the 100in screen on the ZD9 represents the perfect canvas on which Sony TV engineers can produce their greatest work.
Playing a specialised test pattern in a darkened room, I counted at least 1,000 individually dimmable zones, comfortably the highest on any LCD-based display to date. And with Sony's extremely well- implemented local dimming algorithm, I saw virtually no light leakage surrounding bright elements against a dark background when sat directly in front of the TV.
In most scenes, black-level expression was essentially as deep as OLED's, although the latter still holds the upper hand in star fields (for example in Star Wars: The Force Awakens, Blu-ray), owing to the self-emissive display technology's pixel-level illumination control.
The Sony KD-100ZD9 has another record-breaking talent up its sleeve, namely HDR peak brightness.
For the uninitiated, some Ultra HD Blu-rays are mastered to 4,000 nits, and the closer a display can get to that level of light output, the higher the chance it has of faithfully reproducing bright highlight details and HDR impact.
I measured peak brightness on the 100in Sony ZD9 to be 2,800 nits on a 10 per cent window. To put this number into context, the next brightest consumer TVs are the 65in and 75in ZD9s at 1,800 nits, the Samsung KS9500 at 1,600 nits, and the Sony XE93 at 1,400 nits (all properly calibrated and measured using my ISF-certified toolkit).
Fellow HCC scribe Jon Thompson once told me, 'You haven't really seen HDR until you've watched Chappie on a Dolby Pulsar [a 4,000-nit mastering monitor]'. Well, >
Wall-mounted or floor-mounted, Sony's 100in ZD9 cuts an imposing figure…
the Sony KD-100ZD9 will get its lucky owner closer to this HDR nirvana than any other consumer TV (or projector, for that matter) currently available. The profound sense of impact and immersion granted by 2,800 nits of deliverable brightness on a 100in screen simply cannot be overstated, with reflections off objects carrying the correct light intensity and directionality to help you better perceive depth… just like in real life.
Such a high peak brightness also injects vigour into colour volume – the flames in The Revenant (4K Blu-ray) burn with a degree of formidable ferocity seldom seen on sub-1,000-nit displays. While the 100ZD9's colours
No consumer projector can begin to compete with the 100in ZD9 in terms of sheer HDR impact and accuracy
in general are not as explosively brilliant as that of quantum-dot-infused Samsung QLEDs, they maintain their saturation in brighter sequences better than rival OLED TVs, which are hampered by Automatic Brightness Limited (ABL), a protective circuitry implemented on self-emissive displays to better manage power and prevent overheating as a larger screen area gets brighter.
Video processing and motion handling are equally excellent on the Bravia KD-100ZD9. I've always rated Sony's X1 Extreme processor as the best in-TV scaler on the market today, and it works wonderfully to upscale HD material – even from the ropey end of the compression scale – to fill the 100in screen, retaining crispness and detail without introducing excessive ringing or fizziness.
I found I could sit as near as ten feet to the TV to satisfy my field of view and retain a thrillingly immersive viewing experience without noticing visible scaling/compression artefacts for most sources.
Even without the TV's Motionflow processing enabled, the 100ZD9 presents slow-panning shots in 24fps movies, such as the opening camera trawl across Mars in The Martian (Blu-ray), with an assured authority that's free of judder. And, as with its 4K upscaling, Motionflow is a best-in-breed system. If you feel the urge to improve motion clarity, it incurs less interpolation artefacts (e.g. shimmering around players, or the ball breaking up as it travels through the crowd, during a football game) than other TV brands.
The ZD9 has another feather in its cap, and one that's more and more rare – 3D playback. It's of the active-shutter flavour, and Sony has been generous enough to include two pairs of 3D glasses, although possibly due to increased screen brightness, there's more flicker and crosstalk than I'd like to see over a two-hour movie.
An input lag measurement of 63ms is not the most responsive, but at least you'll be experiencing your Xbox One X or PS4 Pro games on a stunning 100in 4K HDR canvas.
SONY KD-100ZD9 Review: Tour de force
With its 2,800 nits of peak brightness and 1,000 local dimming zones, the Sony KD-100ZD9 is an HDR tour de force, and it's no slouch at handling more widely available hi-def content, either.
At 100 inches, the 100ZD9's main competition actually comes from projectors rather than TVs. Of course, you can buy a projector that throws up a 100in image or even larger for as cheap as a few hundred quid, but no consumer projector – not even the 5,000 Lumen, Sony VPL-VW5000ES – can deliver enough light output to even begin to compete with the KD-100ZD9 in terms of sheer HDR impact and accuracy.
Factor in the TV's versatility for use during daytime in a bright room (compared with a projector), and suddenly its price tag of doesn't seem that outrageous
SONY KD-100ZD9 Review: SPECIFICATIONS
3D: Yes. Active shutter 4K: Yes. 3,840 x 2,160 HDR: Yes. HDR10; HLG; Dolby Vision (firmware pending) TUNER: Freeview HD; satellite CONNECTIONS: 4 x HDMI inputs; 3 x USB; Scart; composite input; Ethernet; headphone output; optical digital audio output SOUND (CLAIMED): 2 x 10W BRIGHTNESS (CLAIMED): N/A CONTRAST RATIO (CLAIMED): N/A DIMENSIONS (OFFSTAND): 2,258(w) x 1,303(h) x 98(d)mm WEIGHT (OFFSTAND): 118.6kg
FEATURES: Master Backlight Drive direct-lit LED with full-array local dimming; 4K HDR X1 Extreme processor; Triluminos Display; Motionflow XR 1200Hz; Android TV; YouView EPG/catch-up apps
SONY KD-100ZD9 Review: PARTNER WITH
DALI PHANTOM S SERIES:
Mount the Sony on a wall, and while you're there, fit some premium in-wall speakers to add a surround sound experience fit to match its lush visuals. DALI's super-sized S-280s.
3. The 100in variants of Sony's ZD9 TVs are hand-built in Japan
Verdict
Best price
SONY KD-100ZD9 Review
If you have the space in your cinema room and the money in your wallet, the Sony KD-100ZD9 is a reference screen that does 4K HDR justice.
Add your review