The multi-room speaker company's third soundbar charms Cliff Joseph with its smart tech and strong audio performance. Read our Sonos Beam Review.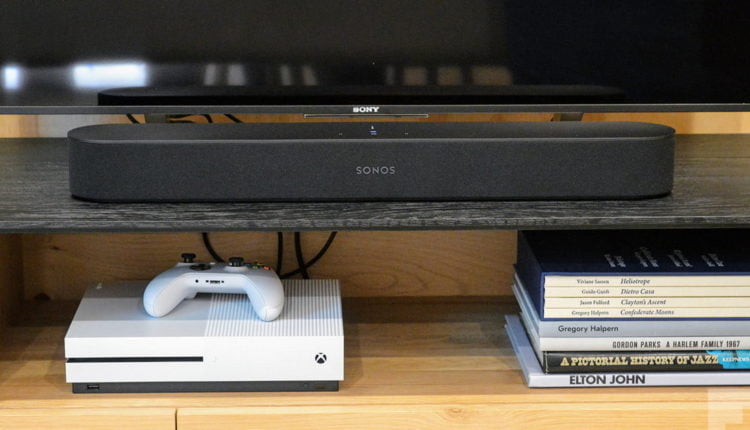 You certainly can't accuse Sonos of resting on its laurels. The company already dominates the multi-room audio market with its Play range of speakers, and it moved quickly to introduce the new Sonos One (HFC 433) last year, adding support for Amazon's Alexa voice technology, and pitching it as the "smart speaker for audiophiles". Now, barely six months later, it's introducing the Beam, which brings Alexa smart tech to the company's range of television soundbars for the first time.
The Beam is the third soundbar in the Sonos range, alongside the Playbar and PlayBase (HFC 374 and 426 respectively). It's considerably cheaper, though, quite a bit smaller, too. Available in either black or white, it'll sit neatly under your television – or even a computer screen – and there's a custom wall-mounting kit available from Sonos.
A lot has been squeezed into that slimline design, with one central tweeter and no less than four mid/ bass drivers – with one front-facing driver on either side of the tweeter and two drivers that are angled outwards on the far left and right ends of the unit. The speaker also houses three passive bass radiators, and five 'far-field' microphones that can detect your voice commands when you're slumped on the sofa on the other side of the room.
As well as Amazon Alexa, Sonos says that it is planning a software update to add the rival Google Assistant later this year, and, for Apple fans, the Beam is also the first non-Apple speaker we've come across that supports Apple's AirPlay 2 wireless streaming technology (the company has also released a software update that adds AirPlay 2 to the PlayBase and Sonos One as well).
Like most Sonos speakers, the Beam uses wi-fi or an Ethernet interface to stream music over your home network and is compatible with the company's existing range of multi-room speakers. However, AirPlay provides a number of advantages for owners of Apple devices, including the ability to stream via wifi from any app – such as the BBC iPlayer or Netflix – even if they aren't supported by Sonos' Controller app. The recently released AirPlay 2 update also means compatible multi-room speakers from different manufacturers can be grouped
7Review earns Amazon affiliate commissions from qualifying purchases. You can support the site directly via Paypal donations ☕. Thank you!
See also TOP 10 Soundbars & Soundbases
DETAILS
PRODUCT Sonos Beam
ORIGIN US/China
TYPE Wireless streaming speaker
WEIGHT 2.8kg
DIMENSIONS (WxHxD) 651 x 69 x 100mm
FEATURES
• 1x tweeter; 4x mid/bass drivers; 3x bass radiators
• Inputs: 1x HDMI ARC (optical adaptor supplied)
• Connectivity: wifi; Ethernet
together for the first time – and I am able to stream music from my iPad to both the Beam and an Apple HomePod in different rooms at the same time.
The Beam is primarily intended for use as a soundbar, so it also includes a single HDMI – that supports ARC audio input – for connecting it to your television, along with an optical adapter cable for older models that don't provide HDMI or ARC. That's fine for connecting the Beam to a TV but a versatile speaker like this might well be used as part of a wider home entertainment system, so it's a shame that – as always – Sonos ignores other input options such as Bluetooth, USB-Audio or even a simple 3.5mm connector. There's no support for Dolby Atmos either, as Sonos says that it's still figuring out how to handle the format properly within the compact dimensions of a soundbar.
Sound quality
The Controller app provides three main options for the Beam – listening to your TV's audio, online streaming services or 'offline' music that is stored on your devices. But, of course, it will primarily be bought for use with a television, so I begin by hooking it up to my Samsung flat screen. I'm not surprised by the improvement in sound quality over the television's feeble, built-in speakers, but the key to the Beam's success lies in a well-balanced sound that works well with different types of audio content.
There's a satisfying rumble to the aerial combat scenes in The Last Jedi, and the sound has an impressive, room-filling sense of scale for such a compact speaker. You're not going to get true left/right channel separation from a single speaker such as this, but Sonos tells us that the mid/bass drivers located on each end are intended to enhance stereo separation – and, indeed, it comes up trumps in the climactic battle scene, delivering a clearly audible panning effect as a spacecraft swoops right-to-left straight across the screen.
The rumbling sound effects don't drown out the dialogue, though.
The tweeter acts as the centre channel for television audio, and the Sonos app includes an option to enhance voices and bring them more into the foreground. And then, as the swirling strings of John Williams' classic Star Wars theme strike up at the end of the film, the Beam proves that it can do more than just handle loud explosions.
The Beam impresses with its deftness of touch and room filling presence
Switching to offline mode with my collection of lossless ALE files, I begin listening to the orchestral version of Max Richter's On The Nature Of Daylight, from the recent 15th anniversary re-release of The Blue Notebooks album. The Beam does a fine job capturing the rich, woody texture of the strings on the slowly unwinding melody, and as the higher violins enter, it proves itself to be powerful enough to fill the room with sound while still maintaining a light touch that allows it to capture the haunting delicacy of the piece.
It proves equally adept with the lush harmonies of Muse on Soldier's Poem. It keeps Matt Bellamy's lead vocal foremost as the layered vocals weave and surge around it, and there's a nice little touch of grit from the lightly brushed drums that contrasts well with the slickly produced harmonies. Turning on a sixpence, as Muse is wont to do, the Black Holes And Revelations album also throws up a dense wall of sound on Supermassive Black Hole. Yet the Beam takes the deep, grinding guitars and electronic effects in its stride, keeping them clear and distinct as Bellamy's disco falsetto floats above.
If there's a weak link here it lies in the deep bass, which lacks the weight and impact that the track really needs.
But, to be fair, the modest bass is hardly surprising given the compact design, and it's certainly a match for most rival soundbars in this price range. You also have the (rather pricey) option of pairing the Beam with the Sonos Sub if you really want to beef up the bass.
The third listening option is to use the Beam's network connection for online streaming services. Sonos still leads all its rivals with 57 services currently supported by its Controller app, and I'm pleased that I can bypass the app and use AirPlay to stream MQA tracks from Tidal on my office iMac to the Beam in my lounge.
My MQA playlist kicks off with Snowflake by Kate Bush, and I'm again impressed by the Beam's combination of room-filling presence and its deftness of touch, as the light flurry of the repeated piano phrase drifts through the air.
Conclusion
If you want a soundbar speaker to use with your TV the Beam is as good as you'll get for £. However, its real strength lies in its sheer versatility. As well as providing an attractive audio upgrade for your screen, its sound quality is strong enough to work well as a general-purpose speaker for streaming music from a wide range of devices and online services. Its multi-room capabilities are an added bonus, and with features such as Amazon Alexa and Apple AirPlay, it's smart enough to keep up with future technology trends as well
Recommended
Sonos Beam Review
Great TV soundbar, with versatile wi-fi streaming for music. The Beam fits neatly in front of a screen and can be wall mounted.
PROS
Light, spacious sound; Apple AirPlay and multi-room support
CONS
Modest bass; lacks Bluetooth and 3.5mm inputs
Add your review
Best Sonos Beam prices in the US ?

$

474.40
8 used from $399.99
2 new from $472.54
in stock


$

499.95
5 used from $409.94
3 new from $499.95
in stock


$

529.99
6 new from $529.99
in stock

Best Sonos Beam prices in the UK ?

£

329.00

£399.00
3 new from £329.00
in stock


£

549.00
1 new from £549.00
in stock

MORE DEALS

See also TOP 10 Soundbars & Soundbases