The leader in smart speaker systems branches out with a new amplifier. Cliff Joseph hooks up his loudspeakers. Read our Sonos Amp Review.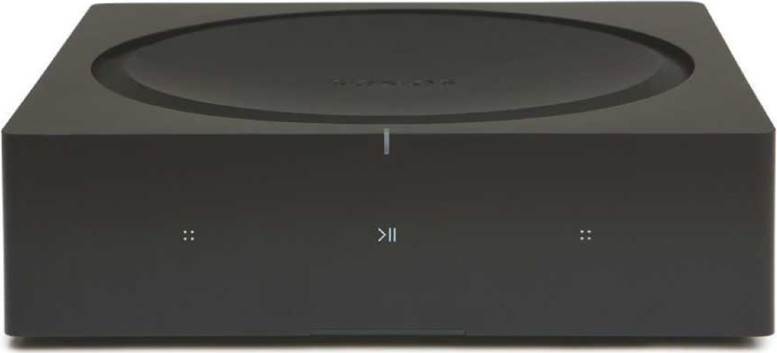 DETAILS
PRODUCT Sonos Amp
ORIGIN US/China
TYPE Integrated amplifier
WEIGHT 2.1kg
DIMENSIONS (WxHxD) 217 x 64 x 217mm
7Review earns Amazon affiliate commissions from qualifying purchases. You can support the site directly via Paypal donations ☕. Thank you!
FEATURES
• Quoted power output: 2x 125W (8ohm)
• 16-bit/44.1kHz- capable DAC
• Inputs: 1x stereo RCAs; 1x HDMI ARC; 1x RCA (subwoofer)
• Connectivity: 2x Ethernet ports; wi-fi; AirPlay 2
DISTRIBUTOR Sonos
TELEPHONE 0800 0261526
WEBSITE sonos.com/en-gb
Best known for its popular range of multi-room speakers and soundbars, Sonos hasn't really made much of an impact on the world of networked audio components so far. The new Sonos Amp aims to change this, though, and could prove to be a tempting solution for those wanting to bring multi-room to an existing favourite pair of passive loudspeakers.
The Amp has a somewhat innocuous design, consisting of a plain black box with the only visible details being the touch-sensitive Volume and Play/ Pause controls on the front and a large circular groove located on the top to circulate air for cooling.
The compact design is very much intended for homes where space is a premium. Sonos also has an eye on the custom-install market, and the slimline Amp is intended to be stackable or rack-mounted, so that more ambitious users or installers can connect multiple Amps to a series of speakers in different rooms and can even be set to output in dual-mono – Sonos is working with specialists such as Sonance to provide complete systems for in-ceiling and wall speaker installations.
Compared with a conventional integrated amplifier or receiver, the Amp might not seem particularly well equipped with connectivity options. Rated at 2x 125W into 8ohm, there's a set of 4mm speaker plugs/binding posts to drive a pair of passive wired speakers and an RCA output for a wired subwoofer, plus a stereo line-level RCA input.
Like all Sonos devices, the Amp connects to your home network, either via wi-fi or one of the two Ethernet ports around the back to enable you to stream music from any networked device, as well as music services such as Spotify, Tidal and Qobuz to a pair of traditional wired speakers of your own choosing.
The initial set-up process is straightforward enough, although it requires the Android or iOS version of the Sonos Controller app for mobile devices. Once the Amp is connected to your network, there are also Mac and Windows versions of the Controller that enable it to play music from a computer as well.
The second Ethernet port can be used to connect a network drive, while the HDMI ARC input enables it to be used with a screen for TV sound through the connected stereo speakers. You can also use the wired speakers as the front channels in a larger surround sound system that uses Sonos speakers and, of course, the Amp enables your wired speakers to act as part of a multi-room setup along with other Sonos devices, such as the recently introduced One speaker or Beam soundbar.
You're not just limited to using Sonos speakers either. As with the One and Beam speaker and soundbar
An open, attractive sound that works well with a variety of styles and genres
models, the Amp supports AirPlay 2, which means that you can also link it to any other compatible speakers. With the Sonos Amp connected to a pair of Bowers & Wilkins 606 standmounts (see p31) in my lounge, it takes just a tap of a button on my iPad to link the Amp's output to a portable Libratone Zipp 2 speaker (HFC 446) in my kitchen so that they can play music together.
The Amp does share one rather frustrating limitation with other Sonos products, however, as the company continues to show little interest in hi-res audio formats opting instead for support of FLAC files up to 16-bit/44.1kHz (meaning that 24-bit files are down-converted).
Sound quality
The Amp gets the basics right, with an open, attractive sound that works well with a variety of musical styles and genres. Streaming my collection of lossless ALAC files via the Sonos Controller app, I'm immediately struck by the relaxed, spacious sound that the Sonos Amp and Bowers & Wilkins 606 combo produces with Cut by Low. The opening guitar rings out, sharp and resounding and lingers in the air with an eerie, threatening quality reminiscent of Twin Peaks. The sound is taut and dramatic – the perfect setting for the song's undercurrent of violence. There's precision too, as Mimi Parker's trademark snare-drum kicks in, with a sharp, almost staccato tone that drives the song towards its conclusion. And as Alan Sparhawk
Rated at 2x 125W, the Amp handles multi-room and wired speakers
slowly intones: "Jess' gone inside out," the bass guitar pulses with menace, barely audible below the percussion yet as vital as a heartbeat. It's a wonderfully well-balanced sound, with the Sonos carefully placing each instrument in the sparse arrangement, then standing back and allowing the sound to gather pace like a looming thunderstorm.
It's a fine opening performance, but in contrast Soldier's Poem by Muse offers a warmer, more melodic change of mood. Streaming the song from Tidal, the Amp once more guides the percussion with a sure hand, contrasting the light brushed drum with the firm tread of the bass drum that leads into the opening verse. After the sparse sound of Cut, the lush harmonies of Muse, are
CONNECTIONS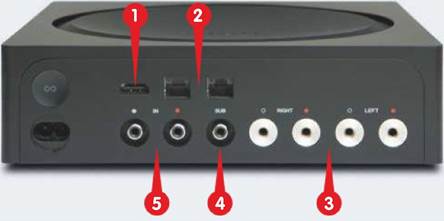 1 HDMI ARC port
2 2x Ethernet ports
3 4mm speaker outputs
4 Subwoofer output
5 RCA analogue inputs
delivered with a rich, warm tone, yet still keeping each strand of the multi-tracked harmonies clear and distinct as they intertwine throughout. There's a nice sense of space and dynamics too, with Matt Bellamy's solo vocal clearly placed front and centre within the soundstage, while the multi-tracked harmonies pan smoothly between left and right channels.
Muse finish the Black Holes And Revelations album with the spaghetti- western epic, Knights Of Cydonia. The Sonos handles the change of pace admirably, with a clipped, galloping drum beat that vividly conjures up images of cowboys charging along on horseback. The riffing guitar takes off like a rocket, with an irresistible head-banging energy, ensuring those Queen-influenced harmonies have a nice edge to them.
However, this wall of sound does reveal a minor weakness. The Amp can't quite pick out all the details in the dense layers of voices and instruments, and the mariachi horns that add a touch of Sergio Leone flavour to the song's opening tend to get a bit lost, almost fading into the background. In the closing instrumental section, the crashing cymbals lose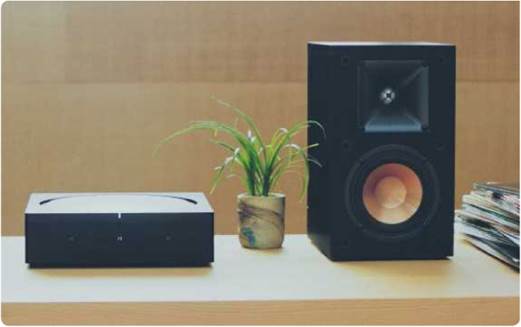 clarity and are a little overwhelmed by the prog-rock riffing.
This is also reflected by Kate Bush's The Big Sky. The early sections of the song swing along with a relaxed rhythm as Bush sings along with a simple backing from bass and drums. But the sound gradually builds with chanting backing vocals and layers of cascading drums joining in, and once again there's a slight loss of clarity as the catchy slap-bass riff is obscured by the driving rhythm as the backing vocals fall a little too far into the background. Even so, it's a very creditable performance from an amplifier in this price range, and this integrated remains an attractive option as the centrepiece of an audio system that encompasses multi-room connectivity and home cinema.
Conclusion
The lack of hi-res support means that Sonos continues to neglect the needs of audiophiles, but its attractive sound quality will see the Amp earn its place in many homes. It brings the company's robust multi-room know-how to a pair of passive speakers as part of a hi-fi setup or TV sound system, and is an attractive addition to the Sonos ecosystem
OUR VERDICT
Sonos Amp Review
It has its limitations, but the Amp combines strong sound quality and some useful multi-room connectivity
PROS
Spacious sound; wireless connectivity
CONS
Multi-layered music lacks precision- no hi-res support
Add your review
Best Sonos Amp prices in the US ?

$

119.99

$169.00
3 used from $89.99
4 new from $119.99
in stock


$

699.00
6 used from $639.77
11 new from $669.57
in stock


$

799.99
4 new from $799.99
in stock

Best Sonos Amp prices in the UK ?
MORE DEALS

HOW IT COMPARES
The number of streaming features available to the Amp set it apart from many more conventional integrateds, but one of its closest rivals is Bluesound's Powernode 2i integrated amplifier with streaming (HFC 448). It's rated at a lower but respectable 2x 60W into 8ohm via a Class D Hypex module and supports hi-res audio formats up to 24-bit/192kHz, along with AirPlay 2 for multi-room connectivity. Its BluOS control platform is very slick and equal to the Sonos, but ultimately the Bluesound sounds more engaging.