Big on music sound as well as its movie soundtrack raison d'etre, David Vivian has never seen anything quite like this soundbar. Read our SENNHEISER AMBEO Review.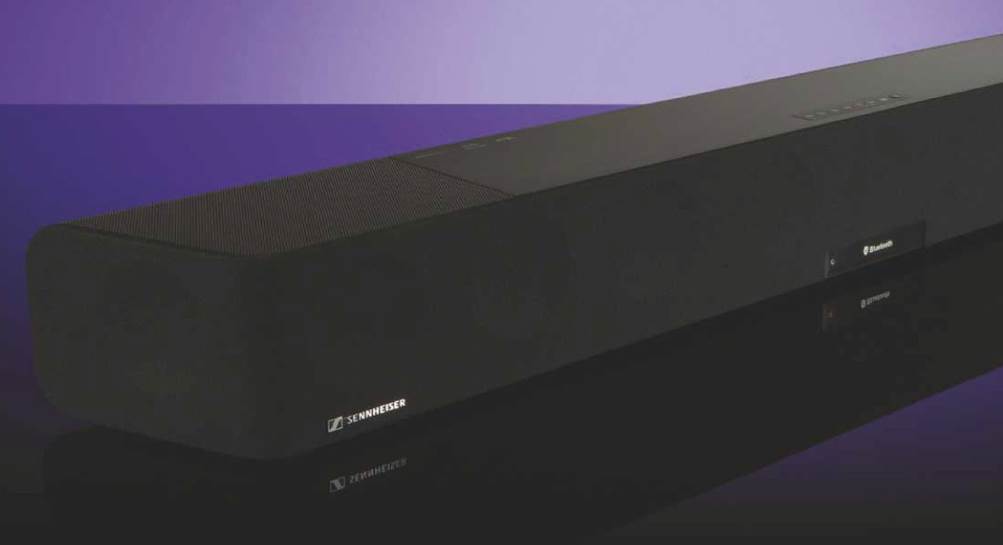 DETAILS
PRODUCT Sennheiser Ambeo
ORIGIN Germany
TYPE Soundbar
WEIGHT 18.5kg
DIMENSIONS (WxHxD) 1,265 x 135 x 171mm
7Review earns Amazon affiliate commissions from qualifying purchases. You can support the site directly via Paypal donations ☕. Thank you!
See also TOP 10 Soundbars & Soundbases
FEATURES
• 5x 25mm tweeter
• 6x 100mm mid/bass driver
• 2x 90mm full- range Atmos drivers
• Dolby Atmos; DTS:X and MPEG-H; eARC; Dolby Vision; Bluetooth 4.2; Chromecast
• Ethernet; optical; RCA inputs
DISTRIBUTOR Sennheiser UK
TELEPHONE 0333 2408185
WEBSITE en-uk.sennheiser.com
Up until now, Sennheiser's business model has been simply divided. On the consumer side it makes headphones and earbuds, while for the pro sector it's microphones. And that's it. A big and successful player in both markets for many decades, the Danish company has clearly been in no hurry to diversify, despite the numerous options and opportunities that have blossomed over the years.
So it's surprising to find Sennheiser's 2019 breakout product is an audio component more commonly associated with lifestyle convenience than outright sonic excellence and one that's proliferating among competing brands like wildfire.
But there's never been a soundbar quite like the Ambeo. While its adoption of Dolby Atmos is nothing new – Sony, Samsung, Yamaha and others got there first – what sets the Ambeo apart (aside from its Virtual 3D sound processing) is its size, ambition and price. Physically, it's the girder-grade Irn-Bru of soundbars, boasting dimensions and weight that have more in common with a mid-sized floorstander. It's so large and heavy because, unlike most soundbars that use tiny drivers to keep the bar slim and a separate subwoofer to augment bass performance, Sennheiser has gone for a single enclosure housing 13 drivers capable of delivering a wide frequency range, all the way from 20kHz at the top down to a curtain-flapping 30Hz at the bottom – all driven by Class D amplification with a claimed total peak power output of 500W The intention is to take the fight to multi-speaker setups for Atmos-enhanced 3D sound quality and, if that sounds a bit of a stretch, the price tag should leave you in no doubt that Sennheiser is being deadly serious. A one-box solution to all your music and home cinema needs? That would be something.
It's no use pretending the Ambeo will sit unobtrusively in front of anything other than a gargantuan flat screen and, even then, it's likely to obscure the bottom few inches of the picture. Wall mounting is probably
The Ambeo is easily the most talented soundbar we've ever encountered
ideal, not least in aiding the mic- driven set-up calibration. This involves plugging in the bundled mic and integrated stand and, guided by the Smart Control app (iOS and Android), waiting while test tones are bounced off the surrounding walls and ceiling and measured. The process takes around a minute. But you'll have to find an extra £ for the dedicated brackets.
While removing the Ambeo from its carton requires care and no little effort, I guarantee you'll take a moment or two to admire the way it's put together. It is huge by soundbar standards, but just consider what it packs into the enclosure: six 100mm, long-throw mid/bass drivers, five 25mm aluminium dome tweeters arranged across the front and sides and two Atmos-dedicated, upward- firing, 90mm full-range drivers.
The back panel is comprehensively stocked with four HDMI inputs, a wi-fi Ethernet socket, a USB port (for firmware updates), an optical input, a stereo RCA aux in and, despite the Ambeo's design negating the need for a subwoofer, a pre output to feed just that. As well as compatibility with Dolby Atmos, DTS:X and MPEG-H, there's support for the latest HDMI standards – eARC (enhanced audio return channel) and Dolby Vision – 4K pass-through, Bluetooth 4.2 and Chromecast built in. There's no aptX for Bluetooth or AirPlay connectivity.
Chunky and good to hold, the bundled remote control's chief job is adjusting the volume and selecting input sources (flagged up by the small LCD display on the front) as well as providing buttons for a choice selection of sound profiles – Movies, Music, Sports, Neutral – which can be further fine tuned using the equaliser in the app. Back on the remote you can toggle the Ambeo virtual surround mode on and off and there are three strength levels: Light, Standard and Boost.
Sound quality
As this is a hi-fi magazine, I'm going to focus on the Ambeo's abilities with music, but before that I must admit to spending an hour or so in the company of a few Atmos-enabled 4K Blu-rays. For all but extreme rear (the sound never actually gets behind you), the surround effect is convincingly room filling, lofty and seamless and at no point during the Peter Jackson-produced and lovably absurd Mortal Engines do I miss the dialogue-cementing presence of a centre speaker or the deep heft of a subwoofer. Scale, imaging, clarity, dynamics, bass power and extension – all excellent by multi-speaker standards and simply off the charts for a soundbar.
It's a good foundation for musicality, too. With a plain two-channel feed from my Audiolab 6000CDT (HFC 447) CD transport and Chord Electronics Hugo 2 DAC (HFC 428), the Neutral preset is the most consistently enjoyable and, if you're in a particularly purist frame of mind, deactivating the Ambeo virtual 3D sound processing is probably a good idea as well, allowing the drivers to give a good account of themselves 'dry'. For live recordings, though, a little bit of Ambeo can work wonders, enhancing the sense of space and atmosphere as it does to great effect with Other Aspects, Paul Weller's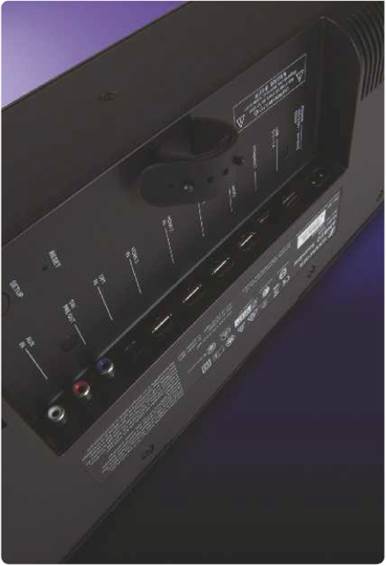 Connectivity runs to: 3x HDMI in and 1x out; 1x digital optical in; 1x stereo RCA in
orchestrally enhanced outing at the Royal Albert Hall. Played on a talented pair of floostanders, Weller's slow and tender rendition of his classic, Wild Wood, is rich and resonant with layered violins and cellos, the earthy timbre of his voice and sparse phrasing of a solo acoustic guitar providing a lovely textural contrast to the silky back wash of strings. Stereo does a fine job of conjuring up a believable soundscape and sense of venue, but Ambeo on its virtual surround Standard setting really does seem to resolve the performance space and nail the ambient cues that help shape the sense of a living, breathing event.
Switch things up with a shot of high energy Thirty Seconds To Mars – say, Code Of The Earth from the self-titled debut album – and the big soundbar doesn't disappoint, delivering speed, substance and image solidity in convincing proportions and, here, the extra impact and scale of Movie mode does no harm at all. In fact, experimenting with the Ambeo's sound settings is half the fun.
Conclusion
If you're a regular reader, you may have noticed over the years that we're not into soundbars as a front-line means of listening to music. That hasn't changed, even though the Sennheiser Ambeo is comfortably the most talented soundbar we've encountered in this respect and, unlike most of its ilk, doubles as a mighty desirable chunk of tech, despite (possibly because of) its huge size and weight. In purely musical terms, for the same amount of money you can buy an amplifier and a pair of floorstanders that hit a higher standard in plain stereo. But if you are after a single box that does home cinema and hi-fi with exceptional skill, aplomb and versatility, and are prepared to pay the high price, this is about as good as it gets
Verdict
Best SENNHEISER AMBEO prices in the US ?

$

499.95

$699.95
2 used from $451.67
10 new from $499.95
in stock


$

999.95

$1,499.95
7 new from $999.95
in stock


$

1,699.95

$2,499.95
2 used from $949.99
7 new from $1,699.95
in stock

Best SENNHEISER AMBEO prices in the UK ?

£

1,095.00

£1,300.00
2 new from £1,095.00
in stock


£

1,149.00

£1,299.00
1 new from £1,149.00
in stock

MORE DEALS

See also TOP 10 Soundbars & Soundbases
HOW IT COMPARES
It doesn't take much to put together a comparably priced amp and speaker combo that edges out the Ambeo in terms of pure musical rewards. B&W's 603 floorstander (HFC 448) and Audiolab's 6000A integrated amp (HFC 446) get the job done for under £. But as for other no-sub soundbars, Bang & Olufsen's BeoSound 35 (HFC 418) is the only one that gets close. It looks better than the Ambeo and, although quite large, is svelte in comparison. Until Ambeo, it was the most musical soundbar we'd encountered, but no longer.