WIRELESS SPEAKERS COME in all shapes and sizes and Samsung's VL5 has a striking, minimalistic design that mixes seamless white aluminium with a wood finish on either end of our review sample – it's also available in black. It's a robust and solid speaker that measures 522 x 212 x 70mm (WxHxD) and weighs 4.6kg. Controls for volume and play/pause can be found on the top of the chassis in the form of a touch- capacitive ring, with controls to switch between Bluetooth, wi-fi and Aux modes located on the right side. Physical buttons are absent here, however they do feel natural to use and have consistent responsiveness. Pairing the speaker via Bluetooth is simple (although it doesn't specify aptX support) and streaming over wi-fi is also available with multi-room support to other compatible Samsung speakers via the company's SmartThings app.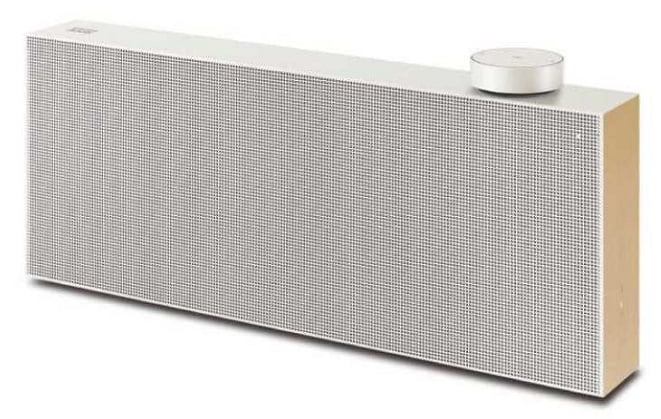 Take control
What separates the VL5 from its rivals is the wireless control dial (pictured here on top of the speaker). This provides basic navigational functions like play/ pause and has a satisfyingly stepped volume that has the kind of tactile feel that you'd expect to get when turning the volume control on a decent-quality hi-fi amplifier, but the best part is that it's magnetic – allowing you to place it almost anywhere on the speaker or on metallic surfaces around the home. Siri and Amazon Alexa voice assistants are also supported via a microphone in the controller, and these perform well during testing.
Inside it packs three 127mm mid/ bass drivers and two 25mm tweeters and easily does the job of filling my room with sound. Tuned by AKG, a subsidiary of the Harman Group recently acquired by Samsung, it delivers on its promise of detailed sound and deep bass, which is undoubtedly aided by what Samsung calls UHQ 32-bit upscaling, as well as its distortion-cancelling technologies, helping to improve performance and clarity no matter what type of music file you listen to.
Bass and vocals in Foster The People's Pumped Up Kicks sound authentic, with plenty of detail and all the elements of the track coming together extremely well. Moving onto something more electronic, Rue
This is a brilliant option for those who want detailed, room-filling sound
Montorgueil by Tomas Skyldeberg provides a great showcase of the SamSung's strong bass and tight control all the way through to the higher frequencies.
7Review earns Amazon affiliate commissions from qualifying purchases. You can support the site directly via Paypal donations ☕. Thank you!
Streaming Frank Sinatra's timeless New York, New York is perfect, with detailed vocals and sounds from the instruments, giving a realistic impression of the track. The VL5 handles rockwell too – Queen's Bohemian Rhapsody, a rollercoaster ride of a song with a wide and at times testing range of frequencies, puts the speaker's dynamic range to the test delivering an engrossing soundstage and no indication of distortion of any kind.
Although there's no mention of output power, this speaker goes more than loud enough for my needs with only a slight sense of the sound hardening up at higher volumes – no doubt thanks to Samsung's distortion-cancelling technology keeping things in check. It doesn't lose punch at lower volumes either, making it ideal for casual listening.
Ticking all the boxes
The VL5 is a brilliant option for those who want detailed, room-filling sound and appreciate the versatility of a good old- fashioned tactile remote control as well as support for voice recognition software. The design is neat, with exceptional build quality and it sounds impressive across a broad range of music styles, but the price is ultimately rather high given the plentiful competition.
DETAILS
WEBSITE samsung.com
OUR VERDICT
Best Samsung VL5 prices ?
MORE DEALS