While OLED had new brighter panels to shout about in 2021, the story of the year for rival LCD technology was definitely the arrival of mini LED backlighting. Samsung, in particular, showed how moving to much smaller LEDs, coupled with an increase in a TV's number of local dimming zones, could rewrite the LCD picture quality rule book in terms of contrast precision. Now it returns with a second-gen model to hopefully wow us again. Read our SAMSUNG QE65QN95B Review.

The first major new TV release of 2022, the QE65QN95B (which is available at 85in, 75in and 55in sizes, plus the 65in model tested here) bristles with on-paper promise. Its mini LED lighting system works in conjunction with 720 separately controlled dimming zones, and it's bright too: rated by Samsung at 2,000 nits, but capable of pumping out a measured light output peak on a 10 per cent HDR window of more than 2,800 nits. By comparison, the punchiest of OLED TVs still barely sneak past 1,000 nits.
Adapting to the challenge
The number of dimming zones is actually the same as last year's QN95A mini LED 4K predecessor (reviewed in HCC #319). Samsung has, however, refined the process by which each zone manages its light, via a new technology it dubs Shape Adaptive Light Control. This, says the brand, gives each dimming zone more freedom to manipulate the shape of the light it produces. A single zone could, for example, deliver more brightness to an object that may sit towards its centre, but gradually 'fade' the brightness down at its edges should the area around the central object be relatively dark. This is a way to further counter the backlight 'bloom' that can affect an LED-lit flatscreen.
Meanwhile, Samsung's not-at-all-scary neural networks have been busy over the past 12 months, with the 65QN95B's picture quality now benefiting from the combined expertise of 20 AI systems, versus 16 previously.
Also likely to boost picture quality is a shift from the 12-bit processing of the 2021 models to 14-bit. This has the potential to reduce colour banding or blocking problems with HDR material, in addition to delivering more greyscale information (likely resulting in greater detail in dark areas).
For the 65QN95B's audio, Samsung has also made upgrades. Dolby Atmos decoding has finally been added (although this new relationship with Dolby hasn't extended to Dolby Vision HDR support), as have upfiring units to the set???s Object Tracking Sound (OTS+) system that ranges speaker drivers all around the TV???s bodywork in an effort to place sound effects more accurately.
Another upgrade fits into the thinking that gaming performance is a key attraction of a premium TV. All four of the 65QN95B's HDMI inputs can play 4K content at 120Hz (in fact, the frame rate support extends to 144Hz), and support variable refresh rates, automatic low latency mode switching, and the AMD FreeSync Premium Pro and Nvidia G-Sync VRR formats.
7Review earns Amazon affiliate commissions from qualifying purchases. You can support the site directly via Paypal donations ☕. Thank you!
Samsung has also tried to make gaming easier to optimise via its Game Dashboard, which presents related information and settings within a streamlined menu.
Tizen goes large
Rounding out the 65QN95B's tweaks for 2022 is an overhaul of the Tizen smart hub, moving from yesteryear's use of a home menu superimposed over a small part of the screen to a full-screen interface. This hosts content shelves that try to bring together material from a wide range of different providers. And I have issues with it.
First, too much space on the home screen is taken up by a massive ad box. Second, the attempt to pull in content from all over the place just results in a bombardment of rubbish. Third, you can't reorder the shelf running order to better suit your interests. And lastly, the relationship between the TV's setup menus and smart content menus can be bizarrely inscrutable.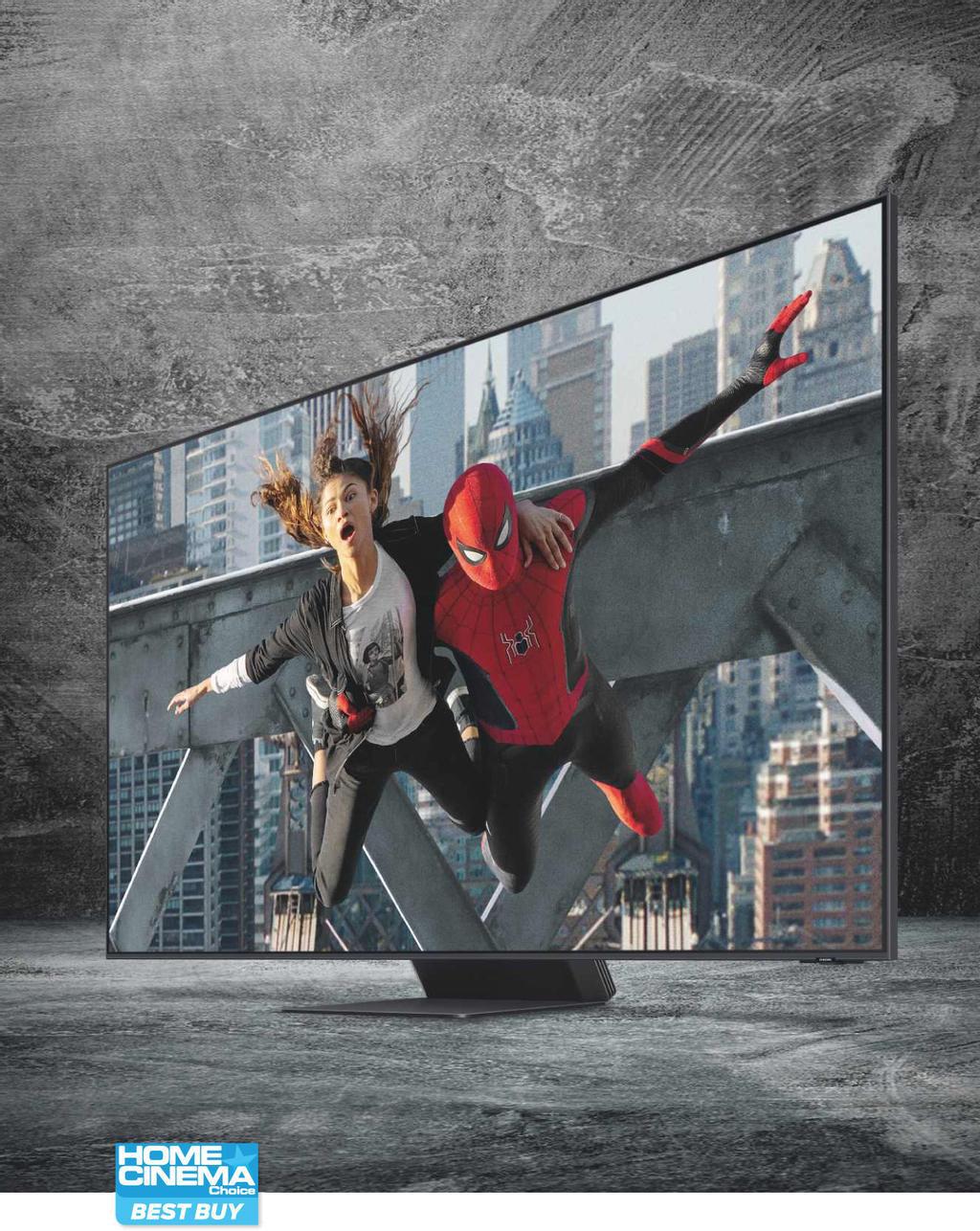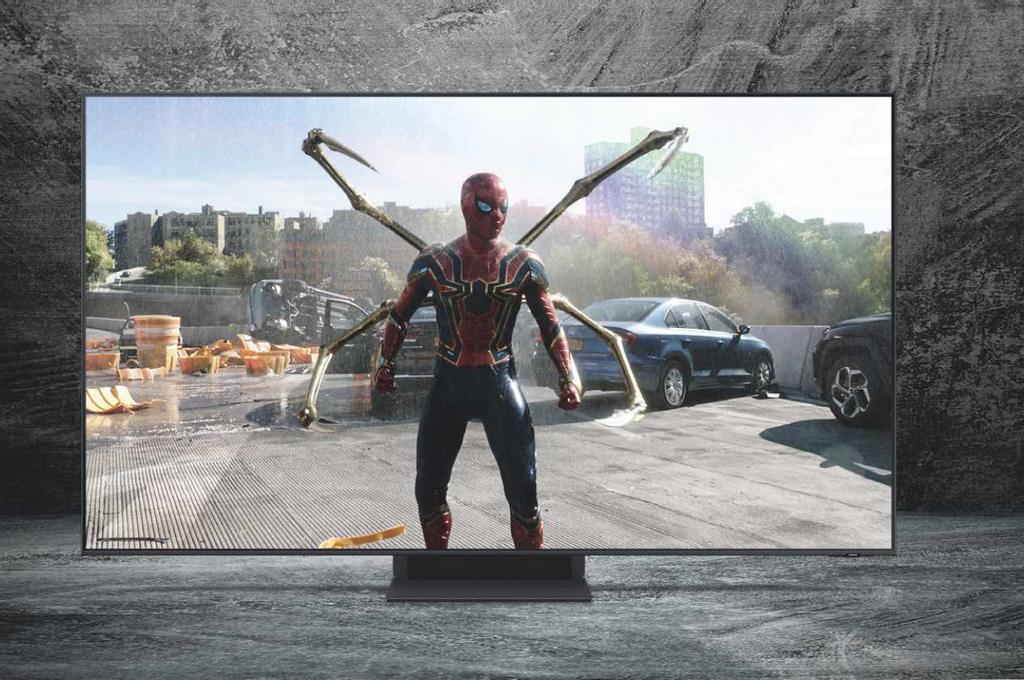 Samsung's good voice recognition support bails the system out somewhat, but it???s going to take a lot of work to make the new interface likeable for 2023. Unless Samsung just goes back to the previous perfectly good one???
Bustin' makes me feel good
These smart interface woes are forgiven (if not entirely forgotten) once you lock eyes on the 65QN95B's imperious pictures. Lingering half thoughts that the Shape Adaptive Light Control feature might be a gimmick are emphatically dispelled, as it soon becomes obvious that this set is able to produce images that are simultaneously more dynamic and more refined than they were on last year's QN95As.
During the spectacular light show of the climactic face-off at the end of Ghostbusters: Afterlife (4K Blu-ray), the darkness of the night sky looks even more consistently rich and deep black than it does on a QN95A. There's also even less interference from clouding and blooming around the intense lights cast off by the Ghostbusters' 'beams' and sparking electricity generator. In fact, I struggled to see any blooming issues at all, even with the action paused during any of the most extreme contrast moments of the fight.
The Shape Adaptive Light Control also has a huge impact on the 65QN95B's outstanding gaming abilities, removing all traces of the sometimes quite pronounced blooming that HDR games, such as Assassin's Creed: Valhalla, can cause. Note that gaming is also aided by a much more effective/enjoyable take on AMD's FreeSync Premium Pro than we got last year, plus an input lag figure that reaches as low as 10.4ms, which can be considered best-of-breed.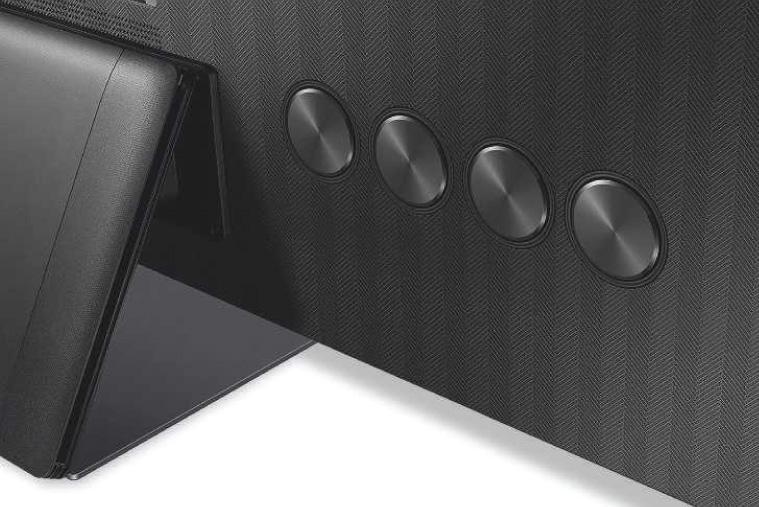 Making this lack of blooming even more impressive is how joyfully intense the bright parts of the 65QN95B's pictures are. HDR highlights look stunningly radiant, this set doing full justice to the lighter end of the HDR spectrum in a way precious few screens can. That it's able to do this while remaining free of blooming and with OLED-challenging black levels is really remarkable.
That said, attention should be paid to presets if you're not opting to give this '3,500 display a professional calibration. My preference is for the Standard setting (the one which gave the above scintillating performance), as black levels in the set's most accurate Movie and Filmmaker Mode options track a little light (although you can rectify this in Movie mode by adjusting Samsung's local dimming setting).
'Colour performance is jaw-dropping. The intense red and blue lights of Ecto-1 carry a dazzling richness'
The default Picture Clarity settings, meanwhile, generate a surprising amount of unwanted picture processing side effects for a TV that's so clever with other aspects of its processing' but again, the tools are there to fix this.
Trooping the colour
Colour performance is jaw-dropping. The red and blue lights of Ecto-1, and the colours of the proton pack beams, carry a dazzling richness. There's no sign of the pallidness such extremely bright image elements can suffer on screens that don't have the colour range (provided here by Samsung's metal-clad Quantum Dots) to match. And there's no apparent clipping (detail loss) in even the zingiest parts of the image.
So, the 65QN95B excels at the extreme stuff ' bright, colourful content is its bread and butter. Yet (thankfully) it also handles subtler aspects of 'Afterlife, such as low-lit interiors and shadowy skin tones, with superb authority and naturalism. These, together with the blended skies and sunsets of the rural Oklahoma setting of much of the film, are again an improvement on last year's 65QN95A, revealing the joint benefits of the improved lighting system and the move to 14-bit image processing.
It also beats its predecessor when it comes to shadow detail, although in the otherwise very solid Standard preset there can still be the occasional very dark shot ' such as the one where zombies are silhouetted against a faint backlight in the sewers in It (4K Blu-ray) ' that looks a bit too hollow. Such scenes can also be accompanied by occasionally obvious brightness 'shifts'. Both these moments are far rarer than they were with the predecessor model, however.
Add Samsung's typically acute 4K sharpness and outstanding upscaling of HD sources to this heady picture mix, and you've got pictures that are so consistently spectacular that it's pretty hard to pick fault with them.
One flaw, almost to be expected given the TV's backlit nature, concerns its off-axis performance. Backlight blooming is essentially non-existent when viewing the screen straight on, but becomes much more noticeable if you move to an angle. Furthermore, Samsung's attempts to eradicate any backlight foibles can result in extremely small, bright points of an image ' which I know from experience with other displays are there ' being subdued (but not completely lost) by the TV's processing.

Overall, however, the 65QN95B's pictures are 100 per cent defined by their strengths, not a few puny niggles.
Welcome aboard, Atmos
The introduction of Dolby Atmos has improved the sound quality of Samsung's 4K flagship, but not enough to put its audio in the same stratosphere as its visuals.
With Dolby Atmos content, the object-based sound syncs nicely with Samsung's 'speakers on every side of the TV' approach, painting a vivid, detailed, busy soundstage that manages to spread a little way out from the screen and sounds pleasingly clear. The OTS+ speaker system also buffs up non-Atmos tracks, creating accurately positioned, well-defined details.
Yet the performance here doesn't sound as expressive or attacking as the best TVs. Bass isn't particularly deep or dynamic, despite the deployment of eight rear-facing drivers, and it's a little reticent to really project audio toward your seating position.
Audio-wise, the 65QN95B is certainly good enough to keep you going until a soundbar or separate sound system can be added. And, if you ask me, you'd be mad to discount getting your hands on picture quality as next-gen brilliant as this ' even with a '3,499 price tag attached ' because its sound is only good rather than great.
This is a highly impressive, highly desirable 4K TV. And maybe you'll like the new smart hub more than me'
AV INFO
PRODUCT: 65in 4K HDR TV using mini LED backlight technology
POSITION: Samsung's flagship 4K LED TV for 2022
PEERS: LG OLED65G1; Panasonic TX-65JZ2000; LG 75QNED99
SPECIFICATIONS
4K: Yes. 3,840 x 2,160 HDR: Yes. HDR10; HDR10+; HLG TUNER: Yes. Freeview HD; satellite HD CONNECTIONS: 4 x HDMI inputs (all v2.1); 3 x USB; optical digital audio output; Ethernet SOUND (CLAIMED): N/A BRIGHTNESS (CLAIMED): 2,000 nits CONTRAST (CLAIMED): N/A 4K/120 PLAYBACK: Yes DIMENSIONS (OFF STAND): 1,447(w) x 830(h) x 17.4(d)mm WEIGHT (OFF STAND): 22.3kg
FEATURES: Mini LED lighting; 720-zone local dimming; Wi-Fi; Bluetooth (with headphone support); Shape Adaptive Light Control; 14-bit processing; Neo Quantum Processor 4K; OTS+ sound system; Dolby Atmos; Tizen smart system; voice control; external connections box
TESTED WITH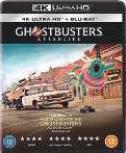 GHOSTBUSTERS: AFTERLIFE: Director Jason Reitman delivers an enjoyable homage to his late father's legacy, bringing a sparky script to life with plenty of energy and a keen eye for action. The film also looks lovely on 4K Blu-ray, while its spooky and detailed Dolby Atmos soundtrack is up there with the best.
VERDICT
SAMSUNG QE65QN95B Review
It's not cheap and its new smart system isn't great, but when a TV delivers pictures as jaw-droppingly good as the QE65QN95B, everything else pales into insignificance.
Add your review
Best SAMSUNG QE65QN95B prices ?
MORE DEALS