This 'bar is a stellar performer but if you're not a member of the QLED club, some star turns remain off limits, says Steve May. Read our SAMSUNG HW-Q800A Review.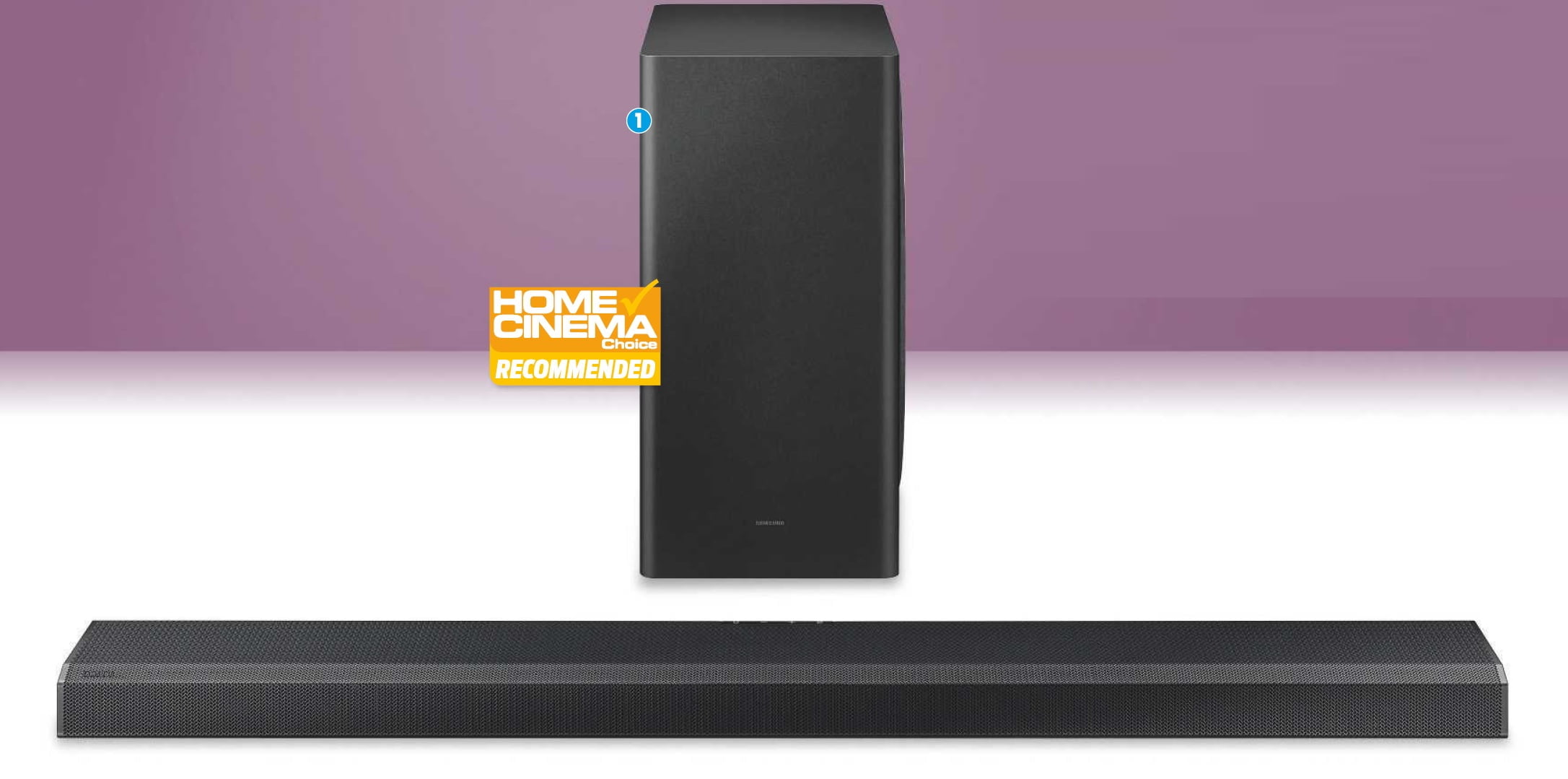 The HW-Q800A is a mid-range Dolby Atmos soundbar 'n' sub combo, capable of dramatic theatrics. Most will use it as a TV upgrade – its official channel designation is 3.1.2 – but the more determined can unlock full­blown 5.1.4 surround by adding optional rear speakers.
It's a doppelganger for last year's HW-Q800T [HCC #315], but there have been subtle changes under the hood to upgrade performance and functionality. Samsung points to improvements that have been made to distortion cancelling, while the centre channel features a revised wideband tweeter, which I came to be rather fond of.
Ideally deployed beneath 50in to 65in screen sizes, the HW-Q800A is a large beast. Wide at 980mm, it can be wall-mounted if required. The 'bar has a hard grille (with solid plastic end-stops), behind which sit L/C/R driver arrays and a pair of units partnered with Samsung's Acoustic Beam technology, actually a line of 56 tiny holes, to steer audio out and up.
On top is a small selection of physical buttons, including power and volume control. The overall aesthetic borders on looking functional rather than fabulous.
Straight from the box, you'll be up and running in no time. The HW-Q800A is literally plug and play. Powered up, the soundbar automatically pairs with the subwoofer.
7Review earns Amazon affiliate commissions from qualifying purchases. You can support the site directly via Paypal donations ☕. Thank you!
See also TOP 10 Soundbars & Soundbases
There's a simple, ergonomic remote zapper, but if you want additional control you can adjust bass and toggle
AV INFO
PRODUCT: 3.1.2-channel Dolby Atmos/DTS.X soundbar
POSITION
Middle of Samsung's 2021 lineup
peers: LG SP9YA; JBL Bar 9.1; Sonos Arc
voice enhancement using Samsung's Smart Things smartphone app.
An small LED text display to the front right scrolls info, including volume, input and signal format acknowledgements. It's nice and bright, and then politely dims after a few seconds.
Just the two of us
Connections are a bit frugal considering the HW-Q800A's £ price. You're limited to just a single HDMI input and an output with eARC (HDR compatibility includes HDR10+ and Dolby Vision), plus an optical digital audio socket. There's no USB port for media playback, nor Ethernet.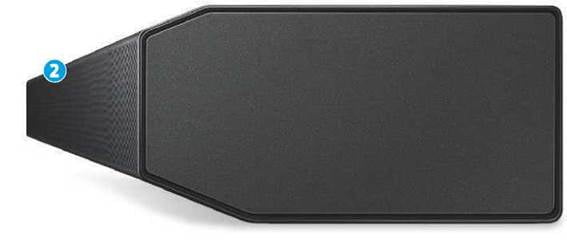 Bluetooth, Wi-Fi and AirPlay 2 (for multiroom streaming) are your wireless options.
Total power output is specified at 330W, including 60W amplifiers for the left and right channels and 180W for the Q800A's subwoofer, a rear-ported design with an MDF cabinet and side-firing 8in driver.
As for smarts, options are limited. The HW-Q800A works with Amazon Alexa, but not Chromecast.
A criticism of recent Samsung soundbars is their lack of calibration options. The brand has gone some way to address that here with SpaceFit, although it's a halfway house until higher-price models debut full Auto EQ later this year.
That's because SpaceFit is only available to owners of select new Samsung QLED TVs, specifically the Q70A range and up. The reason? Processing is carried out in
'Terrific when it comes to sonic steerage. Objects fly around the soundstage like cows in a twister'
the TV, rather than in the soundbar. The TV can analyse the room itself, identify absorbers, like curtains, and adjust accordingly.
Similarly, Q Symphony only works in conjunction with certain QLED screens, and creates a unified soundbar and TV audio front. The result is a far bigger, more impressive sonic presentation, with physical height and width.
California dreamin'
The HW-Q800A bears the sonic stamp of Samsung's Californian Sound Lab facility. This might go some way to explaining its sunny disposition. It's bright, breezy and consistently entertaining,
This two-piece does a terrific job when it comes to sonic steerage – objects fly around the soundstage like cows in a twister. It doesn't just image left and right with authority, it places effects up high too.
A quick taste of the Dolby Atmos Amaze trailer confirms the considerable width and detail, and huge subwoofer LFE, on offer. In fact, I found the system's bass handling impressive in particular. There's a convincing synergy between the subwoofer and the soundbar enclosure. No disconnection, just a seamless blend that creates a single, solid wave.
When Harley Quinn lands a socko punch on the roller derby track early into Birds of Prey… (Sky Cinema, Dolby Atmos), the 8in sub delivers the blow with delicious intent.
But this system doesn't just thump. It handles mid-to high-frequency elements with surprising finesse. The secret to this success are the aforementioned wideband tweeters, which are amazingly adept at creating an almost holographic atmosphere.
The subsequent Harley Quinn nightclub scene is busy in the extreme, with plenty of realistic crowd chatter depicted in a crowded space. There's no sense of unfocused clarity here. >
1. The subwoofer is a carry-over from last year's HW-Q800T
2. An angled grille top and bottom stops the 'bar looking too boxy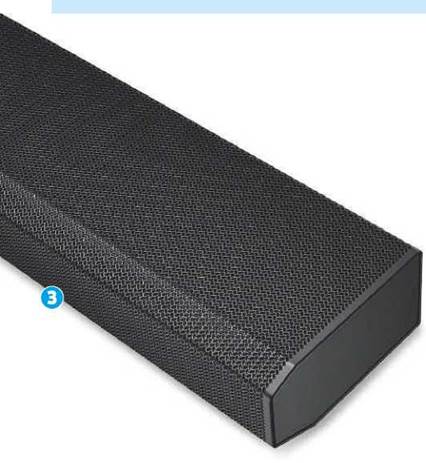 Importantly for Blu-ray collectors, DTS:X decoding is also in the Samsung's armoury, so I put it to the test with Bumblebee (4K BD). Here, when John Cena's government agent first encounters the hero character, there's imposing physicality to the friendly Autobot when he gradually stands tall, the subwoofer rumbling in awe. There's also convincing weight to his footfalls as he runs from his pursuers, and lovely metallic detail as he transforms into a jeep. When he stumbles and falls, there are LFE consequences.
And this system does its best work with Dolby Atmos and DTS:X mixes. Regular 5.1 surround lacks their grand spatial depth. It feels somewhat smaller, centring on the 'bar itself, but there's still excitement to be had.
The opening sentinel attack in X-Men: Days of Future Past (Blu-ray) is full of energetic gusto which this Samsung handles with consummate ease – the higher register of Iceman's crystalline attacks, the throaty mid-range flame attack of Sunspot. This movie melee misses the height element enjoyed by Atmos and DTS:X, but it remains a thrill.
One major difference between the HW-Q800A and its HW-Q800T predecessor (Samsung appears to have gone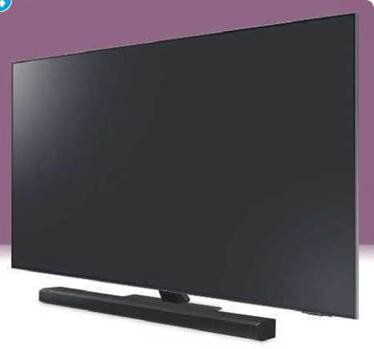 back to the start of the alphabet) is the inclusion of Active Voice Amplifier technology. This is a clever bit of processing that analyses the incoming audio system in order to extract and amplify the dialogue channel. Selectable via the remote control, it's undoubtedly a boon for those with boisterous families or housemates.
This processing also fundamentally changes the nature of the audio mix, but it's a clever way to improve sonic clarity. Many listeners complain that dialogue is often too low in a soundmix, or just muffled, spoiling their enjoyment of specific content.
Of course, a soundbar isn't just for the movies. Bluetooth convenience means that the HW-Q800A will likely double as a wireless audio speaker. In that role it passes muster, although I would hesitate to describe it as a hi-fi solution. With stereo sources, the presentation is somewhat cramped. Still, it'll entertain, and that fluid mid-range means it's great for podcasts too.
Movie maestro
This mid-range Samsung easily earns a recommendation for the superb job it does with movies and cinematic TV shows, particularly those blessed with Atmos/DTS:X soundtracks. Even in this base 3.1.2 configuration, it's convincingly theatrical and has top-notch dialogue handling – although you'll need to invest in the optional rear speakers for genuine surround sound.
Value for money is less clear cut. It arguably only really justifies its price tag when used in conjunction with a compatible Samsung display. Suitably partnered up, you'll unlock Q Symphony technology and be able to tailor its performance, albeit modestly, with SpaceFit calibration. Without a new Samsung TV, Space Fit and Q Symphony are off the table…
Verdict:
Recommended
SAMSUNG HW-Q800A Review
This exciting Dolby Atmos soundbar offers a seamless cinematic presentation, eXcellent detail and punchy bass. But you'll need a modern QLED TV to unlock all its toys.
Add your review
Best SAMSUNG HW-Q800A prices in the US ?

$

387.95

$899.99
1 used from $367.95
4 new from $387.95
in stock


$

400.99
2 new from $400.99
in stock


$

779.00
1 used from $549.99
1 new from $779.00
in stock

Best SAMSUNG HW-Q800A prices in the UK ?

£

521.38
2 new from £521.38
in stock

MORE DEALS

See also TOP 10 Soundbars & Soundbases
3. Acoustic Beam technology governs the output of the bar's height drivers
4. The soundbar's SpaceFit calibration mode is an option if used with a 2021 Samsung QLED TV (Q70A and above)
SPECIFICATIONS
DRIVERS: 2 X bass/mid drivers; 5 X tweeters (two via upfiring Acoustic Beam tech) ONBOARD POWER (CLAIMED): 330W total CONNECTIONS: 1 X HDMI input;
1 X HDMI output with eARC; 1 X optical digital audio input DOLBY ATMOS/DTS:X: Yes/Yes SEPARATE SUB: Yes. 160W, 8in woofer REMoTe CONTROL: Yes DIMENSIONS (SOUNDBAR): 980(w) X 60(h) X 115(d)mm WEIGHT (SOUNDBAR): 3.6kg
FEATURES: Acoustic Beam Array technology; SpaceFit; Q Symphony; wall-mount bracket supplied; wireless subwoofer; Bluetooth v5.0; Dolby Vision/HDR10+ passthrough; High-Res Audio compatible; Amazon Alexa support; Apple AirPlay 2; Spotify Connect; Smart Things app; Active Voice Amplifier technology; compatible with SWA-9500S surrounds for 5.1.4
TESTED WITH
BUMBLEBEE: A change of pace from Michael Bay's Transformers movies (and with a much sweeter nature), this 1980s-set prequel/spin-off flick is a fine choice for movie night with junior AV-Holics, and while it dials down the insane action (to a point), it looks and sounds fabulous on Paramount's 4K Blu-ray