The HW-Q70R decodes object-based audio into a 3.1.2-channel soundstage. Will total immersion addict Richard Stevenson be left wanting more?
AV INFO
3.1.2-channel soundbar/ subwoofer system
POSITION: Middle of Samsung's 2019 range
Harman/Kardon Enchant 800; LG SL9YG
SAMSUNG'S ACOUSTIC BEAM technology has been squeezed into some slimmer, sleeker-looking soundbars in this year's lineup. The HW-Q70R sits in the middle of the range, with a fair bit of technology ported over from last year's HW-N850, including bringing Dolby Atmos and DTS:X decoding to the feature list. There's no doubt hope it will have big appeal to gamers as well as movie fans, as these next-gen formats gain traction in both camps.
The package is a seven-driver soundbar and wireless subwoofer, giving 3.1.2 surround sound. The Acoustic Beam tech, essentially a tuned resonating tube, helps to direct surround sound outwards to the sides and upwards from the top of the bar. These signals reflect from your walls and ceiling, creating an immersive effect at the listening position, aided and abetted by psycho-acoustic research at Samsung's Californian Audio Lab. It's Atmos 'lite' in that respect, and those looking for a full-fat object-based audio experience should seek out the more premium HW-Q90R with its wireless rear speakers.
Slender soundbar
At under 6cm tall the soundbar is unlikely to be a problem fitting under most TVs, and you get wall-mounting hardware in the box. Samsung's familiar three-letter scrolling display sits to the right side of the 'bar and, in my opinion at least, could still do with a few more characters to save scrolling the name of inputs as short as HDMI and Wi-Fi. Four buttons on the right end-cap give power, volume control and the ability to shuttle through sources in case you lose the remote. That item remains Samsung's familiar slim format design with rocker buttons and jog dial.
7Review earns Amazon affiliate commissions from qualifying purchases. You can support the site directly via Paypal donations ☕. Thank you!
See also TOP 10 Soundbars & Soundbases
A recessed connection panel offers side-mount plugs to stop cables sticking out and pushing the bar away from the wall. Yet this area is a bit on the sparse side, as you only get one HDMI 4K/HDR-compatible input – at least the HDMI output, after a firmware update, will support eARC.
The only other physical input is optical digital audio, but the 'bar also supports Wi-Fi direct, ideal for wireless connection to Samsung TVs, and Bluetooth.
You might have guessed that the HW-Q70R is an ideal match for this year's Q70 QLED TVs, but its low-profile design and minimalist looks means it should mix and match with a wide variety of TV brands/sizes.
The supplied subwoofer has been beefed up from last year, packing an 8in side-firing driver into a sturdy, ported cabinet. With the sub fascia pointing into the room the driver is on the right side, but the connection panel is neatly recessed if you wanted to place the unit side-up against a wall. Wireless pairing to the 'bar is a simple button press and a blue LED indicates everything is hooked up.
Basic controls for sub-level can be negotiated from the remote control, but Samsung's SmartThings app brings a whole raft of extra features, including seven-band manual equaliser, music services, a sleep timer and setup for Amazon Alexa voice control, albeit via an additional Echo device.
Setup is fairly straightforward. You get level trims for woofer, left, right and up, plus Samsung offers out-of-the- box DSP modes covering Standard, Surround and Game Pro. But by far the most interesting is Adaptive Sound.
This dynamically adjusts the EQ in real time based on the content being played. Largescale music gets a bigger, bolder EQ sound while movie dialogue enjoys a minor enhancement on the centre channel to boost intelligibility. It's subtle but it works, and does so without any part of the mix becoming obviously tweaked or fatiguing.
Buddy, you're a boy, make a big noise
Samsung has been on a roll with its audio products generally since the inception of the Audio Lab and acquisition of Harman, and the Q70R continues the trend with aplomb. It has a wonderfully robust and un-soundbar­like sound, particularly if you can get it up and off heavy AV furniture. An acre of cabinet top in front of the soundbar muted the bar's spacious nature, so I lifted the Q70R up. Even on two makeshift stacks of books it brought a boost in liveliness and dispersion, so getting this model on the wall tight below a screen would probably be ideal.
It goes loud too, giving Bohemian Rhapsody (UHD Blu-ray) the full Live Aid experience with great scale and ambience. We Will Rock You is crafted in all its full foot-stomping, fist-pounding glory with the subwoofer working well to generate concert-level bass.
Samsung's clever Adaptive Sound feature impresses here too, adapting the balance as the volume increases to ensure everything remains sweet and undistorted at high volumes.
On subtler films the surround sound effect is just that, an effect. It's a good one, but you can't get away from the fact that all the drivers are essentially in the same place and no amount of beaming, angling and bouncing is going to pin-point a Foley clunk somewhere deep behind the sofa.
The wonderfully crisp and detailed Dolby Atmos mix on Baby Driver (Blu-ray) comes across with plenty of space and air, with many of the scenes punctuated by music tracks or cues that boost the movie's slightly surreal ambience. Kevin Spacey's dialogue is locked hard to the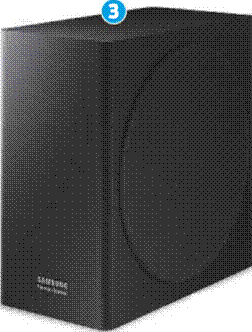 screen while the music meshes sweetly with the action.
It becomes very easy to just slip into the movie, without pausing to wonder how the 'bar is presenting the mix or to fiddle with EQ.
Baby Driver's chase scenes are packed with roaring engines and squealing tyres. The Samsung takes these dynamic moments in its stride, while delineating the synced music to drive the narrative with gusto. Most of the sound naturally remains up the front of the room, but there is enough bouncing off the walls and ceiling to amplify the soundstage well beyond the confines of the 'bar's svelte dimensions.
The extent to which that works is somewhat dependent on your environment, of course. With the flat plasterboard ceiling and painted parallel walls perpendicular to my screen, the HW-Q70R arguably had the best of architecture with which to work its magic. I suspect those with lofty vaulted ceilings or a penchant for soft wall decor (it's a thing, apparently) might be left a little wanting in the surround part of the Samsung's sound.
Smart, well-featured
In pure design and audio performance the HW-Q70R is a five-star performer. The caveat is its rather limited connection suite and the rather serious price tag buys you a lot of AV these days, including a budget AVR and a solid 5.1 speaker package. If you have the space, inclination and permission for that more traditional setup, then it will deliver bigger scale and more effective surround sound. But most will be sold on the smart, well-featured HW-Q70R and its potent sub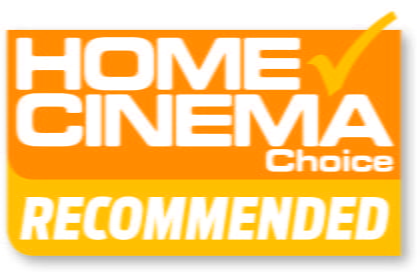 VERDICT
Recommended
Samsung HW-Q70R Review
Samsung's sleek Acoustic Beam soundbar comes with Atmos chops and a killer subwoofer for impressively dynamic and involving surround sound. More HDMI inputs would be nice.
Add your review
Best Samsung HW-Q70R prices ?
MORE DEALS

See also TOP 10 Soundbars & Soundbases
SPECIFICATIONS
DRIVE UNITS: 5 x midbass drivers; 2 x tweeters ONBOARD POWER (CLAIMED): 170W (5 x 30W; 2 x 10W) CONNECTIONS: HDMI input; HDMI ARC output; digital optical audio input DOLBY ATMOS/DTS:X: Yes/Yes SEPARATE SUBWOOFER: Yes. 8in/160W (claimed) REMOTE CONTROL: Yes DIMENSIONS: 1,100(w) x 59(h) x 100(d)mm (soundbar); 205(w) x 403(h) x 403(d)mm (subwoofer) WEIGHT: 3.6kg (soundbar); 9.8kg (subwoofer)
FEATURES: 3.1.2 soundstage; Wi-Fi; Bluetooth; wireless subwoofer hookup; Acoustic Beam tuning; 4K HDR passthrough; eARC; Adaptive Sound; Wi-Fi TV link; SmartThings app control; Works with Alexa; wall-mountable
PARTNER WITH
SAMSUNG QE55Q70R: The soundbar's TV partner in crime is this 55in QLED from Samsung – a mid-tier 4K HDR display with direct LED illumination and HDR10+ support. Use HDMI ARC to output Atmos audio to the HW-Q70R.
1. The 'bar has twin upfiring units, plus LCR channels
2. Controls are located on the right end, rather than on top
3. The wireless sub features a side-firing 8in woofer