Samsung 65KS9500 Review
TIME ON TEST: 1.5 years
REVIEWER: John Archer
AV INFO
65in direct-lit 4K HDR LED TV
POSITION
Samsung's flagship model for 2016
7Review earns Amazon affiliate commissions from qualifying purchases. You can support the site directly via Paypal donations ☕. Thank you!
PEERS:
Sony KD-65ZD9; Samsung QE65Q9F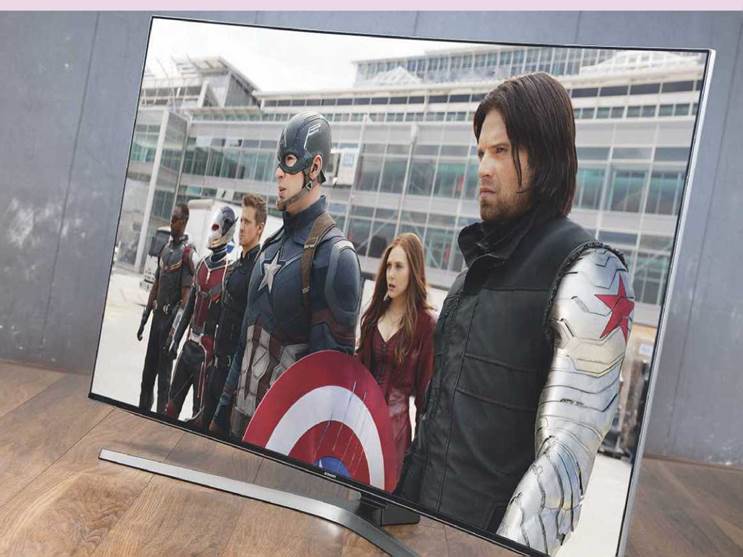 EVEN IN LATE 2017, there are television sets still struggling to deal with high dynamic range images. Many aren't bright enough. Many can't deliver a wide enough range of colours. Many struggle to map HDR's light range to their screen's capabilities properly. Many of those that can do HDR brightness can't do a good black level.
All of which is why I still love Samsung's UE65KS9500. For me this was the best all-round TV of 2016. Tellingly it remains my go-to screen for testing 4K Blu-ray discs, despite having seen the best that 2017 has to offer.
What's good about it?
The UE65KS9500's screen specifications read like a wishlist of stuff you need in order to enjoy a good 4K HDR picture on a television.
Unlike other models in Samsung's K-prefixed sets, it uses direct LED illumination, in conjunction with local dimming. Different zones of LEDs (150 in the KS9500's case) can output different levels of light to suit the content of the image being shown. This approach has consistently proved the most effective way to establish a bright, contrast-rich picture from LCD TVs with HDR material. Edge-lit LCD solutions are typically hampered by too much greyness in dark areas, too many obvious 'bands' of light, and a compromise between luminance extremes.
Still, the Full Array Local Dimming (FALD) UE65KS9500 isn't flawless in lighting terms – you can sometimes see halos of light clouding around stand-out objects. But this is much less distracting than the issues associated with edge lighting, and often almost invisible in environments with a little ambient light.
Rival OLED technology, of course, suffers no haloing, greyness or clouding, nor does it have to manage the intensity of its peak luminance to maintain a credible black level. However, this Samsung out-guns all OLED challengers, even more recent models, with its brightness reach. Put simply, in this regard it is immense. It hits around 1,500 nits in the brightest areas of HDR pictures, which in 2016 was miles ahead of any of the competition. It can do this while still providing some of the deepest, uniform black levels in the LCD TV arena. An outstanding achievement.
In fact, Samsung's flagship 2017 QLED TVs may have managed to get even brighter, but not while retaining such good control over dark areas.
The UE65KS9500 is also a master at colour handling.
It combines its high but targeted brightness with an expansive tonal range; wider than any set we'd seen up to 2016. It's therefore able to deliver the fullest expression of what HDR and the usually attendant wide colour gamut technology can do.
Again, Samsung's QLED models ratchet up the colour response even further. But problems with backlight clouding and bleeding can mean hues often look less natural, at least in patches, than they do here.
Samsung's direct-lit LED LCD TV combines high, targeted brightness with an expansive colour range
This set also delivers state-of-the-art management of colour tones and light shades in the peak parts of HDR content. In this respect it outperforms my other favourite 4K HDR TV, the phenomenal Sony KD-65ZD9, with its 600 zones of locally dimmed LED backlights, as the Sony 'clips' in very bright areas, losing detailing in the process. There are some things I prefer about the 65ZD9, including its raw HDR impact and form factor (more on this in a minute), but when I'm looking for a TV to show me everything that's in a 4K HDR image, the UE65KS9500 has the edge.
As an LCD panel, there's no need to worry about potential screen burn issues with this Samsung. I don't want to overstate OLED's susceptibility to screen burn; it's something LG has been tackling in recent years, and it may well never affect typical users. However, it's something that lurks in the back of mind, as I tend to run my reference set for long periods on a daily basis and, probably, with more consistently aggressive HDR content than your normal consumer.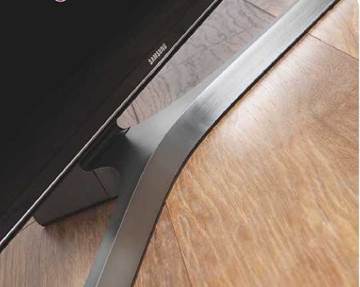 A few final ticks in the UE65KS9500's box are its smart system (the Eden interface still holds up well, and covers all the main video streaming and catch-up TV bases, including HDR and 4K support where a service provides it), and its external connections box, which makes for a tidy installation, particularly if you aren't switching sources through an AV receiver.
What's not so good about it?
While a genuine wonder of its time, the UE65KS9500 won't be for everyone, and a chief consideration is its curved screen.
Curved displays were all the rage a couple of years ago, not so much these days, and this Samsung is a fine example of where the design falters. The curved screen exaggerates reflections from additional light sources – problematic during daylight hours, or if there's a lamp in your room in an unfortunate position. It also causes slight colour banding with some very extreme HDR content (though you can manage this to acceptable levels with careful adjustment of its dynamic contrast and local dimming controls), and the effect of the curve on screen-wide horizontal lines (the ticker-tape on a news channel, for example) can be vaguely distracting.
Also, while this TV supports the broadcast-friendly HLG, industry standard HDR10 and the new HDR10+ HDR formats, it doesn't support Dolby Vision. This limitation has become enough of an issue in recent times (with the launch of Dolby Vision on the new Apple TV set-top box, a growing number of 4K Blu-rays, and Netflix) that I've now partnered the UE65KS9500 with a Dolby Vision-capable LG OLED. This is a solution for me, but I appreciate not for almost everyone else.
Should I buy it?
If you can find a good-condition model on the secondhand market or in a retailer's store cupboard, it's worth investigating. Yes, I sometimes rue its curved screen and lack of Dolby Vision playback (and absence of 3D, too), but it's still a premium performer, demonstrating the eye-catching benefits of 4K, HDR and wide colour visuals without technology-borne distraction. It remains more than a match for anything newer the TV market has shown us so far ■
VERDICT                                     4.5/5
Aside from not being flat and not supporting Dolby Vision, the UE65KS9500 remains the best TV I've seen at showing you everything HDR and 4K has to offer.
SPECIFICATIONS
3D: No. 4K: Yes. 3,840 x 2,160 resolution HDR: Yes. HDR10; HDR10+; HLG TUNER: Yes. Freeview HD; satellite CONNECTIONS: 4 x HDMI inputs; 3 x USB inputs; optical digital audio output; RF input; Ethernet SOUND (CLAIMED): 60W,
4-channel BRIGHTNESS (CLAIMED): 1,400 nits CONTRAST RATIO (CLAIMED): Mega Contrast' DIMENSIONS (OFF STAND): 1,441(w) x 833(h) x 115.9(d)mm WEIGHT (OFF STAND): 28.2kg
FEATURES: USB and DLNA multimedia playback; built-in Wi-Fi; HDR+ HDR upscaling engine; smart system; Netflix and Amazon 4K apps; direct LED lighting with Precision Black Pro local dimming; Quantum Dot technology; curved screen with Moth Eye anti-reflection; external connections box
1. The KS9500 uses a 150-zone locally dimmed LED backlight
2. In 2016, you had to go curved to get Samsung's premium display technology