HAVING FOCUSED ON conventional Bluetooth speakers in the past, Ruark is now moving into the multi-room realm with new models like the wi-fi-equipped MRx before you. Available with a walnut or soft grey finish, it's a substantial bookshelf speaker, measuring 300mm wide, 180mm high and 180mm deep when lying flat in 'landscape' mode – although there's a metal stand that also allows you to stand it upright if space is tight. The sturdy cabinet houses a pair of 75mm full-range drivers, with a matching brace of bass radiators tucked around the back. The MRx supports both Bluetooth with aptX and wi-fi for wireless streaming and there's an Ethernet port hidden away on the rear. Here you'll also find a combined 3.5 mm analogue/ optical digital jack (with optical adapter) and USB port for playing files from a stick or hard drive.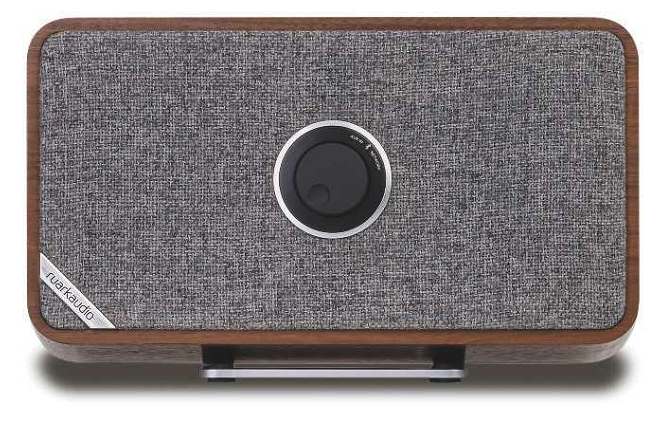 The missing link
The design is pretty impressive, but Ruark's Link software is more of a mixed bag. The Link app can use the network connection to pair two MRx speakers together for two-channel stereo or connect to other Ruark speakers for a multiroom system. Some features are clumsy, such as the unresponsive 'seek' bar that doesn't allow me to skip forward or back within a track and, more importantly, the app currently only supports Spotify, Deezer and Tidal online streaming services and is only available for iOS and Android mobile devices.
If you want to use other services or stream music from a Mac or Windows computer, you'll either have to switch to Bluetooth – which lacks multi-room support – or roll up your sleeves and try to set up some DLNA media server software on your own. There's no support for AirPlay either, which leaves the MRx looking a little expensive when compared with multi-room speakers from rivals such as Sonos.
Streaming lossless 16/44.1 files over wifi from my iPad, the MRx excels with delicate tracks, where it doesn't have to work too hard to separate out dense layers of sound. The piano on Max Richter's Written On The Sky is light and hazy, combining a rich timbre with a gentle touch.
There's a similar richness to Damien Rice's melancholy vocal on The Blower's Daughter. The MRx catches every breathy whisper, so that the song sounds like a relaxed, live performance while there's an almost painful tension to the delicate strings that linger in the air, as though he's afraid to let the song come to an end.
7Review earns Amazon affiliate commissions from qualifying purchases. You can support the site directly via Paypal donations ☕. Thank you!
See also TOP 10 Subwoofers
Picking up the pace, the MRx handles the breezy pop of Blondie's Rapture with aplomb, capturing the crisp rhythm and then kicking things up a gear with the hip-swinging bass guitar riff. But it fares less well with denser, more aggressive rock sounds. The 20W Class AB amplifier proves surprisingly powerful, and the crashing power chords of This Is How I Disappear by My Chemical Romance are more than loud enough to annoy the neighbours, but the fast, chopping guitar riff that explodes around the halfway mark lacks precision and starts to become a little fuzzy, rather than sharp and incisive. And when the guitar collides with the EDM keyboards of Planetary (Go!) I get the sense that the MRx wants to put its hands over its ears and calm down with a nice cup of tea.
I'm disappointed that the Link app won't run on my Mac – or Windows PC – but using aptX Bluetooth, I'm pleased by the clarity and warmth that it delivers to the 24/96 version of Mavis Staples' recent If All I Was Was Black album.
Gently does it
The MRx works a treat with gentle classical music or acoustic ballads. It can handle light pop and rock well too – but its refined sensibilities struggle to accommodate harder, more energetic sounds. The limited range of devices and streaming services supported by the app is also disappointing compared with rival multi-room speakers at the price.
Best Ruark Audio MRx prices in the UK ?
MORE DEALS

See also TOP 10 Subwoofers