Strixly For Power – This GPU definitely sits on top of the hill of performance, but it can be financially challenging on one's bank account
A new generation of GPUs are out and PC gamer are all looking for the best one to invest in. There's no doubt that the current king of the hill is NVIDIA's GTX 1080 and ASUS has a strong contender even among the AIB cards – the ROG STRIX GTX1080.
The first thing we noticed when pulling this card out of its box is that it's massive! At 298mm in length and 40mm thick, this card was bulky and would certainly cause some fitting issues in certain chassis, such as mid-towers with a drive cage. Using the third generation of ASUS own Direct CU III cooling solution, it promises up to 30% lower temperatures and greater airflow with its triple Wing-Blade fans. A solid backplate was included to keep this heavy card from flexing and potentially damaging PCIE slots. For input, ASUS made sure that it'll also be usable with lower-end displays by including a dual-link DVI, as well as two HDMI and two DisplayPort inputs.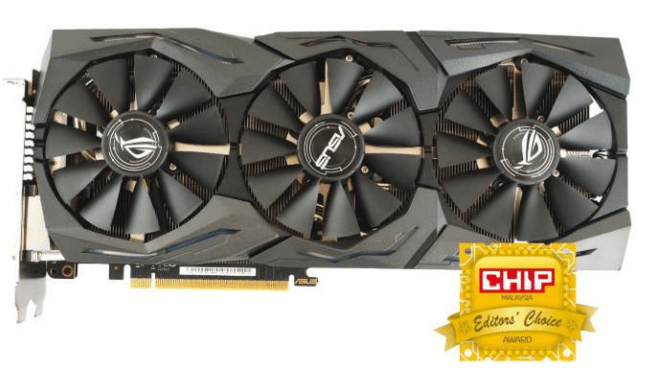 To power this card, an 8-pin and 6-pin connector are required. Considering that the reference model only uses an 8-pin, the extra 6-pin was clearly to give it more headroom for overclocking. While in use, the card alone used up to 200W of power. This suggests that the minimum requirements to reliably use this GPU for the long term is a PSU with at least 550W.
Temperature readings for the card were more or less expected. At idle, it sat around the 35⁰ Celsius mark, averages about 67⁰ when in use, and peaks at about 82⁰. Since the ambient temperature was warm during the benchmarks and testing, there's reason to believe the card's temps can be lower in air-conditioned rooms.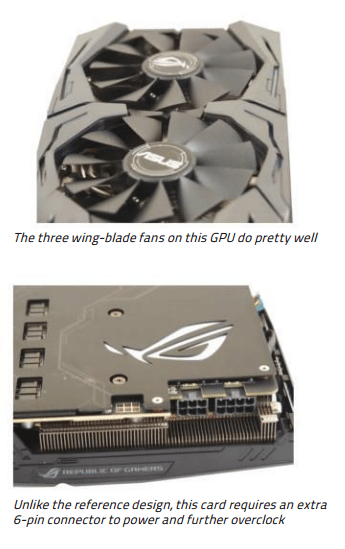 Even the acoustics are impressive; the loudest it ever got was a deep hum that can easily be ignored. When idle, the fans don't spin so that helps make the system even more quiet.
7Review earns Amazon affiliate commissions from qualifying purchases. You can support the site directly via Paypal donations ☕. Thank you!
+ 4K gaming
– Fitting issues
There's no doubt that the ROG STRIX GTX1080 is a powerful card. It ran all of the latest games at above 60 FPS at 1080p and 1440p at max settings, as well as playable framerates in 4K resolution for most titles. The Witcher 3, for example, averages about 50FPS in 4K and max details. As it stands, this card is ideal for maxed out 1440p gaming, and would be a great choice for those who want to game in 4K. However, it does come at a slightly higher price compared to other AIB GTX1080 cards.
Verdict
This GPU is likely one of the best performing GTX1080 at the moment. If 4K gaming is your aim and you are willing to pay the premium for it, then this is definitely a card you should consider
GPU: NVIDIA GTX1080
Memory: 8GB GDDR5
Clockspeed: 1,759 MHz, 1,898 MHz (boost)
Ports: 1x DVI, 2x HDMI, 2x DisplayPort
Slot Size: Dual-Slot
Other: 2560 CUDA cores, 256-bit interface, 4.9
TFLOPS
Dimensions: 298 x 134 x 40 mm
3D Mark
Fire Strike: 19,625 points
Fire Strike Extreme: 10,690 points
FireStrike Ultra: 5,529
Time Spy: 6,622 points